Expedition Overland 2018 Toyota Tundra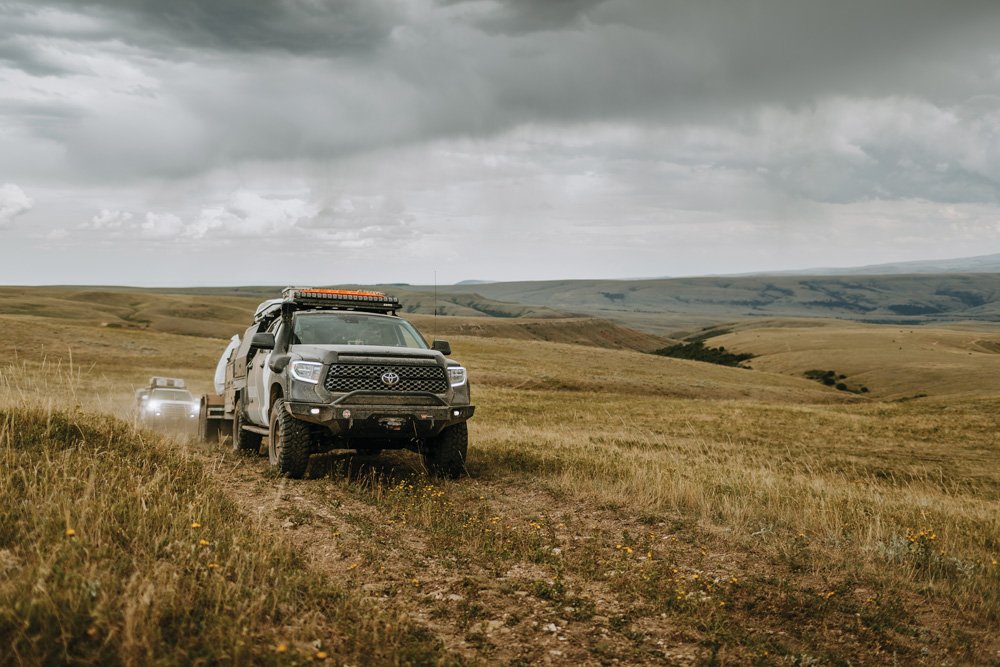 Built With a Purpose
With the minutes ticking down to sunset, three trucks and seven Expedition Overland crew members push through the Gran Desierto de Altar in Mexico's Sonora region. The Gladiator, Land Cruiser, and Tundra pick up speed through the long shadows of the valley floor, providing the drivers with plenty of momentum to push over the next series of dunes. The convoy stops over the crest of the dune, the remaining light shining directly into the drivers' eyes.
"THE TUNDRA, AFFECTIONATELY REFERRED TO AS 'TRINITY,' WAS EXPEDITION OVERLAND'S FIRST FULLSIZE TRUCK BUILD."
Filmmaking is all about golden hour, and that warm, soft light will disappear once the sun sinks below the horizon. Clay grabs the DJI Inspire 2 drone, takes off, and calls "Action!" With 15 minutes to spare, the closing scene for Expedition Overland's The Great Pursuit series is in the can.
Nearly a decade ago Clay and Rachelle Croft founded Expedition Overland, a well-known video series following their team of adventurers through some of the world's most remote locations. The team traveled from Alaska to Argentina, filming every step of the way with a mission to educate, inspire, and entertain their YouTube and Amazon Prime Video fans. Over the past 10 years, the Expedition Overland team has transformed Tacomas, Land Cruisers, and 4Runners, outfitting these vehicles to meet the challenges of international travel, while also incorporating additional video production requirements and enhanced liveability. This 2018 Tundra CrewMax Platinum was designed to exceed those requirements.
The Tundra, affectionately referred to as "Trinity," was Expedition Overland's first fullsize truck build. Clay explains, "The legendary reliability, increased payload capacity, and the recent availability of the Patriot Campers PCOR system made the idea of building the Tundra very exciting. The goal was to build a truck that worked equally well in the Expedition Overland fleet or as a stand-alone production vehicle." The cavernous CrewMax interior seats four comfortably, with ample room for enough filmmaking equipment to shoot an Amazon Prime video series. An intense travel and film schedule can tax crew members, and Clay doesn't underestimate the importance of a spacious respite at the end of the day. "Comfort for the crew is important since video production lasts from dawn to dusk for weeks on end. When you're comfortable and rested, you're able to stay in a creative mindset all day, every day."
"IT'S ALWAYS THE LONGEST, THE WIDEST, AND THE HEAVIEST TRUCK IN THE CONVOY. REGARDLESS OF ANY DIFFICULTIES, IT ALWAYS MAKES IT THROUGH."
Film production requires an assortment of cameras, audio equipment, drones, computers, and a plethora of chargers to keep it all running. To organize this copious amount of film equipment, Clay took a page out of the Australian overlanding playbook. "The first time I used a tray bed and canopy system was on Sherpa II, a 2012 VDJ79 Land Cruiser. I worked out of that truck in South America for Expeditions 7 and found the functionality off the charts." With this experience behind him, Clay installed a Patriot Campers PCOR tray bed and 3/4 canopy on the Tundra. The powdercoated aluminum PCOR canopy is positively pressurized to keep dust out (a crucial function to keep camera gear working optimally) and multiple drawers and cabinets keep gear organized. Simplifying access to gear saves time and hassle in the field, and accessing each camera or drone with a single motion of opening the canopy clamshell door ensures you never miss that crucial shot. Redarc's Manager 30 charges the Revolution 160-amp/hour lithium house battery, which in turn keeps camera and computer batteries topped up.
Moving a loaded fullsize truck through the desert over technical trails, or on the highway for that matter, requires a significant upgrade to the suspension. The team turned to Icon Vehicle Dynamics for a complete suspension system. To handle the additional weight out back, an Icon RXT Stage 3 rear, with custom, multi-rate leaf spring kit and hydraulic bumpstops was installed. The 2.5 Omega Series twin-tube bypass rear shocks control compression and rebound and are fully adjustable. A peek under a front wheelwell reveals billet upper control arms and Icon 3.0 VS Series coilovers with remote reservoirs and adjustable CDC valves. Compared to the 2.5 Series shocks, the 3.0 shocks provide an additional 50 percent of area in the "bump zone" and 100 percent in the "ride zone." This is especially important on a heavy truck like this Tundra. The additional height provided by the Icon system allowed for the installation of 35×12.50R17 General Grabber X3 mud-terrains.
Let's be honest. For most of the Expedition Overland trips, regardless of upgrades, this is the truck you'd expect to have the most difficulties on technical trails. You're not wrong. It's always the longest, the widest, and the heaviest truck in the convoy. Regardless of any difficulties, it always makes it through.
"… CHOOSING THE BEST LINES WAS KEY DUE TO THE NARROW TRAIL, BUT WITH A FEW SLIDER KISSES ON PROTRUDING ROCKS, THE TUNDRA PROVED THAT AN ELEPHANT TOO CAN DO BALLET."
During a crossing of the Altar Desert in Mexico, the Tundra showed how well it can do in the sand for such a heavy truck towing a trailer. With the ARB lockers activated, and the 5.7L engine bellowing out of the TRD exhaust, it conquered the Sonoran dunes. Sure, it wasn't always just another day at the beach, but grabbing an ice-cold Coke out of the fridge after digging the truck out of the sand sure made it feel that way.
On the Christina Lake Trail in Wyoming, the Tundra followed Expedition Overland's 200 Series Land Cruiser and Jeep Gladiator down the rocky path using every piece of CBI armor along the way. It was a slow crawl in low range, and choosing the best lines was key due to the narrow trail, but with a few slider kisses on protruding rocks, the Tundra proved that an elephant too can do ballet.
"SIMPLIFYING ACCESS TO GEAR SAVES TIME AND HASSLE IN THE FIELD, AND ACCESSING EACH CAMERA OR DRONE WITH A SINGLE MOTION OF OPENING THE CANOPY CLAMSHELL DOOR ENSURES YOU NEVER MISS THAT CRUCIAL SHOT."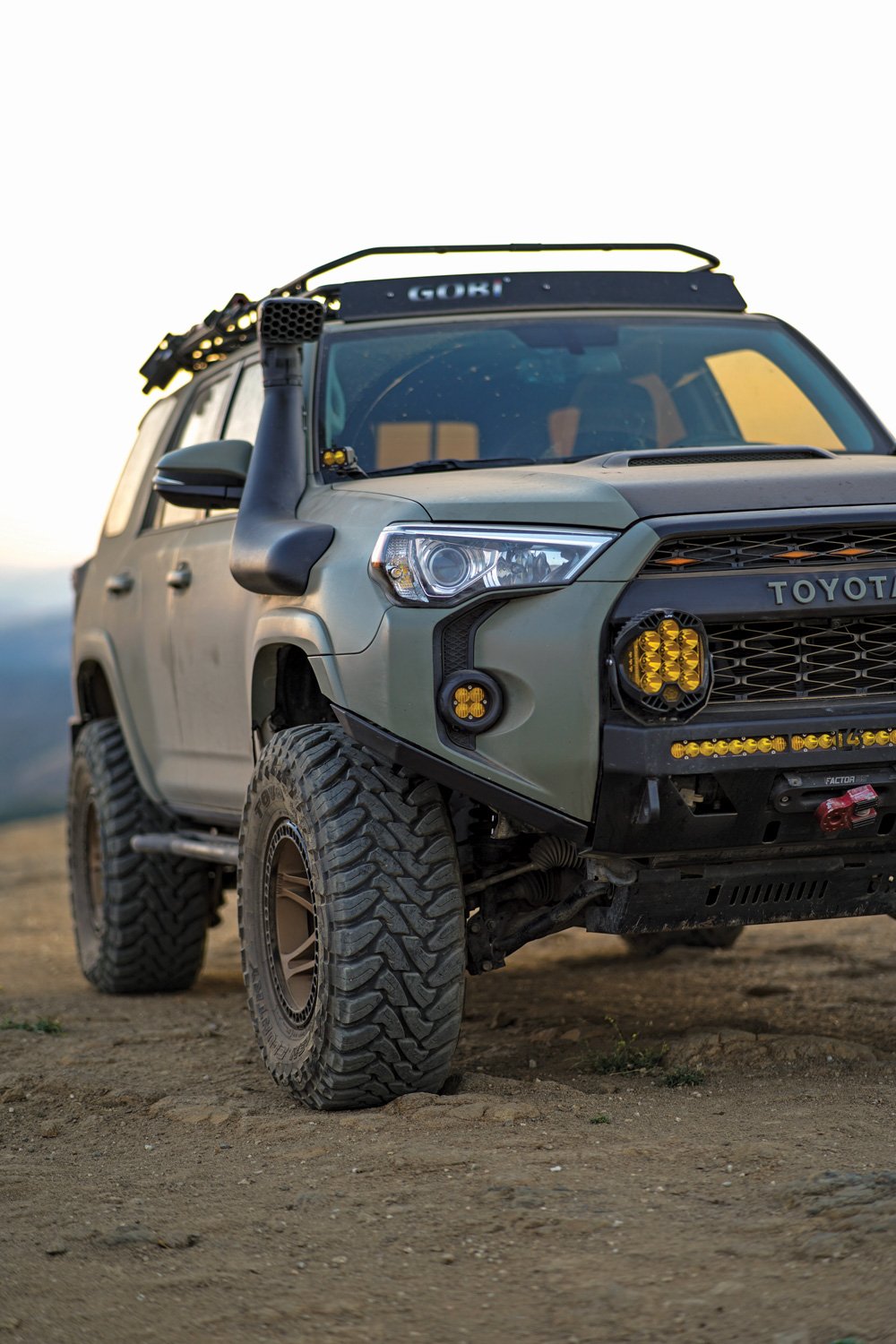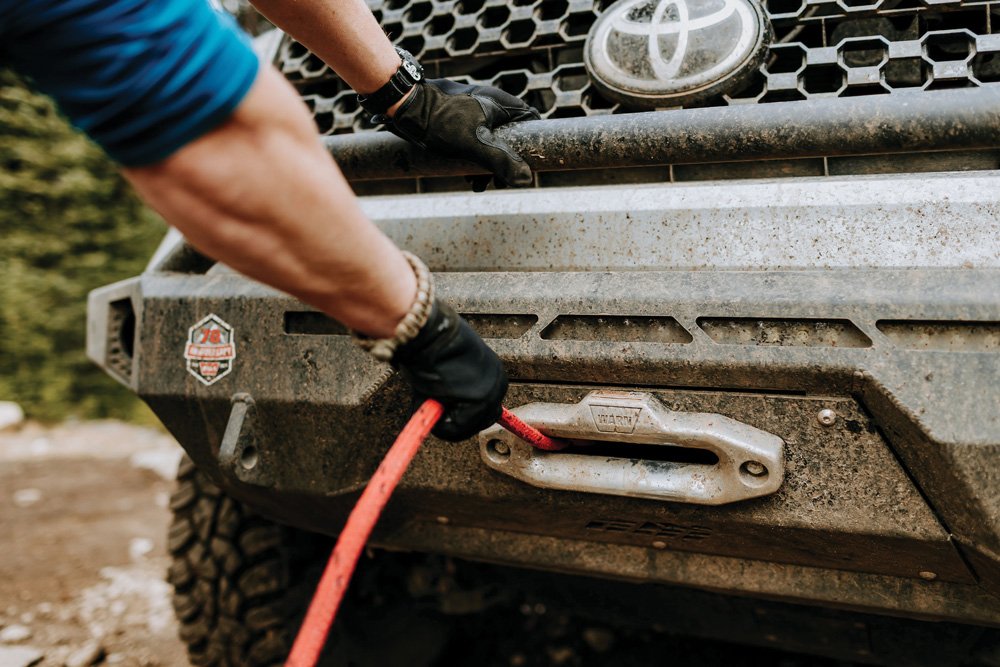 This fullsize Toyota is obviously well-sorted and does exactly what it was built to do, but when pressed, Clay did have one change he'd like to make. "It sure would be a beast with a supercharger."
What's next? Plans are in motion for a long-term Expedition Overland Solo Series in the Tundra. Keep an eye on Expedition Overland's social media and YouTube channel for updates.
SPECS
2018 Toyota Tundra CrewMax Platinum 5.7L V-8 4×4 Automatic
OVERLAND/CAMPING:
Patriot Campers PCOR tray and 3/4 canopy
Central Locking toolboxes with rear drawer storage
20-gallon water tank, electric pump
Dometic Coolmatic CRX80
Eezi-Awn K9 roof rack
Eezi-Awn Dart Hard Shell roof top tent
ARB On-Board twin high-performance air compressor
42L aluminum Alu-Boxes with K9 roof rack mount
Long Range Automotive 60-gallon fuel tank
WHEELS & TIRES:
General Tire Grabber X3 tires 35×12.5R17
Icon Alloys Rebound wheels
FRONT SUSPENSION:
Icon Vehicle Dynamics 3.0 Series remote reservoir with CDCV coilover kit
Icon Vehicle Dynamics Billet upper control arm with Delta Joint
REAR SUSPENSION:
Icon Vehicle Dynamics RXT Stage 3 system
Custom Multi-Rate RXT leaf spring kit
Rear Hydraulic bumpstop system
2.5 Omega Shock with CDC remote reservoir
BODY ARMOR:
CBI Aluminum front bumper and skid plates
CBI steel sliders
ELECTRICAL:
sPod 4×4 8 Circuit SE system, two touch-screen control
iCOM ID-5100A Deluxe VHF/UHF Dual Band D-STAR Transceiver
Custom Auxiliary battery tray and relocated washer fluid reservoir
REDARC Manager 30 in-vehicle battery management system
Odyssey 34M-PC1500 battery
RECOVERY:
Maxtrax Xtreme and Maxtrax roof rack mounting pins
Front and rear Warn ZEON 12-S winch with synthetic rope, 12,000-pound capacity
Warn Medium-Duty Epic Recovery Kit
ARB Orange Speedy Seal tire repair kit
InDeflate Tire In/Deflator
LIGHTING:
Rigid Industries 50-inch Adapt LED light bar mounted on roof rack
Rigid Industries 30-inch SR-Series Pro Spot Midnight Edition LED light bar  mounted in front bumper
Rigid Industries Rock Light Kit, six lights
Rigid Industries 1X2 65-degree DC Scene light mounted underhood
Rigid Industries security hardware kit on all lights
MISCELLANEOUS:
Dynamat throughout interior
TRD cold-air intake, TRD exhaust
Tinted Windows by Bos Tint & Sound (Bozeman, MT)
Custom Vinyl Decals by SCS Wraps (Bozeman, MT)
Editor's Note: A version of this article first appeared in the Winter 2020 print issue of YOTA Magazine.