Southern Xpeditions Founder's 2012 Toyota Tacoma
Derrick Oursler's 2012 Toyota Tacoma
Meet Derrick Oursler. He's the owner of the fine example of a 2012 Toyota Tacoma that's featured here. Oursler is the founder of Southern Xpeditions, an organization dedicated to holding off-road events and veteran-related trips. You can say that Oursler, a veteran himself, has been there, done that—and then some.
An Obsession
Growing up on a farm he drove everything under the sun, from tractors to old trucks with three-on-the-tree. During his time in the military, he drove more interesting vehicles, including M1A1 tanks to his main assignment in Iraq, a mine detection and clearance vehicle, the Husky VMMD (vehicle-mounted mine detection) where Oursler led patrols for 15 months straight. There's no doubt that the dude likes to drive, evidently sometimes in extreme conditions.
About his obsession for vehicles, Oursler says, "Anything that moves has been my passion and continues to drive me further down the rabbit hole. I am a certified crane operator and vehicle recovery expert from my time as a 35-ton wrecker driver, recovering everything from small cars to rolled-over 18-wheelers, I have hooked cable to it or lifted it." Yep, we'd agree that he's been there, done that.
Being an avid outdoorsman with fuel coursing through his veins, it only seems right that he build a truck that could keep both of his addictions fed. We asked Oursler how he came about building his Southern Xpedition 2012 Toyota Tacoma. He recalls, "I was in a second-generation Tundra that I loved the horsepower and comfort of but would drive past everything EXCEPT a gas station. It was also exceptionally hard to turn around on tight single-track roads with when hunting or when I made a wrong turn on an off-road trail."
The Beginning
The gears started turning in his mind for a more suitable truck for his adventuring needs. His experience with his Tundra led him to a more compact vehicle that is famed for its longevity and aftermarket support and, as he told us, its aesthetics, too. We can't argue with that; it's a great-looking pickup. He ultimately settled on the second-gen 2012 Tacoma that he bought with only 14,000 miles on the odometer.
Oursler's wealth of personal experiences guided the build of the pickup, and guided it well. He stresses that his intention for this rig was and remains to be function over form. He quips, "If it doesn't work, serve a purpose, or execute its intended purpose, it comes off the truck." In regards to purpose, he continues, "Overlanding is the most accurate single-word description for why I built the truck, but it has many roles, from trail guiding at off-road parks and rock crawling to towing trailers loaded down with farm supplies and taking veterans on world-class hunting experiences."
More Power
This Tacoma is clearly built for adventure and driving deep into nature. Its factory 4.0L 1GR-FE engine was augmented with a TRD supercharger. The supercharger adds a reported 70 extra horsepower of oomph, which the anemic stock Tacoma engine truly needs. In fact, the extra power boost that the supercharger gives the truck counts as Oursler's favorite upgrade. Of it, he comments, "The supercharger is hands-down my favorite thing I have done to the truck. They are so gutless without forced induction it makes me wonder how I ever got around without the extra power."
While the reliable factory A750F transmission was left alone, the 2012 Toyota Tacoma's differentials got the custom treatment. The frontend's factory Toyota diff has been enhanced with an ARB air locker and 4.88 Nitro gears. In the rear, a Currie High Pinion Dana 60 has been installed, along with 4.88 Nitro Gears and an ARB air locker. The rear diff also is semi float with 35-spline axle shafts and has FJ Cruiser ends for OEM disc brakes.
Added Capability
Taking on seriously rocky terrain requires some serious suspension. That's why Oursler turned to Icon Vehicle Dynamics for their Stage 11 setup as the foundation for his own custom work and settings. The front boasts custom valving on front coilovers, 680-pound progressive coils with a compression-damping control valve, factory-width Dirt King lower control arms, Total Chaos gusseted spindles, Icon upper control arm with Delta joint, Dirt King coil bucket gusset, Marlin Crawler subframe brace kit, and Cam tab gussets.
The rear suspension also rocks Icon Vehicle Dynamics' Stage 11 suspension, supplemented with Alcan leaf springs. The Alcan leaf springs are set for 3 inches of lift, which is rated for 1,000 pounds over stock capacity. Other rear suspension components include Archive Garage 12-inch shock relocate, Archive Garage hammer hangers with cross tube, Icon hydraulic bumpstops, and custom valving for the extra 1,000-pound capacity over its GVW springs.
The 2021 Toyota Tacoma's stock wheels were jettisoned for a set of Icon Alloys Rebound wheels in 17-inch diameter. Grip is provided by BFGoodrich KM3 Mud-Terrain tires in 35×12.5×17 sizing for both the front and rear positions. To keep the truck protected, Oursler outfitted his Tacoma with a Mobtown Offroad front bumper, HD skid plates, and HD sliders with the kickout option. The bumper is made recovery ready with a Warn Zeon 10-S winch. And in the back, the rear dual-swing bumper with tire carrier you see is manufactured by LFD Offroad.
Keeping the trails lit at night are Kustom 54 Lighting headlights that replace the factory units. In the bumper, you'll find a Baja Designs OnX6 Plus light bar as well as Baja Designs XLR 80 in the bumper corners. To extend the range of the pickup, Oursler opted to also install a Long Range America 33-gallon fuel tank. This tank should take him a long way before requiring a refill. The impressive bed storage drawer system is courtesy of Overland Medic Cargo Solutions.
Creature Comforts
Jump into the cab of the Tacoma and you'll find a set of Katzkin marine-grade vinyl seats, which were chosen for durability. They'll stand the abuse and rinse off nicely. Look up and you'll discover a custom overhead console and built-in storage for a removable iPad Mini in-dash. Navigation duties are handled by the iPad Mini running Gaia GPS primary navigation software. For comms, the truck is wired for ham and GMRS, thanks to a TYT 9800 quad-band mobile unit. Powering all of this is an Off Grid Engineering dual-battery system and a Switch Pro 9100 controller for control over the system.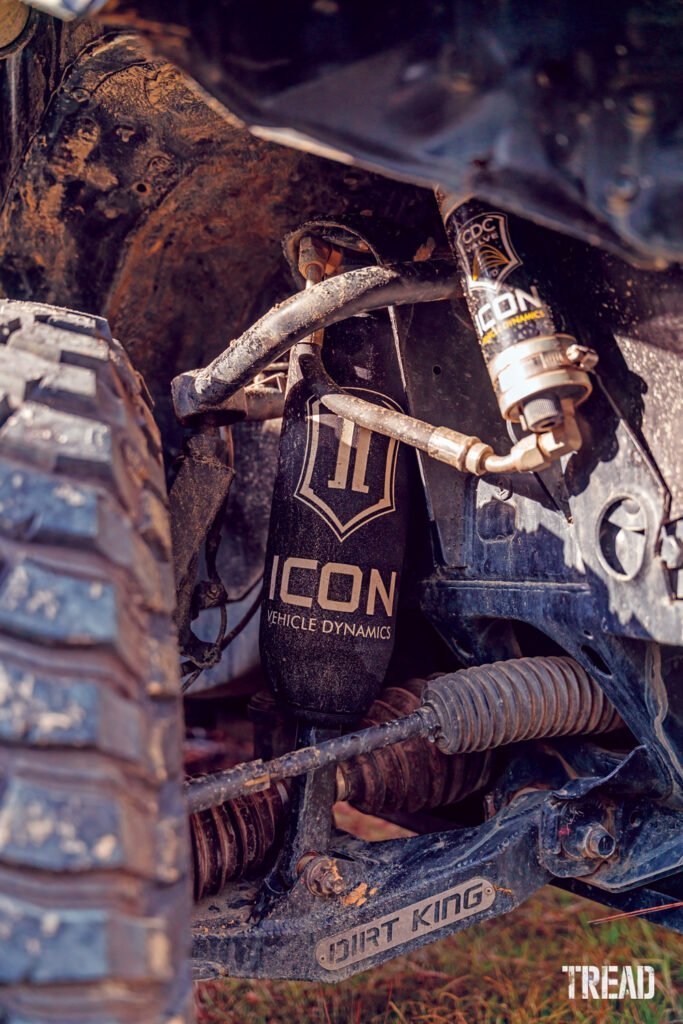 As we admired the remarkable build, we asked Oursler how much he gets to drive his 2012 Toyota Tacoma. He answered, "Daily. I drive this thing, if not every day, every other day. I built it to be used and that is what we do with this thing. My wife has submerged it in a 6-foot-deep creek, buried it in mud to the door handles, and hung it up on rocks the same size as the truck and pulled trailers that were way too heavy to be pulling with a midsize pickup truck, but this thing keeps chugging along in style!" That's truly fantastic to hear. What's not to love?
As for the most memorable experience he's had in the pickup, he tells us, "The most memorable trip would have to be hands-down our first trip out to Utah and we completed the BDR, tackling almost 800 miles of all-dirt travel across the state. With mild modifications, including homemade skid plates and clapped out ARB leaf springs bouncing off bumpstops, having to fix broken latches along the way, that is what all of the fun is about. Trying new things and failing, all the while succeeding."
Still Doing It
This 2012 Toyota Tacoma is a thing of very functional beauty. Every component on it has been tested and proven it deserves its place on the truck. We're excited about the future adventures that it will go on. As much as Oursler has seen and done, the adventure is only beginning. He and his wife have plans in 2021 to head out to Montana, a state they haven't had the opportunity to explore much yet. After that, they'll go anywhere the open road takes them.
2012 Toyota Tacoma
Engine: 4.0L 1GR-FE with TRD supercharger, In-House Fabrication Air intake, HPTuners ECM tune, CSF aluminum radiator
Suspension: Icon Vehicle Dynamics Stage 11, custom valving on front coilovers, 680-pound Progressive Coils with Compression Damping Control Valve (CDC), Dirt King lower control arms, Total Chaos Gusseted spindles, Icon upper control arm with Delta Joint, Dirt King Coil Bucket Gusset, Marlin Crawler subframe brace kit and Cam Tab Gussets, Alcan leaf springs, Archive Garage 12-inch shock relocate, Archive Garage Hammer hangers with cross tube, Icon hydraulic bumpstops, custom valving
Wheels & Tires: Icon alloys Rebound 17-inch diameter, 5-inch backspacing, BFGoodrich KM3 Mud-Terrain 35×12.5×17 (front and rear)
Mechanical Upgrades: High-pinion Dana 60, 4.88 Nitro gears with ARB air locker, semi float with 35-spline axle shafts, FJ Cruiser ends for OEM disc brakes, front diff with ARB air locker and Nitro gears 4.88 R&P
Interior Accessories: Katzkin marine-grade vinyl seats, iPad Mini, Gaia GPS primary navigation software, custom overhead console, Ultragauge, TYT 9800 Quad Band mobile unit
Exterior Accessories: Kustom 54 Lighting headlights, Baja Designs OnX6 Plus, Baja Designs XLR 80, Warn Zeon 10-S, Long Range America 33-gallon tank, Overland Medic Cargo Solutions bed storage system, Mobtown Offroad front bumper, HD skid plates, HD sliders, LFD Off Road rear dual-swing bumper with tire carrier, Off Grid Engineering dual-battery system, Switch Pro 9100 controller