Hiking Meals: A Full Day of Campground Cooking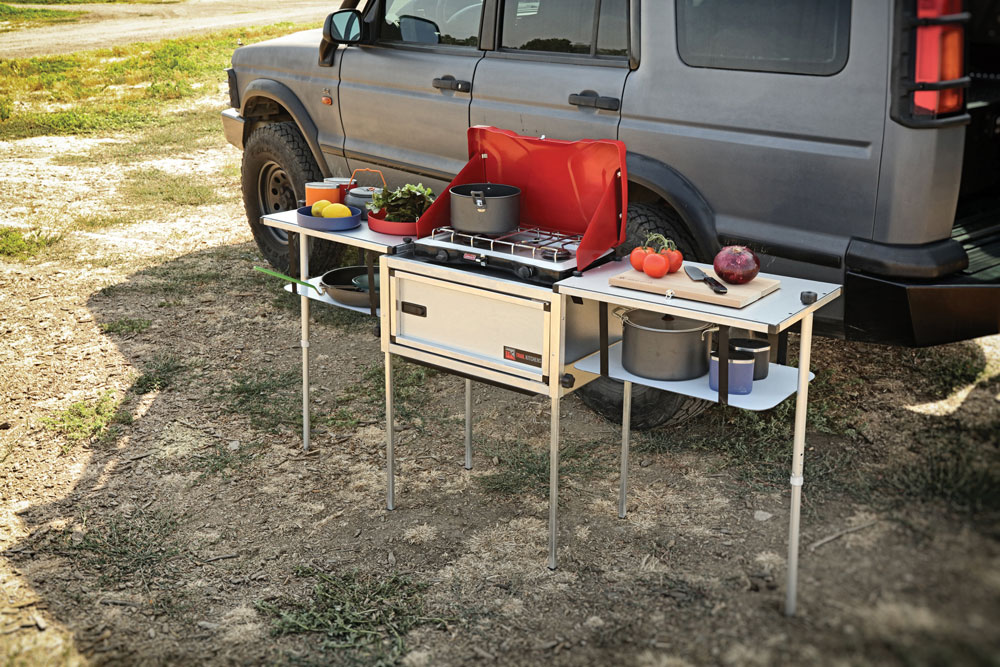 When you're hitting the trail, breakfast, lunch and dinner are all the most important meal of the day.
Whether or not we talk about it often, meals are one of the most important parts of any outdoor adventure. If part of your trip is a long day hike, what you'll eat before you head out is fuel for the day ahead. While you're on the trail, the lunch and snacks you pack keep you going for the second half of your day. Eating a well-balanced dinner will also accelerate your body's recovery after your hike. Hiking meals are tough to plan, though, so here's our guide for a full day of on-the-go campground eats.
Hiking, though it may not seem like it sometimes, is a truly strenuous activity for your body. When you're out in nature breathing the fresh air and getting your heart rate up, you're burning calories and energy. Eating a good breakfast, packing a smart lunch, bringing along healthy snacks and planning a satisfying dinner will help keep your energy levels up throughout the day.
Breakfast: Blueberry Cheesecake Protein Overnight Oats
Finding a breakfast meal that meets all of a hiker's needs throughout the day without requiring too much early morning effort can be tough. Getting up first thing to boil water can be a pain if you're planning on starting a hike early in the day. Overnight oats are a great option that will help to avoid that problem.
There are so many ways you can put a spin on this hiking meal with basic campground cooking gear. If you're more of a peanut butter person, use peanut butter. Strawberry? Throw in some of those. If you like chocolate, maybe opt for chocolate protein powder instead of vanilla. The flavor profile is up to you. Additionally, you can use whatever milk or non-dairy option you prefer as well. You can also add boosters like hemp or chia seeds that will keep your belly full longer.
The Recipe
Ingredients:
1/2 cup Old Fashioned Rolled Oats
1/2 cup milk of your choice
Small handful of blueberries
About a tablespoon of cream cheese
1 scoop of vanilla protein powder
Steps:
Quick and easy! Simply combine all of the ingredients in a sealed container like a jar or reusable tupperware container, give it a good mix, and let it sit in a cooler overnight.
In the morning, add whatever toppings you like. Granola, crushed graham crackers, blueberry yogurt and extra blueberries are all great options.
Snacks along the way
Don't be afraid of snacking on the trail: your body needs fuel! If cooking a full-scale hiking meal doesn't make sense for your adventure, snacks are an absolute necessity. Stay away from empty sugar and calories. Try your best to stick to snacks that will actually fuel your body, like proteins and complex carbs. We're big fans of trail mix, granola bars, cheese sticks and beef jerky.
Lunch: Whole Grain Pita Packets
Stopping for lunch in the middle of a day hike is absolutely crucial to your success. Even if you're not taking the whole day and only feel like you'll need a snack, take a break. Your body will thank you later.
The key with all camp kitchen and hiking meals is balance. A healthy blend of fruits, veggies, dairy, protein and carbs is what your body needs to take on a challenging day. This is where sandwiches come in: they've got it all. On the trail, pitas are great because you can hold them with one hand and they leave very little mess. (We also love packing an extra PB&J. We know they don't have a ton of nutritional value, but they make a great dessert and give you a little midday sugar boost.)
The Recipe
Ingredients:
Whole grain pita
Lunch meat of your choice
Cheese of your choice
Lettuce, tomato, onion, pickle; whatever toppings you like
Mayo, mustard, other condiments
Steps:
Once again, very quick and easy. Are we sensing a theme for this list of hiking meals? Just assemble your sandwiches either the morning of or night before your hike, throw them in sandwich baggies and you're good to go.
If you're using plastic baggies, remember to pack out all of your trash and leave no trace. If you're interested in reusable sandwich bags, Stasher Bags are a great environmentally-friendly option.
Dinner: Sausage and peppers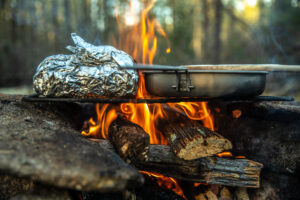 This is one of our favorite post-hiking meals. Although it does require a bit of prep ahead of time, it can be done super easily. If you prep right, all you have to do for this meal is throw your ingredients in a cast iron skillet and make sure it doesn't burn.
This very basic camp kitchen hiking recipe is a great building block for a ton of different easy meals you can cook at camp. We like this one because it comes with a zero-effort carb (hot dog buns), so you don't have to cook up rice or pasta or anything like that. On the other hand, there are also a ton of ways you could achieve a similar result with a one-pan meal. We picked this one precisely because it's quick and easy, perfect for tired hikers.
The Recipe
Ingredients:
One package of Italian sausages or Bratwurst
One large white or yellow onion, sliced
Two bell peppers, sliced
Olive oil or butter
Seasonings of your choice; we use salt, pepper, paprika and Italian seasoning
Hot dog buns for serving
Steps:
Before you head out, prep your veggies. Chop the onion and bell pepper up into strips.
Get a cast iron pan nice and hot and throw in your butter or oil and the pre-sliced veggies.
Season the veggies with whatever seasonings you have on hand.
Once the veggies have sweated down a bit, place the sausages into the pan. Cover it. Keep the heat on medium.
Every few minutes, stir the veggies around so they don't burn. After about 15 minutes, flip the sausages, then give them another 15 or so on the other side.
Deciding when everything looks done is up to you. Every camp stove or fire cooks at different temperatures, so cut into your sausages to make sure they're done before serving.
Throw the sausages on a bun and serve up the peppers and onions.
That's it! Now you're ready to hit the trail with a full belly and all the fuel you'll need. When out adventuring, newbie camp kitchen chefs who want to make on-the-go and easy prep hiking meals can put their own riff on any of these recipes. That's the best part of camp cooking – what you make is only limited by your imagination. (And the room you've got in your cooler.)
Happy cooking!