Overland Super-Duty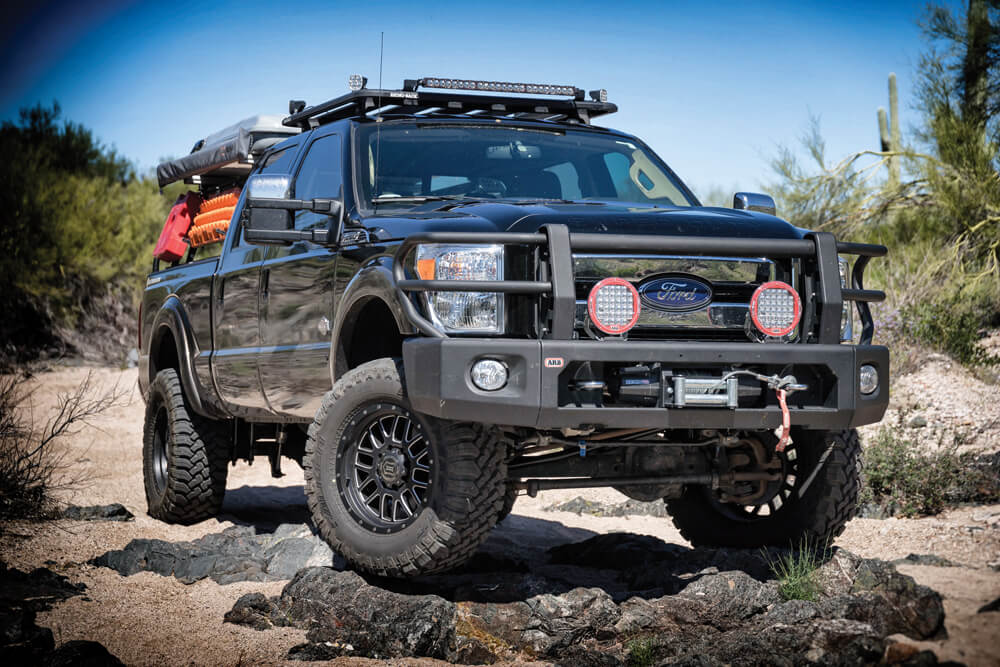 Versatile Diesel Hauler
Sometimes you just need a big truck to realize your overland vehicle dreams. Matthew Scott has been an automotive enthusiast all his life, and an industry insider—mostly as a journalist—for more than six years now. He has gone through more than a vehicle a year in that time frame, never finding a vehicle that quite met all his needs. He has recently set a new personal record, by owning this 2016 Ford F250 Crew-Cab Diesel Super-Duty King Ranch for more than a year.
"Being a full-size truck owner was never something Scott envisioned, but after over a year of Super-Duty ownership he's happy he made the purchase."
The long road to this full-sized truck was paved with most of the overland vehicles you'd expect: Land Rover Series III, Land Rover Discovery, Toyota FJ40, Subaru Forester, Jeep JKU Rubicon, Toyota 70 Series Land Cruiser Troopy, Toyota 4Runner and others.
Scott not only owned all these vehicles, but modified most of them substantially to meet his taste and travel style. Most of the vehicles not on this list, Scott has had the chance to drive through his automotive journalism career, giving him a wide off-road/overland vehicle perspective.
Going Big
Being a full-size truck owner was never something Scott envisioned, but after over a year of Super-Duty ownership he's happy he made the purchase. Scott's automotive journalism and adventurous spirit have taken him on overland vehicle adventures around the globe, where he found that a large majority of his travels were on dirt roads—not gnarly, technical, off-road terrain.
Because of this, and no real desires to tackle routes like the Rubicon Trail, the full-sized truck makes complete sense as a basis for an overland adventure vehicle. The Super-Duty is quite capable off road, especially with a few tasteful modifications, and is only really hindered by its size, which is a trade off with its carrying capacity and comfort.
King Ranch
Scott expects a lot out of a vehicle, and until now had not found anything that could meet all his luxury, capability and versatility criteria. With this latest vehicle he set out to build a truck that could cruise down the highway at any speed he desired, go faster off pavement than he probably should, easily tackle moderate off-road obstacles, be a comfortable home on wheels, transport his motorcycles and carry inventory for his business—the US importer of MAXTRAX. On top of that extremely tall order, he appreciates and wanted a level of luxury and refinement that such a vehicle normally is not expected to possess.
"The Super-Duty is quite capable off road, especially with a few tasteful modifications, and is only really hindered by its size, which is a trade off with its carrying capacity and comfort."
The King Ranch trim level on this Super-Duty has all the bells and whistles you'd expect in a top of the line modern luxury car. How can you go wrong with heated and cooled seats after a long day on the trail?! The high-quality leather interior, two-tone paint scheme and integrated infotainment system make this truck not only look good, but also is an extremely comfortable place to find yourself. Besides wanting all the luxury the King Ranch package provides, Scott also realized that the package offers a much better resale value when he eventually decides to move on to his next project.
Added Capability
Besides all the refinement inside, Matthew also wanted a plush ride, no matter the terrain he was traversing or the load he was carrying. He turned to the experts at Super Duty Headquarters (SDHQ) in Phoenix, Arizona, who set him up with an ICON Vehicle Dynamics Stage 3.5 suspension system. The system gives him a full 4.5" lift, providing the big truck a much-needed improvement in entry, break over and departure angles.
The ICON suspension turned this large, harsh-riding work truck into an oversized Ford Raptor. With the refined 6.7-liter Power Stroke diesel under the hood, putting out nearly 900 lb-ft of torque, this big truck has no issues moving quite quickly over nearly any terrain.
Probably the biggest upside the ICON suspension has provided this build is the ability to dial in the ride, appropriate to the load being carried. Scott opted for ICON's Compression Dampening Control Valve (CDC) upgrade on the shocks, which allows him to adjust the dampening independently at all four corners of the truck. This allows him to dial in the ride no matter what the truck is hauling—whether it be empty around town, filled with dirt bikes for the weekend or a heavy pallet of MAXTRAX out for delivery.
Scott is extremely particular with who works on his vehicles. He came away from the experience with SDHQ extremely pleased, as they nailed the install perfectly the first time, including a spot-on alignment, and included a window decal reminding him of when to bring it back into the shop for an inspection and re-torque. Professionals appreciate professionalism.
With the lift came the advantages that come with being able to fit larger tires, namely ground clearance. The truck came with 34-inch tires stock, was quickly upgraded to 35s, which worked really well, but now sports 37-inch Falken Wildpeak MTs. The big tires are wrapped around 20-inch ICON Alloy Alpha wheels, which have the perfect backspacing for the Super-Duty, avoiding that tire outside the fender "brodozer" look.
Scott stuck with the 20-inch wheel sizing that came on his King Ranch, as they not only look good but offer proper clearance for the large disk brakes and enough sidewall for airing down off road, while not too much sidewall to cause issues while hauling a load at speed on the highway.
"Matthew's automotive journalism and adventurous spirit has taken him on overland vehicle adventures around the globe, where he found that a large majority of his travels were on dirt roads—not gnarly, technical, off-road terrain."
The front of the truck is fitted with an ARB Modular Front Bumper specifically designed for the Super-Duty. This upgrade was a no brainer for Scott, as he lived in Australia for some time and became very familiar with the capabilities and refined designs offered by ARB. This bumper offers OEM airbag compliance, full impact protection, quality recovery points, a winch mount and good looks. A front bumper that was devoid of diamond plate and had a level of refinement, not looking like someone designed it with "a ruler and some cardboard," was extremely important to Scott.
Scott skipped the rear bumper on this build, as it is his daily driver and there currently is not a product out there that meets his needs. Specifically, the rear off-road–style bumpers currently on the market don't work well with the factory backup camera and reverse sensors, tools that Scott wasn't willing to forgo.
With no rear bumper tire carrier, and not wanting to lose precious load space in the bed, Scott stuck with the factory 34-inch spare in the stock location for everyday use. With many thousands of miles of remote off-road travel on multiple continents, he has somehow never had a tire failure but still carries an onboard air compressor and tire repair kit, just in case. He also has a spare 37 that mounts in the bed on more serious trips further afield, like a planned off-road run down the Baja peninsula soon.
Roof and Bed
In order for this truck to serve all the roles that Scott requires of it, it needs to have a quickly and easily configurable bed rack system. The Leitner Designs Bed Rack is the perfect product, as it allows him to convert from overland mode to moto mode with extreme quickness.
A James Baroud Evasion rooftop tent is easily installed atop the rack when the truck is being used for camping trips, and easily removed when it needs to carry motorcycles or general loads. The racks hold and display MAXTRAX recovery boards on each side, as well as Roto-Pax fuel containers. In this case the Roto-Pax aren't for extra fuel range for the truck, but for holding two-stroke and four-stroke fuel for Matthew's quiver of trials and enduro motorcycles.
To complete the versatile rack system on this Super-Duty, it has been fitted with the Rhino Rack Pioneer Platform roof rack atop the crew cab. This allows for overflow storage when the bed of the truck is full of product or dirt bikes, offering extra carrying capacity of firewood and gear storage boxes. It can also hold the roof-top-tent, which comes in handy on weekend motorcycle trips when the bed is full of bikes and gear.
"WHILE THIS TRUCK WILL NEVER BE A ROCK CRAWLER, IT IS QUITE CAPABLE. LOADS OF TORQUE, BIG TIRES, LOTS OF CLEARANCE, CAPABLE SHOCKS AND A SKILLED DRIVER ARE SURE TO FIND THIS TRUCK IN REMOTE, OFF THE BEATEN PATH LOCATIONS."
This Rhino Rack offers a ton of great accessory options and is super low profile, offering good aerodynamics and good looks. SDHQ also found a way to mount it directly to Ford's factory accessory rail with Rhino Rack's quick-detaching, locking, mounts, so tools are not required for quick install or removal.
The Rhino Rack is also the mount for a few of the lights that this Super-Duty is outfitted with. A full complement of Baja Designs LED lights are mounted on the rack with four Squadron lights providing 360-degree area lighting around camp and a 30-inch S8 light bar for long range distance on those night off-road missions and remote desert highways. The vehicle's lighting is topped off with two massive ARB Intensity LED lights on the front bumper, Aussie style—one fog and one driving light.
Recovery Options
Off-road capabilities are further improved with the install of a Warn Zeon 12K winch in the front bumper, and of course, two sets of iconic orange MAXTRAX fitted to each side of the Leitner rack. While this truck will never be a rock crawler, it is quite capable. Loads of torque, big tires, lots of clearance, capable shocks and a skilled driver are sure to find this truck in remote, off the beaten path locations. Between the Warn winch and MAXTRAX, and knowledge on how to use both properly, Scott has set himself up for good odds at self-recovery.
Future Adventures
This Super-Duty has already covered many thousands of dirt and pavement miles in the American Southwest over the past year, including duty as a Rebelle Rally Media Chase truck, with many more adventures on the horizon. Besides an off-road run down Baja and a few moto trips to Colorado and Utah over the summer, there is also a western national parks trip in the works. It will also see continued use as Scott's daily driver and work truck, transporting shipments of MAXTRAX around the country.
The current setup on this build leaves little to be desired, but a longer-range fuel tank and rock sliders are probably in its near future. This Super-Duty will continue to evolve as new products hit the market and Matthew finds new ways to refine the overall package for his varied uses. Let's just see how long he keeps this one!
_____________________________________________________________________________
UPGRADES
ENGINE: 2016 Ford F250 Crew Cab Short Bed 4×4 Power Stroke King Ranch
Wheels & Tires: ICON Alloys ALPHA with Milled Finish (20") wrapped in Falken Wildpeak MTs (37 x 13.50 x 20)
Suspension: ICON Stage 3.5 with 4.5-inch Lift and 2.5" Remote Reservoir CDC Adjustable Shocks
Rack Systems: Leitner Designs Bed Rack, Rhino Rack Pioneer Platform Roof Rack
Off Road Accessories: ARB Modular Front Bumper, Warn Zeon 12K Winch, MAXTRAX (4), ROTOPAX (2)
Lighting: 4X Baja Designs Squadron Lights, 1X Baja Designs S8 Light Bar, 2X ARB Intensity LED lights (1 Fog/ 1 Driving)
Overland Accessories: James Baroud Evasion RTT, Engel MT45 Fridge
Editor's note: A version of this article first appeared in the print issue of Tread magazine.