Compact Grilling
Meet the UCO Flatpack Portable Grill and Firepit. The magical origami-like Flatpack is a portable grill and firepit that packs down for compact storage and easy transportation in small spaces, even a daypack. Constructed of stainless steel, it is easily maintained and can stand up to the inevitable abuse of being lugged around from campsite to campsite.
Hauling cooking gear to your final destination, especially something as substantial as a grill, is sometimes not an option, especially if you're packing light. When you're humping up a hiking trail or descending into a secluded seaside cove, it's not always possible to bring a grill with you­—or is it?
Contents
The Flatpack comes with a grill and grill holder but otherwise is a self-contained unit. When unfolded, it reveals coated legs that interlock and provide a stable platform for grilling. Grill set-up took us about a minute. All we needed to do was unfold the Flatpack—which is a self-explanatory experience—interlock its legs, fill it with charcoal and lighter fluid and place the grilling grate on top of it. We then lit the charcoal and allowed it to heat up. If you do not have charcoal handy, wood would suffice as well.
In our case, we fit UCO Flatpack Portable Grill into a small 19-liter Tactical Tailor backpack and took it on a hike. The grill and firepit folds down to be less than 1.5-inches thick and has the footprint of roughly the size of a sheet of legal-sized paper. When we got to our destination, we felt that asada tacos were in order and promptly grilled some up. The grill got up to temperature quickly and effortlessly, even on a moderately windy day.
Firepit Usage
The Flatpack's side panels feature holes in it that serve as wind breaks for grilling in windy conditions and keeps air free flowing to help feed the fire. When not being used as a grill, it can be used as a firepit as well. Just fill it up with fuel, such as wood, and get the fire started. The UCO Flatpack Portable Grill safely contains fire and keeps it off the ground. After finishing our tacos, we set off to our next destination. Flatpack clean up was as simple as wiping it down and storing it back into our daypack.
RECIPE
Hiker's Carne Asada Tacos
Prep Time: 60 minutes
Marinade Time: 2 hours
Cook Time: 10 minutes
Serves: 3-4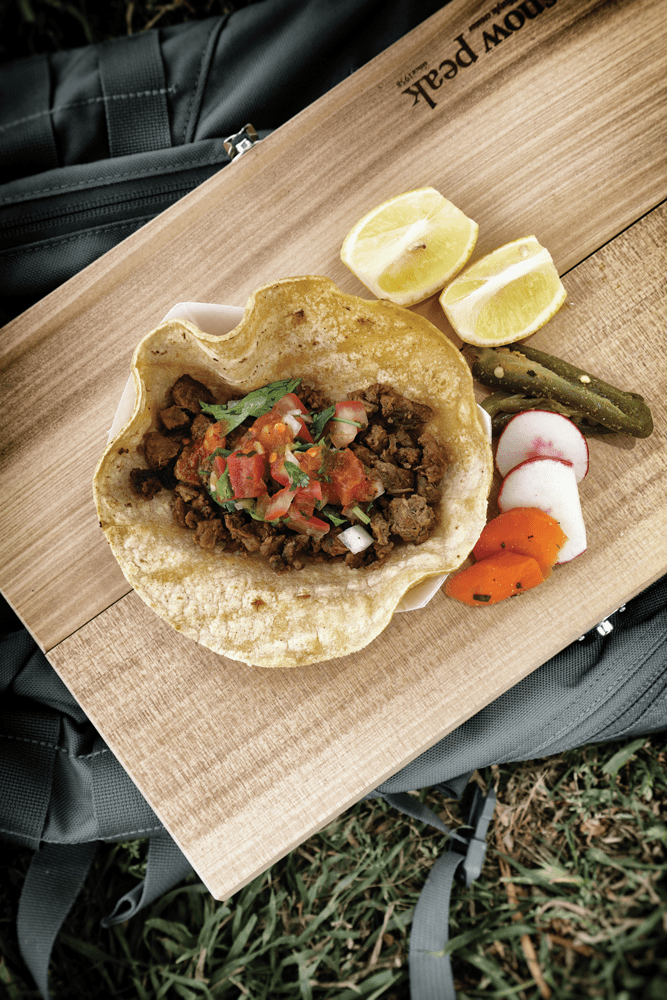 Meat
1-1/2 pound Skirt Steak
1/3 cup olive oil
Marinade
2 tablespoons lime juice
4 garlic cloves, minced
1/2 cup of orange juice
1/2 cup cilantro, finely chopped
1/4 cup soy sauce
1/4 teaspoon salt
1/4 teaspoon black pepper
1/4 cup olive oil
1 jalapeño pepper, minced
2 tablespoons white vinegar
Fixings
Lime or Lemon wedges
Corn or flour tortillas
Thinly sliced radishes
Pico de gallo salsa
Pickled carrots and peppers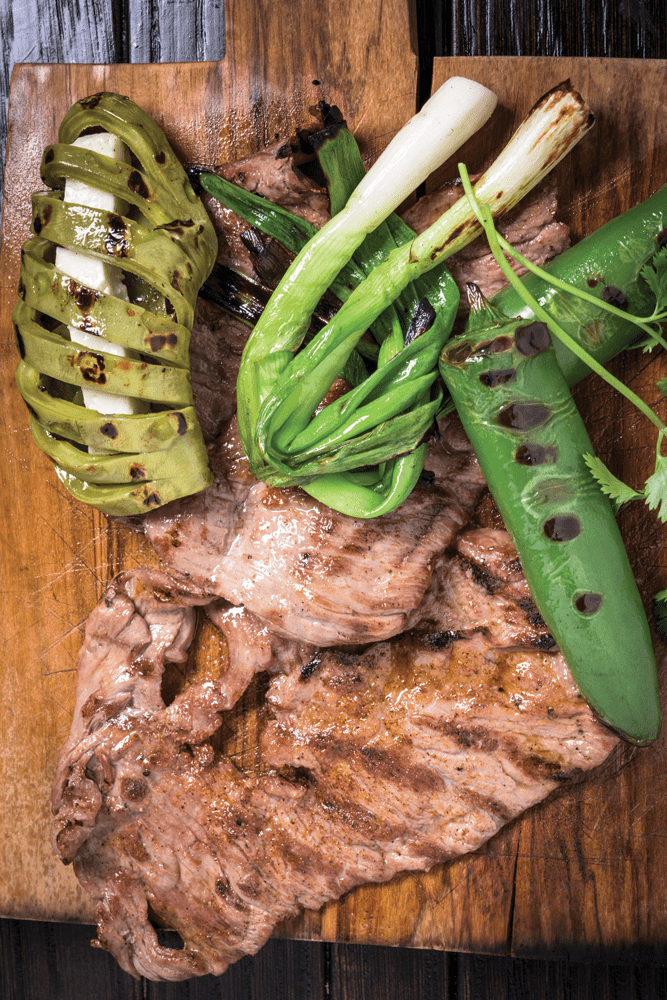 Instructions
In a gallon-size zip top bag, combine and mix the marinade ingredients together.
Put the skirt steak into the marinade bag and seal it. Coat the entire steak with the marinade, making sure the entire surface is generously coated. Allow marinating in a refrigerator for at least two hours, leaving it overnight is even better.
Depending on your situation, you may chose to pre-chop (slicing against the grain) the steak prior to heading out on your trip or slice it up after it is cooked. We opted to chop it prior to our hike for ease of cooking and to reduce the mess.
Heat the grill to high heat, oil the grill with olive oil and cook the steak for four to five minutes on each side. If your meat is chopped, you'll want to add a sheet of olive oil coated aluminum foil on top of the grill and cook it until it is browned. Simultaneously, heat up your tortillas on the open portion of the grill.
When the meat is done to your liking, remove the steak and tortillas from heat and serve. Flavor with pico de gallo, limes and other fixings to taste.