Land Rover Discovery Vertical Impression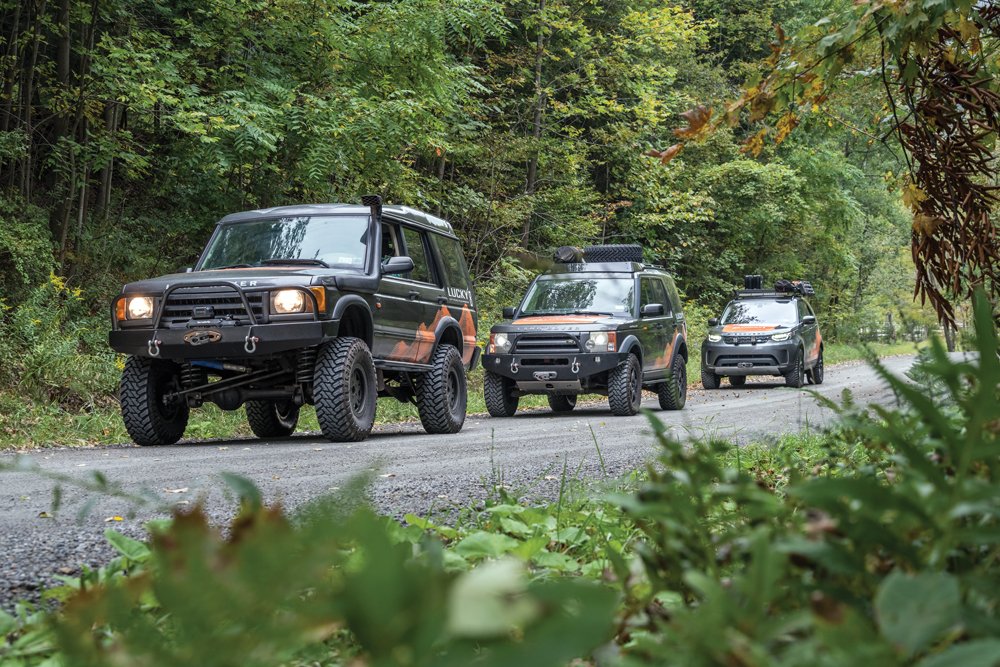 An Overland Discovery Comparison
The Land Rover Discovery is an iconic vehicle in its own right, but it has always been overshadowed by its fancy big brother, the Range Rover, and its even older and scrappier sibling, the Defender. The Discovery is the Land Rover that is generally more affordable, and offers most of the everyday comforts of a Range Rover and a good bit of the off-road prowess and utilitarianism of the Defender.
With the new Defender about to hit dealers and its design more closely related to the latest Discovery V than past Defenders, we were very interested to see how the latest Discovery stacked up against previous generations on a proper overland adventure. Luckily, the good people at Lucky8 Off Road, a leading Land Rover specialty shop outside Buffalo, New York, have a full fleet of similarly modified Discoveries to play with.
Along with a great group of passionate Rover owners and the crew from Lucky8, we took off across the great state of Pennsylvania, from north to south, on dirt for a few days. The trip was a well-rounded side-by-side comparison test of the three generations of Land Rover Discovery vehicles. We traversed highways, twisty backroads, gravel roads, two-track and muddy overgrown trails, and even played with a few more technical pieces of terrain.
Reliability Concerns
Let's address the elephant in the room right off the bat. Yes, it only took about 2.4 miles before we had a breakdown. With that out of the way, our fleet of eight Land Rovers really only had that single issue in a few thousand miles of overland adventure. With the wide variety and quality of vehicles on this trip, we were impressed that they all just went about their duties as adventure machines without issue.
"We basically had an $800 Disco II, $8,000 LR3, and $80,000 Discovery V in this test."
The one breakdown was caused by a failed sensor in the air suspension on the LR3. The truck slowly dropped down to its lowest ride height. Two things, however, saved the day. The truck had Lucky 8's SYA kit on it, which is a spacer that allows the truck to run up to 35-inch tires while on the bumpstops without an issue. Without it, any larger-than-stock tire stuffed into the body would prevent the vehicle from rolling. The second essential tool and savior here was the GAP IID code reader. With a quick flash of the computer we were able to override the fault and get the truck riding at whatever height we preferred.
Discovery History
The Land Rover Discovery was first introduced in 1989, but we didn't get it in the U.S. until 1994. It was built upon the Range Rover classic ladder-frame chassis, with solid front and rear axles. This first generation, both the Disco I and updated Disco II, were made all the way through 2004. When the Disco II was introduced in 1998, it came with tons of updates, which overall offered more luxury and more family-hauling capabilities. Three V-8 gas engines were offered during this generation's run in the U.S., a 3.9L, 4.0L, and 4.6L.
In 2004, we got the second-generation Discovery, which encompasses the LR3 and LR4 versions of the SUV. This generation moved to fully independent suspension and was built on its own unique integrated body-on-frame chassis. This generation Discovery saw the introduction of Land Rover's legendary Terrain Response system, which gave unparalleled off-road capabilities with the turn of a dial. This generation offered up a 4.0L V-6 base motor and 4.4L V-8, and later a 5.0L V-8 in the LR4. The LR4 was introduced in 2009, which offered a more refined and luxurious interior than the LR3 and the bigger, more powerful engine.
"The Discovery is the Land Rover that is generally more affordable, and offers most of the everyday comforts of a Range Rover and a good bit of the off-road prowess and utilitarianism of the Defender."
The third-generation and fifth version of the vehicle brought back the Discovery name to the U.S. market in 2017. This generation also has fully independent suspension but is built on an all-new aluminum unibody chassis. This chassis, even with more luxury and technology features, allowed the Discovery to shed over 1,000 pounds. Be sure to check the option boxes for the two-speed transfer case, offering low range and selectable rear locking differential if you want to maximize the off-road capability of the new vehicle. The Discovery V comes with a 3.0L Supercharged V-6 or, for the first time in the U.S., a 3.0L V-6 turbo-diesel.
The Comparison
Throughout the mixed terrain on this adventure, we were able to drive, ride as a passenger, and observe through the camera lens each generation of Land Rover Discovery doing its thing. The three Discovery vehicles where we focused attention were all modified in similar ways and provided a good cross section of the breed.
The comparison fleet included an $800 Discovery II with a 5-inch lift and 32.8-inch tires, an $8,000 LR3 with a 2.5-inch lift and 32.1-inch tires, and the latest generation Discovery 5, worth over $80,000, on 32.4-inch tires and a 2-inch lift.
All the trucks were very similarly modified for off-road capability. They all ran larger-than-stock 32-inch-plus Atturo mud-terrain tires, a mild lift kit, a winch with synthetic line, and Factor 55 winch line ends. The Disco II and LR3 were also all fitted with proper rock sliders, as the longish wheelbase of all generation of Discovery makes the middle of the trucks an easy target for rock damage. Sadly, at the time of this test, no sliders were available yet for the Disco V, but they are now.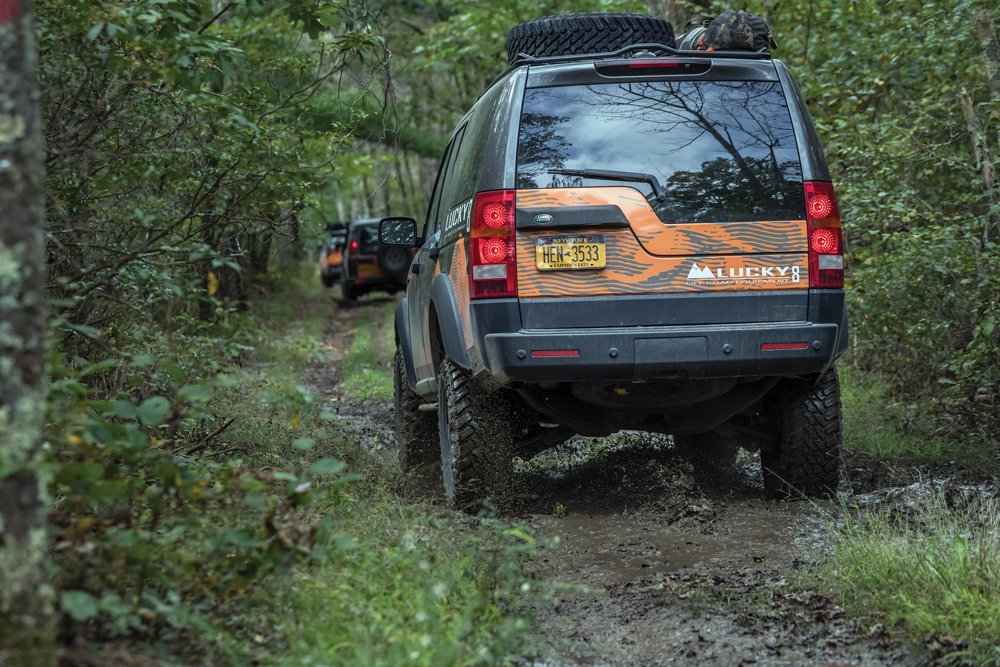 Land Rover Discovery II
In this test, the 2001 Discovery II was a used and abused model with nearly 200,000 miles on the odometer. It has been used hard as a testbed for many Lucky8 products and is the most off-road focused of the vehicles in the test. This Disco even got an engine swap, from the 4.0L to the 4.6L, for improved low-end torque to help compensate for the bigger 32.8-inch tires. All Disco IIs, besides the 2004 model, also came with open transfer cases, so a locking version from a Disco I was swapped into this truck.
This Disco II has been thoroughly upgraded in all meaningful ways for maximum off-road capability. It received a 5-inch lift with Fox shocks and upgraded driveshafts to work with the lifted suspension geometry. An extended watts link makes sure the rear axle doesn't bind and maximizes flex. An adjustable panhard bar corrects for the lift of the truck and centers the axle. Extended brake lines and ABS lines were needed to handle the extra shock length. This vehicle also features a snorkel, quick-disconnect sway bar links, rock sliders, front and rear bumpers, and a Terrafirma 12K winch.
This Disco II is a rough and tough adventure machine. It offers a commanding, tall, upright driving position and the best all-around views of maybe any vehicle ever. It forces you to drive it, as there are no computers controlling the driving experience. That raw driving experience is a bit diminished with the insanely wide turning radius, excessive body roll on high-speed corners, and excessive road noise. This is by far the most technically capable off-road Discovery out there, and so fun to push to its impressive limits.
Land Rover Discovery III
The 2006 LR3 tested is a well-used model that has been tastefully upgraded for off-road capability. To maximize ground clearance and fit the 32.1-inch mud-terrains without rubbing, 18-inch Compomotive wheels and a Proud Rhino 2.5-inch lift were installed. The lift kit consists of small aluminum rods that trick the air suspension sensors and only cost $68. That is a cheap mod for big gains.
This LR3 is also armored up in all the right places, without adding too much weight to an already-heavy vehicle. It has rock sliders and a front Lucky8 CFE winch bumper with Warn Zeon 10 winch. Underneath it features a skid plate/sump guard and heavy-duty Lucky8 gas tank skid plate. Replacing the factory tank skid is critical, as it is super thin and low and can rub on the driveshaft if crushed. A Prospeed roof rack with spare tire carrier and Baja Designs Squadron Sport Lights complete this truck's modifications.
The exterior design is a blocky design unlike anything else out there, and one that has aged well. The interior of the LR3 offers a unique look that is both utilitarian and quirky British luxury at the same time. While we like it, I have to admit that it hasn't aged all that well and the plastics and rubber-touch surfaces don't hold up well over time, especially with trucks that come from sunny environments. The LR3 feels heavy, because it is when you drive it. It isn't slow, but it's not quick either. Overall, it is an easy vehicle to spend a bunch of time in, on- or off-road.
Land Rover Discovery V
With only 1,100 miles on the odometer, the 2017 Discovery V in this test is just a baby. This trip was one of the first big tests for the completed vehicle, and it performed flawlessly. The build concept is to offer the most capabilities and off-road looks without diminishing the value of this expensive Land Rover, which costs north of $80,000. What that amounts to is purposeful bolt-on parts that are cleanly integrated into the vehicle.
The transformation starts with a Proud Rhino 2-inch lift kit. The lift allows for 32.4-inch mud-terrains to be fitted on the stock 20-inch wheels. This is the maximum tire size that can be fitted with this lift kit and still have the vehicle roll if the air suspension fails and it's resting on the bumpstops. Up front, off-road driving lights are mounted through the grille and a hidden winch mount with Warn Zeon 10-S winch. Both of these Lucky8 products require no cutting or vehicle modifications to install. Up top, this Disco V has a Front Runner roof rack with light bar, jerrican holder, and traction board mount.
"The three Discovery vehicles where we focused attention were all modified in similar ways and provided a good cross section of the breed."
While the exterior styling of the new Land Rover Discovery leaves most of us longing for the older Discovery models, the interior wows in every way. It is a thoroughly modern, luxurious interior that is a great place to spend lots of time. It is refined and quiet, while also keeping its quirky Land Rover charm. The Disco V truly is a great everyday and road-trip vehicle that feels nimble and planted on the street. It is fun to drive both on- and off-road, but the vehicle's computers are involved in every driving decision. This electronic buffer between the vehicle and driver will leave some purists longing for more feedback from the terrain. The biggest disadvantage to the Disco V is the lack of aftermarket support, like proper armored bumpers. Oh, and the steep price tag.
Final Thoughts
We basically had a $800 Disco II, $8,000 LR3, and $80,000 Discovery V in this test. Each vehicle had its pros and cons for overland travel. If you want the most technical off-road capability and ease of trail side repair, the Disco II is an easy choice. If you want massive cargo room and proper off-road touring capabilities, the LR3 is perfect. If you want the ultimate luxury, on-road comfort, fuel efficiency, and long-distance off-road touring capability, the Discovery V is your machine.
Shout-Outs
I want to send out a big thanks to Justin Monnin, owner of Lucky8 Off Road, for letting me play with all his green oval toys, and Bill Nadolski for putting together and guiding this great overland adventure. A huge thanks also has to go out to the crew at Lucky 8 and all their passionate customers who were on the trip for the hospitality and good times.
Which would we choose? Tough question, but we'd say that the combination of impressive on-road manners, off-road capabilities, luxury feel, and cargo room offered in the LR3 is hard to beat, especially when you consider the insane value that these vehicles offer right now. This generation Discovery is also very easy to upgrade, while being very capable right from the factory.
Enjoy this story? Enjoy the whole issue … for free! Click here to download your FREE copy of Tread March/April 2020.