Millennials have the largest buying power of any age group in the world right now, and vehicles from the 1990s from which they grew up with are all the rage right now to scoop up and own as fully contributing members of society.
One such vehicle is none other than the diamond in the rough, the second generation L20 Toyota Tercel Wagon.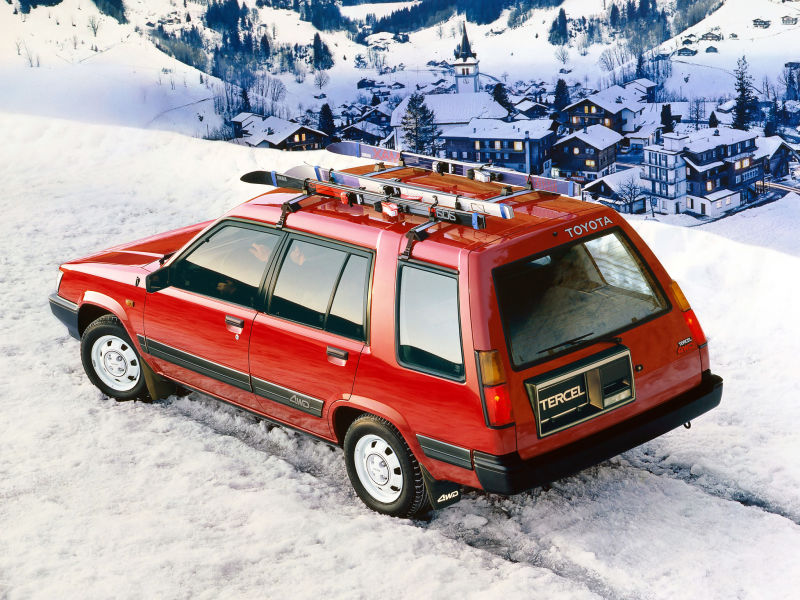 The second generation of Tercel Wagons went into production in May of 1982. They were primarily available in 4WD configurations. All North American Tercels were fitted with a 1.5L four-cylinder engine producing a modest 63 hp and 4800 rpm. As with the previous generation, the Tercel's driveline was mounted longitudinally, instead of the transversally mounted configuration that was starting to become standard in import vehicles. The decision to mount the driveline longitudinally was due to the bulky 4WD system. These 4WD drivelines (chassis code AL25), were equipped with a six-speed manual transmission and the transfer case was synchronized, meaning a butter smooth shift from two- to four-wheel drive without coming to a stop.
Unusually, the sixth gear in the transmission is actually an "extra low" first gear, giving the transmission a 17.6:1 final drive ratio. This extra low gear was put in place to allow the engine to develop the torque needed to extract the vehicle from conditions that would normally require a low range transfer case. Also included with 4WD systems was an inclinometer mounted above the radio for measuring the tilt of the car.
The plucky Tercel was a parts bin car, borrowing from existing pieces in Toyota's growing 1980s lineup. The engine, transaxle and front-wheel-drive system were from the previous generation Tercel, while the live rear axle was taken from rear-wheel-driven Corollas. The only part that was unique to the Tercel was the transfer case that was built into the six-speed transmission housing. Normally the 4WD Tercels were front-wheel-drive cars. When the driver would pull back on the transfer case shifter to shift into 4WD, the rear differential would be engaged. It is worth noting that the transfer case in Tercels do not have a center differential, so like much of the part-time 4WD vehicles Americans are used to, it cannot be used on the street, unless there is a compromising surface on the pavement.
In 1985, there were minor changes done to the styling of the vehicle, but as of February 1988, the Tercel was done being cool. The third generation was essentially more Corolla than anything else, and as Toyota's cheapest model it competed directly with the Volkswagen Golf.