Glamping on the Go
What's your ideal way to camp? Are you minimalistic, preferring to camp with only what you carry on your back? Or are you on the other side of the spectrum, opting to roll into the campsite with every civilized convenience possible? If you or your better half sides with the latter group, the folks at Black Series Campers have your backs.
Perhaps someone in your household can't live without indoor plumbing or an actual mattress to sleep on, yet they don't want to be left behind from any outdoor adventures. Black Series Campers sees no reason why you can't have it all. They offer a wide selection of travel trailers that can bring the modern conveniences and comforts of home to the great outdoors.
The Australia-based company drew from over a decade of experience gained from the creation of their well-respected line of pop-up campers and have developed a line of full-sized travel trailers for those who prefer a more plush way to enjoy the outdoors.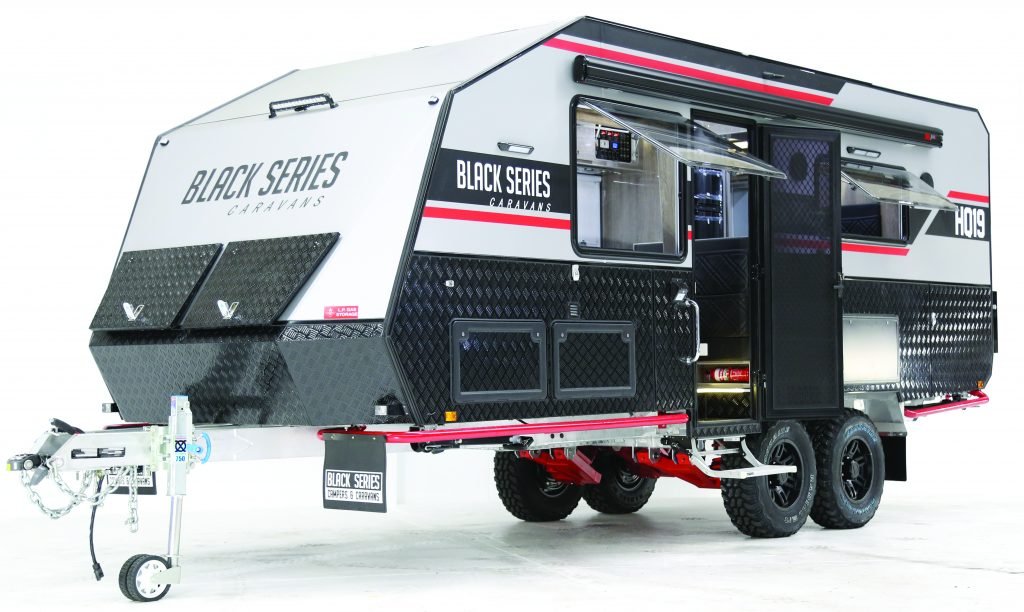 A Smooth Ride
It's important to understand that the Black Series line of travel trailers were created to traverse off-road trails and rough terrain from the get-go. Unlike many of the travel trailers that you see cruising the highway that require smooth roads, Black Series travel trailers feature a dedicated suspension that offers unparalleled off-road performance.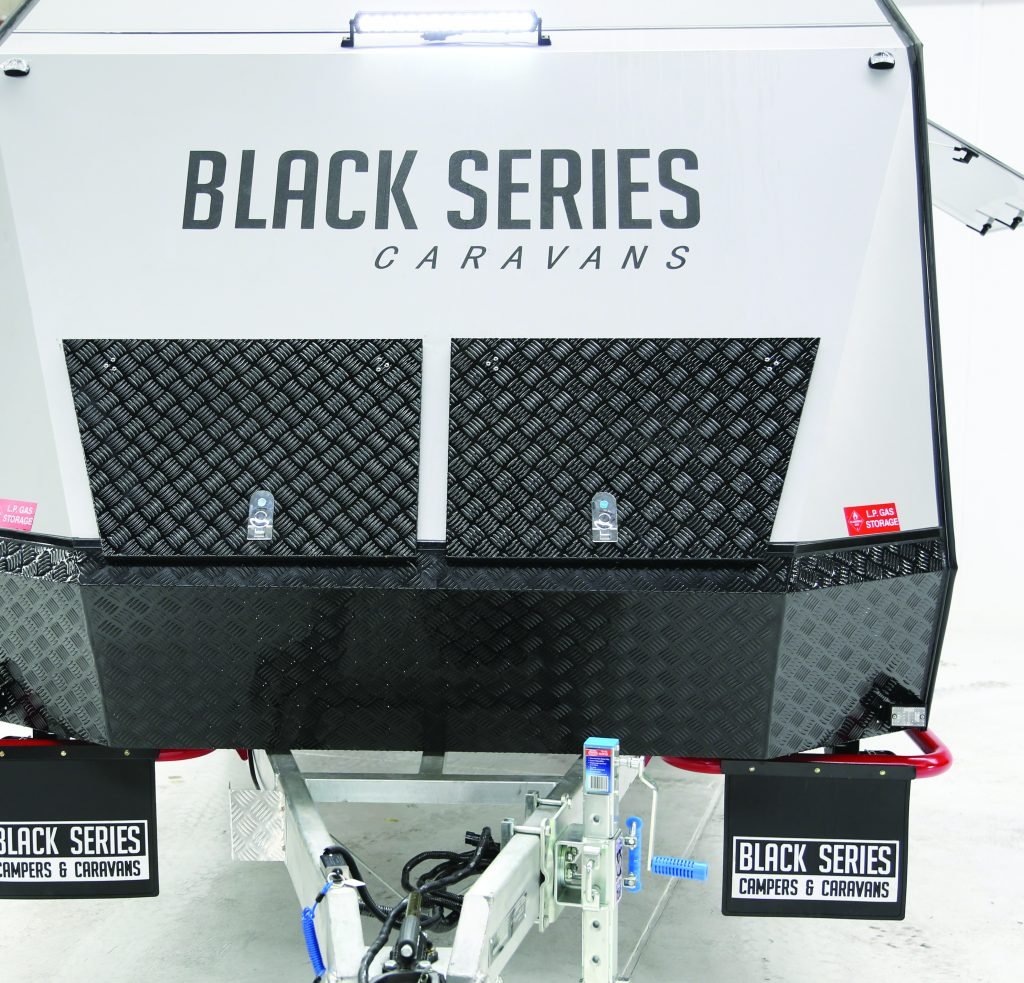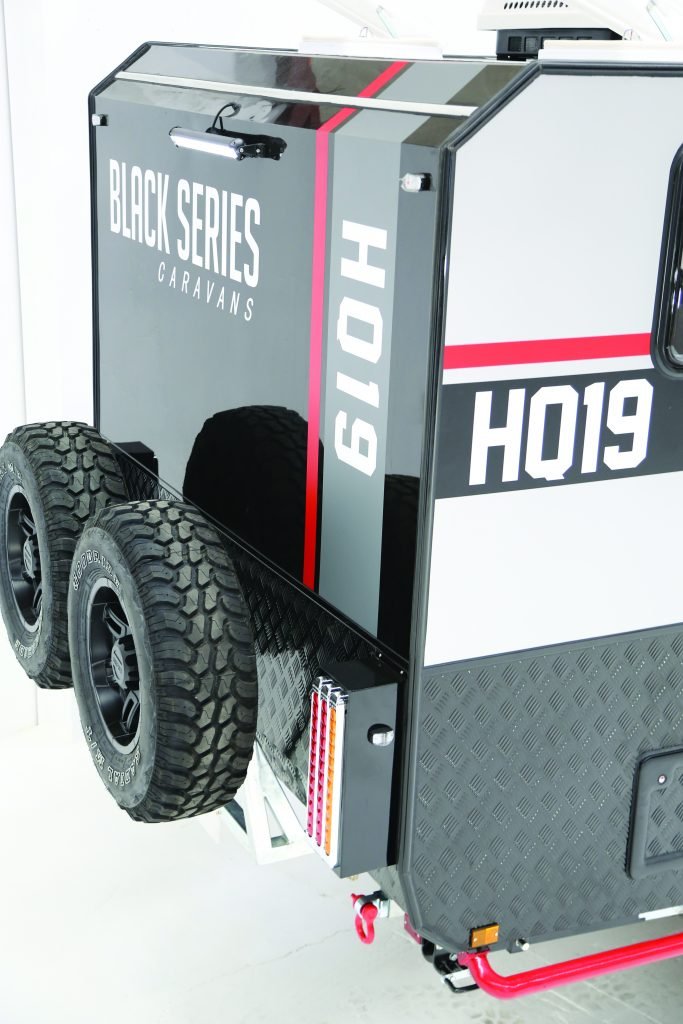 Black Series developed a highly robust independent suspension system that features their own in-house custom-designed and engineered trailing arms, which allow each wheel to move independently. This suspension allows for a smoother, more stable ride whether on the highway or on rough terrain. Its quad shock design spreads the load across four shocks instead of two, allowing for a smoother ride, safer handling, and longer shock life.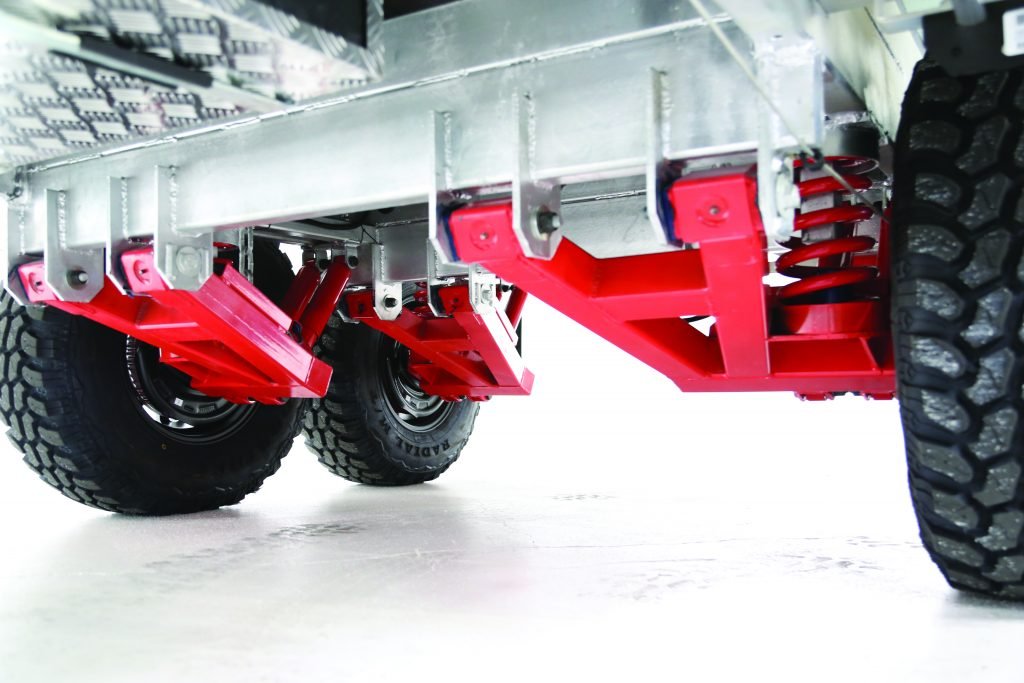 This independent suspension design that Black Series has come to be known for has been adapted into a dual axle design in order to help disperse the trailer's weight more evenly. Utilizing a poly block hitch that allows for 360 degrees of rotation, the wide articulation lets the trailer tackle the most demanding trails while also allowing for a smoother, more stable ride for safer towing.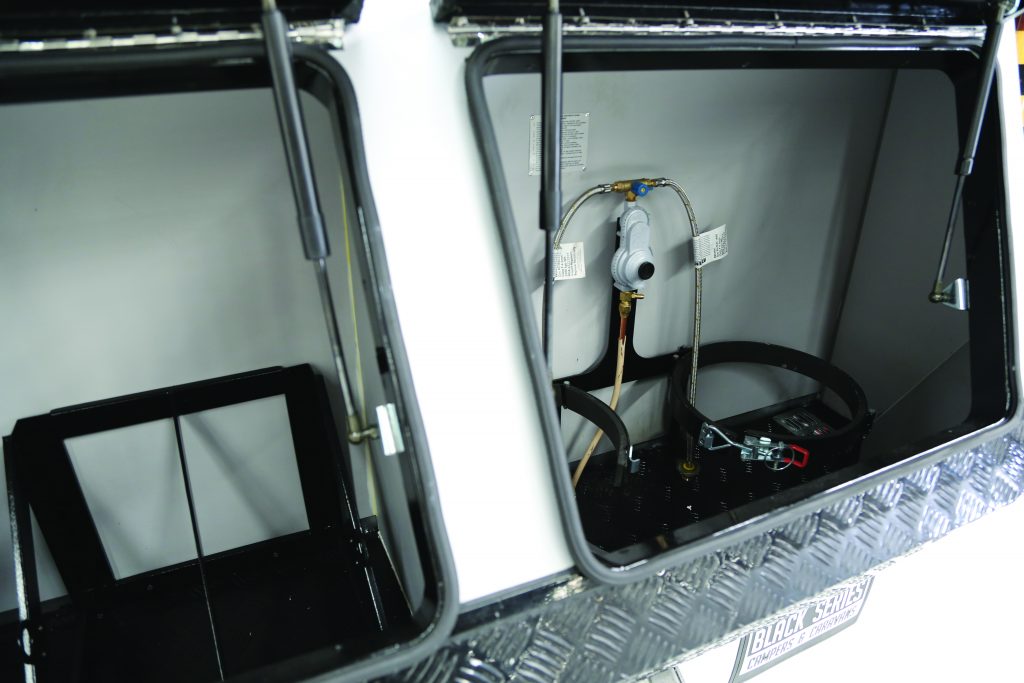 All the Comforts
As you can tell from the images, this trailer isn't your average run-of-the-mill travel trailer. The HQ19 shown here is Black Series' top-of-the-line trailer, which oozes luxury appointments and the comforts of home that can even be compared to a luxury hotel suite on mud terrain tires. There's no written rule that says you can't glamp on the go, is there? The 19-foot-long HQ19 is their biggest trailer and was intended to be Black Series' most elegant trailer, too, with an interior that features Five Star timber veneer, high-gloss timber enamel cabinetry, and genuine leather upholstery.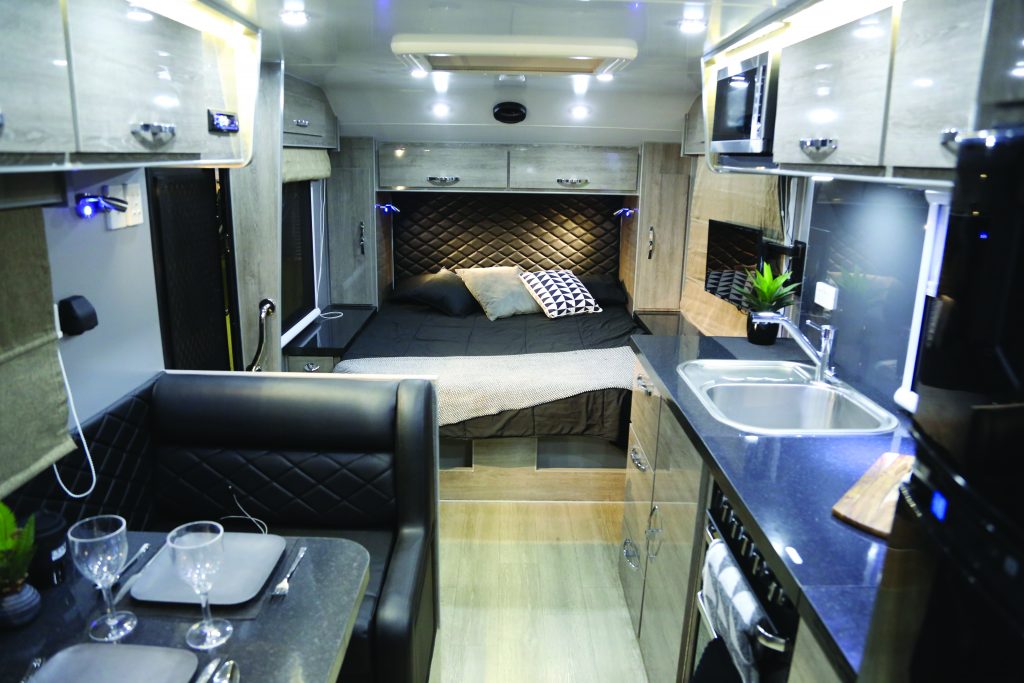 It's not all looks. The HQ19's interior also features a fullsize fridge, stovetop, oven, microwave oven, 24-inch TV, entertainment system with two interior speakers and two exterior speakers, separate toilet and shower, and even a washing machine. Yes, you read that right. We'll reiterate; it's got a fullsize fridge, separate toilet and shower, and even a washing machine. Incredible isn't it? Even those who would rather rough it while in the wild would probably like to take advantage of those amenities at some point during their trip. Helping keep the lights on, two 150-watt roof-mounted solar panels keep its four 100ah deep-cycle batteries charged so you don't need to worry about running out of power.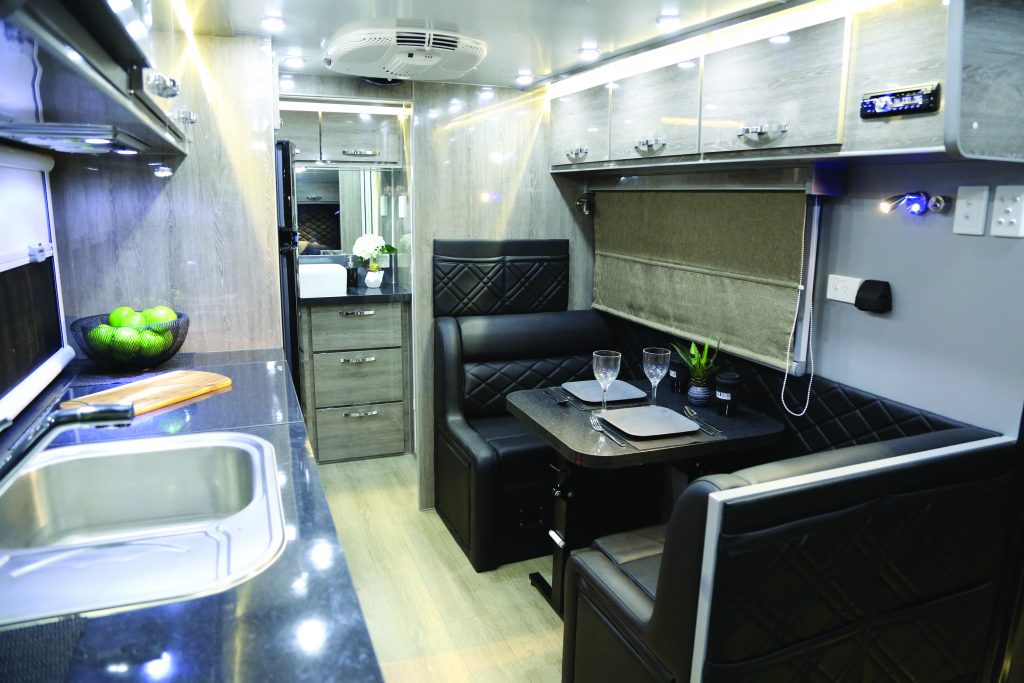 Brass Tacks
The trailer's exterior is equipped with a diamond plate lower section and corner bash bars that help keep it protected when things turn rough on the trail. Five oversized Eurovision windows with fly screens allow its occupants prime views wherever it's parked, and an awning creates a cozy gathering space.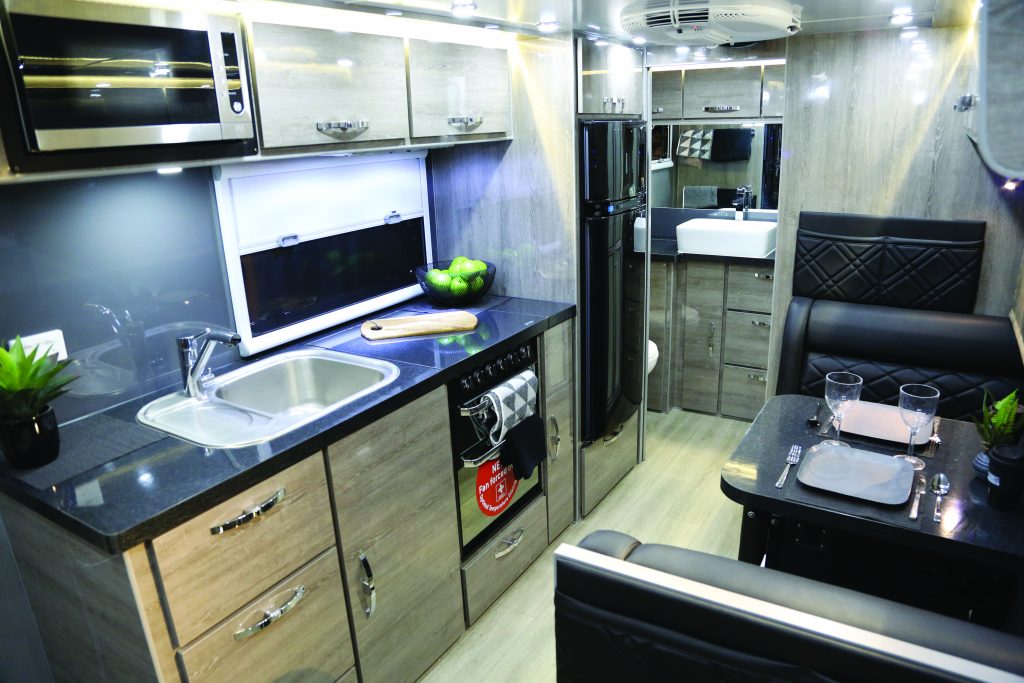 The trailer is one of four in a series; the HQ12, HQ15, HQ17, and HQ19 are each named after their lengths, meaning that the HQ12 is 12 feet long and the HQ19 is 19 feet long. Curiously, the HQ17 is configured to be a family hauler that sleeps five, while the HQ19 is rated to sleep three. Evidently the 2 extra feet of length were used for more creature comforts rather than sleeping area.
As fully loaded as the HQ19 is already, it's hard to imagine that it has any options to speak of. We were informed that there are indeed three options that can be added to the travel trailer, which include rock sliders that protect the bottom of the trailer from hard hits from rocks and other hard surfaces, dual spare wheels and tires, and a holder (which we like for its crazy tough looks alone) and an outboard pullout stainless kitchen with 3-burner Dometic stove. One look at the kitchen and we'd have to say that's it a must for some good ol' outdoor cooking in our book.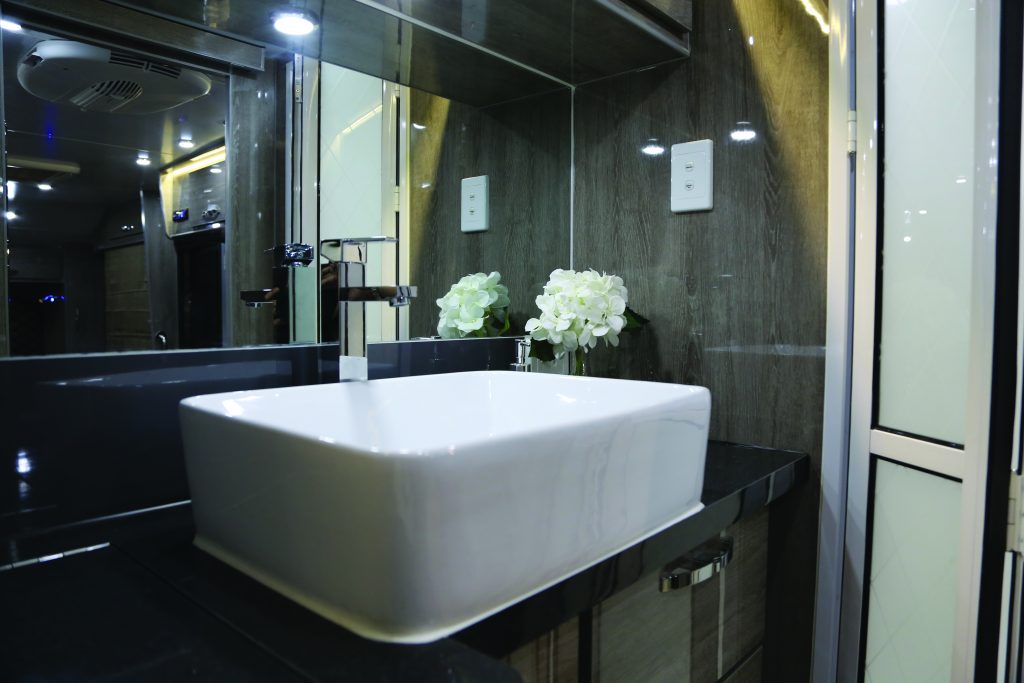 For those looking to bring their glamping setup wherever they go, the Black Series travel trailers are a must-consider. Even for those who think the entire point of camping is to rough it would have to admit that having access to the conveniences found in any of the HQ-series of trailers is too tempting to give into. 
Pricing for the trailers start at $39,999 and top out with the HQ19 at $59,999, minus options and taxes and fees. Considering its attributes and capabilities, we thought it would cost much more. Keep in mind that there are plenty more features that come standard that we haven't listed, but you'll want to check out for yourself. Black Series Campers prides themselves for delivering quality builds that are reliable and are high on value. Considering what you get for the price, we can't argue with that.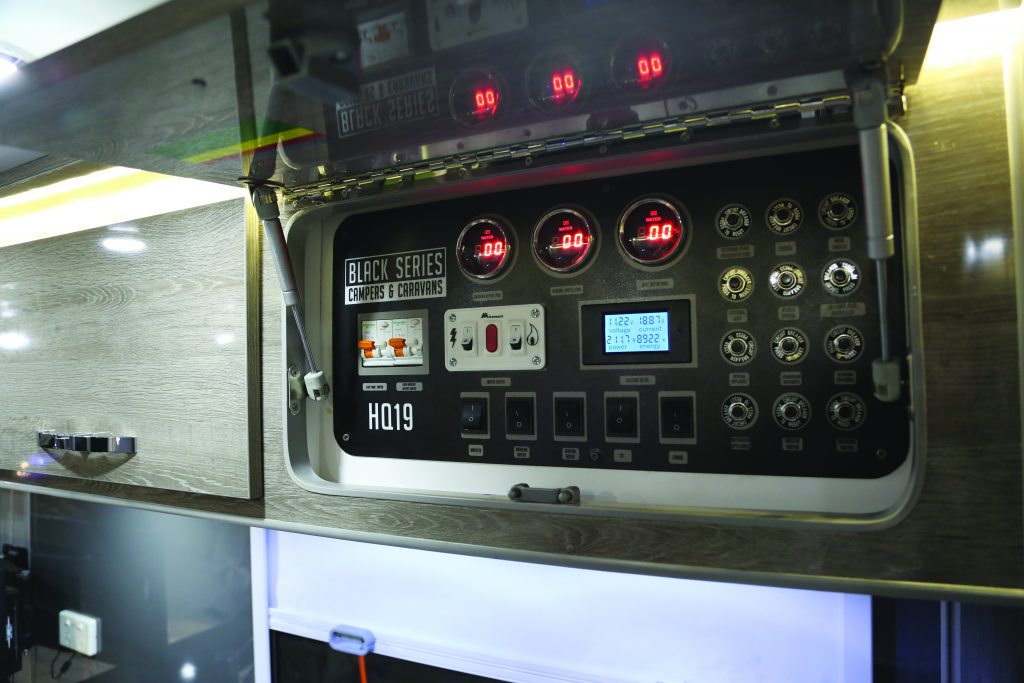 Black Series Campers
Model: HQ19
External Length: 26 ft. 3 in.
External Width: 7 ft. 6.6 in.
External Height: 10 ft. 2 in.
Tare Weight: 6,349 lbs.
Tow Ball Weight: 485 lbs.
MSRP: $39,999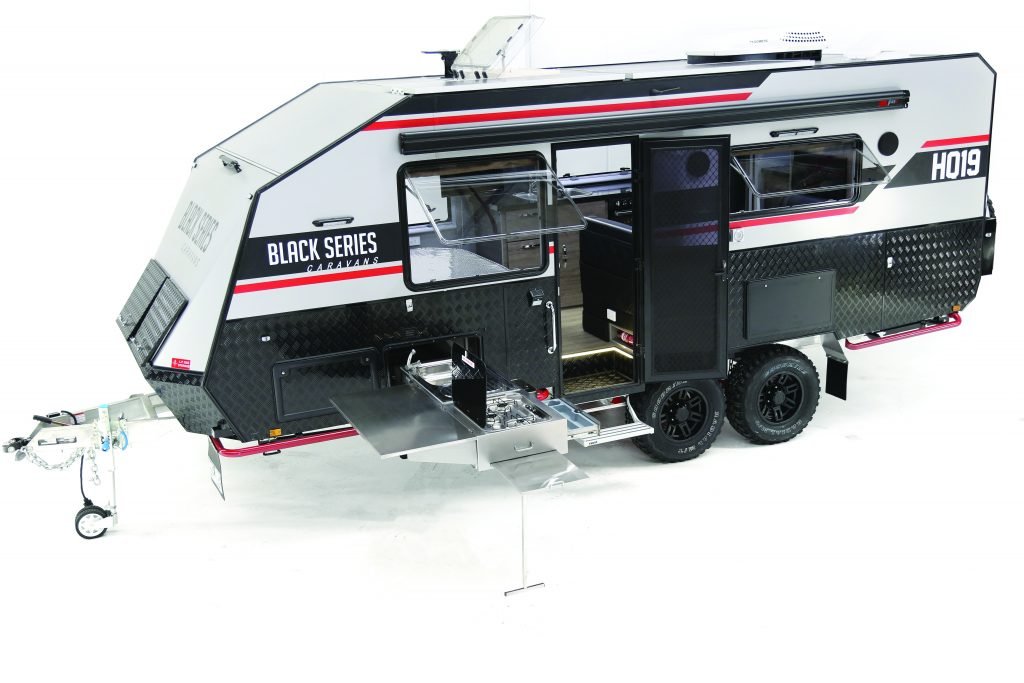 Editor's Note: A version of this article first appeared in the July/August 2019 print issue of Tread Magazine.