Fall Hiking Clothes Perfect for Transitional Weather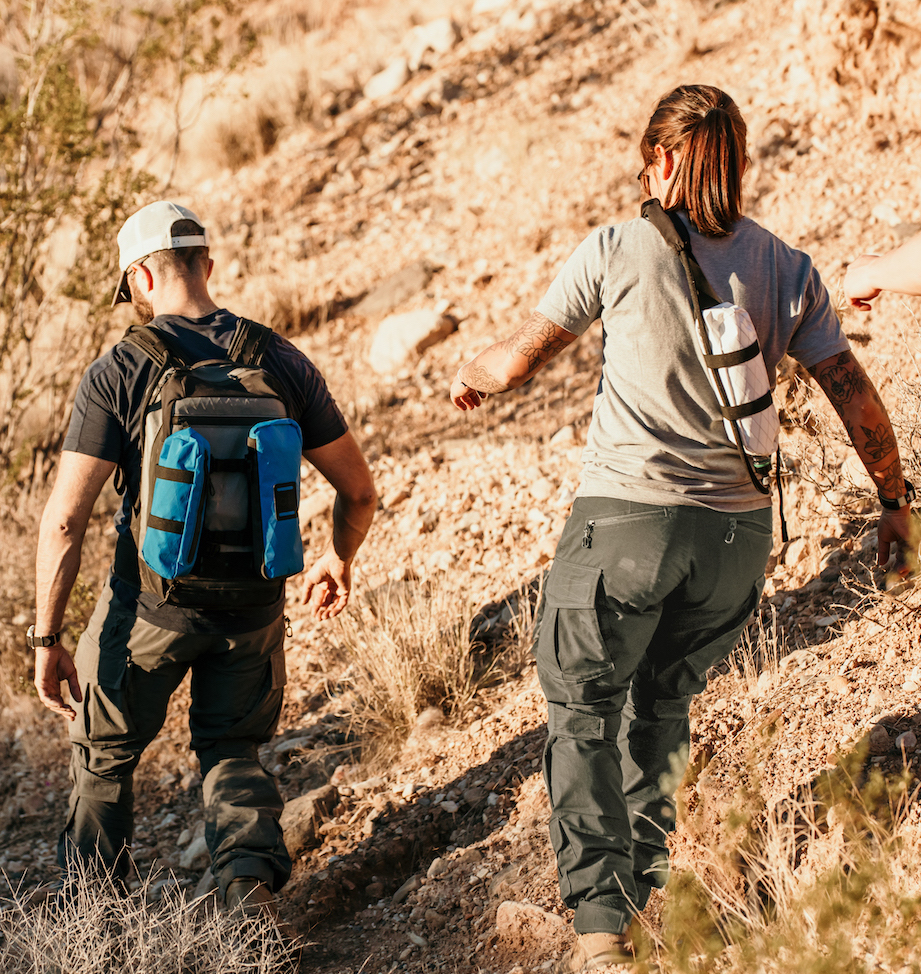 High-quality gear that works for every body, at every temperature you'll see this fall.
In this list, we've pulled together some of the most high-quality, durable fall hiking clothes we could find. Every item we picked for this list is either unisex or has sizing options that work for every body. No matter what, you'll find something here that fits you and your sport. As an added bonus, we found tons of products that are sustainable, recycled, or carbon neutral. When you're working on building your fall hiking wardrobe, look no further than this style guide for all the clothes we think you'll need.
01/ A lightweight pair of waterproof boots.
Columbia Newton Ridge Waterproof Hiking Boots

MSRP: $100
We've tested these boots, and in our opinion, they're the absulte best bang for your buck. They've got what you need: nothing more, nothing less. Waterproof with full-grain leather and plenty of ankle support, these boots are structured without being heavy. They break in incredibly easily, too, so they're a great choice if you're just getting into hiking or have a trip coming up and need new ASAP.
Find different styles and sizes in Mens (left) and Womens (right).
02/ Zip-off convertible hiking pants.
REI Co-Op Sahara Convertible Pants
MSRP: $79.95
Hear us out about zip-off pants. We know they might look dorky, but they're still around for a reason. They really do offer you the maximum amount of utility when it comes to fall hiking; as the weather changes, your clothes need to work for you. Having the ability to zip your pants on or off while you're out on the trail keeps you at the right temperature. Plus, your pack will be lighter, because you won't have to pack alternate outfit options in case you get too hot or cold.
Find different colors and sizes in Mens (left) and Womens (right).
03/ A lightweight, sweat-wicking hoodie.
Anetik Tech Hoodies
MSRP: $60-70
A lightweight hoody like this one comes in handy whether it's a bit too hot or too cool. The techy moisture-wicking material keeps you dry, and coverage protects you from both wind and sun. Keeping layers light is the best way to stay at exactly the right temperature. A light hoody like this one is our favorite secret weapon when it comes to fall hiking clothes.
Find different colors and weights in both Mens (left) and Womens (right).
04/ A good-quality rain jacket.
Patagonia Torrentshell 3L Rain Jacket
MSRP: $149
You wouldn't believe the trouble a high-quality waterproof rain jacket can get you out of. Choose one that's packable and light and that you fel comfortable moving around in. Patagonia is a trusted name in all kinds of outdoor gear. The price tags on these jackets is no joke, but they're worth the investment. Patagonia also offers a great secondhand and pre-loved market if you'd like to avoid paying full price. Don't let scattered showers ruin the adventure: you bought waterproof boots for a reason!
Find different weights and colorways in both Mens (left) and Womens (right).
05/ Thin wool socks.
Smartwool Hike Light Cushion Crew Socks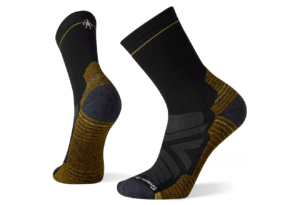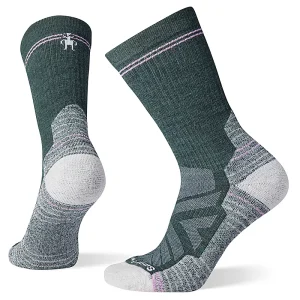 Just like the Patagonia rain jackets, we think that wool socks – specifically, Smartwool socks – are worth the extra couple of dollars. No matter what the temperature, wool is the right choice for keping your feet happy and functional. Wool keeps you dry in the heat and toasty in the cold, plus, it's incredibly durable and lasts forever. Smartwool's cushioning is just enough in all the right places, keeping your feet supported where they need it.
Find more sizes and colors in Mens (left) and Womens (right).
06/ A durable synthetic vest.
Patagonia Synchilla Vest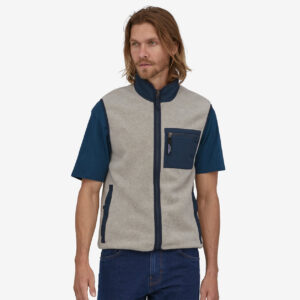 MSRP: $129
We can't say enough good things about Patagonia, especially when it comes to these vests. Vests in general are a really great layering item, making them the perfect clothing for the "transitional" weather we get for fall hiking trips. This vest in particular is warm and lightweight, and it's got a great pocket situation going on, which we never complain about. The fleece is made of recycled polyester, too, so it's as sustainable as it is useful.
Find multiple fabrics and colors of fleece as well as puffer options in Mens (right) or Womens (left).
07/ Eco-conscious, polarized sunglasses.
Sunski Polarized Sunglasses
MSRP: $48 – $98
Sometimes we shy away from buying nice sunglasses, because, well, we know ourselves. We're always on the move, bound to lose or break anything expensive as soon as we get our hands on it. These sunnies fix that problem. They've got a lifetime warranty, and are made of recycled pastic. The price tag is friendly on the wallet, especially for sungasses with a warranty. Plus, the lenses are polarized for 100% UV protection and have a scratch-resistant coating.
Find Mens (left) styles, and Womens (right).
08/ Comfortable layers.
Yotamafia Outdoor Apparel
MSRP: $24.99 – $59.99
Another reason why fall hiking is so great is that, as the clothing we're wearing gets heavier, there's more room for us to support our favorite brands and boost our rigs. We're big Toyota fans here at Tread, so you'll find us sporting all kinds of Toyota-related merch as we layer up. Yotamafia's desgins are super cool and definitely unique –  plus, when we need a thicker hoody for a chilly day, this one is the first we reach for.
Find tee shirts, hoodies, long sleeve shirts, windbreakers, vests, and hats at yotamafia.com
09/ High-mobility tactical pants.
Beyond Clothing

MSRP: $199.00
If your hikes are already ranging on the colder side this fall, maybe a zip-off pant isn't for you. With temps dipping lower and lower, you might need pants that'll keep you warm without losing function through layering. Beyond Clothing has a fantastic option in their AT-9 mission pant. They are built with NYCO Ripstop, a 4-way stretch in the crotch gusset and outside of the knees, to enhance mobility and prevent blowouts. You'll get all the features you'd want in a tactical pant too… universal kneepad pockets with vertical adjustment, ALL the pockets, along with hook and loop for both cuff and waist adjustment.
Find the pants in multiple colors (Mens) and customizable fits (Womens).
10/ A trusted hat.
Fieldcraft Survival
MSRP: $24.95
Whether you need to keep the sun out of your eyes or your ears toasty, a hat can be your most versatile accessory on the trail. If you're in need of new hats, Fieldcraft Survival, a veteran-owned business out of Heber City, UT, is a great place to search. Their apparel and other gear is built to last, with explorers, adventurers, and everyone who's tough on their clothing in mind.
Shop Fieldcraft Survival apparel at fieldcraftsurvival.com.