Gear Review: Primus Tupike Portable Stove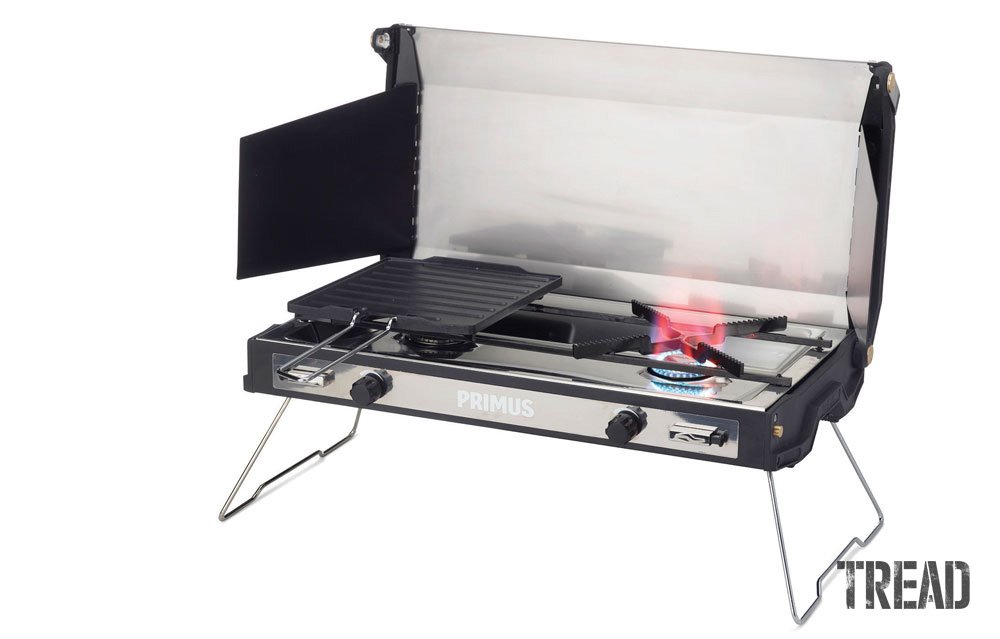 A Modern Design Full of Function
Leave it up to the Swedes to create an elegant yet practical portable stove solution for our camp cooking needs. The sleek-looking Primus Tupike portable stove is a wood-trimmed two-burner portable stove designed in Sweden. Created to handle campsite cooking duties, the compact stove looks perfectly at home in a modern kitchen as well. The stove's stainless steel body, die-cast aluminum sides, oak laths, and brass details upgrade the look of any campsite, and it is designed to provide many years of use.

Settling down after an active day at the campground, by the fishing hole, or even in the backyard demands one thing: A hearty meal. Whether you're craving a juicy steak (beef or portobello) or have a hankering for a bowl of home-simmered chili (bean or no bean), you'll want to cook it on a reliable portable stove that won't leave you hanging.
Compact and Portable Camp Stove
Simply put, the Primus Tupike portable stove is a compact travel stove that is intended to give the user the capabilities of a full-sized kitchen stove. Boasting two burners, the stove runs on a standard 1-gallon propane tank, or with its included adapter it can also run on lightweight backpacking fuel canisters.
… THIS GAS-POWERED CAMP STOVE HAS THE CAPABILITY TO COOK GOURMET MEALS ANYWHERE YOU SEE FIT.
Perfectly suited for hungry woodsmen and aspiring chefs alike, this gas-powered portable camp stove has the capability to cook gourmet meals anywhere you see fit. It is lightweight and its compact size allows the Primus Tupike portable stove to be transported wherever it is needed; be that a remote campsite or on the tailgate outside of a stadium.
Its slim profile makes it easy to store in your vehicle or even in a backpack if you're hiking to someplace a bit more remote. For instance, the stove's foldable legs help raise itself off the surface so that scarce table workspace can be maximized. After all, we've all experienced quickly evaporating table space when camping, haven't we? If additional space isn't required by some miracle, the Tupike's legs can be kept in its retracted position for an ultra-stable cooktop.
Easy to Use Portable Stove
Getting it up and running is quick and simple. Attach the fuel canister via the included fuel regulator and hose. The fuel regulator ensures consistent fuel usage. Unfold the lid and side windscreens, then flip over the griddle so its potholders face up. "Turn on" the gas with its variable gas valve knob, then quickly fire up the burner by the simple press of its Piezo igniter button.
Each burner of this portable stove runs independently of one another, allowing you to cook multiple items at different temperatures. Need to simmer a sauce while boiling the pasta? No problem. Its 10,200-Btu flame gives heat when you need to get the job done right. Because we are cooking outdoors, its lid and side windscreens will ensure cooking will go on without issue even in windy conditions.
Additional Features
Keeping the Primus Tupike portable stove clean is just as easy as setting it up for cooking. The stove's internal pot supports and drip tray are removable for easy cleaning. When you are ready to store it, simply lock it closed. Its slim profile allows it to be stashed just about anywhere.
For even more usability, the Tupike also comes with a non-stick griddle plate that can grill, toast, even melt cheese. The griddle plate is also made so that it can be easily cleaned. For those looking for an easy way to carry the stove around, an optional Tupike Portable Stove Kit with a custom carry case is available. It holds the stove, the gas, and accessories needed to prepare a gourmet meal. This option is sold separately.
Final Thoughts
We spent a good amount of time with the Primus Tupike portable stove. Consequently, we really like its sleek profile, easy-to-set-up and clean attributes, as well as its modern styling. The wood and brass highlights will only make this stove look even better over time. For those looking for a stylish, lightweight, full-sized outdoor stove, the Primus Tupike portable stove is worth a closer look.
Weight: 9 lbs., 8 oz.
Dimensions: 18.7×11.6×3.2 in.
Heat Output: 10,200 Btu, 3,000 watts (x2)
MSRP: $250
primus.us