Brunch Recipe for Your Camp Kitchen: Grilled Hangover Burger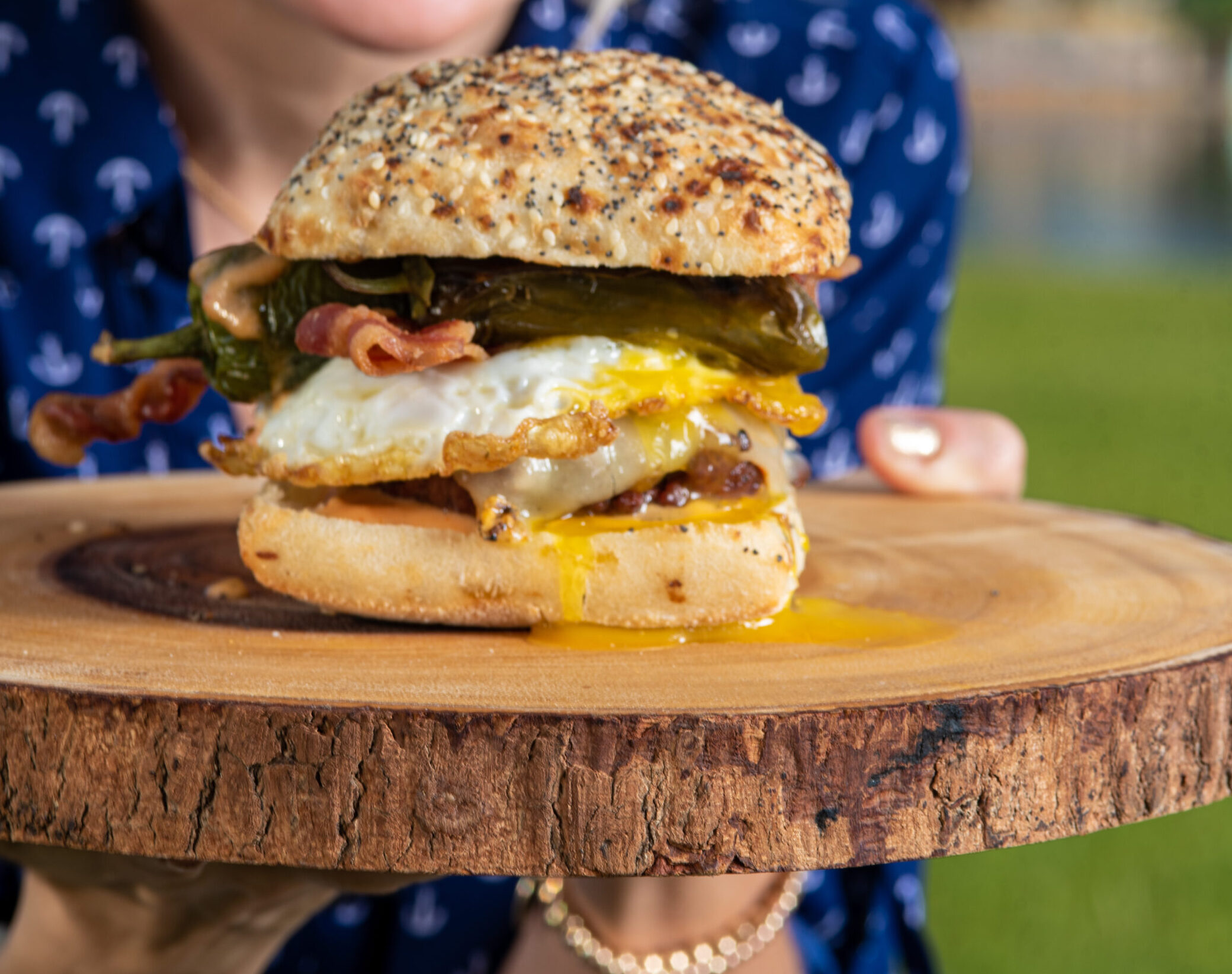 After a day of overlanding, there's nothing more fun than gathering with friends and family to cook a tasty camp kitchen meal. For those times we imbibe a few too many camp cocktails, you want a hearty breakfast to fuel you for another day on the trail. Robyn Medlin Lindars of Grill Girl has just the remedy for you: The Hangover Burger.
Recently, our editorial team joined forces with Robyn to produce her first-ever print magazine.  
"Even if you're not hungover, this grilled burger recipe is tasty all the time," Robyn tells Tread. "It's also a great option for brunch-esque cookouts. Pairing grilled jalapeños, bacon, a perfectly fried egg, muenster cheese, and secret sauce, it's a subtly spicy, bacon-y kick in the pants that's perfectly acceptable to eat before noon." 
HOT TIP: If you are really hungover, pair it with Robyn's Winning Bloody Mary recipe and you're ready to get back on the trail in no time. 
Recipe: The Hangover Burger
Serves 8 
HOT TIP: Remove the bun to make this burger recipe gluten-free and keto. 
Ingredients for the Burgers 
2 lbs ground chuck roast (80% lean, 20% fat)

1 tsp sea salt

 

1 tsp fresh ground pepper

 

1 dash Worcestershire

 

½ tsp garlic powder

 

1 Tbsp butter

 

1 package of nitrate-free bacon (12-16-oz)

 

8 medium-sized jalapeños

 

8 large eggs

 

8 slices thick-cut muenster cheese

 

Plus, a cast-iron skillet OR GrillGrates® flipped to the griddle side

 

½ stick butter, for frying the eggs

 
Ingredients for the Secret Sauce
½ cup mayo

2 Tbsp ketchup

1 Tbsp mustard

1 Tbsp pickle relish (either sweet or dill is OK)

1 dash onion powder

1 dash smoked paprika
HOT TIP: For an extra kick in the buns, Robyn recommends everything bagels, Ciabatta buns, brioche buns or onion rolls for the Hangover Burger.  
Directions
Combine the sauce ingredients and place in the refrigerator to chill until you're ready to assemble your burgers.

 

Combine the beef, butter, salt, pepper, garlic powder and Worcestershire sauce in a mixing bowl. Form the beef mixture into 8 patties. 

 

Using your index and middle finger, place an indentation in the burgers in the middle. This will allow them to cook evenly on the grill and not turn into round balls.

 

Preheat a grill to 400 degrees over direct heat, and grill the burgers until your desired doneness. Flip halfway through and add the cheese. 

 

While the burgers are grilling, grill the whole jalapeños until they are cooked through and char marks have formed.

 

While the burgers are grilling, place your cast-iron skillet and let it heat up for a few minutes. (If you don't have enough room on your grill to cook both the burgers and eggs at the same time, do this part after you have finished the burgers.) Add butter to your cast-iron skillet or grill grates. Crack the eggs and cook them until the whites are cooked through but the yolks are still runny, no more than 2 ½ minutes. Remove the eggs and place them on a plate until ready to assemble burgers. 

 

Remove the burgers and tent them under foil to stay warm. 

 

To assemble your burgers, place each patty on a bottom bun. Top with an egg, two strips of bacon and a grilled jalapeño. Spread 1 heaping Tablespoon of secret sauce on your top bun and close your sandwich.

 
Enjoy! After your first bite of your Hangover Burger, you'll feel better already! 
Hankering for More Grilling Recipes for Your Camp Kitchen?
Don't miss the inaugural issue of Grill Girl Magazine, in stores now. It's packed with recipes for a savory summer, like: 
6 more tasty recipes to elevate your grilled burger game

 

S'more to love' recipes that make gatherings around the fire even sweeter this summer

 

An easy-to-follow tutorial on how to smoke fish—plus a tasty dip recipe.

 
Look for Grill Girl Magazine on newsstands at grocery stores, superstores, and book stores or reserve your copy here.