Finex Cast Iron: The Finest in Outdoor Cooking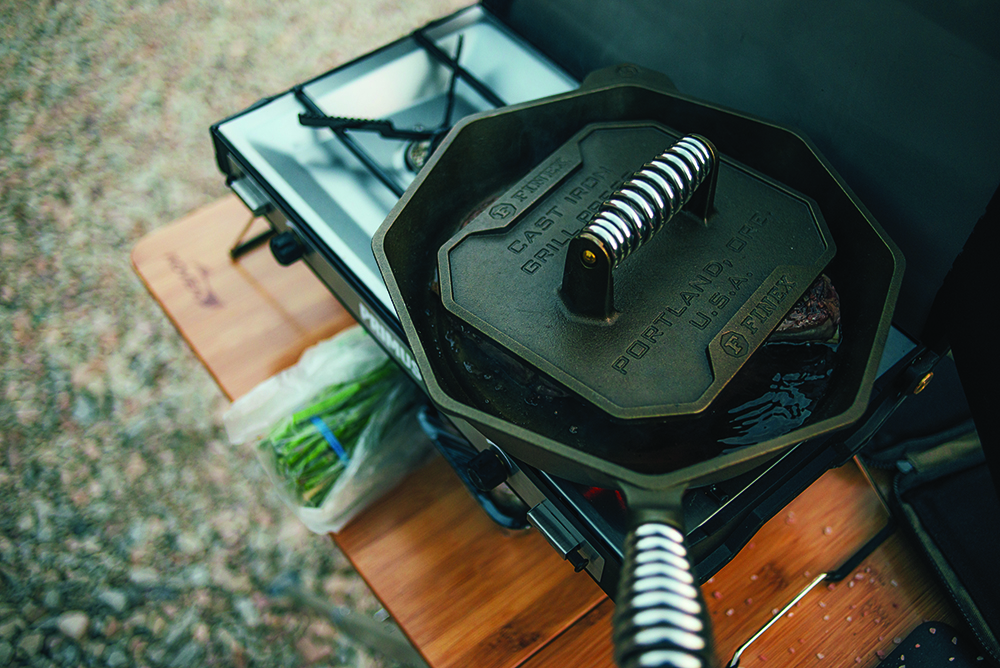 Finex cast-iron cookware brings gourmet capability anywhere you go.
There are times when heating up a kettle full of water in order to rehydrate freeze-dried food in a pouch is warranted. Perhaps you're climbing or backpacking and need to keep things extremely light in weight. Then, there are other times you can bring the full weight of your outdoor kitchen to bear in order to impress your campsite mates and your own taste buds with your culinary prowess.
For those times, don't skimp.
Finex Cast-iron Cookware
There are plenty of kitchen tools available that are made to be lightweight and packable. While we love those items, there are some cooking implements that are best full-sized. In this case, we're talking about cast-iron cookware. There's no way around it: cast iron is a weighty material, and if you're going to bring it to use during your backwoods adventure, you might as well enjoy the best there is to offer.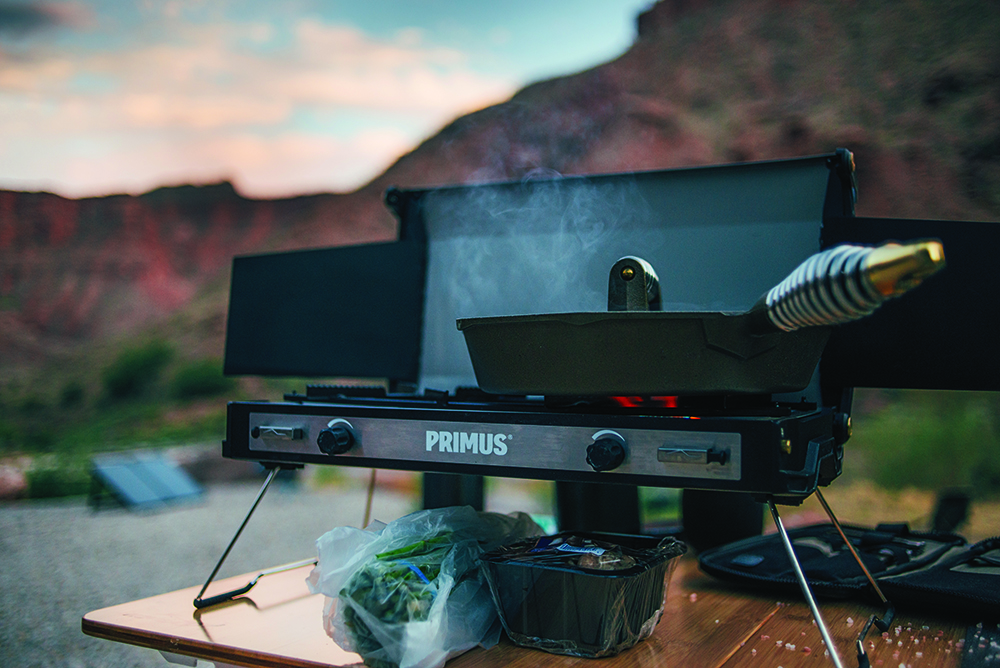 We recently got to spend time cooking with a cast-iron skillet and grill press made by a Portland, Oregon-based outfit called Finex. If you've already heard of this company, we know you're clearly into the finer things. However, if this is the first you've heard of Finex, allow us to make an introduction.
Finex is helmed by a small team of craftspeople, cooks and designers. Their mission is to create cookware that will last by crafting updated cast-iron cookware that's infused with modern design elements. The people behind Finex believe that cooking is a valued experience that's shared with others—as do we.
Thoughtful Design
Finex's cast-iron line began during a search for healthier cooking. Its team members wanted a pan that would provide a "soulful" cooking experience and look good while doing it. Not satisfied with what was already available in the cookware space, they did intensive research and quickly became obsessed with the design, quality and craftsmanship of antique cast-iron cookware. Their findings inspired the Finex crew to build functional, durable, finely crafted cookware that can stand up to an open flame while elevating the metal to look good on the dining room table. Best of all, Finex's wares are all made right here in the U.S.A.
Although Finex's line of cookware is made for use in the kitchen, there's no reason not to bring these items along for outdoor cooking as well. We got the chance to take out the company's 12-inch skillet and grill press. Finex calls its skillet "the most versatile pan you'll ever own." Because we're fans of cast-iron cooking, we don't doubt that about most cast-iron skillets we've used before.
But what makes Finex's version stand apart? Let's take a deep dive.
Upon Inspection
Let's start by ogling that nice-looking handle. It's wound from 300-series stainless steel rod stock and hand polished for a refined shine. The handle's design was inspired by vintage wood stove door handles and is made to stay cooler longer and cool off quicker. Its shape feels great in the hand, and its girth gives it a very nice balance. The 12-inch skillet weighs about 13 pounds, so a good, balanced handle is helpful, to say the least. At the end of the handle is a milled and hand-polished brass-toned end cap. We're suckers for this kind of detailing. It looks great and can be used to securely hang onto a hook.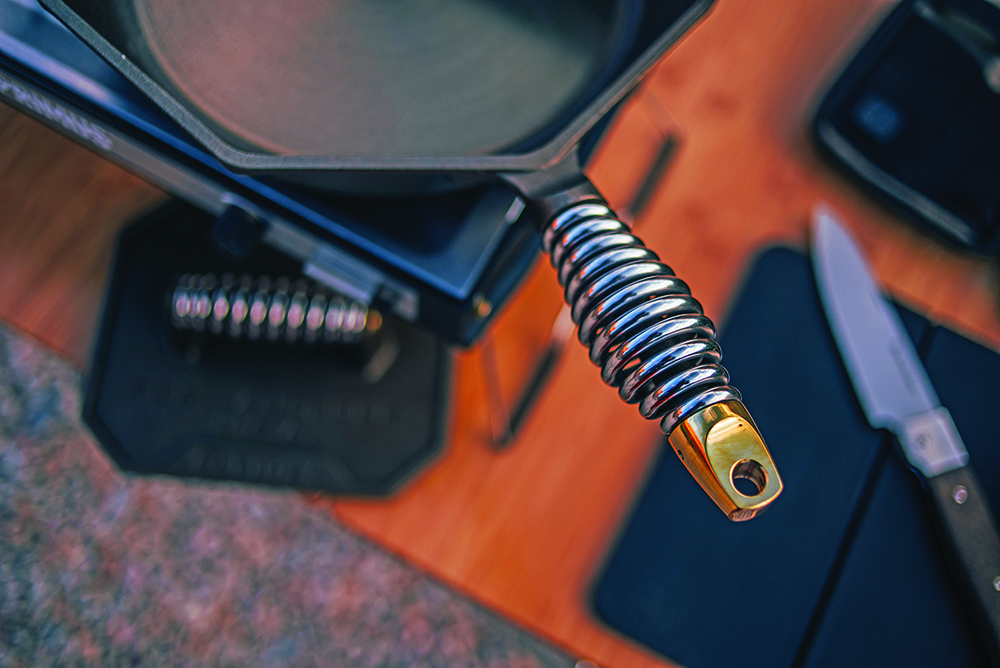 On the opposite end of the handle is a helper tab. This tab allows for two-handed gripping in case that's needed. The tab is hot, so be sure to wear a mitt or use a towel when gripping the tab. You'll notice that the skillet's most prominent feature besides its heavy-gauge cast-iron material is its octagonal shape. The shape allows its eight rounded corners to act as convenient pour spouts. Additionally, each of its eight sidewalls is flat, allowing for spatulas to come in and pick up food without having to chase it around the skillet.
Put to the Test
Finex CNC machines and polishes their cast-iron skillet smooth for fantastic and consistent searing results every time you use it. In fact, the skillet's near-nonstick cooking surface is smooth enough to allow eggs to cook evenly and is even suitable for baking cornbread, pies and cakes—all while allowing it to be easy to clean. An optional lid is available for those who want to use the skillet for steaming, braising and simmering.
The skillet comes pre-seasoned with 100 percent organic flaxseed oil, which means you can get straight to cooking. The seasoning helps the skillet to resist rust, and to develop a patina and darken with use.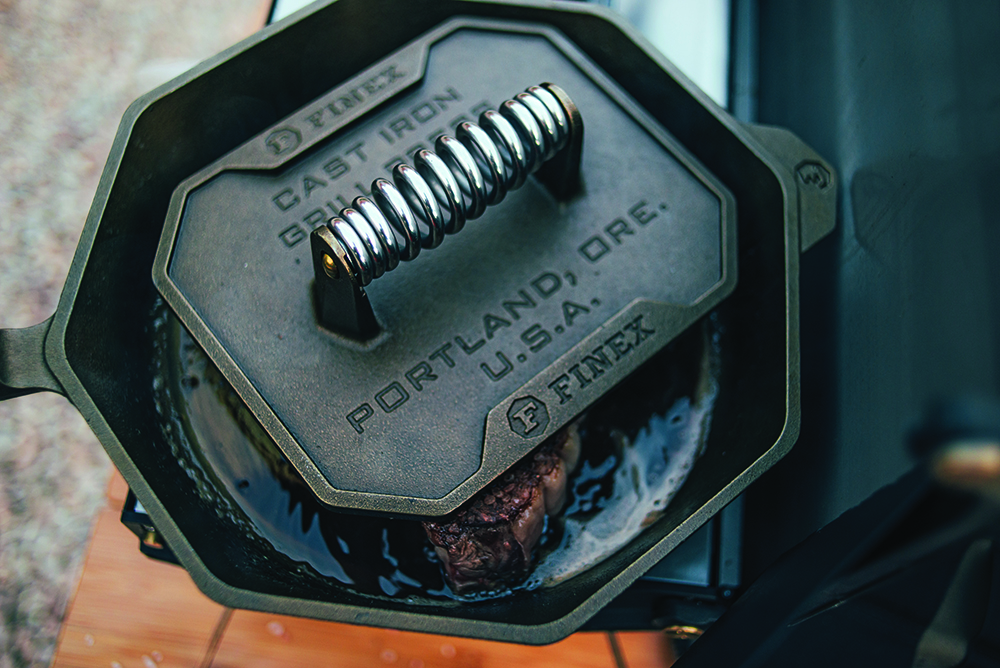 We used the skillet to cook up a bone-in rib eye steak. To speed up cooking at camp, we combined the skillet with Finex's grill press, which left perfect grill marks on the deliciously cooked, medium-rare steak. Available also in a flat press version, the heavy-gauge cast-iron grill press we had also came pre-seasoned. The grill press weighs 4 pounds and features ¼-inch-tall grill ribs. This translates to some serious grill marks on any food you put under it, including our steak.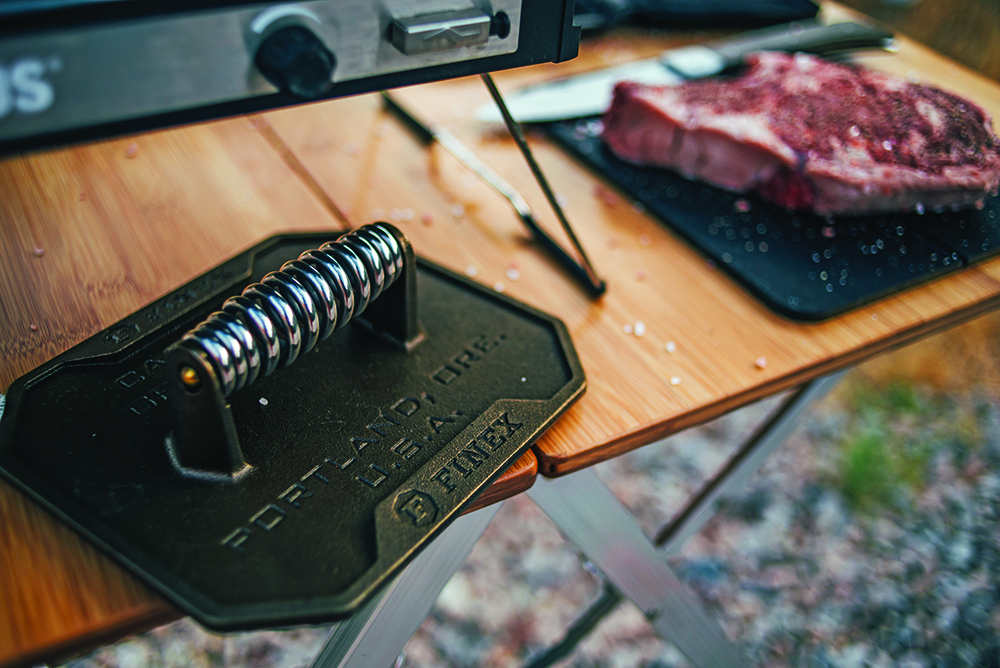 While the steak was "resting," we tossed in some mushrooms and asparagus to round out our meal. Both cooked up beautifully in some butter—without any necessary cleaning of the pan in between. Cleanup was easy with a quick wipe down of the pan after it cooled some.
More from Finex
If you're looking for a smaller-sized skillet, you'll be glad to know that it also comes in 8- and 10-inch sizes. Finex also offers other cast-iron tools, such as grill pans, a griddle, a Dutch oven and more.
After spending a week on the road with the Finex cast-iron skillet and grill press, we realized just how much the finer things add to the outdoor cooking experience. Best of all, we can use it at home when we're not on the road, so it's now also a staple in the kitchen.
FINEX COOKWARE
CAST-IRON 12" SKILLET
MSRP: $195
CAST-IRON GRILL PRESS
MSRP: $150
---