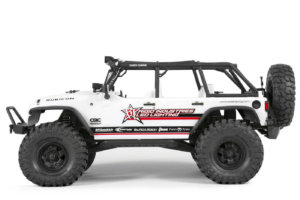 1. Axial Racing Scx10 Jeep Wrangler Unlimited
Because offroad fun can be had 1/10th-scale too, Axial's scaled-down ready to run Jeep Wrangler Unlimited Rubicon radio controlled kit features full functioning 4-link rear suspension, slipper clutch, adjustable coilover shocks, miniature working Rigid Industries LED lights as well as other details such as a Poison Spyder Rock Brawler bumper and swing away rear tire carrier. This mini-JK is capable of backwoods – and backyard adventures.
MSRP: $410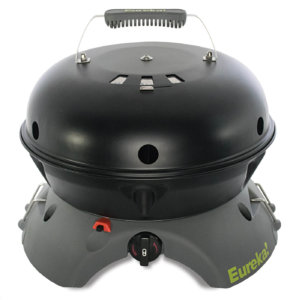 2. Eureka! Gonzo Grill
Featuring 3-in-1 cooking capability, the Gonzo Grill's cast iron grill surface can be used for burgers or portabellas. Flip it over and the reverse side can be used as a griddle top for pancakes or paninis. Remove the grill completely, and the 10,000 BTU burner functions as a stove for boiling water, poaching or sautéing. It features a JetLink accessory port to run multiple Eureka! Gonzo Grill or Spire LX stoves, or Jetboil Genesis stoves, from a single propane source, and integrates Jetboil Valve Technology for ultimate precision in simmer control.
MSRP: $190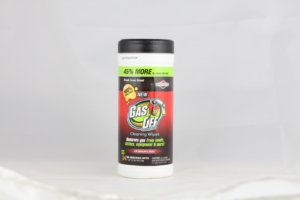 3. Gas Off Cleaning Wipes Canister
Keep Gas Off cleaning wipe canisters on hand in your garage and in your center console to keep unwelcome gasoline smells o" of you and your workspace. Ever manage to spill some gasoline or diesel while filling your tank? You know that the smell is hard to get rid of. Try these wipes, removing gasoline and diesel odor and residue are what Gas O" was designed to do. The Gas O" Canister contains 35 pre-moistened cleaning wipes with a fresh linen scent.
MSRP: $7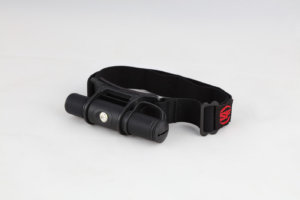 4. Surefire Minimus
Minimus provides just the right amount of light—13 preset outputs—precisely where you need it, thanks to its adjustable output knob and rotatable LED housing. It features a high-performance LED with faceted reflector that produces a wide, smooth beam optimized to your field of vision. A one-handed adjustment switch can vary light from 5 to 300 lumens. Its headband utilizes fine mesh material built for comfort, durability, and a secure fit
MSRP: $199
5. Zojirushi Stainless Steel Food Jar (SW-GCE36)
If you're going on a day trip and don't feel like hauling out your camp kitchen, you can still look forward to a warm meal thanks to Zojirushi's Stainless Steel Food Jar. It keeps food hot or cold for hours with its vacuum insulation. The electro-polished SlickSteel finish stainless steel interior resists corrosion and repels stains; making cleaning easy. Its wide opening makes it easy to fill and clean and is suited for eating directly out of the jar. Available in Cherry Red or Nut Brown.
MSRP: $50
6. Nixon Mission, 48mm
Built smart and built tough, the Mission can withstand the elements so you can take it with you anywhere: in the water, on the hill, off-road and beyond. Powered by Android Wear and working hand in hand with Surfline, the world's largest and most credible source for surf conditions reporting, and Snocountry, the authority in mountain conditions, the Mission is equipped with a preloaded app and streamlines real-time surf and snow shred alerts to your wrist, so you'll never-not-know. Available in Black, Concrete, and Orange.
MSRP: $400
7. Factor Cossatot 1000
Light up dark areas with Factor's Cossatot 1000, a high-intensity flashlight that delivers up to 1,000 lumens of blinding light. Light output is adjustable over four brightness modes and three flashing modes. It is USB rechargeable and includes one rechargeable 18650 battery and a USB charging cable so that it can be charged while you're on the road. Designed for easy operation, this light's side switch controls all lighting modes and the tail switch controls the power.
MSRP: $80
8. Squatchboxx Standard 20 Quart
The Standard 20 cooler is the perfect answer for those trips that are just long enough that you would rather not be without your stuff staying icy cold, or very warm for that matter. Take it to the campsite or a concert for the ultimate two in one use; firstly storing your lunch but secondly as your portable seat. Whether it's in the backwoods or in your backyard, the Dub has you covered. Built for durability, it comes with the Squatchboxx Forever Guarantee.
MSRP: $225
Editor's Note: A version of this article first appeared in the March-April 2017 print issue of TREAD Magazine.