Camp Kitchen Gift Guide: Hike to the Holidays 2022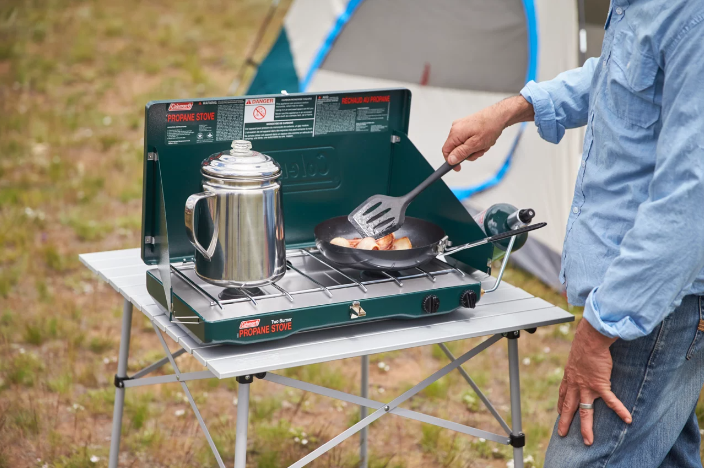 Everything the overland chef might need for their camp kitchen.
Upgrades, innovations, and cool new gadgets: these are the keys to building the ideal overland kitchen. In this gift guide, we're bringing out the good old tried and trues, budget friendly stocking stuffers that pack a punch, and serious tech to take your chef to the next level. It's all here in the 2022 Camp Kitchen Gift Guide!
01 Berkey/ Travel Berkey
MSRP: $334
If you've got the space for it, there's no water filter more powerful than the Berkey. Not only is it a great filter for treated water, but it also has the ability to filter untreated and natural water from whever you find yourself. It's a great gift for the dedicated off-grid overland cook who wants the best for their kitchen. Plus, this size Berkey filters up to 2.5 gallons of water in an hour, so it's great to have around on a long camp.
The Travel Berkey Water Filter removes viruses, pathogenic bacteria, cysts, and parasites and extracts harmful chemicals such as herbicides and pesticides. It also reduces rust, silt, sediment, foul taste and odors, and unhealthy minerals such as lead and mercury. This system is so powerful it can remove red food coloring from water without removing the beneficial minerals your body needs.
02 Coleman/ Classic Camp Stove
MSRP: $56.99
This is our budget-friendly full stove option for this gift guide, from a brand trusted by tons of camp kitchen masters. One review on Coleman's website says that the buyer only bought this stove to replace his old Coleman stove, which finally gave up after 35 years. That's what we're talking about.
The 2 burners on the stove put out 20,000 total BTUs of grilling power and are shielded from the wind by adjustable  panels so it'll work for you in any conditions. Durable, reliable, and dependable: that's this stove in a nutshell. Classic, propane-powered, and easy to operate, this stove is the best of both worlds. It's a nice warm dinner ready in a flash without the hefty price tag sometimes associated with camp stoves.
03 Etekcity/ Ultralight Portable Outdoor Backpacking Camping Stove
MSRP: $13.99
If you thought the last stove was budget friendly, think again. For less than 15 bucks, this tiny powerhouse of a stove brings some serious heat. With over 1,000 ratings on Amazon, this little stove has 4.6 out of 5 stars. There's virtually zero setup and it's extremely easy to use with no risk of fuel spills and no priming required. Even if you're not an avid backpacker, the mini camping stove is a safe companion to have stowed away in any emergency kit. When worse comes to worst, pull out this little stove to enjoy the comfort of a hot meal.
Stainless steel and aluminum alloy combine to make this one of the lightest and most portable camping stoves on the market. As an added bonus, the included carrying case further adds to the portability as it can simply be tossed in a bag without worry. This is a great option for backpackers, day hikes, and emergency stashes.
04 Solo Stove/ Ranger 2.0 Fire Pit
MSRP: $299.99
We're sure you've heard of Solo Stove before. But this is a Ranger 2.0, with some serious upgrades that make this portable firepit the best one yet. It's got a new removable base plate and ash pan, making cleanup easier and keeping ash consolidated. The new ash pan rests under the removable base plate, catching all the fine ash in one place. Just lift the base plate to remove the ash pan, clean out its contents, and that's it!
The main asset of the Solo Stove portable fire pits? Well, aside from making it safe and easy to have a fire almost anywhere, the Solo Stoves create a totally smokeless flame. Their Signature 360° Airflow super-heats air to burn off smoke before it can get to your clothes or hair. And without that pesky "post-fire" smell, teary eyes, or a game of musical chairs to dodge smoke, you can enjoy ultimate warmth without sacrificing comfort.
05 MODL Outdoors/ the MODL
MSRP: $39.00
We know everybody is picky about what kind of water bottle they like, but we think this one changes the game. It's more than just a water bottle. Its silicone body makes it into whatever you need it to be – a pillow, a lantern holder, a sleeping bag hot water bottle, a shower… the possibilities are endless. Every botle comes with two black Superloops that are adaptable, secure in multiples places on the bottle and attach it anywhere you need.
The bottle also has dual ends to attach a whole assortment of different accessories. The base MODL comes with their Go MOD, the bite valve with a no-spill design, but they've got a bunch of other options available. They've got a long straw that makes the bottle into a hydration cap, a water filter compatible with the straws, and a rinse head. This bottle seriously does it all!
06 Trail'd/ Spare Tire Water Tank
MSRP: $300
This isn't the most camp kitchen gift on the list, but we think it still qualifies. Having gallons of water in your vehicle takes up a ton of space – but not with this spare tire water carrier. Make camp kitchen cooking easier and keep water accessible nearby by keeping it exactly where you need it: right next to you, always with your vehicle. These containers don't just fit a certain kind of rig, either; as long as your vehicle has a center lifting hoist and can fit a 29″ tire then you should be good to go. Use it to store water for a camping shower! Add an electric pump or a foot pump and run a hose up to your kitchen or roof rack! Make it work best for your needs.
Keep the extra weight low on your vehicle by securing them at the center of gravity of your vehicle and reduce the effects of other off-roading equipment mounted higher on the vehicle. Keeping weight low on the vehicle maintains a more stable vehicle in all conditions.
07 Grayl/ UltraPress Purifier
MSRP: $89.95
Compact, fun, and ridiculously easy to use — the 16.9oz UltraPress Purifier Bottlefits into any pack pocket or cup holder, requires zero setup, and makes clean, great tasting drinking water in a mere 10 seconds. Filtering up to 3L/min, this bottle is a super high-performing instant filtration device that goes where you go. It's a great gift for the hiker, backpacker, camper, emergency prepper or global traveler seeking fast-flow purified water for chugging, filling hydration reservoirs, or camp kitchen use.
The filter removes waterborne pathogens (99.99% of viruses, 99.9999% of bacteria, 99.9% of protozoan cysts), including Rotavirus, Hepatitis A, Norovirus, Giardiasis, Cryptosporidium, E. Coli, Cholera, Salmonella, Dysentery and more. Plus, it strains out sediment and microplastics, and ultra-powdered activated carbon absorbs many chemicals, pesticides, herbicides, heavy metals, VOCs, flavors and odors.
08 Dometic/ Patrol 35
MSRP: $229.99
A really good quality cooler is such a good gift for that person who you don't know what to get for. Everybody has a cooler – not everybody loves their cooler. By upgrading your camp chef's cooler situation, you make their life easier, and a nice cooler is one of those things that a lot of people won't buy for themselves but would love to have.
There's no more trusted name in overlanding, especially in camp kitchens, than Dometic – and that's what makes this cooler the perfect gift. Give the camp cook in your life longer-lasting ice on your next camping or fishing trip – the Patrol ice chest keeps ice frozen for days. Its tough construction places no limits on adventure! The deep-freeze lid seal ensures there are no gaps for air to enter or escape, and at 36L capacity, it's got plenty of room for everything you need.
09 Fore Winds/ Rugged Camp Stove
MSRP: $149.99
Simply put, this is just one really nice camp stove. It's the gift for the gourmet camp kitchen master in your life, not just any old cook. This super tough model features enamel coated steel construction in a durable one-piece rectangular design. Magnetic locking secures the gas cartridge, while the cooking flame is protected by a double wind shield. The 13.4" x 11.1" x 5" unit comes packed in a carrying case and weighs only 5.29lbs.
With a burn time of about 71 minutes and a whopping 11,000 BTU/hr, this is one powerful stove. Our favorite feature is those strong side walls that protect the flame from the elements. It's simple, sleek, and gets the job done. Plus, it's a great size, holding up to a 9.5-inch pot. With that size, it'll be easy to cook for a crowd – and we're sure your camp chef will gather one with whatever they're cooking.
10 Wacaco/ Nanopresso
MSRP: $69.90
With over 8 5-star reviews and voted as WIRED's best portable espresso maker, this little coffee machine is no joke. For too long, we've resigned ourselves to subpar coffee on the trail – even if we manage to keep all the grounds out, the process takes forever and we're often left with something watery and sad. Not anymore. The Nanopresso is bringing espresso off-grid.
Built around a newly patented pumping system, the Nanopresso is capable of reaching, with the help of your hands, a maximum of 18 bars (261 PSI) of pressure for unparalleled coffee extraction. It requires 15% less force to pump compared to previous models, like the1st generation Minipresso. With Nanopresso, the power is in the machine, not in your hands. Essentially, at the push of a button, you'll get fresh espresso with ease.
11 Airskirts/ Inflatable Cooler

MSRP: $299 Pre-order discount
Saving space is critical to a successful overland adventure. That's what makes this such a great gift and addition to a camp kitchen. It's not just a great cooler, but it doesn't take up too much space in your rig. How, you ask? By deflating. That's right – this cooler deflates when you don't need it anymore. No drawback, no puncturing. It's made with the same materials as those blow-up paddleboards, so it can take a bit of a hit.
When it's not in use, the cooler packs down into a convenient carry bag that makes it easy to store anywhere on your rig. It keeps ice cold all day when in use, just like a normal hard-sided cooler, and fits a ton of food and drink at 58 quarts. It'd be a great gift for any camp kitchen, or fishermen who need lightweight cold, fast. This is a brand-new design from Airskirts, so it's available at a pre-order price and will arrive before Christmas!