Automotive Accessories: Outfitted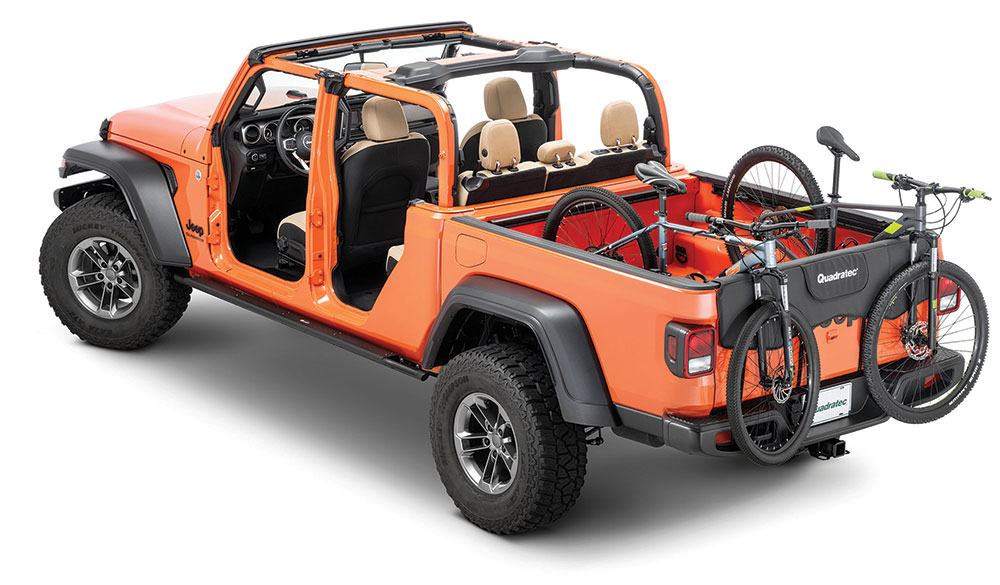 A roundup of the latest automotive accessories
If you're looking to upgrade your rig, we've got automotive accessories for you to check out. This handy list has all sorts of tools to elevate your overlanding game!
o1. Armordillo USA / CR-B Chase Rack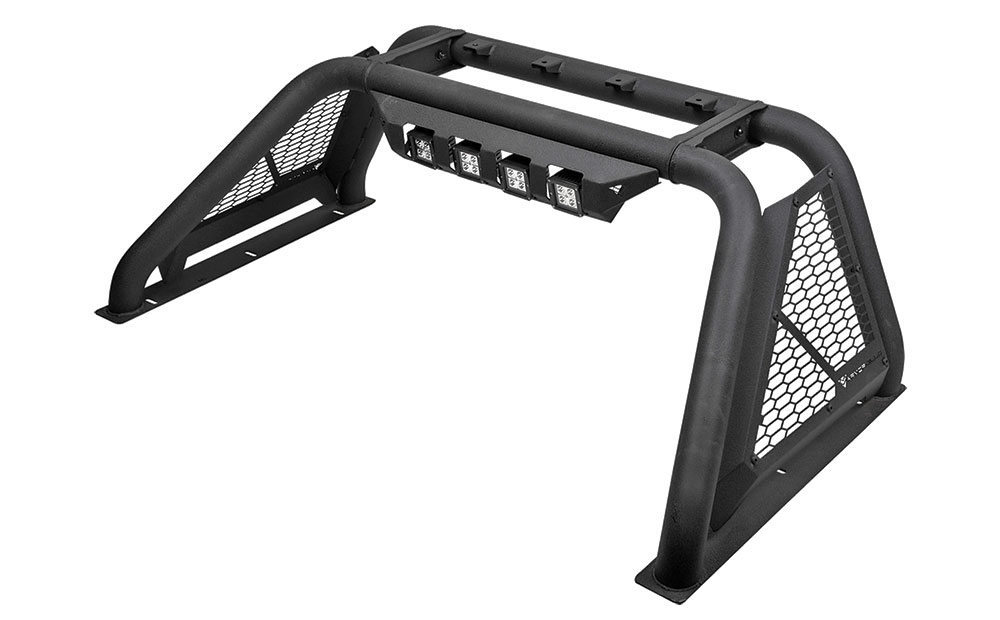 Armordillo's The CR-B Chase Rack was designed be one of the brand's most affordable chase racks yet. This simple design and aggressive look will make your rig stand out from all others. Armordillo uses only the highest quality, heavy duty steel construction and black powdercoating for superior durability and a lasting finish. On the streets or off, the CR-B will complete the look of your rig and bring out the beast in it.
MSRP: $800
armordillousa.com
o2. WARN / Rock Sliders for Ford Bronco
Designed to protect against boulders, stumps, or other trail hazards, WARN Rock Sliders for the Ford Bronco add much-needed armor for the toughest trails. These Rock Sliders are made from thick steel and wear a durable powdercoated finish to protect against corrosion for years of service and great looks. For added convenience, buyers can opt for a set of WARN Bolt-On Steps to the Bronco's Rock Sliders. The durable metal steps feature non-slip step pads for secure footing. Available for both two- and four-door Broncos.
MSRP: $790-935
warn.com
o3. OnX Offroad / Premium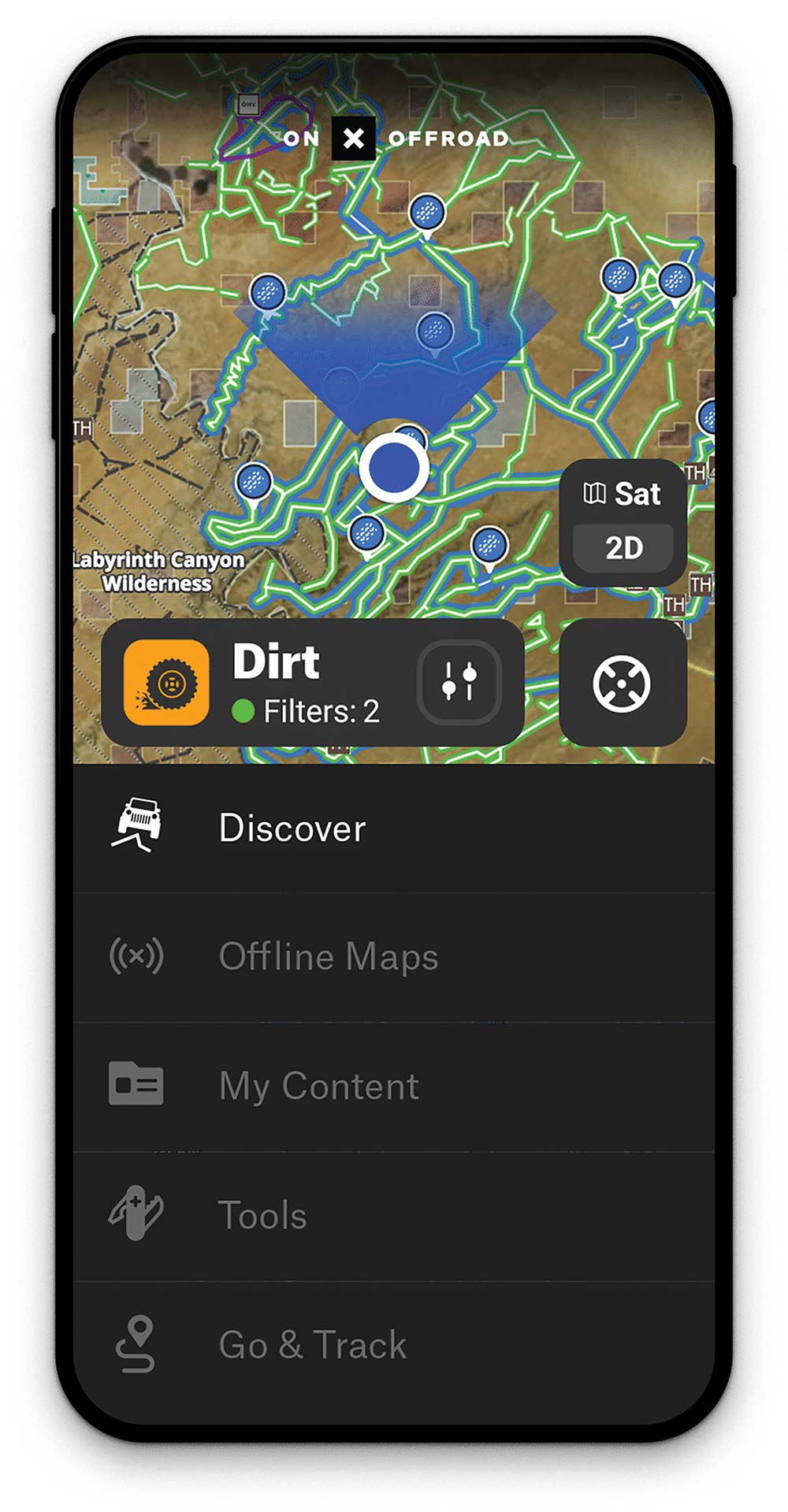 Here at Tread, we love OnX. Doing research for your upcoming trip but coming up short on which route to take? We've all been there before. It can be difficult finding solid, up-to-date trail info, even in this internet-savvy day and age. The onX Offroad  app is dedicated to delivering you the most up-to-date trail maps and info right on your smartphone. Use onX Offroad to discover nearby trails, plan and track your trips, and get home safely. We appreciate how easy it is to download maps to refer back to when cell service is minimal or non-existent. Also available is an Elite membership that shows property boundaries and more.
MSRP: From $30/year
onxmaps.com/offroad
o4. PPE / Jeep JK 3.8L Heavy-Duty Cast Aluminum Engine Oil Pan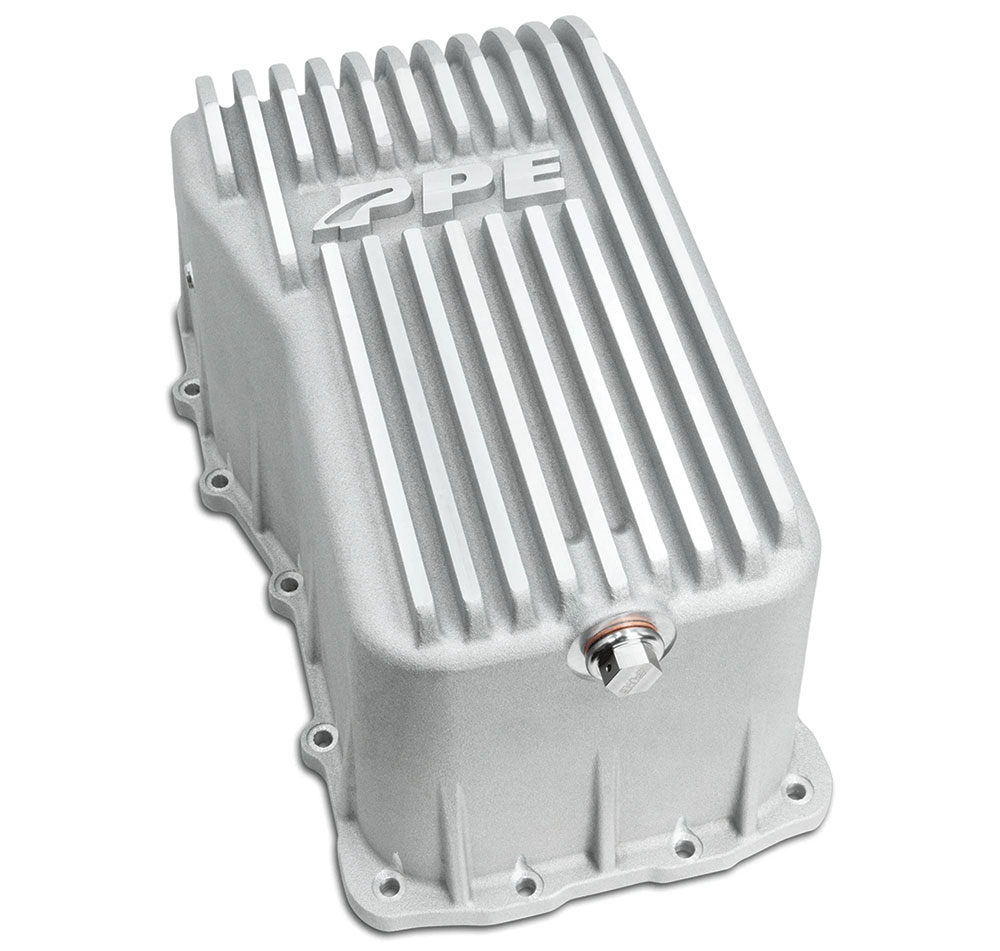 Whether your stock, stamped steel oil pan is damaged, rusted, or you simply want an easy bolt-on upgrade with better performance, the PPE Cast Aluminum Oil Pan is your best choice for increased strength and lower oil temps. Thick cast aluminum is far superior to the stock stamped steel for cooling engine oil. PPE has engineered deep exterio r fins that follow underside airflow and increase surface area to radiate heat better than stock.
MSRP: $280
ppepower.com
o5. Quadratec / Jeep Gladiator JT Tailgate Bike Pad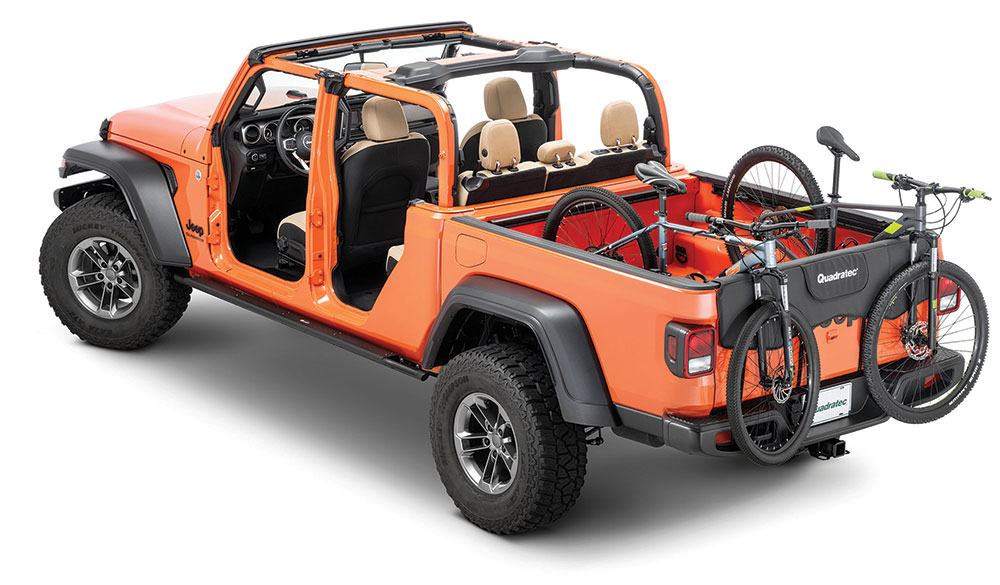 Looking for a safe way to transport your bike to and from the trailhead on your Jeep Gladiator JT? Quadratec's Tailgate Bike Pad is an ideal solution. This custom-fit design attaches to your JT's tailgate with just four easy-to-install straps and provides a durable pad on which to hang your bikes. Tough, soft-top vinyl wrapped around a thick pad provides durable protection for the front and rear of your tailgate. Five hook and loop straps are located on the inside of the pad to keep bikes from shifting while heading to or from the trails.
MSRP: $120
quadratec.com
o6. Napier / Sportz Truck Tent 57 Series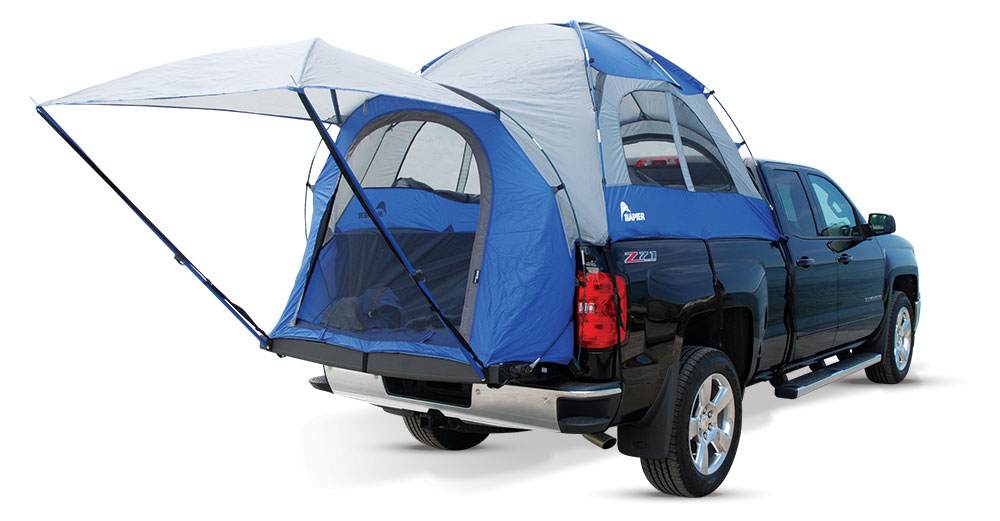 Create the ultimate camping oasis wherever your truck takes you. No more searching for a clean, dry, or level campsite; the Sportz Truck Tent 57 Series assembles in the back of your open-bed pickup truck, creating a comfortable and restful sleeping area for two adults. Featuring more than 5.7 feet of headroom and a full sewn-in floor to keep you warmer and drier. Sleep high and dry off the ground and under the stars, perfect for all your get-up-and-go adventures. The 57 Series easily packs into an expandable and lightweight carrying bag, ready to travel wherever your truck may take you.
MSRP: $310
napieroutdoors.com
o7. Flashlanding / Glide Drawer System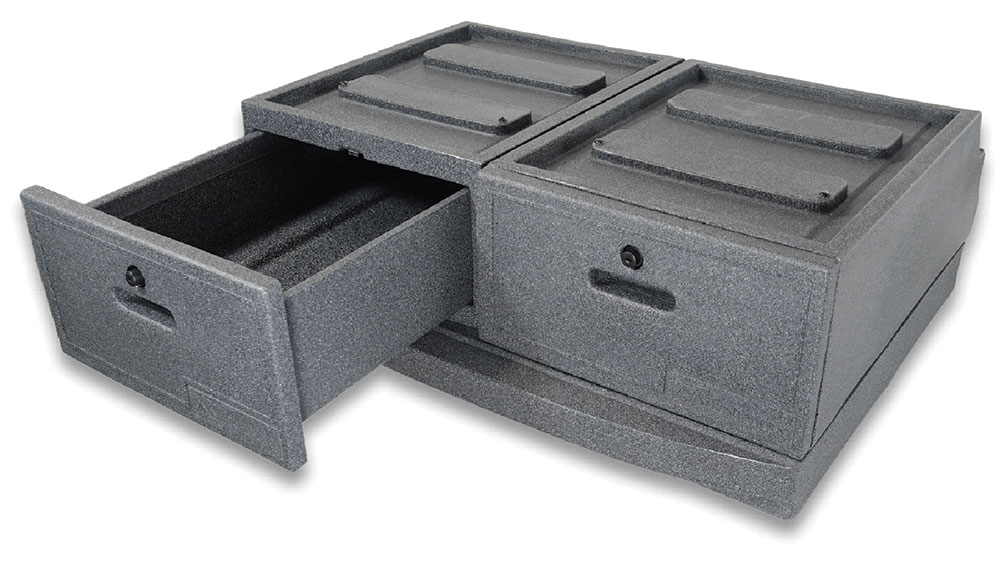 This drawer system is perfect for our list of automotive accessories!  It's built with smaller SUV and hatchback models in mind, such as the KIA Sportage, Toyota RAV4, Subaru Crosstrek, and Honda CRV. The angled pitch of the drawers enables the system to fit perfectly behind your rear seats. This lightweight drawer system is fully modular, so you can easily remove, stack, and/or store the drawers elsewhere when you need the extra space in your vehicle. Made in the USA.
MSRP: $449
flashlanding.com
o8. Automotive Touch Up / Vehicle Paint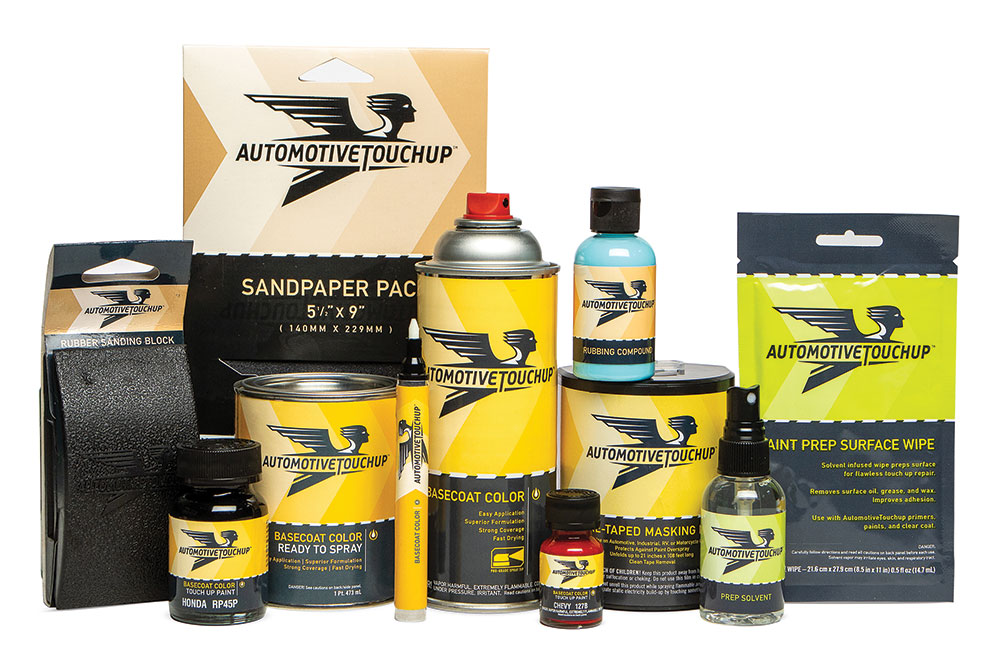 Taking your vehicle to a professional body shop for a paint repair may cost more money than you're willing to spend for small paint issues. Instead, AutomotiveTouchup.com provides economical solutions for everyday paint issues. Fixing the paint yourself is quick and easy; just go online to AutomotiveTouchup.com, order your paint based on the year/make/model and vehicle paint code. The three-step paint system is available in pens, bottles, aerosol spray cans, and ready-to-spray form in pints, quarts, or gallons. Repairing your vehicle's paint yourself has never been easier.
MSRP: varies
automotivetouchup.com
Automotive accessories are great for making your life easier on the road. Whether it's tents to convert your truck bed or detail kits to keep your car shining, make sure you don't miss out!
---
Editor's note: A version of this story previously appeared in the TREAD July/August 2022 issue.