EarthCruiser Terranova Expedition Camper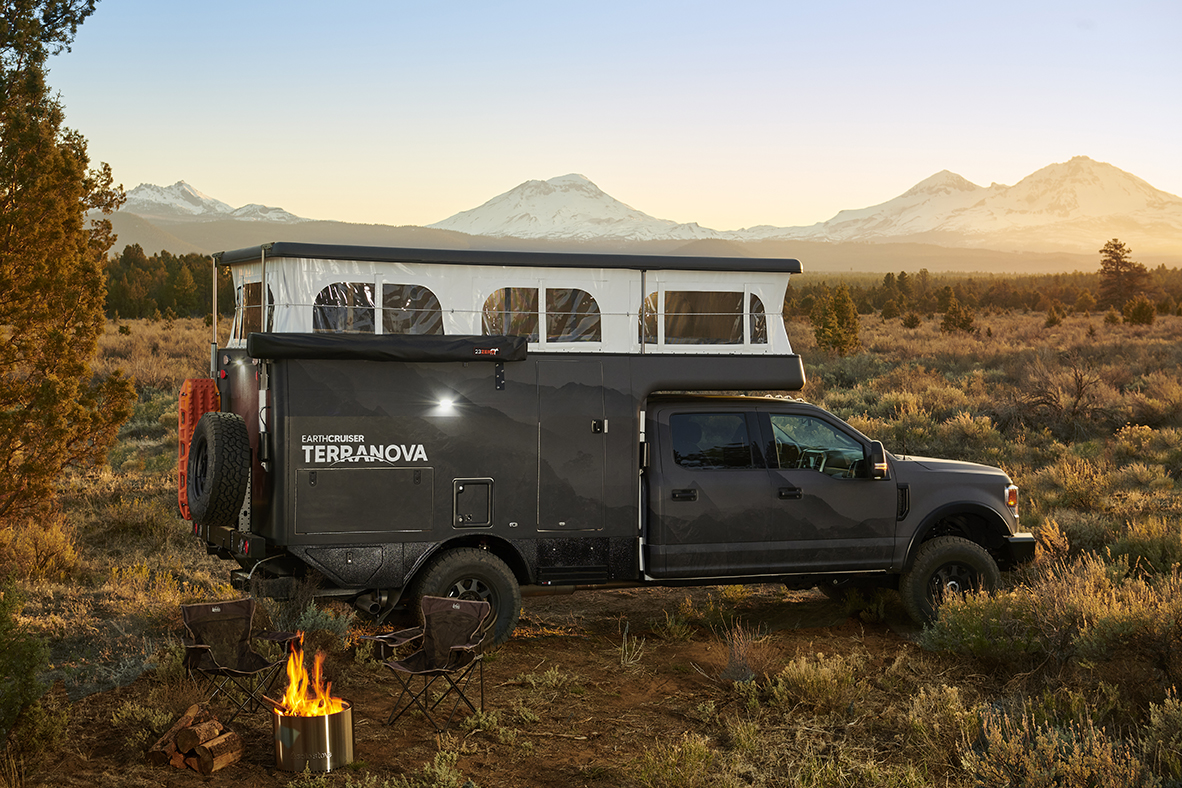 A serious cab-over camper that delivers dreams.
The Terranova Expedition Camper was released this week by EarthCruiser Overland Vehicles (EC). EarthCruiser is globally recognized as a top-tier expedition camper and vehicle manufacturer. Headquartered in Bend, Oregon, they have built off-road-ready 4x4s with carefully constructed off-grid campers for 13 years. EarthCruisers are engineered for adventure and have extensive worldwide travels under the company's belt. They're hand-built, agile, and hold their value for years to come.
EC's latest release, the Terranova Expedition Camper, is a pop-top camper built atop a 2021 Ford F-350 crew-cab chassis. With Mitsubishi Fuso exiting the United States market, EarthCruiser listened to customer demand: the Terranova will use only domestic vehicles. EC created a camper ready for global travel. Currently only offered on a Ford chassis, they anticipate comparative RAM and Chevy applications in the coming months.
Why Terranova Expedition Camper?
"EarthCruiser employees have lived out of their own vehicles," explained Lance Gillies, the company's Founder and CEO. "We've got people [working at EC] that know what's like to work, travel, and live in a vehicle. They have climbed El Capitan and bicycled across Switzerland." With 31 workers currently employed at EC, they've also done much more.
Gillies further exclaimed that EarthCruiser's employees are drawn to a place where they can use their experiences and make people happy. "It's not what necessarily sets us apart; it just makes it who we are."
"Terranova is a combination of all of these things, put on four wheels," said Gillies.
EC's Terranova is smaller and lighter in weight than its comparative Mitsubishi Fuso-based siblings: the EarthCruiser FX or EXP. With a beefed-up suspension and four-wheel-drive system, the Terranova adventure rig has an option to tow up to 10,000 pounds while tackling a variety of off-tarmac terrain, no matter which domestic moniker customers choose.
A Ford That Functions
Remember, as of now, the pop-top EC Terranova camper is only available atop the Ford chassis which boasts an eight-foot bed. The 2021 Ford F-350 Crew Cab is a roomy and solid base for the EC Terranova expedition camper. It showcases a house length of 184.5 inches, width of 81 inches, and 63 inches of height.
EarthCruiser increases the base vehicle's trail protection and off-roading capabilities. They included upgrades like a beefy bull bar with steel enforcements (which adds front recovery points), a steel rear bumper that showcases recessed tail lamps, a mounting surface for various accessories, and a two-inch hitch receiver.
Other noteworthy mentions are upgraded Toyo tires (future owners can choose between all-terrain or mud-terrain rubber) and Method wheels, factory-style front fender flares, spare tire with tire cover and trash bag, as well as a rear-facing back-up camera with monitor.
In addition to the optional Class IV-rated tow package, the Terranova Ford F-350 can be outfitted with a front-mounted 16,500-pound-capacity WARN 16.5ti-s winch with synthetic rope.
Quality and Capable Expedition Camper
"In a nutshell, we start with the end in mind." Gillies said. The company is not into building nice, shiny things so people can say they have a nice, shiny thing. EarthCruiser, as a whole, has a very different outlook.
Gillies is keen to talk about what makes EarthCruiser vehicles what they are. "If our actions can't speak for themselves, then we've got a problem."
"Our perspective is that we are essentially in the travel business that happens to make vehicles."
Gillies explained that EC helps to deliver time to their customers. "Its promises made and promises kept … built by people who know how to build stuff and deliver." After our visit to their Oregon headquarters, it's evident EarthCruiser is particular when building each expedition vehicle.
Terranova Expedition Camper's Exterior
The Terranova expedition camper is made from molded and structurally insulated fiberglass elements: walls, floor, entry door, and locker box doors. Electrically operated roof actuators raise and lower its top in a simple fashion. Same as other EC models, the Terranova roof works via a latchless operation—no roof locks or latches found here.
Triple-layer laminated flexible pop-top walls including eight windows with insect/privacy screens and clear vinyl protective layers adorn the top of Terranova. This offers occupants a 360-degree view from inside the camper, inviting the outside world indoors, blurring the division of space.
Along with fiberglass body side skirts, rear-wheel flares and toolboxes, Terranova's exterior boasts a streamlined design incorporating flush/recessed locks and latches. Optional hot/cold shower and external drinking water faucet could also be purchased as upgrades.
After our socially distanced in-person tour, it's evident EarthCruiser paid close attention to Terranova. Its exterior is clean, simple, and intended. Terranova will deliver a unique aerodynamic design versus its boxy competition.
"You're only as free as you allow yourself to be," Gillies stated. "The vehicle doesn't make you free. We, as travelers, know our time is finite. Covid has given people more time, which also accelerated Terranova for EarthCruiser."
Terranova Expedition Camper's Interior Adornments
EarthCruiser strives to morph and adapt as time goes on—just like travel. By listening to their customers, they've learned to be agile and adjust their designs to suit them.
"When it comes to these sorts of purchases, these are people's dreams you deal with," Gillies exclaimed. "Their whole life, dreams that you deal with—we take that very seriously."
EarthCruiser customers expect the company to "keep it real." One of the reasons EC says they're different from the competition is they build upon the experience they have while listening to their customers.
Along with a heavy-duty fiberglass shell and interior surfaces, EC prides themselves on precision manufacturing. Tolerances between cabinetry were even and aligned, each square foot thought about with multiple uses in mind.
Easy-to-clean marine-grade materials, coupled with solid surface countertops, stainless steel sinks, and bamboo accents round out the bit. Stark white walls and light-colored accent colors give airiness to Terranova's interior—something all EC siblings share.
Smart storage cubbies showcase throughout the Terranova's interior. A false floor gives way to two storage areas as well as a service hatch for plumbing. No need for a ladder as the kitchenette's bottom two drawers double up as a step stool to reach the loft.
Terranova's oversized over-cab loft features a taller roof—perfect for sitting up in bed. A wall-to-wall queen-sized RV mattress allows people to sleep lengthwise in it, eliminating the need to crawl over your bunkmate to grab midnight munchies.
The lounge area includes a multi-functional seating area that works as a work area, eating zone or an additional bed. Stow gear in the integrated wall and under-bench-seat storage compartments.
Critical Systems of the Terranova
Along with a gas or diesel air heater and optional air conditioning, the Terranova incorporates scads of LED lights (both inside and outside of the camper) and power outlets to keep laptops and cell phones topped off.
A Shurflo freshwater pump and water system with fresh water tank is also on hand. Purified drinking water is always available. An induction cooktop and an Isotherm stainless steel fridge/freezer, as well as a composting toilet and full-height shower, complete the interior.
In addition to its base power abilities, the EarthCruiser Terranova can be upgraded with an extensive solar panel and monitoring system. Boasting 108 watts of Sunflare solar, a 12 volt, 400Ah lithium house battery, and a coordinating solar controller and monitoring system, users will run out of food before power while traveling remotely.
Lastly, an 18-gallon grey water tank and monitoring system ensure used water can be correctly captured. Terranova's CZONE Systems Control unit monitors all systems and acts as the camper's main technology hub.
Terranova starts at $289,000. While it's out of the budget for some, it may be the perfect overlanding adventure vehicle for others. Travel dreams can come true with the hand-built and field-proven EarthCruiser Terranova expedition camper.
You can follow EarthCruiser's adventures on Instagram @earthcruiser and on Facebook.