Home is Where You Park It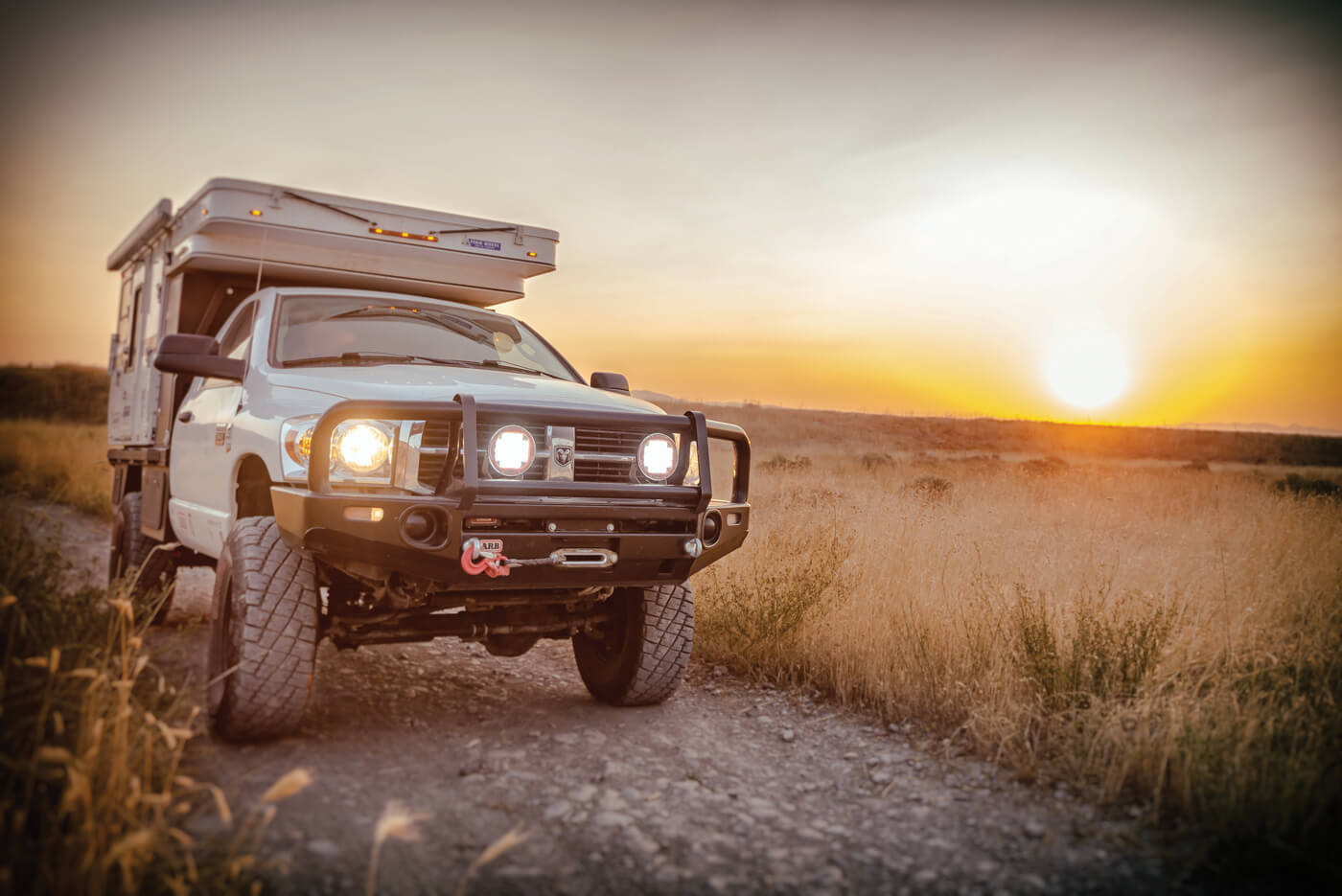 Full-size rigs for maximum exploration.
Many American households still have a full-sized truck that serves as a second vehicle, work truck and/or weekend outdoor adventure-mobile. While you can just throw your camping and outdoor sports gear into the back of your pickup and go, wouldn't it be even better if you had a truly capable vehicle, which could not only get you way out there and back again, but also offered all the comforts of home on your adventures? Mario Donovan, owner and lead designer at AT Overland Equipment, has taken this concept to new heights with his most recent full-sized, overland adventure-mobile truck build.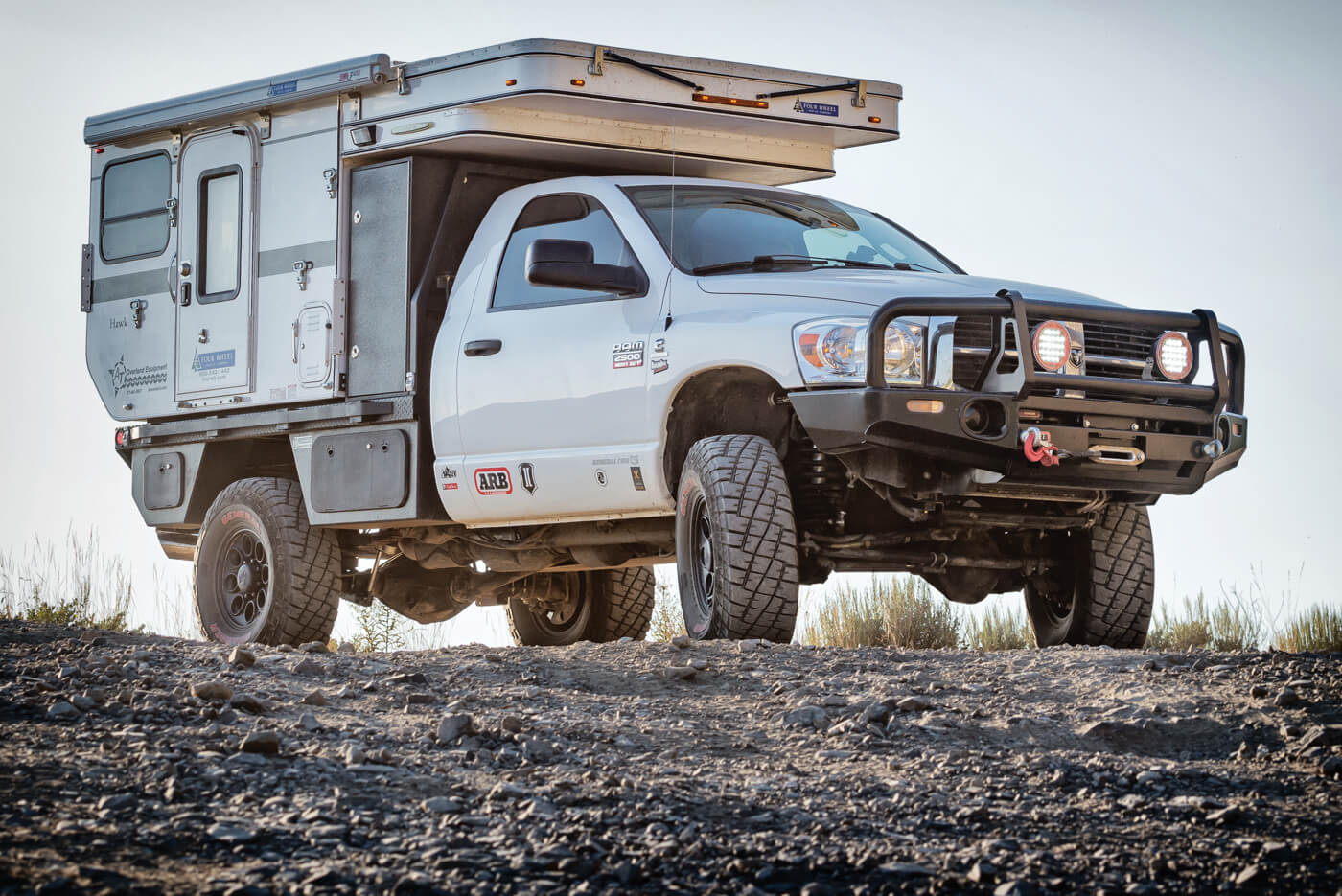 Global Ready
Mario needed a truck that could haul and tow large loads for his business, AT Overland, take him to remote locations across the continent, be a comfortable full-featured mobile office, and offer all the comforts of home for him and his wife Anne, on their extensive travels.
Besides all those daily uses, he also wanted to demonstrate that it is possible to create a global-ready, yet attainable, American-made full-size 4×4 vehicle that could be competitive with the likes of purpose-built, self-contained European overland vehicles—all for less than 100 grand. Though an extremely lofty goal, Mario managed to pull it off with careful component choices, meticulous attention to detail and impressive execution.
Key Concepts
One of Mario's key concepts behind this build was for the base vehicle and camper not to be interdependent. The benefit being that the vehicle and camper could be used completely independently of each other, and if the vehicle was to become disabled due to an accident or catastrophic mechanical failure, the camper could quickly and easily be moved to another vehicle.
This creates a distinct advantage over similarly outfitted overland, expedition-style van, truck and commercial vehicle builds, where the base vehicle is joined to the living accommodations. Besides protecting your financial assets in the case of failure of either the vehicle or camper systems, the AT Overland truck's concept also provides the multi-functionality of an adventure-mobile and work truck in a singular vehicle.
A Solid Foundation
The first step in this build was to find an extremely solid foundation, which somehow met all those lofty multi-function design goals. Due to weight capacity, a quarter- or one-ton vehicle was required. A short wheelbase was also chosen for better off-road maneuverability. A Diesel engine provides needed torque for hauling and towing, while also providing fuel efficiency.
In order to be global-ready, the diesel engine needed to be a pre-DEF model, as DEF fluid can be near impossible to find in other parts of the world, and have international parts and service infrastructure availability. Mario surmised that the best American vehicle to meet all these requirements was the third generation Dodge Ram regular-cab Cummins diesel 4×4 pickup, specifically, in this case, a 2008 2500 model with the 6.7L Cummins.
In order to be global-ready, the diesel engine needed to be a pre-DEF model, as DEF fluid can be near impossible to find in other parts of the world.
In the Workshop
With a solid foundation chosen and acquired, Mario then got to the task of making the base vehicle ready for truly off-the-beaten-path adventures. Wheels, tires and suspension are always the first, and probably most important, step in this process. Solid AEV Katla 17-inch wheels were wrapped with aggressive 37-inch General Grabber tires. This combination allows for low tire pressures, and the best traction possible in a wide variety of terrains.
A four-inch lift provides ground clearance and enough room to stuff those 37s under the AT Overland truck, while custom valved ICON Stage 3 shocks, at all four corners, smooth out the bumps in the road—or lack thereof. Air bags in the rear help to level the load, and are detached at the bottom to allow full articulation of the rear axle. The suspension system is finished off with custom ALCAN rear leaf-spring packs, which are designed to handle the specific loads this vehicle will normally have onboard.
Even with the increased ground clearance, it is important to also protect all the vital systems under the truck, which Mario accomplished with a full complement of custom trail armor. To protect the front of the vehicle in traffic, on the trail and against roadside wildlife, an ARB front bumper was fitted, which provides a secure mounting point for the Comeup 16.5rs winch, and is one of the few airbag-compliant winch bumpers on the market.
A four-inch lift provides ground clearance and room to stuff 37-inch General Grabbers under the truck.
The entire steering and suspension has been reworked, and features ICON Stage 3, adjustable, remote reservoir shocks.
Fuel range is always important when exploring the backcountry, so a second fuel tank was fitted in the stock spare-tire location. To have the diversity of power and economy needed from this vehicle, a Banks engine-management unit was fitted, which provides better fuel economy on the highway, as well as more power when needed, in off-road and towing situations. The go-anywhere package on this truck build was finished off with a completely upgraded steering system, as well as front and rear ARB Air Lockers.
In order to provide the versatility and storage capacity required of this vehicle, a flatbed foundation was the only option to mount in back of the cab. A standard Semi Service Truck flatbed was modified to provide a secure mounting point for the living quarters while maximizing storage space at the same time. A large storage box was fitted to the flatbed, just behind the truck cab, providing a mounting point for the 37-inch spare tire and additional storage for large items. Custom, removable composite under-bed storage boxes were designed to provide room for full rear-axle articulation, and maximum storage capacity, while being lightweight, serviceable and weather resistant.
Working from Home
Now that the vehicle was ready to go anywhere while carrying a load, it was time to mount the mobile office and living space. Mario chose a '15 Four Wheel Pop-Up Campers Hawk flat-bed model for this project. This decision was an easy one, as Four Wheel Campers have been thoroughly tested and proven in the harshest conditions around the globe. Its aluminum-frame construction creates an extremely lightweight and durable structure, which can take the beatings that true off-road adventures will dish out, while not diminishing the vehicle's capabilities with unnecessary weight. The Hawk flat-bed model was chosen to provide maximum living and storage space available on this vehicle platform, while still providing enough room on the flat bed for the storage box housing the larger than stock spare tire.
A Four Wheel Pop-Up Campers have been thoroughly tested and proven in the harshest conditions around the globe.
The camper is a fully self-sufficient unit that offers all the comforts of home, while also providing a great place to work while on the road. A large 160-watt solar panel takes care of most of the electrical needs, while propane powers the stove, furnace and hot-water heater. A 26-gallon fresh-water tank will keep your thirst at bay, pasta cooked, dishes washed and shower running. This camper offers both indoor and outdoor hot shower options.
The 110-liter-capacity fridge/freezer will keep your beer chilled and your ice-cream frozen. A good night's sleep is key to life on the road, and the Queen sized three-inch-thick foam mattress delivers.
The most unique upgrade put into this camper was a Japanese waterless Wrappon toilet system, which individually bags each toilet use. The main benefits to this unit are that it doesn't tap into your fresh-water supply, and it eliminates any odors, which is extremely important in the tight confines of where you eat, sleep and work!
Communication is key on the trail, in business and to keep personal relationships strong while on the road. A two-meter HAM radio has been fitted for use in vehicle-to-vehicle communications. To stay connected to business clients, co-workers and loved ones, Mario installed a Wilson cellular-signal booster. You'd be amazed how much this little gadget takes any cell signal, no matter how minute, and makes it a usable signal.
Seeing is Believing
With over a 1,000-mile range, 76-gallon capacity at 14-plus miles per gallon, this vehicle can take you way out there, and back again. With a final retail-value build cost of about $70,000, this extremely capable adventure-mobile has met and exceeded all of Mario's design goals. Mario and AT Overland prove that a world-capable, American truck based overland expedition camper, built at a reasonable price, is possible. After seeing Mario's build, will you ever look at that old pickup in the driveway the same again? Just think of the possibilities!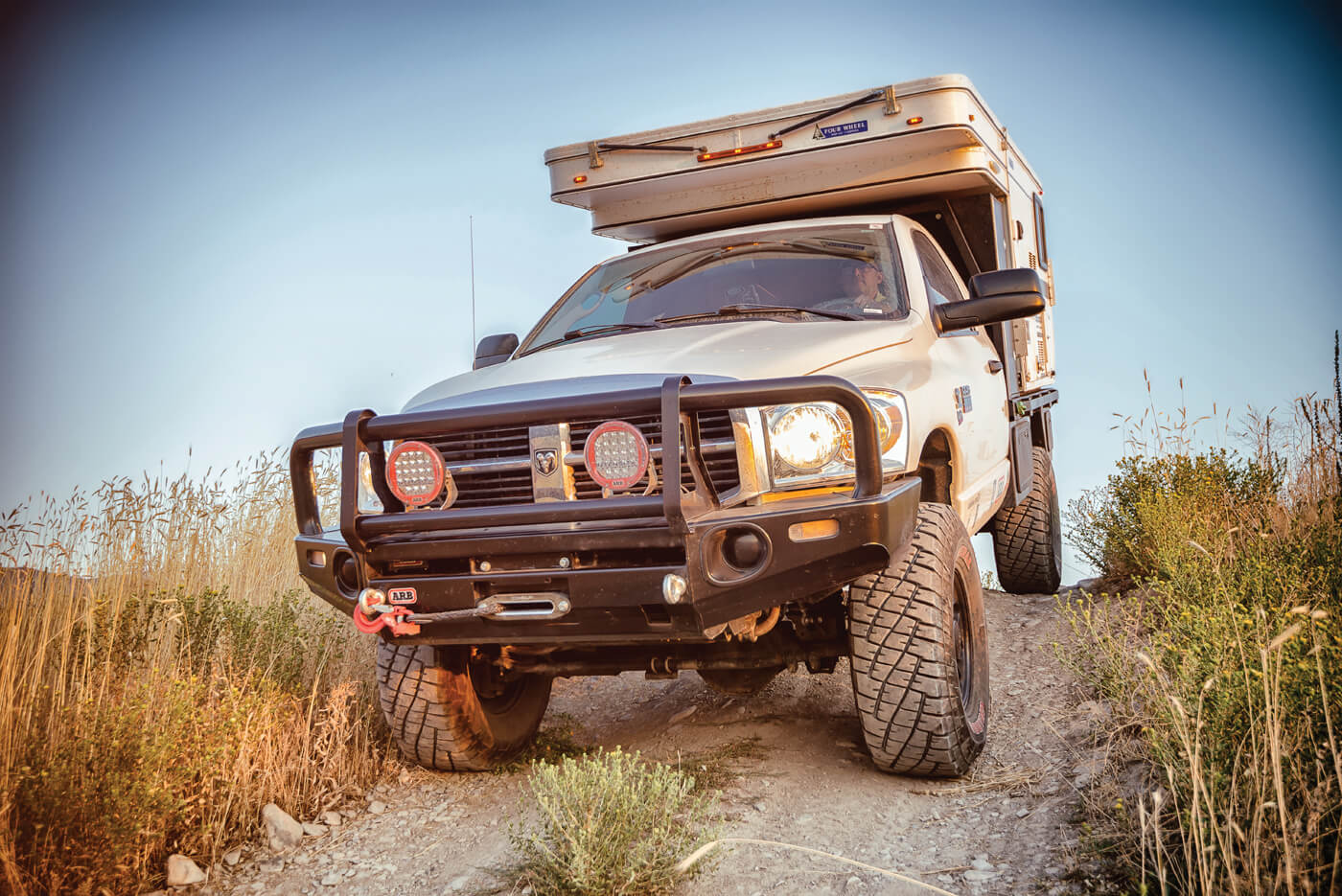 It proves that a world-capable, American-based truck and overland-expedition camper, built at a reasonable price, is possible.
AT OVERLAND TRUCK UPGRADES
Platform:
2008 Dodge Ram 2500 Regular Cab Long Bed
Engine:
6.7 Cummins Diesel
Suspension:
ICON Vehicle Dynamics Stage 3 Suspension with Custom Valving (4-inch lift)
ALCAN Custom Rear Leaf Spring Packs
Airlift Ride-Rite Air Bags in Daystar Air Bag Cups
Wheels & Tires:
Front: AEV Katla Wheels 17 inches
Rear: General Grabber Tires in 37X12.50R17
Armor:
ARB Deluxe Front Winch Bumper
AT Overland Trail Armor
Accessories:
Semi Service Truck Flatbed
Banks IQ 2.0 Performance Interface
Secondary 42 Gal Fuel Tank (in factory spare tire location)
National Luna Dual Battery Management System
AT Oveland Electrical Management System for Lights and Compressor
Lockers & Accessories (with low voltage disconnect)
Comup Seal Gen2 16.5rs Winch
ARB Air Lockers and Twin Compressor
ARB Intensity LED Driving & Spot Pattern Aux Lighting
AT Overland Composite Underbed Truck Storage Boxes
AT Overland Composite Tunnel Storage Box (stores 37-inch spare tire & gear)
Recovery Equipment: Maxtrax Recovery Boards, Hi-Lift Jack Xtreme & various shackles, snatch blocks, straps, etc.,
Yaesu 2M Ham Radio
Wilson Electronics Cellular Signal Booster
Camper:
2015 Four Wheel Pop-Up Campers Hawk Flat Bed Model
Camper Upgrades:
Waterless Wrappon Toilet System
110 Liter Fridge/Freezer
Forced Air Furnace
160 Watt Solar with 220 Amp Deep Cycle Battery Storage
26 Gallon Fresh Water Tank
Fiamma F45 2.6 Awning
Custom Entry Ladder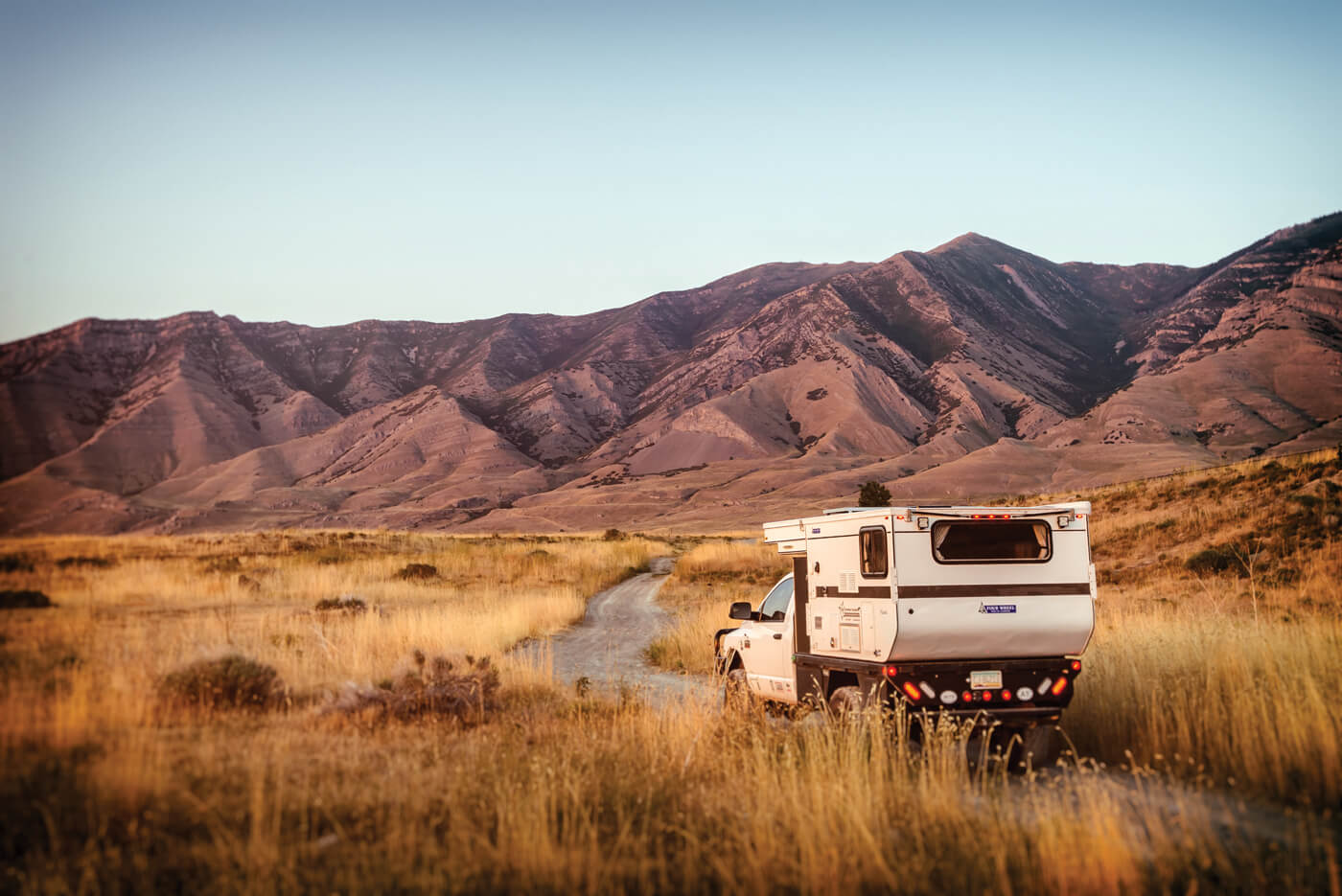 Editor's note: A version of this article first appeared in the Winter 2016 issue of Tread Magazine.