Custom Build: 2017 Toyota 4Runner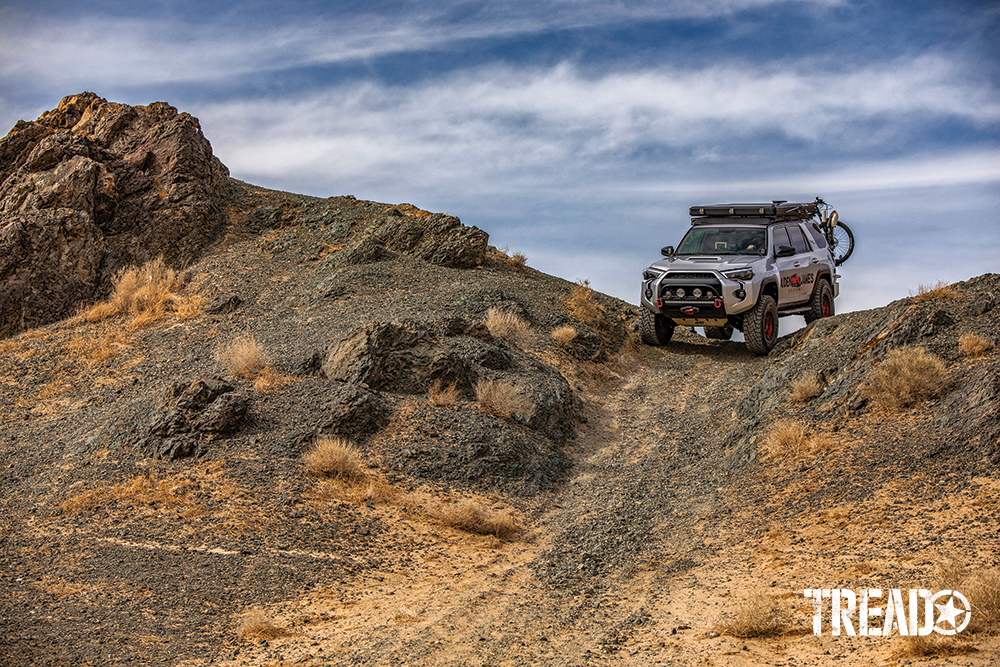 A career change built this impressive 2017 Toyota 4Runner.
When life throws you a curveball, what better way to smash it out of the park than to pivot your career to something you've always loved? That's exactly what Scott and Shawnna Fisher decided one fateful day; a day that forever changed their lives in positive ways … for a couple of reasons. It also lead them to build an impressive 2017 Toyota 4Runner.
A Boomerang Back to Building
Wrenching on vehicles and building custom projects was something Scott Fisher grew up doing. When he hit 16 years old, his parents handed him the keys to a 1995 Nissan 720 pickup. That launched him into the mini truck scene and paved the way toward working with friends to build show vehicles.
To keep this dialed-in 4Runner safe from damage and dings, there's full body armor—top to bottom.
Fisher tells us, "I was part of builds that were featured in SEMA and CES and several that were featured in magazines before I was 20."
While life and a different career path took him away from building vehicles for many years, he found his way back to eventually build this decked-out 2017 Toyota 4Runner with many of his own custom parts and accessories.
Family pulled him away from car life, because his need to make a living superseded a hobby of tinkering with trucks and cars. But it was also family that brought him back to the vehicle-building game: On that fateful day five years ago, Scott's wife, Shawnna, shared the news of her pregnancy. As elated as Scott was, only hours later on that same fateful day, he was let go from his job in the logistics industry.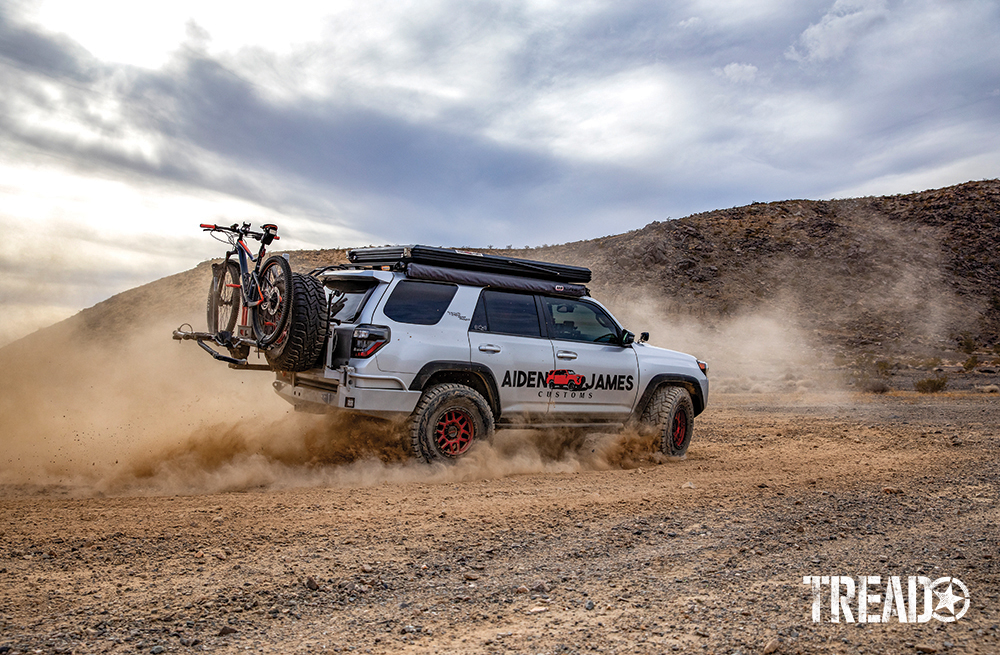 As any true overlander does, he pivoted and problem-solved, this time toward a new career that would bring more satisfaction. When Shawnna asked him, "What do you really want to do?" Scott told her he wanted to go back to his earlier-life's passion of building "cool" vehicles.
The Birth of a Business
At 40 years old, Scott went back to school in the Toyota TTEN program and landed a job as a tech at a local dealer. There, he learned the ropes on his own 2015 4Runner and also couldn't resist creating his own custom lighting options. And so, the 4Runner DRL Fog Bezel kit was born—the most popular product he makes—as well as the launch of Aiden James Customs (AJC).
It's only fitting that the day Scott and Shawnna learned of soon-to-be-born Aiden was also the day Scott chose to change career paths toward soon-to-be-established Aiden James Customs.
Named after his son, Aiden James Fisher, the business has grown over the last five years to a one-stop build shop. In fact, AJC recently celebrated more employees and a second move to a larger space in Santa Ana, California. It's only fitting that the day Scott and Shawnna learned of soon-to-be-born Aiden was also the day Scott chose to change career paths toward soon-to-be-established Aiden James Customs.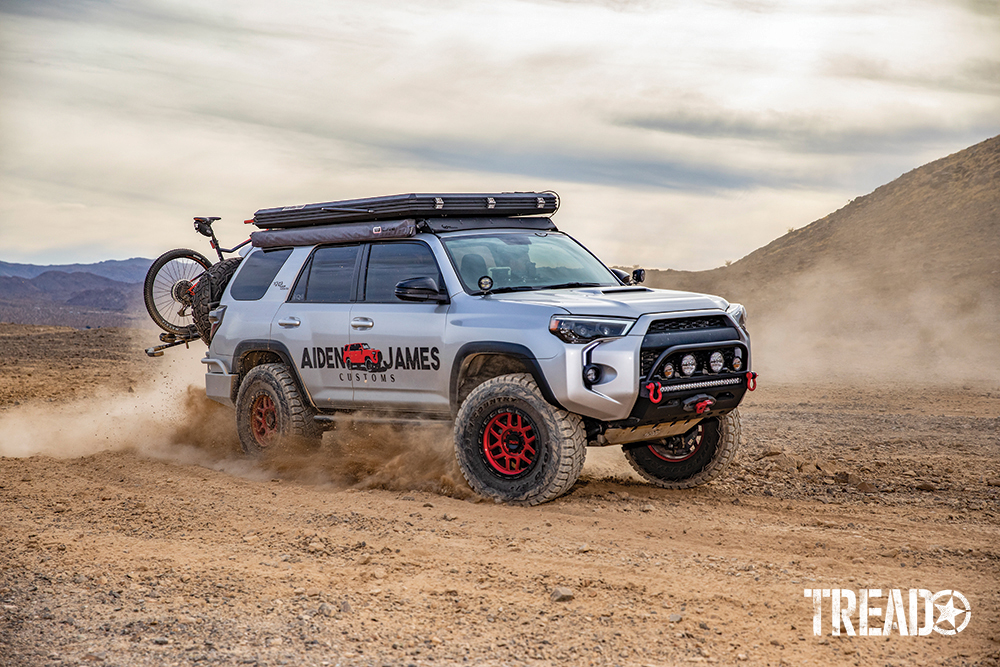 As any vehicle builder knows, your own "whip" is the rolling billboard of the work you do. The AJC 2017 Toyota 4Runner is no different and proudly displays many custom upgrades. It allows the family to get out and see the sights the country has to offer. Having grown up traveling with his family in an RV (which towed his Nissan 702 pickup truck), Scott wanted to share similar experiences with his own immediate family. In fact, he found his love for cars and trucks at only age 7, when his mother let him drive the family's Manx dune buggy near the campground.
It was now Scott's turn to build the 4Runner to show off his capabilities and take his family on exciting outdoor camping adventures.
Essentials for Camping in the Wild
A vehicle that's used to take the family out to off-grid destinations, of course, has to have all the necessary gear to make that time fun and exciting. Searching for the proper, time-saving and easy-to-use accessories to enjoy while out in the wilderness often ranks high on the list.
As a result, up top, Scott's 2017 4Runner sports a Prinsu roof rack that holds the AJC rooftop tent and an ARB 2000 awning. To help keep power running around camp, two Renogy 100-watt solar panels are mounted to the RTT and are controlled through a Renogy Rover Li solar controller.
In back, the Fishers installed amenities to allow for easy cooking and storage. An OverlanderWoodWorks custom double-drawer system mounted to the AJC gear plate keeps items organized and within easy reach. In addition, a Dometic CFX-75DZW SE black fridge/freezer on a Dometic slide also mounts to that AJC gear plate, allowing for easy access to items inside.
"We use that fridge all the time, and it's always on and stocked," Scott shares about his favorite accessory. "The addition of the gear plate on the sliding cargo tray allows that fridge to slide out farther to easily access the stuff in the fridge."
Finally, framing the organization system are Rago Fabrication rear MOLLE panels with a shelf to make use of extra headroom space.
Lighting The Way
Scott opted for plenty of lighting on the 4Runner, and it doesn't hurt that AJC also has its own line of lighting accessories (we bet most, if not all, of the testing and fitment for the business was performed on this 4Runner). Scott opted to run Rigid Industries lighting on most of his build to light his way to camp after the sun has gone down.
The Appalachia Offroad front bumper holds a Rigid Industries 30-inch light bar, 4-inch 360 Series SAI fog lights, 4-inch 360 Series amber SAE and 6-inch 360 series driving lights. The 4-inch 360 Series driving lights act as ditch lights, while the rear bumper houses D-Series flush-mount pods, along with 6-inch 360 Series amber SAEs to light the way down the trail and for around camp. There are also Rigid A-Series rock lights and courtesy lights, in addition to the Rigid Ignite Series light for camp light and another Ignite series for side/scene light.
As any true overlander does, he pivoted and problem-solved, this time toward a new career that would bring more satisfaction.
On the 4Runner, AJC's custom embellishment lights can be found all around. AJC amber front-side marker/blinker LEDs and rear amber LED blinkers are installed. Under the hood, there's an AJC light kit. Special LEDs in the maps, visor and doors are used, as well as LED panels in the dome and rear hatch. To control all these lumens, there's a Switch-Pros RCR Force-12 mounted on a custom Power Trays mount.
All the Armor
To keep this dialed-in 2017 Toyota 4Runner safe from damage and dings, there's full body armor—top to bottom. There's also an Appalachia Offfroad Mostro front bumper in front; it houses the Smittybilt X20 Gen2 9.5K synthetic line with Wilco fairlead and Factor55 flatlink. Other features include Dirt King Fabrication spindle gussets in the front, a CBI Offroad full-aluminum skid package that runs the belly of this beast, and RCI Metalworks rear differential and link skids in the rear. FJToyman rear shock skids protect the goods in the back toward the CBI Offroad dual swing rear bumper.
The Nitty-Gritty
As with all dirt-driving autos, good tires and suspension are clutch. Giving a touch of style and curb appeal are KMC KM544 Mesa wheels in candy red with black ring, size 17×8.5, with -12 offset. And, in order to clear the Toyo Tires Open Country R/T, size 35×12.5/17, an aggressive body mount chop (BMC) and fender well clearance work had to be taken care of.
Keeping this 2017 Toyota 4Runner adventure machine moving with a smooth and capable ride is an impressive suspension system. In front, this 4Runner has a Radflo/AJC collaboration full-custom-length, extended-travel coilovers with hi/lo compression adjusters, one-off race sleeves and 700-pound springs with Dirt King Fabrication helmed upper control arms. The lower control arms were also a collaboration between Dirt King Fabrications and AJC. They allow for a KDSS pivoting mount.
In the rear, another Radflo/AJC collaboration: a full-custom-length, extended-travel rear shock system, also with hi/lo compression adjusters and one-off race sleeves. The rear uses MetalTech 4×4 upper and lower links with OME 2899 rear springs and a Sonoran Steel KDSS panhard bar.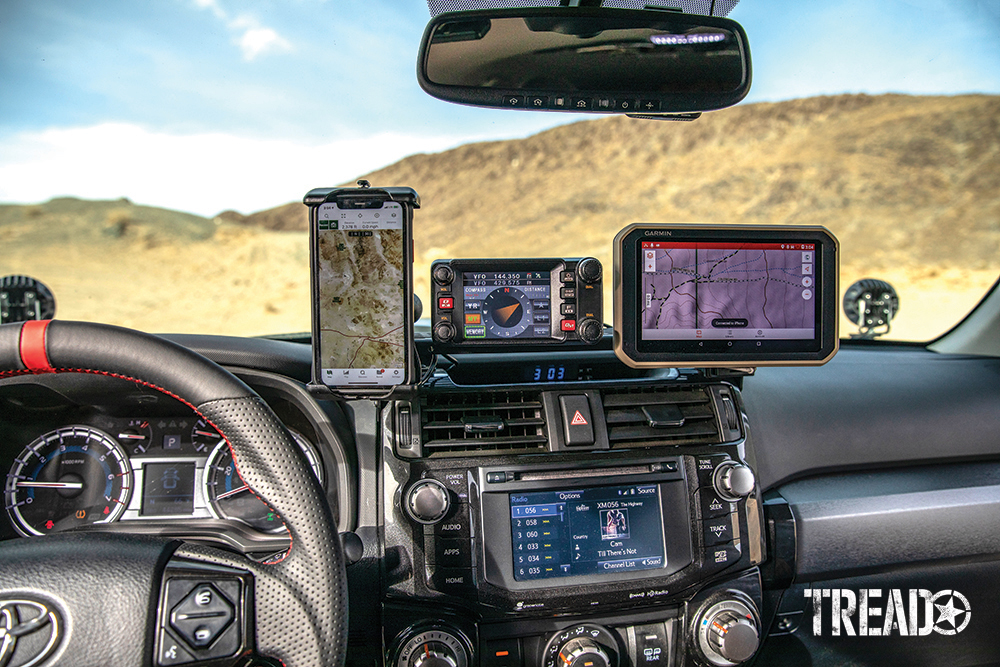 The 4Runner is regeared with Revolution gear and axle. It is now to 4:88. It handles big tires and the custom suspension with ease.
The Cockpit
Inside, Scott keeps tabs on the trail ahead with a proper comms and navigation setup. An ICS Fab dash mount with dual charger connects the Garmin Overlander and iPhone, held with a Ram Mounts Quick-Grip waterproof, wireless charging holder.
For comms when out on the trail, Scott uses a Yaesu FTM-400XDR and Garmin InReach Explorer+.
Finding a Business From Your Passion
Switching from the logistics industry back into the automotive industry was a blessing in disguise for Scott. It's great to get paid to do work you're passionate about.
"I'm blessed to have a business that gets my family and me outdoors, enjoying the fresh air and seeing amazing places and bits of history," he said.
Scott is pleased about the business' growth over the past five years. He's also excited about the time he now gets to spend with his family.
Nothing brings more pride than making memories in a vehicle you've built yourself. And that fulfillment became clear on a trip to the family cabin in Lake City, Colorado, for New Year's 2020. During that trip, they met snow and icy roads. In some areas, they had to plow through 3-plus feet of the powdery, white stuff.
"I was able to see that I built a capable vehicle that would also keep my family safe while getting out and seeing the sights," says Scott.
He has his son to thank for the pivot toward his passion of working on cars and trucks again.
Will Aiden James one day become the new face of Aiden James Customs? Well, if he learns to love cars and trucks as much as his father does, we're pretty sure that's obvious.
2017 TOYOTA 4RUNNER UPGRADES
Platform: 2017 Toyota 4Runner
Engine: 1GR-FE 4.0L V6
Suspension: (front) Radflo/Aiden James Customs collab full-custom-length, extended-travel front coilovers with hi/lo compression adjusters; one-off race sleeves and 700-pound springs with Dirt King Fabrication helmed upper control arms; DK/AJC collab performance lower control arms with the KDSS pivoting mount; (rear) Radflo/Aiden James Customs collab full-custom-length, extended-travel rear shocks with hi/lo compression adjusters and one-off race sleeves; MetalTech4X4 upper and lower links; OME 2899 rear springs; Sonoran Steel KDSS panhard bar
Wheels & Tires: KMC KM544 Mesa 17×8.5 with -12 offset; Toyo Tires Open Country R/T 35×12.5/17
Interior Accessories: Garmin Overlander; Yaesu FTM-400XDR and Garmin InReach Explorer+; Off Grid Engineering dual battery kit with Odyssey 35-PC1400t batteries; 2 Renogy 100-watt solar panels controlled through a Renogy Rover Li Solar controller; Beat-Sonic front/rear camera interface; AJC rear camera relocate kit; OEM Audio+ Reference 500 system with passenger-side subwoofer; King Connect Extend LTE; ICS Fab dash mount with dual charger; Ram Mounts Quick-Grip™ waterproof wireless charging holder; Rago Fabrication rear MOLLE panels with shelf; Dometic CFX-75DZW SE black fridge/freezer on Dometic slide; NOCO 20a Gen2 battery charger with external plug in port; OverlanderWoodWorks stacked rear drawer system; AJC LEDs in the maps, visors and doors; ARC Lights LED panels in the dome and rear hatch; Switch-Pros RCR Force-12 controls all accessories mounted on a custom Power Trays mount; Homelink/auto-dimming/compass rear-view mirror swap; 12/120-volt power mod; Console Vault center console safe; USR steering wheel
EXCENTRIC EXTERIOR
Exterior Accessories: Trail Standard Offroad TSO Pro Grille; AlphaRex Pro Midnight Black with DDM Tuning Saber ProX LEDs; Unique Style Racing Blackout Taillights; Rigid Industries E-Series 30" bumper light bar; 4" 360-Series driving lights for ditch lights; four-inch 360-Series SAE fog lights; 4" 360-Series amber SAE on bumper; 6" 360-Series driving lights on bumper; D-Series flush-mount pods in rear bumper; amber chase lights; A-Series rock lights; A-Series courtesy lights; Ignite Series light for camp light; Ignite Series light for side/scene light
Additionally, Smittybilt X20 Gen2 9.5k synthetic line with Wilco fairlead and Factor55 flatlink; Prinsu full rack; AJC RTT; AJC DRL fog light bezel kit; amber front/side marker/blinker LEDs; rear amber LED blinkers; license plate LEDs; reverse LEDs and mirror puddle lamp LEDs; Unique Style Racing smoked mirror turn signals; Premium/Limited side mirror swap with chrome delete; Appalachia Offroad Mostro front bumper; CBI Offroad dual swing rear bumper; RCI Metalworks rear diff and link skids; CBI Offroad Overland sliders; FJToyman rear shock skids; Dirt King Fabrication spindle gussets; Aiden James Customs underhood light kit; white and red awning light strips; Baja Rack ladder; Rago Fabrication low-pro ditch light brackets; Radflo Hydra-Jac; ARB 2000 awning; ARB dual compressor; Rago Fabrication driver's-side compressor mount; All Pro Offroad front and rear stainless brake lines; Wavian fuel jerry can; Frontrunner water jerry can; Regeared to 4:88 revolution gear and axle