2022 Toyota Tundra Hybrid: A Truck For Truck People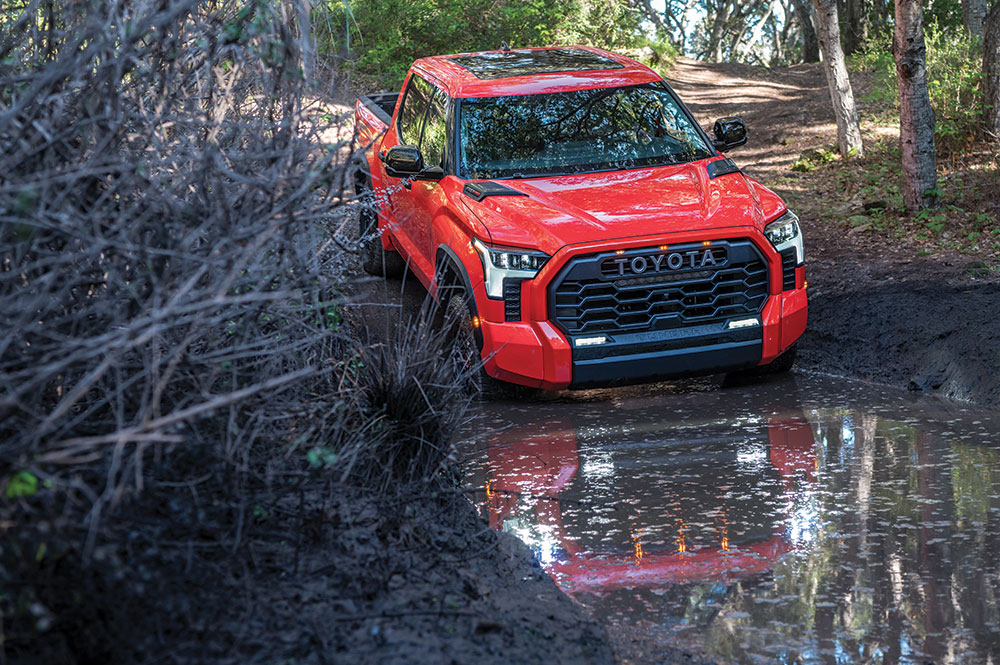 2022 Toyota Tundra Hybrid is Ready For Adventure
The 2022 Toyota Tundra Hybrid has the underpinnings, chassis, and features to impress. Not only does it share its boxed steel frame with the new Sequoia, Land Cruiser 300, and Lexus LX 600, but also has new, more powerful and fuel-efficient powertrains.
I was super impressed with how the hybrid system creates a very smooth power delivery curve.
I got a chance to get behind the wheel of both the Capstone and TRD Pro Tundras at an early press event in California, where I tested the new hybrid pickup on road, off road, and while towing. Then, I even got some time to pick the brains of the lead engineers behind this impressive truck. Let's dive into the details and some of the key take aways from experiencing this new truck.
Hybrid: i-Force Max
The beating heart of the new Toyota Tundra Hybrid is the i-Force twin-turbo 3.5L V6. But, the really impressive powertrain on offer is the i-Force Max hybrid version, utilizing the same engine. This new hybrid option has an electric motor/generator, which adds 48 hp and 184 lb.-ft. of torque to the equation, between the engine and 10-speed automatic transmission.
This parallel/one-motor hybrid system is optimized for torque, not for fuel economy. In total it puts out 437 hp and 583 lb.-ft. of torque. That's impressive power for a ½-ton pickup, but the fuel economy isn't so hot. Although it is considerably better than the outgoing V8. While official EPA numbers aren't out yet, Toyota expects 19 city/21 highway mpg out of the Tundra TRD Pro, which will be the least efficient hybrid model because of its tires and height.
How Does It Drive?
I was super impressed with how the hybrid system creates a very smooth power delivery curve. While the torque is nearly instant, which is great off-road and while towing, the power does have a bit of lag off the start. Most of that lag is from the engine waking up, as the start/stop system on the new Tundra is nearly unnoticeable—no more vehicle shuddering when the engine stops or kicks on. Throttle response is very crisp, particularly so when in Sport or Sport+ driving modes.
Exhaust notes inside and outside the Tundra are impressive for a V6. Part of that quality sound in the cabin is piped in exhaust notes through the speakers. While I find that a ridiculous thing to do in a pickup, it honestly sounds really good and is so seamless you wouldn't have known if I hadn't told you.
Tundra Models
For 2022, Toyota offers five hybrid Tundra models; Limited, Platinum, 1794 Edition, TRD Pro, and Capstone. All hybrid Tundras have the CrewMax cab, so the batteries have a place to live under the rear seats, and either a 5.5- or 6.5-foot (4×2 only) bed.
Capstone is the new top-spec luxury model, while the TRD Pro is of course the off-road focused model. Both are only available with the hybrid iForce Max powertrain, part-time 4×4, and as a CrewMax cab with 5.5-foot bed.
The Capstone
Capstone sets the bar high for luxury and on-road comfort, while offering quality proper truck features like 4×4 and impressive towing systems. Of course, it also features, as standard equipment; massive 22-inch chrome wheels, lots of interior blue accent lights, power-retractable running boards, acoustic glass, a two-tone leather and wood interior, a heads-up display, and more. The only real choices to make when buying a Capstone are paint color and if you want/need the rear-air suspension.
TRD Pro
While the same basic configuration, the TRD Pro is much more sporty and off-pavement adventure ready. It gets things like 18×8 black forged-aluminum BBS wheels with 33-inch Falken Wildpeak AT tires, a 1.1-inch front lift, Fox shocks, TRD Pro front stabilizer bar, dual-rate rear springs, a skid plate, an integrated light bar in the front "TOYOTA" grille, a stainless steel cat-back dual exhaust, and a selectable rear locker. A new 'technical camouflage' pattern adorns much of the exterior plastics, like the fender flares, and the seat inserts throughout the truck—which looks a lot like snow camo on the seats.
The Tundra TRD Pro has a 24.9-foot turning radius, which I wasn't impressed with and is pretty poor when compared to the competition. If fares better with 9-inches of ground clearance, a 26.2-degree approach angle and 24.2-degree departure angle. With a long 145.7-inch wheelbase, break-over isn't good. With a GVWR of 7,615 pounds the TRD Pro offers 1,600 pounds of payload capacity. That's impressive for a ½-ton truck, and plenty for you to load it up with lots of overland gear.
If you don't want to spend quite as much money as the TRD Pro will cost you, and/or you just aren't a fan of the styling, you can get the TRD Off-Road package on the Limited hybrid model. This gives you most of the off-road features the TRD Pro has, but not all the logos, sporty looks, and things like the lightbar and cat-back exhaust.
Impressions: Performance
The truck has plenty of get up and go, impressive firm and linear brakes, and offers an incredibly smooth ride. I found the Fox shocks setup on the TRD Pro to be even more comfortable on-road than the adaptive dampers that are on offer on the Capstone.
I'm also impressed with the new Toyota Tundra Hybrid as a tow vehicle. It offers great sway control, all the electronic towing assist features that you could ask for, and even power-towing mirrors that extend and retract are now available. The TRD Pro offers an impressive 11,175-pounds of towing capacity. Every seat in the new Tundra is firm but comfortable and offers plenty of leg, head, and shoulder room. The front seats offer good bolstering, adjustability, and lumbar support. All the touchpoints in the truck are made of materials that feel good and look durable.
Impressions: Accessories
Even with polarized sunglasses the massive 14-inch infotainment touchscreen is easy to read, offers pretty quick load speeds, and has an intuitive layout. If you're a fan of bass, you're going to love the JBL audio system, as it's one of the best factory systems I've heard in a truck. The driver's gauge cluster isn't my favorite, as it offers lots of quality info, but is a bit cluttered.
The sliding rear cab glass, sliding center console access tray, 110V outlets in the back of the center console and in the truck bed, and plethora of cupholders and tiny storage cubbies throughout the truck are all things I appreciate about the Tundra. I also appreciate the cool tailgate release bump switch in the driver's side taillight.
I can't say I'm a fan of the rear of the cab for gear storage though. There is no storage under the rear seats, as that is where the battery pack lives. While the seats do fold back against the rear wall, they don't fold flat forward, making for limited cargo room in the rear of the cab.
Off-Road Performance
Now for the important part: how does the new Toyota Tundra Hybrid TRD Pro handle off-road? The truck's off-road driver's aids, like Crawl Control and Downhill Assist Control perform smoothly, even in steep and muddy conditions. This is a massive improvement over theTundra's jerky and loud outgoing systems.
The computer aids, like Multi-Terrain Select/traction control, are super smart, but luckily Toyota's engineers have also tuned the systems to allow for driver inputs to seamlessly integrate. Left foot braking, for instance, works great, but I didn't really need it to find traction.
This new truck is going to impress a lot of people. It is comfortable, option rich, competitively priced, and can haul and tow big loads.
2022 Toyota Tundra Hybrid
These Toyota Tundra Hybrids will start hitting dealer lots in the Spring of 2022. Pricing starts as low as $52,300, for a Tundra Limited 4×2. The top-spec Capstone starts at $73,530 and the TRD Pro starts at $68,805.
This new truck is going to impress a lot of people. It is comfortable, option rich, competitively priced, and can haul and tow big loads. It should also carry on Toyota's reputation for durability and reliability.
The 2022 Tundra i-Force Max is a massive leap in all regards to the outgoing Tundra V8 models. While Toyota is years behind the competition on getting its 1/2 ton pickup updated, it has finally come to market with a well thought out system that is very competitive on many fronts with America's big three truck manufacturers.
Editor's note: a version of this story previously appeared in the May/June 2022 print edition of Tread Magazine.