Standing Motivation
If you live in a city where rideshare electric scooters seem to have popped up on every corner out of nowhere, you probably fall into one of two categories: you're either a fan of them or you find them a real nuisance. Electric scooters are conveyances that can get you to and from a location with ease and expediency. Just hop on and hop off, it's just that easy. Unlike riding a bike, stepping onto the scooter's pad and stepping off take very little balance and coordination. As long as you know how to stand, you're good. This bodes well for someone as uncoordinated as this author.
For some time now, electric scooters have been relegated to the realm of paved roads and sidewalks. Needing a smooth surface to run on, the thought never crossed our minds that one would run into one of them on a dirt trail—that is, until now. Portland, Oregon­–based Works Electric has introduced their line of all-terrain electric scooters, they call Rovers.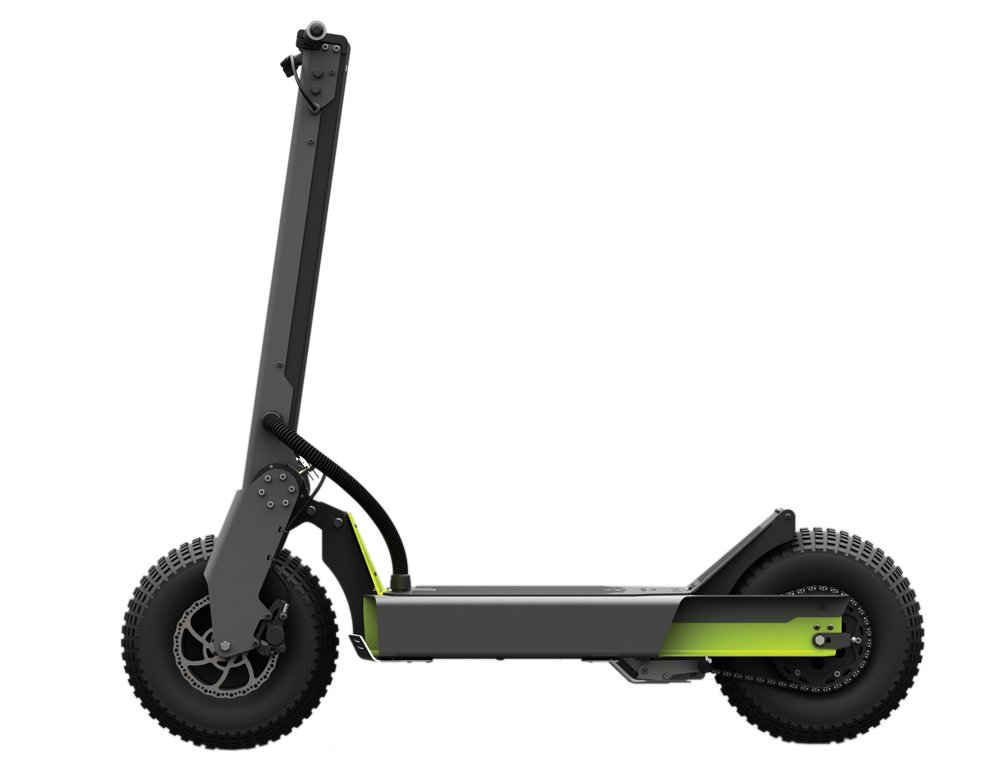 The Rover you see here is their top of the line, Hollyburn P5 model. The P5 is designed and built by hand at Works Electric's facility in Portland with the express mission of taking its rider wherever he or she wants to go, even if that means there are no roads. Powered by a powerful 4400 watt ZM2-R electric motor, the Hollyburn P5's powerplant is matched with safety and durability packages that are designed to outperform its competition. In fact, Works Electric claims that, "the P5 is the only standing electric vehicle in the world to firmly occupy the powersports segment."
For near-silent, quick and nimble trips through the woods, jump on the Hollyburn P5 or its sibling, the Hollyburn P3, and zip around with all the confidence that it can take you where you want to go. The P5's light 86-pound curb weight and compact portability allow it to be easily transported to any location and with a top speed of 35 miles, this thing can really haul. Camping with the family? Enjoying a day trip with your friends? The Hollyburn P5 can provide the ride.
The P5 is rated to travel 28 miles per charge and carries an IP66 rating, which means it is weatherproof including rain and snow. Some other stand-out features of the Hollyburn P5 include its Crusher Five-Point chassis armor, Pure Sine Wave vector control, and PCM thermally managed battery system. If adventuring trails and paths while standing seems to be an unfamiliar concept, we suggest giving it a go. Electric Works is redefining all-terrain adventure in their own way.
Performance
Motor
The Hollyburn P5's ZM2-R Brushless Drive System is engineered to be extremely reliable and requires no regular maintenance. The system operates at almost 90 percent total efficiency and utilizes a totally enclosed air-cooled electric motor that can produce 4400 watts of power and 45 lb-ft of torque.
Premium Chain Drive
The Rover's chain drive was designed for dirt riding. The premium EK High Tensile chain drive is extremely rugged and durable. This #35 high-tensile chain will cut through dirt like a knife through hot butter.
Power to Weight Ratio
The modest weight of the Hollyburn P5 combined with loads of power yields an incredible power-to-weight ratio equivalent of 8.1 hp to every 100 pounds of weight. The result is an impressive 0-to-30 mph in 3.9 seconds. Did we hear someone say "drag race?"
Oversized Brakes
The Hollyburn P5 utilizes dual-piston hydraulic braking with an oversized 180mm rotor and high-performance metal ceramic brake pads for increased braking power and increased longevity.
Safety
Ultra-Safe Lithium Ion Battery
With safety in mind, Works Electric outfits each Hollyburn P5 with an automotive grade lithium ion battery that incorporates a proprietary Phase Change Material (PCM). PCM is fire retardant, absorbs waste heat, and promotes uniform pack temperature. The result is one of the safest and most reliable batteries in the world.
Power Disconnect
The P5 is smart enough to sense if something goes wrong with its battery system. In the event of a power irregularity, the battery system will automatically disconnect the main power source.
Editor's Note: A version of this article first appeared in the July/August 2019 print issue of Tread Magazine.