Ovrlndr Travel French Press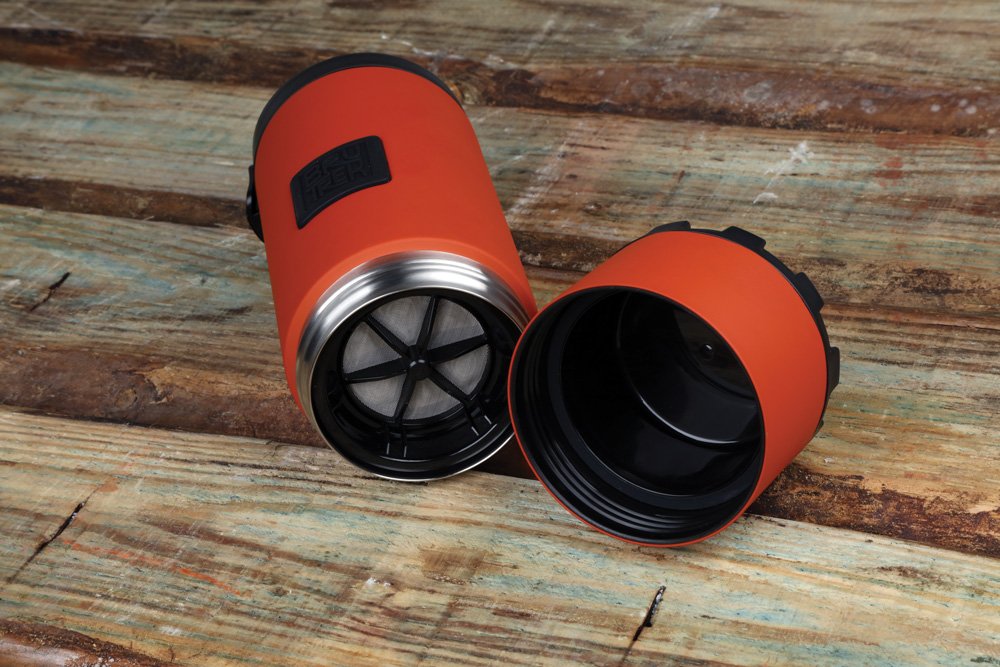 Easy to Clean, Delivers Delicious Coffee To Go
For us coffee lovers, the smell of freshly brewed coffee infused into the crisp, morning air of the woods is an intoxicating scent, isn't it? Even better is a cup of coffee from an Ovrlndr travel French press. Wake up to a steaming hot, fresh cup of joe while shaking off the morning dew coating your tent. This is a welcomed daily ritual for those who are lucky enough to hit the campgrounds. Things being how they are nowadays, that's more of us than ever.
Die-hard adventurists, as well as outdoor leisureists, may not agree on which activities they want to tackle in the morning. One may want to get in a predawn hike while the latter may want to stay bundled up in their sleeping bag for another hour. Regardless of which one you identity with more, both types of campers can agree that freshly brewed coffee, especially French pressed, is preferred over the instant variety, in most cases.
Next Level Travel Coffee Cup
Getting your coffee on needn't be a complicated production. Planetary Design's BruTrek Ovrlandr travel French press makes lugging a fragile French press a thing of the past. Best of all, the Ovrlndr travel French press is designed to not only provide you a way to brew fresh coffee anywhere you find yourself, it is also one of the easiest French presses that we've encountered. If you're not a coffee drinker, loose-leaf tea can be brewed instead.
The four-piece, double-wall, vacuum-insulated bottle consists of a screw-on, sip-and-snap, leakproof lid, a sturdy 18/8 steel body, an easy-to-clean removable bottom, and a Bru-Stop press. To use the Ovrlndr travel French press, all you do is insert 2 tablespoons of your favorite course ground coffee grounds per 8 ounces of water into the bottle, pour in near-boiling water, replace the cap, and depress the Bru-Stop press. The bottle holds up to 24 ounces of water. Allow up to five minutes to brew and voila, your coffee is ready.
It stands out from the competition because of the ease of cleaning. All too often, French press coffee is passed up due to the cleanup. However, this changes the game. To clean the Ovrlndr, simply unscrew the bottom compartment, empty out the coffee grounds, replace the bottom, add water from the top, shake the bottle, and depress the press. Empty out the water and the Ovrlndr travel French press is ready to go for your next round of coffee.
Tread's Impression
We tried out the Ovrlandr travel French press and can report that it easily and quickly provided us a much-needed fresh amount of coffee. What was also great was how simple it was to clean. Since its bottom screws off, it was easy to get all of the used grounds out. The vacuum bottle features a snap cover that plugs up the spout securely, ensuring there's no leakage, no matter how the bottle is orientated.
The approximate overall 3.75-inch diameter of the bottle didn't fit our vehicle's cup holder, but its rubberized base did provide a non-slip foundation on wet surfaces. The Red Rock color version that we had has a rough texture that also provides plenty of grip, even to cold, gloveless hands. It is also available in Mountain Lake Blue, Brushed Steel, and Obsidian Black.
If you're looking to take the coffeehouse experience with you on the road or off but don't want the pain of cleanup, you'll want to look into Planetary Design's Ovrlndr travel French press. Making fresh coffee or tea and cleaning up afterward couldn't be easier.
PLANETARY DESIGN
OVRLNDR PRESS
MSRP: $50
planetarydesign.com
Editor's Note: A version of this article first appeared in the Winter 2020 print issue of YOTA Magazine.