Hellwig 2019 Ford Ranger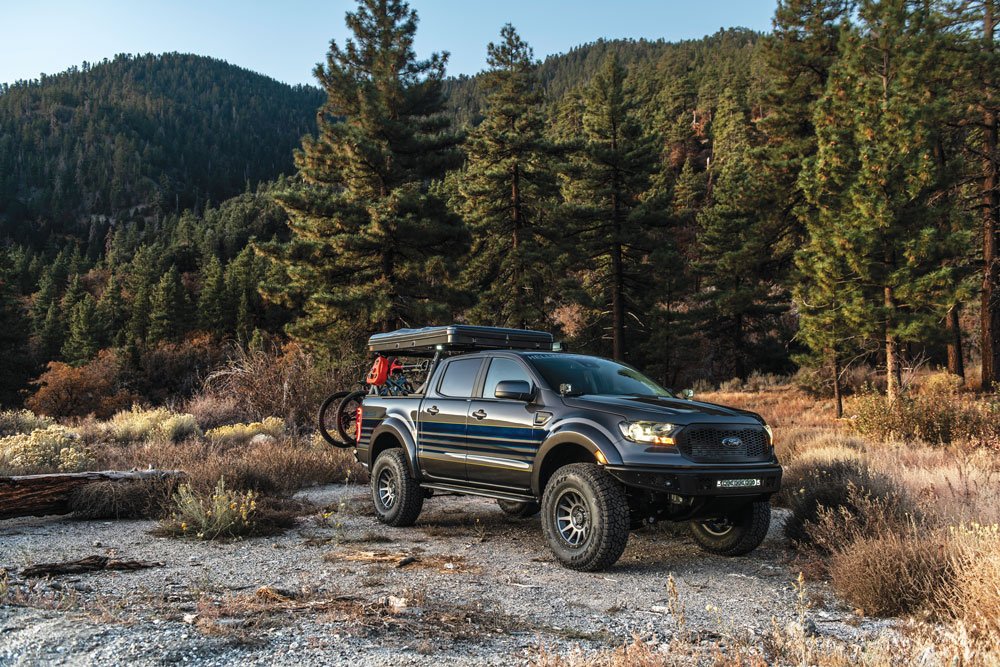 Attainable Adventure in a 2019 Ford Ranger
Inspired by the outdoors and built with attainable adventure in mind, the Hellwig Ford Ranger is outfitted with a plethora of gear and aftermarket parts to create a capable and fun truck for road trips, camping, and other outdoor activities. Built on a short time frame, Mike Hallmark, Hellwig's marketing and international sales manager, left no rock unturned on this attention seeker. This overland Ford Ranger can do it all, from hosting a campsite party to tackling the trails.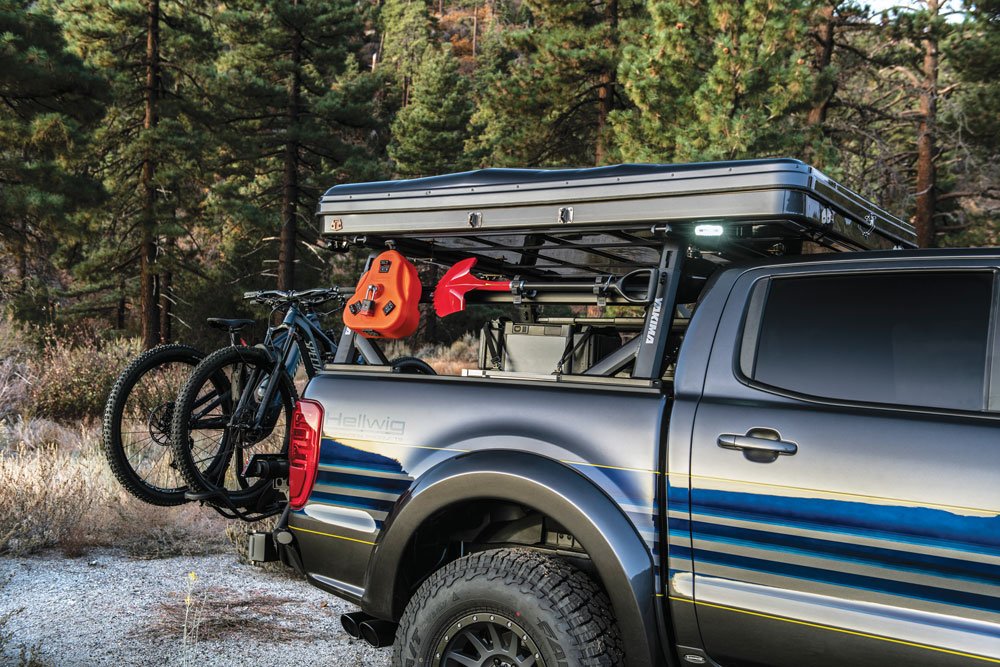 For over 70 years, Hellwig Products has improved the suspension on a variety of vehicles, from muscle cars to trucks to military vehicles. The family owned and operated business began after the second World War when Rudy Hellwig came up with the idea to create helper springs to prevent cars and trucks with heavy loads from sagging due to the extra weight. Eventually, Rudy's son, Don, helped him sell and install these parts. Fast-forward to today, the family business is now on the fourth generation and is thriving as they continue to diversify, expand the product line, and enter new markets.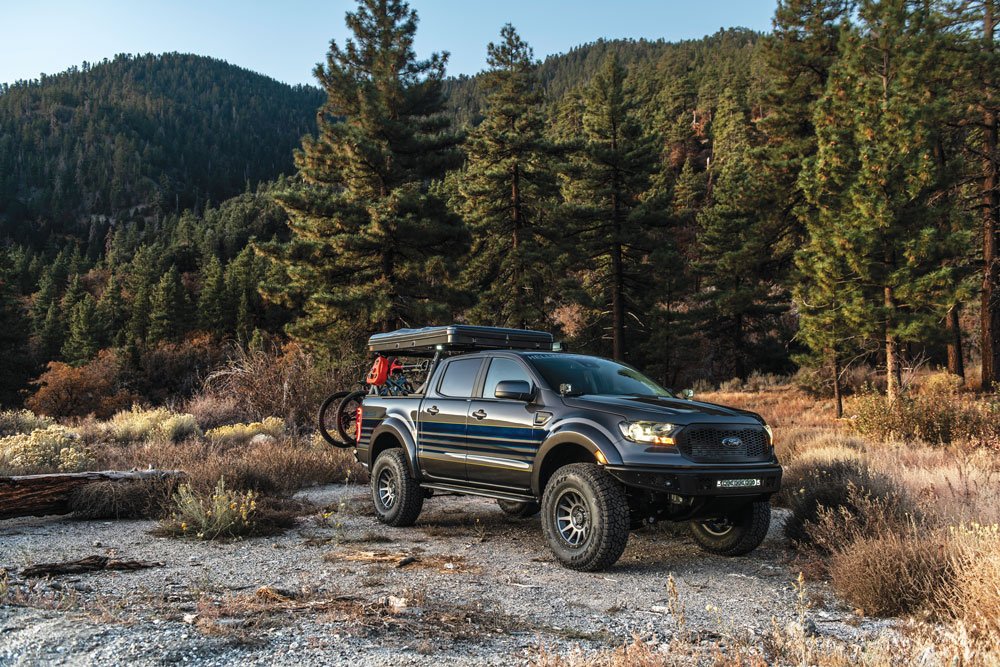 Recently, Hellwig added suspension solutions for the all-new Ford Ranger to their product arsenal. To showcase the new product properly, they built a truck that is capable enough to tackle the trails and comfortable enough to camp and entertain. The project vehicle caught the attention of thousands of people as it made its debut within the Ford booth during the 2019 Specialty Equipment Market Association (SEMA) Show. SEMA Show is the world's largest automotive aftermarket convention, and each year builders and brands set out to make a statement with their projects.
With decades of experience under their belt, Hellwig Products is no stranger to the massive tradeshow, which often creates a challenge for builders looking to complete their builds under a short amount of time. For this project, they had a mere 75 days to complete the build. The project was managed and designed by Hallmark, who got to work immediately after receiving the truck from the manufacturer.
To begin the build, a focus was placed on the bed of the truck. Hallmark wanted the bed to house a collection of gear and storage solutions for various adventures. Helping to protect the bed, the truck came equipped with Ford's optional Tough Bed spray-in liner. A Yakima Overhaul HD bed rack and accessories were installed that included a Yakima HoldUp EVO bike rack, SlimShady awning, Krazy Beaver shovel, and Daystar Cam Cans. Nestled on top of the bed rack is a Tepui Hybox RTT that provides quick and easy shelter. "A true overland adventure vehicle needs to be self-sufficient with all necessary items easily accessible," Hallmark says.
Not one to shy away from a good time, Hallmark made sure the truck doubles as a solid basecamp. A good sound system was needed to help keep everyone entertained. A Rockford Fosgate marine head unit paired with weather-resistant wakeboard tower speakers helps spice up their campsites. For a bit more sound while on the road, a set of Rockford Fosgate speakers were installed in the doors.
With cooking as an essential part of camping, Hallmark knew he would need a proper camp kitchen to help feed a cabin full of hungry travelers. He worked with Trail Kitchens to develop a double-sided kitchen box, which includes a Camp Chef dual burner stove along with pots, pans, plates, and all the necessary accessories. The Trail Kitchen system has a mount for a water tank, an internal battery and pump to operate the faucet to help keep the dishes clean. The kitchen is mounted to a Bedslide 1000 for easy access to the kitchen unit, an ARB Elements 63-quart freezer/fridge, and a host of Pelican storage cases keep contents clean, dry, and, most importantly, safe while traveling.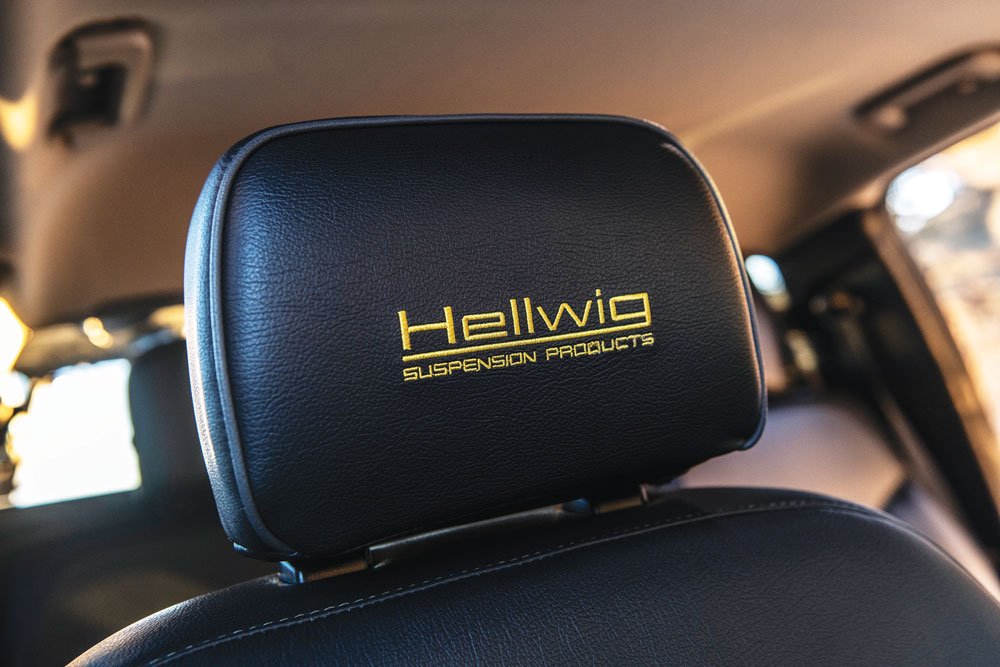 On the exterior side of the tailgate, a RIGd UltraSwing is mounted to hold Specialized Levo Turbo electric assist mountain bikes that sit on a Yakima Holdup EVO bike rack and has the ability to swing wide open to allow maximum access to the bed of the truck. Additionally, an ARB jack and baseplate and Expedition Essentials ExO Table Lite are mounted to the RIGd UltraSwing for maximum utility. To secure all of these valuable items, a collection of products from Bolt Locks was chosen for peace of mind.
One of the goals of the project was to remain self-sufficient with the ability to work and play from the road. A Goal Zero Yeti 1400 helps keep the specialized bikes and other personal electrical devices charged. Helping charge the Yeti 1400 is a Goal Zero Boulder 100 Solar Panel Briefcase and a Yeti Link car charging kit.
The interior of the vehicle wasn't ignored and has been fitted with Ford Accessories tray-style floorliners, while a Ford Accessories first-aid and roadside assistance kit by DC Safety provides the equipment needed in case of an accident. Not one to leave things stock and to add a touch of flare for photoshoots and events, the cloth seats and door trim were re-wrapped with Katzkin leather, with the Hellwig logo embroidered on the headrests.
With the vehicle outfitted with accessories for the campsite, it required modifications to help it arrive at each destination in style. A fresh coat of RM paint was applied to the exterior by LGE-CTS Motorsports. A set of 17×8.5 Icon Compression wheels were wrapped by Falken Wildpeak ATW3 285/75 17-inch tires to keep the Ford Ranger firmly planted on all terrain. To give clearance for the wheels and tires, a set of Bushwhacker fender flares were installed while Bushwhacker rocker panel guards were added for protection to the body of the truck. For additional protection, Addictive Desert Designs front and rear Venom R bumpers were installed, along with Addictive Desert Designs rock sliders. Rounding out the exterior is a T-Rex Laser X grille and custom "Hellwig" badges by Billet Badges.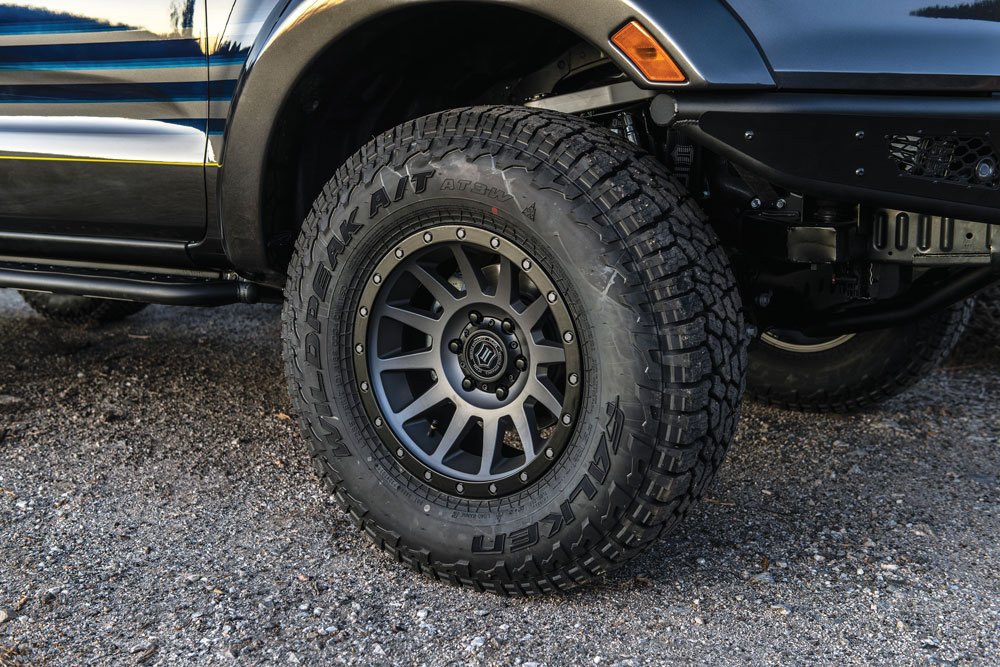 Lighting wasn't forgotten, as it's essential for driving in the dark, through the dirt, and to help light the camp. A host of Rigid Industries lights with their backlighting feature were installed, including the Radiance Scene, Rock lights, SR-L Spreader, and 360 Series lighting. To help control the illumination is an sPOD Bantum accessory switch panel inside the cabin.
For a little bit of improved horsepower, the truck was upgraded with a Ford Performance after-cat exhaust to accompany the factory 2.3L EcoBoost engine.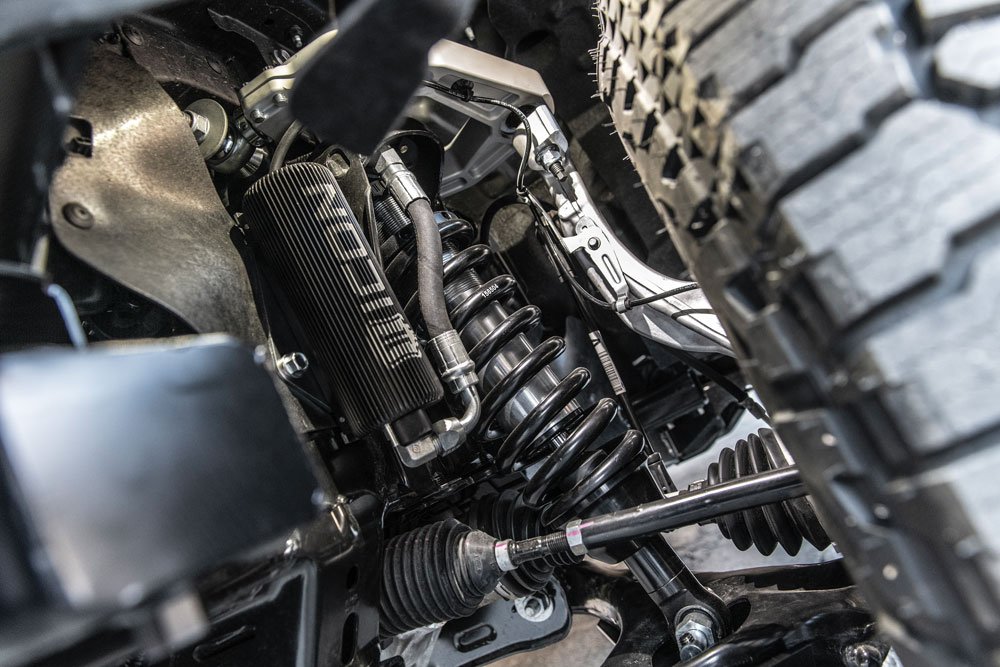 "Of course the main reason for all of these add-ons and additional weight is to showcase how our Hellwig steel helper springs and adjustable rear sway bar manage the load and sway control," Hallmark says. And to do that the truck received a full suspension overhaul, which included an Icon Vehicle Dynamics 3.5-inch Stage 5 suspension kit, 17-inch compression, and, of course, Hellwig steel helper springs and adjustable rear sway bar, both of which are now available for purchase. Without the helper springs, the back of the truck would sag several inches, creating a loose steering feel and uncomfortable ride. By adding the rear sway bar, the altered center of gravity is now under control and body roll is drastically reduced.
After a successful showcase at SEMA, the truck was to be at many events, including Overland Expo, Northwest Overland Rally, and more. However, this truck wasn't built only to be a show truck. Hallmark also plans to use the truck for a bit of recreational fun with the family and as a mobile office and home while traveling throughout the western part of the country.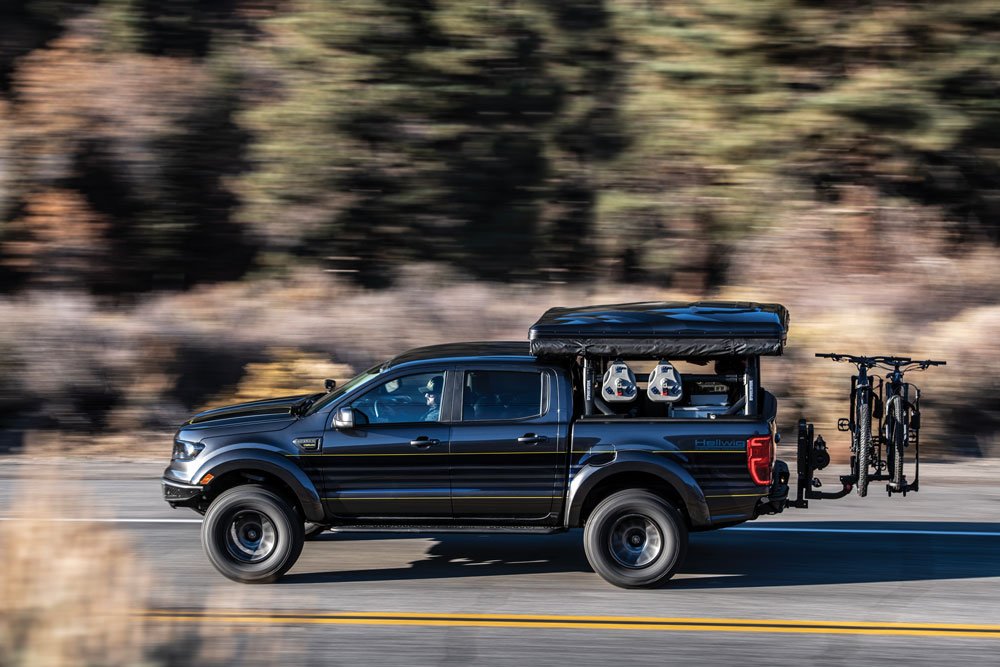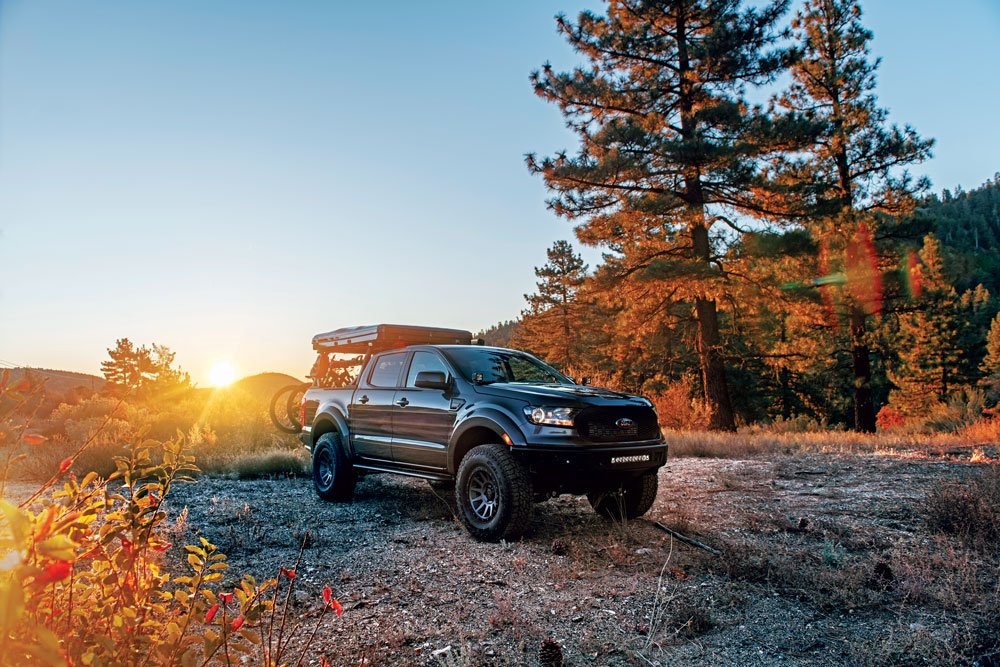 Editor's Note: A version of this article first appeared in the July/August 2020 print issue of Tread Magazine.