Number 26: July/August 2020 is HERE!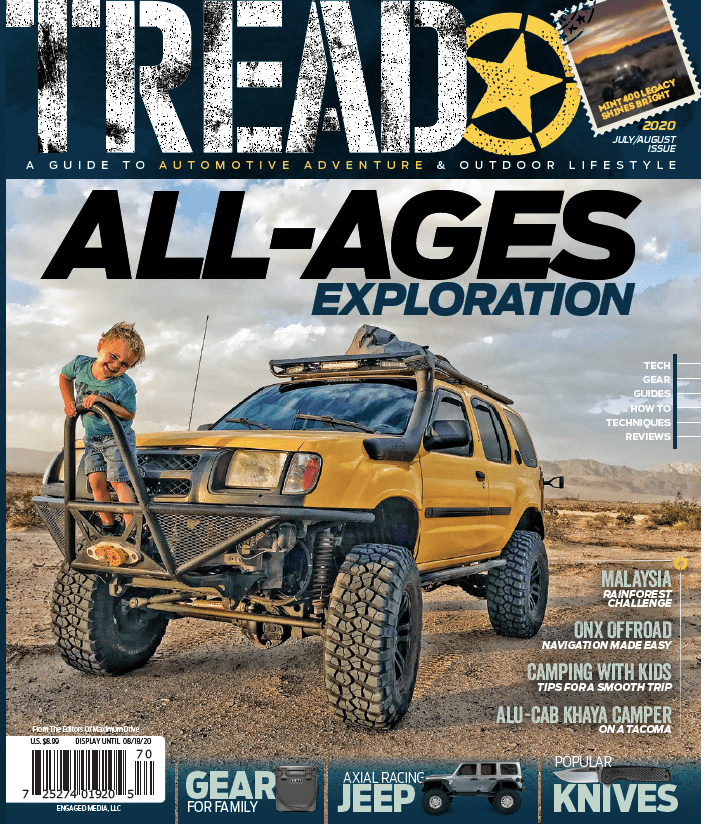 Issue Number 26 – TREAD July/August 2020
The July/August 2020 issue is hitting stands. You won't want to miss this family-packed issue. With terrific tales of travels with kids, road schooling tips, gear to help make your camping trip more fun, and even travel tips from Rogue Overland and Outbound Overland, our contributors this issue really hit the nail on the head. And family isn't just about the young kids, Richard Giordano brings the Grand Canyon to life visually while Ashley tells the tale of a memorable trip with her father. We also see how Ken Hoglund brings his dad and hid kids along on his adventures. Family is what it's all about and summer is the time we get some extra hours with the ones we love most.
Plus, you won't want to miss the inside scoop on the new Land Rover Defender tested out in Namibia. And if you're an event fan, you won't want to miss the coverage of the Mint 400, the Rainforest Challenge and the 2020 Alcan 5000 inside these pages.
Enjoy the issue and enjoy your loved ones, young to old.

FEATURES
26 OFF-ROAD NAVIGATION MADE EASY
ONX OFFROAD BRINGS OFF ROAD TRAIL MAPS INTO THE 21ST CENTURY
34 ATTAINABLE ADVENTURE
HELLWIG '19 FORD RANGER
46 THE GIFT OF TIME
HIKING THE GRAND CANYON WITH DAD
60 A FAMILY AFFAIR
THOSE WHO OVERLAND TOGETHER, STAY TOGETHER
66 HERE, KIDS EAT FREE
TIPS FOR A SMOOTHER TRIP WITH THE KIDS
72 FAMILY FUN OUTDOORS
CAMPING GEAR FOR ACTIVE FAMILIES
80 ROAD SCHOOL
WHAT THIS FAMILY OF FIVE LEARNED ABOUT HOMESCHOOLING ON THE ROAD
90 THE GREAT AMERICAN OFF- ROAD RACE
THE MINT 400 LEGACY SHINES BRIGHT
96 FAMILY TACO ADVENTURE
ALL-YOU-CAN-EAT
108 JUNGLE FEVER
SURVIVING MUDDY MONSOONS IN THE MALAYSIAN HIGHLANDS
118 AN AUDACIOUS ARCTIC ADVENTURE
128 NOT YOUR AVERAGE MOVING TRUCK
FAMILY, PHOTOGRAPHY, AND A FULLY FUNCTIONAL RIG
140 AFRICAN DEFENSE
PROVING THE ALL-NEW DEFENDER IN NAMIBIA'S HARSHEST PLACE
DEPARTMENTS
8 EDITOR'S LETTER
14 ROCK 'N' ROLL
PUT YOUR BEST FOOT FORWARD
16 OUTFITTED
A ROUNDUP OF THE LATEST AUTOMOTIVE ACCESSORIES
20 GEAR BOX
SUPPLIES FOR LIFE OFF THE BEATEN PATH
22 MADE THE CUT
POPULAR POCKETKNIVES FOR OUTDOOR AND DAILY USE
24 SCALE & TRAIL
AXIAL RACING SCX10 III JEEP WRANGLER RUBICON JLU
148 ON-THE-GO CUP OF JOE
ENJOY QUALITY COFFEE ANYWHERE