Eibach: On-Road Comfort Meets Off-Road Capability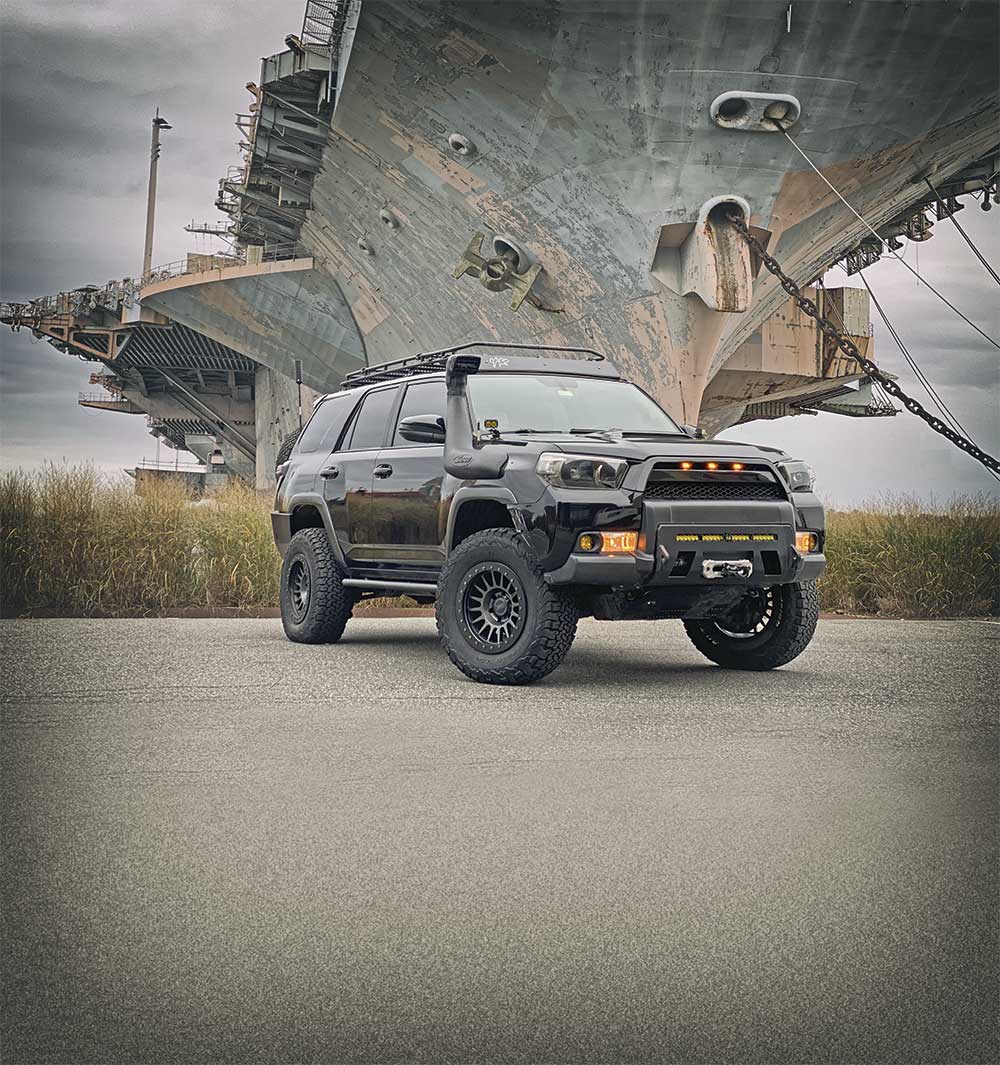 Eibach's Full Suspension Swap: Pro-Truck Coilover Stage 2
Story and Photos by Ryan Gibbons
In the Yota Winter 2020 article about Eibach's Load-Leveling System we covered the new system's technical specifications, the end-to-end installation steps, and a final review. The story also discussed having a well laid-out plan when starting a build. While we're still not convinced that anyone has the perfect formula for building an overland rig, having a plan and associating a sequential timeline with that plan is a good step to avoiding costly mistakes and rework down the road. That brings us to this story and our need for yet another suspension swap.
Prior to its installation, we weren't really sure what to expect when it came to Eibach's Load-Leveling System. When we used to think of Eibach, our minds went to motorsports like NASCAR and Formula 1. Little did we know, Eibach has been in the off-road performance space for years, started in the 1950s, and is considered the world market leader in suspension components. They partner with and manufacture springs for some well-known companies, including ICON, Bilstein, Radflo, Fox, and King. If you follow Eibach's social media accounts, you'll also see that their R&D department is constantly designing, testing, and pumping out new products to serve the Jeep, Toyota, Lexus, Chevy, and Ford communities. After six months of running the Load-Leveling System with roughly 400 lbs. of added weight, we've found it to be the exact solution for my 4Runner's sagging rear end.
Two Kits, Similar Ride Results
Now an official "fanboy," we knew when the time came to change out the rest of the Toyota 4Runner's aftermarket suspension, Eibach was the only way to go. Eibach's website offers options for a lot of makes and models in two different lift systems: the Pro-Truck Coilover System and the Pro-Truck Lift System. So, what's the difference?
The Pro-Truck Lift System (Stage 1) is in no way a lesser setup; it's just not as "plug-and-play" as the Stage 2 system. The shocks in this setup come with "clip" spring perch grooves that also allow you to adjust the ride height from stock up to 3.0 inches. These adjustments must be made with the assembly off the truck, unlike the coilover system. The biggest difference with this system is that the components are not pre-assembled, meaning if you buy the shocks, you'll either need to leverage your OEM springs and spring mounts or purchase them directly from a retailer and assemble everything prior to installation.
The Pro-Truck Coilover System (Stage 2) shocks come with threaded adjustments on the bottom, allowing you to tune the ride height with the included wrench from stock up to 3.5 inches (depending on your application). Adjustments can also be made while the system is already mounted to the truck. Additionally, the spring and shock mounts are already assembled to the shock, so installation is as easy as swapping out your OEM setup.
Upgrading To An Optimum Level
With the never-ending list of mods still planned for this vehicle, the less work, the better. As such, we opted for the Eibach Pro-Truck Coilover System and Sport Shocks in the rear to swap out the existing Dobinsons suspension. Over the years, we've added significant weight, including a winch, a low-profile front bumper, a heavier radiator, roof rack, rock sliders, a drawer system, and a dual-swing steel rear bumper with a full-size spare. What once was a 2.5-inch lift all the way around turned into something less than 2 inches. We attempted to compensate for the difference with 1-inch spacers all around, but the Dobinsons springs and shocks just weren't rated for the added weight. So, it was time to upgrade, and that is why having a build plan is critical.
As with any suspension installation, you're going to want to ensure you have all the tools and wherewithal to get the job done right or leave it in the hands of a qualified mechanic. Having a vehicle lift will cut down the install time significantly and result in less headaches. However, a suspension upgrade is something a driveway warrior can tackle with the right jack, jack stands, and safety measures in place.
Ride Height Adjustments
Assuming you've already installed your coilover system, you may want to either raise the ride height to level out with the rear, compensate for added weight in the front (bumper, winch, armor, and so on), or lower it for a more raked stance. As we had mentioned, one of the biggest features of the Pro-Truck Coilover System is that ride height adjustments can be made fairly easily while the coilovers are already installed on your vehicle. The Pro-Truck Lift System can also be adjusted, but you'll need to remove the assembly from the vehicle and make adjustments once the spring is compressed.
"This rig is a daily driver, so it was important that the new suspension stands up to being both a commuter and a weekend warrior."
Shy of pressing a button to lift your truck, you'll need to consider your vehicle's motion ratio when raising the ride height. Motion ratio describes the precise amount of shock travel for wheel travel, but more simply put, the motion ratio is the leverage that the wheel has on the spring. You will want to find out your vehicle's exact motion ratio before deciding how much height you want to add. This can often be found in the owner's manual, but it may be easier to do a Google search or research further on a forum.
While Eibach includes a wrench with the front coilovers, they are in the works of releasing a newly designed wrench that connects to a ½-inch socket extension; this will definitely provide better leverage.
Fully Assembled Kit
For me, the best part about the Pro-Truck Coilover System is that everything was pre-assembled. Again, building the strut assembly isn't a challenging step in the process, but it does add to the total install time. Knowing that everything was assembled and tuned by Eibach gave me much more confidence than doing it myself; swapping everything out was done in record speed.
Clean Finish with Durable Components
It only takes a few hours to get your new shiny suspension completely caked in mud. Depending on where you're adventuring, certain muds can harden like concrete that makes cleanup a pain. The ERO off-road race spring is powdercoated in Eibach's iconic Stardust Silver II finish, and the 6061-T6 billet aluminum mounts are anodized black. While there are no guarantees, especially if you hit the trails hard, Eibach backs this all up with a limited lifetime warranty.
Ride Impressions
As you can imagine, swapping out the rear springs for the Eibach Load-Leveling system followed by a complete Eibach suspension upgrade should lead you to believe that we're pretty satisfied customers. This rig is a daily driver, so it was important that the new suspension stands up to being both a commuter and a weekend warrior. We didn't want to spend an exorbitant amount of money upgrading the suspension only for it to feel too rigid with where it spends 80 percent of the time: on highways and city streets. After all the upgrades and added weight, the suspension now handles like it did back in its stock days, which was the ride comfort we always wanted to get back. Simply put, the ride is back to being comfortable.
When it comes to handling and feel on the trails, performance was a completely different story. The new suspension has now been through snowy trails, moguls, sand, mud, and crawled over a handful of trail boulders. The ride feels comfortable with no hard knocking or slamming and the truck trails significantly better over the Dobinsons. With any increase in ride height, you're going to feel "lifted," but that simply translates to better obstruction clearance and less scraping. Both the front and rear wheels now have significantly more travel, and nothing felt "springy" or "bouncy." Even with a rooftop tent mounted to the top, the center of gravity shifting issues we had in the past are nonexistent now. At the end of the day, we're left clueless as to why there aren't more Eibach upgraded rigs on the trails. Maybe we're hanging with the wrong crew.
Final Thoughts
Off road and on road, the new Eibach Pro-Truck Coilover System Stage 2 kit is where it's at. With more and more releases for different makes and models, we hope to see more people utilizing this kit for their builds. And keep an eye out for the rumored Stage 2R, which will replace the rear shocks with new Pro-Truck reservoir shocks.
---