All About the 2021 Dakar Rally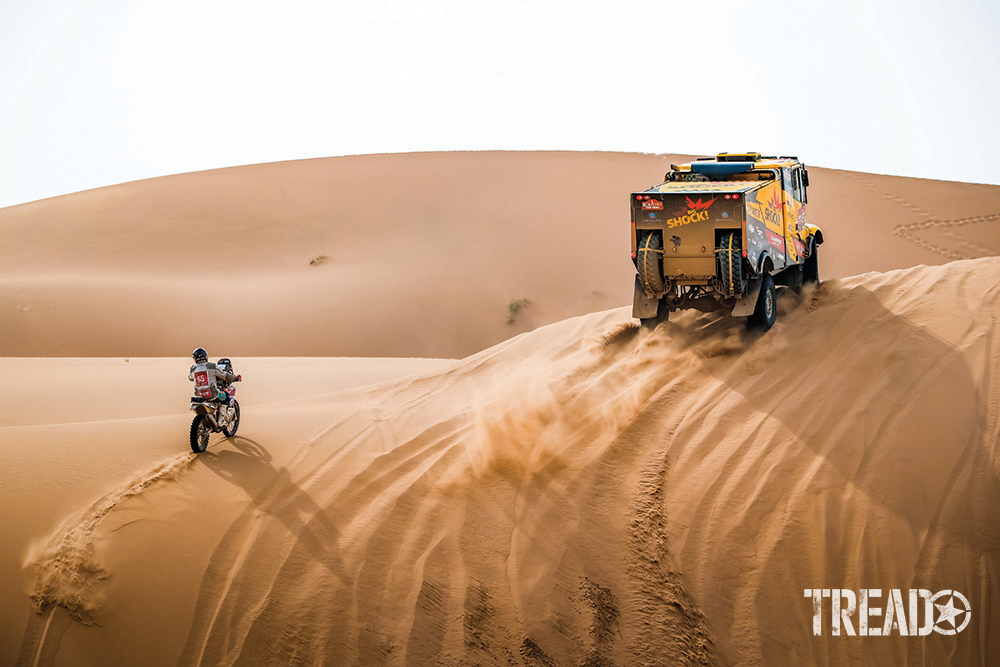 2021 Dakar Rally: Forty-plus years of off-roading extremes
Trillions of sand particulates flew through the air as a rally rig careened over the sand dunes. Rugged and rocky landscapes were met with silty sand dunes large enough to swallow houses. The rig could barely stay upright, while dust splayed wildly until settling onto Saudi Arabia's remote valley floor. There's no looking back—only forward—to maintain focused momentum and determination. Elevation changes, along with winding tracks, tested competitors as they raced against each other during one of the most grueling and treacherous rallies in the world: the Dakar Rally. It's one of the world's most extreme off-road competitions, challenging man, machine and mental stamina.
Dakar Rally History
Formally known as the Paris–Dakar Rally, the Dakar Rally is an annual event that tests the strength of both seasoned off-road ralliers and new competitors. The rally is hosted by the Amaury Sport Organization (ASO), and most of its competitions have been held annually since the rally's inception in 1978 (the Dakar has had only one cancellation in 2008 because of security concerns).
The Dakar is an extreme off-road competition that lasts several days and covers some of the most formidable lands the world has to offer. It persuades people from all walks of life to compete.
Competitors lucky enough to finish the extreme rally completed nearly 5,000 miles, traversing through a multitude of landscapes that posed different hazards, as well as visiting the shores of the Red Sea.
The 2021 Dakar Rally was hosted in Saudi Arabia, as it was the previous year. It began with the Prologue the day after New Year's Day and then continued through January 15. The rally consisted of 12 stages, with one stage occurring each day. Each stage varied in degrees of challenges, terrain, length of time and mileage.
This off-road challenge started with a multitude of motorbike, quad and vehicular classes and ended in Jeddah, a city in the Hejaz region of Saudi Arabia. Competitors lucky enough to finish the extreme rally completed nearly 5,000 miles, traversing through a multitude of landscapes that posed different hazards, as well as visiting the shores of the Red Sea.
The famed Dakar crosses miles of mud, sand dunes, tall grasses and plenty of rocks. The rally happened during the COVID-19 outbreak. There were plenty of challenges, triumphs … and everything in between. Dakar's organization had strict testing and quarantine requirements during the rally. The ralliers were instructed not to interact with the local populations for safety reasons, except for gas station stops.
Who Participated?
The 2021 Dakar Rally welcomed 555 total ralliers. They comprised a mix of seasoned professional racers and amateur competitors. The majority of the ralliers were actually first-time participants (making up about 80 percent of the rally population). An impressive 83 competitors had rallied Dakar at least 10 times before.
Make no mistake: Women also competed in this grueling, 12-day rally, including the only all-female team: 2021 Dakar Rally competitors Amy Lerner and Sara Bossaert of Team AL Rally. In short, 321 vehicles represented 49 nationalities that rallied their way through Saudi Arabia. From motorbike and quad classes to various car and massive truck designations, each segment showcased every team—from the underdogs to the dominant players.
The aforementioned classes duked it out for top honors in race categories involving speed. A new class was instituted for the 2021 Dakar Rally: the Classic Class. It is considered a regularity rally. The Classic Class was geared for rally-equipped pre-2000 vehicles. Classic ralliers followed the same general direction as their racing siblings; included the same starting and stopping points; and the same bivouac for vehicle prep, maintenance and so on.
Classic Class competitors traveled a certain distance using a roadbook. They needed to arrive as close to their ideal time as possible. There were 24 entries total. Think of it as a time, speed and distance challenge that consisted of precise time management and navigational skills to arrive exactly on time and on target as intended, as opposed to a full-throttle "go-get-em" attitude to conquer the finish line first in class.
The Perfect Porsche
Amy Lerner and Sara Bossaert of Team AL, equipped with Lerner's new-to-her and rally-ready 1982 3.0 Porsche 911 SC, competed in the Dakar's new Classic Class. Lerner said, "Because it's the Dakar, the most epic motorsports event in the world, added the Dakar Classic—an opportunity to compete in vehicles that were a part of the heritage of the rally's early days."
Lerner, a seasoned racer who's based in the United States, has a decorated race portfolio. She's a four-time Gazelle Rally competitor (Top 10, Eco-driving winner), an Australasian Safari Rally participant (lass winner, Overall Production winner), a Dakar Challenge winner and Mint 400 racer (Second and Fifth places). She was involved with off-road racing for more than 10 years. She started competing at the Gazelle Rally in Morocco and has since continued to rally across the globe.
"I decided to see if I could put a team together two weeks before the close of registration at the end of October," Lerner said. "My car needed to be in Marseille to ship on December 1. The constantly changing COVID restrictions meant four sets of flight itineraries and three sets of hotel reservations before we left."
She purchased the Porsche (sight unseen) one week before the 2021 Dakar registrations closed. "The first time I drove it off-road was for the Prologue. It's raced and won at other rallies in Morocco and Belgium."
The famed Dakar crosses miles of mud, sand dunes, tall grasses and plenty of rocks.
Armed With Confidence
The Porsche was armed with an FIA-spec roll cage, Recaro racing seats, harnesses, fiberglass doors, an intercom. It also had an upgraded clutch and transmission, fuel cell and racing-tuned engine. The car ran in the H1.1 class. The class was designated for pre-1986 2WD vehicles. Additional upgrades, such as Maxtrax recovery boards and beefy BF Goodrich tires, helped the duo to the finish line.
"The terrain was tough—tougher than I expected for vintage vehicles—and the format was new to me, so there was a learning curve," Lerner pointed out.
Sara Bossaert served as Lerner's co-driver. A Belgian/Catalan who lives in Barcelona, Spain, she never participated in any motorsport before … and barely drove a car. However, Lerner said she improved quickly and that she did an incredible job during the grueling, 12-day rally. Bossaert is an architect and competitive sailor. Lerner said her brain works in a way that proved perfect for the Dakar Classic.
The Dakar is an extreme off-road competition that lasts several days and covers some of the most formidable lands the world has to offer.
Lerner didn't feel differently about having the only all-female team. "Having had all-men or mixed-gender teams, it's about competence, drive and grit, not gender."
2021 Dakar Rally: Team AL Rally
Lerner and Bossaert finished Second of three competitors in her class. They finished 15th overall out of 23 finishing Classic Car competitors. When asked if Lerner would do it again, she said she would. The feeling during the rally was amazing, "which I suspected would be the feeling, no matter the pandemic."
In fact, COVID created an unusual dynamic: Competitors had to quarantine for days upon their arrival to Saudi Arabia. They were isolated in a bubble. They couldn't travel beyond the main route or interact with locals. However, Dakar organizers kept everyone safe, despite the global pandemic challenges. Attendees were tested before leaving for the rally. They were tested once upon arrival and again when departing to return home.
Dakar's extreme planning measures and careful rally execution. It also ensured the safety, health—and, of course, an event of a lifetime—for those who participated in the rally.
Capable Dakar Women
From Driver to Manager, Legends Inspire.
Amy Lerner and her Massachusetts-based Dakar team manager, Sue Mead, have many things in common. They love off-road competitions, all things automotive-related … and Rod Hall.
Mead was a veteran off-road racer, journalist and Lerner's good friend. Hall trained Mead. Hall passed in 2019. He was a legend. Hall had a successful race career that spanned more than half a century. He amassed approximately 180 impressive race wins. Hall also completed an unprecedented 50 Baja 1000 competitions—the only person to do so. He won more races than others finished.
Mark A. Smith, one of Mead's mentors and the man who started Jeep Jamboree USA, introduced her to Hall.
"I trained with Rod to be his co-driver in the 1996 Baja 1000," Mead pointed out. "The training with him and then co-driving the Baja 1000 with him were life-changing. He was an incredibly talented off-road racer and a very thorough and humble trainer."
It was very inspirational for Mead to learn under Hall's direction. And, with him as her trainer, Mead's racing career went full throttle.
"I've competed twice in the Dakar Rally: in 2000, when I was a co-pilot/navigator, and in 2011, when I was the driver-of-record but shared driving and navigating duties with Darren Skilton."
In 2011, Mead was the driver-of-record to take the win for her five-person team. The history books logged Mead as the first American to win a class in the Dakar Rally.
Sue Mead: Summing It Up
Mead raced close to 30,000 miles worldwide. These included iconic races such as the Baja 1000, Mexican 1000, Nevada 1000 and Gazelle Rally. She also participated in numerous legendary motoring events, such as the Camel Trophy. However, she wanted a new role as Lerner's team manager rather than continue to race in events she competed in. As a racer, she knows the value of a good team and media manager. She wanted to utilize that knowledge to manage a team instead of competing as part of one.
Mead pointed out that "the rally can be very grueling, and the days very long. There are also dangers. Attending the rally and training for it are time-consuming. It requires being away from home for nearly a month."
Nevertheless, Mead thoroughly enjoyed working with Lerner. "Her passion for anything she puts her heart into is compelling and inspiring. Being with her on the Dakar was the same. Once there, I was inspired that Amy had never driven her vehicle and had the challenge of driving a rear-drive car with a manual transmission on an off-road course that was geared for, and much easier for, vehicles with 4WD."
That's Dakar—staring adversity and challenges straight in the face and coming out on top!