Trail Trek Tour with a Modified 2019 Honda Passport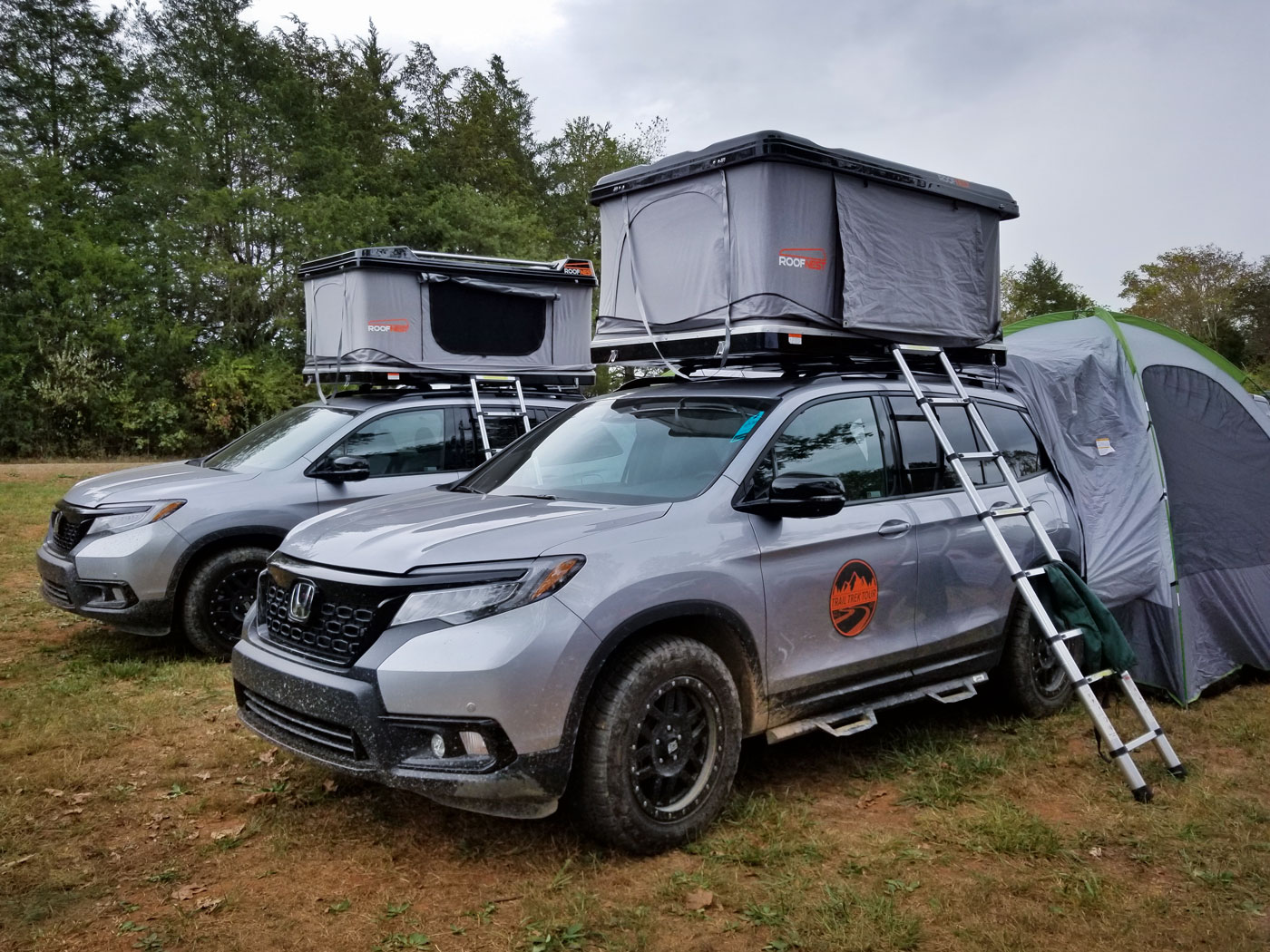 Although vendors and show-goers congregated at Overland Expo East for the weekend, we rolled in with a select group of media on Friday before registration closed. We spent the day with Trail Trek Tour driving a modified AWD Honda Passport, both on and off pavement.
Honda had recently resurrected the Passport model. This mid-size five-passenger CUV boasts a 280 hp 3.5L VTEC V-6 engine, mated to a nine-speed automatic transmission. The Passport sits larger than the CR-V, yet is a smaller sibling than its three-row seven-passenger brother, the Pilot. The new Honda Passport showcases an i-VTM4 all-wheel drive system that offers up normal, mud, sand, and snow drive settings. A swift twist of the knob switches drive modes to suite present environments. Also on board are paddle shifters, hill start assist, idle stop, and numerous safety features.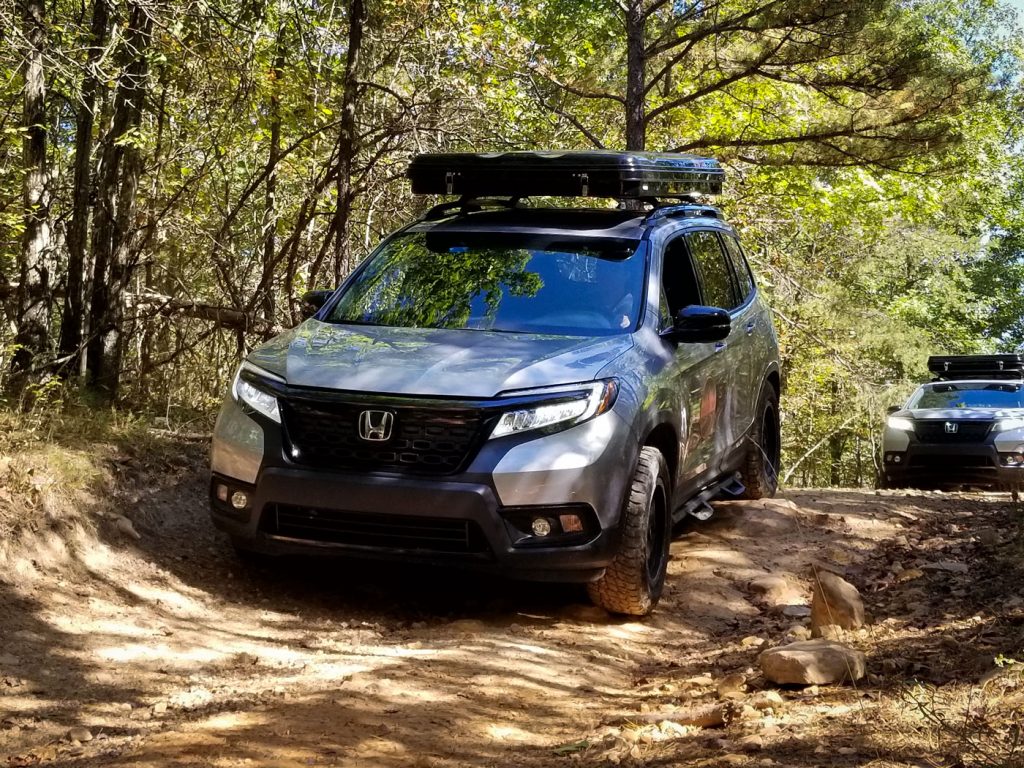 The Trail Trek Tour 2019 Passport Elites weren't bone stock, they had JSport, Nitto Tire and Roofnest upgrades to make them more capable, sporty, as well as camper-friendly. JSport upgraded each Passport to include 18" KMC PreRun wheels, a skid plate to protect the Passport's underbody, and rock sliders with included side steps (more on that in a bit). Roofnest partnered up with the builds and included a few different hard-cased rooftop tents: both Sparrow and Sandpiper models were featured.
Finally, each modified Passport showcased Nitto's 255/60R18 Terra Grappler all-terrain tires. In addition to these modifications, we were hoping for a lift kit and upgraded suspension but was told these particular demo models didn't include them. Darn. It was the perfect opportunity to showcase the Passport's utmost capability but instead we were concerned how low the JSport side steps hung. They became the lowest point on the undercarriage. Would they become a hindrance while tackling off-pavement duties on the way to Overland Expo East? At any rate, we were excited to test out this soft-roader.
We were joined by Sue Mead, a great friend and a 30-year veteran journalist in the off-road and automotive industry, in one of the modified Passports. We left Baltimore and made our way down to the trail via tarmac. The Honda Passport is a comfortable cruiser at highway speeds. It's quiet, responsive, and offers up a plethora of creature comforts while driving down the highway.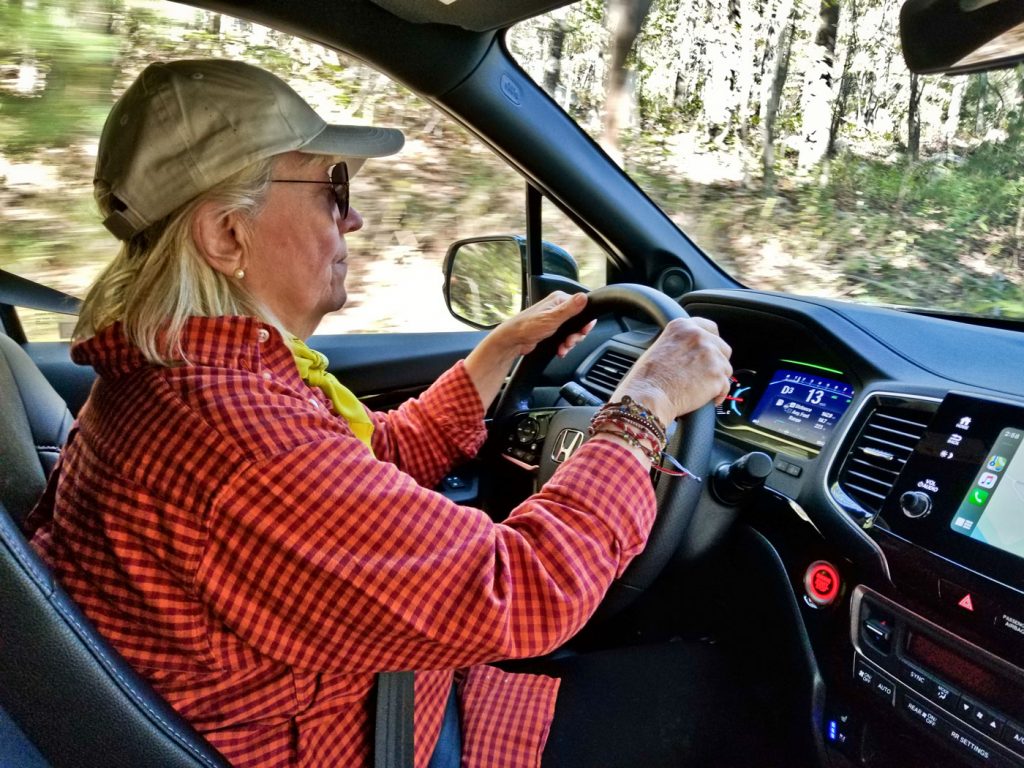 The Passport Elite is the top-of-the-line trim level, enticing potential buyers with a spacious interior (including a secret rear cargo area), oodles of technology and safety features, and a towing capacity of 5,000 pounds (good to haul a trailer for family fun). After spending a good amount of time behind the wheel of Passports this year, we'd consider it a worthy cross-country tarmac warrior.
Hittin' the trail was interesting. We found ourselves on the Taskers Gap trail, in the George Washington National Forest. We weaved our way through tall deciduous trees and narrow dirt treks. Leaves fell slowly as the sun filtered through an infinite amount of tree trunks. The Honda Passport successfully navigated through hard-packed dirt and mud-filled ponds. Although the occasional bang or metallic screech ensued (the JSport side steps and cross bracket sported the lowest points of the underbody), it felt planted with careful vehicle placement. The Passport's suspension was relaxed when tackling uneven ground and its multiple drive modes support normal, snow, mud, or sandy terrain. Each mode adjusts the throttle response and shifting to allow the best match for what the Passport is tackling. A flick of the wrist and you're adjusted.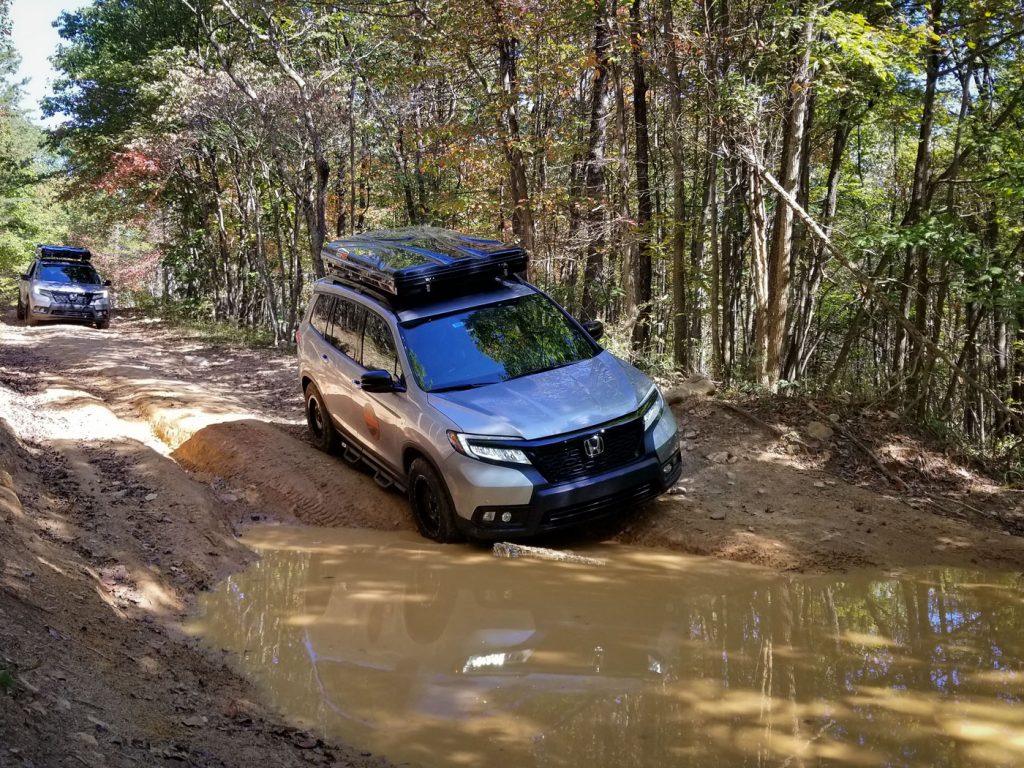 As we drove through a few mildly washed out and rocky areas, the Nitto AT tires grabbed each obstacle with success. Although the Passport's approach and departure angle was adequate for an all-wheel-drive soft-roader, the side steps were a bit obtrusive when navigating certain scenarios. Although they added a certain kind of flair to the Passport, the steps hung too low for our comfort—both when getting in and out of the vehicle and when traversing off-pavement.
We kept heading up the trail; the sun's rays mottled the ground beneath us as we finally reached our termination point. Time to turn around and head to Overland Expo East! Being mindful of time, we kicked it up a notch and headed out of the George Washington National Forest in unified fashion. Back onto the pavement we went—this time on scenic country roads.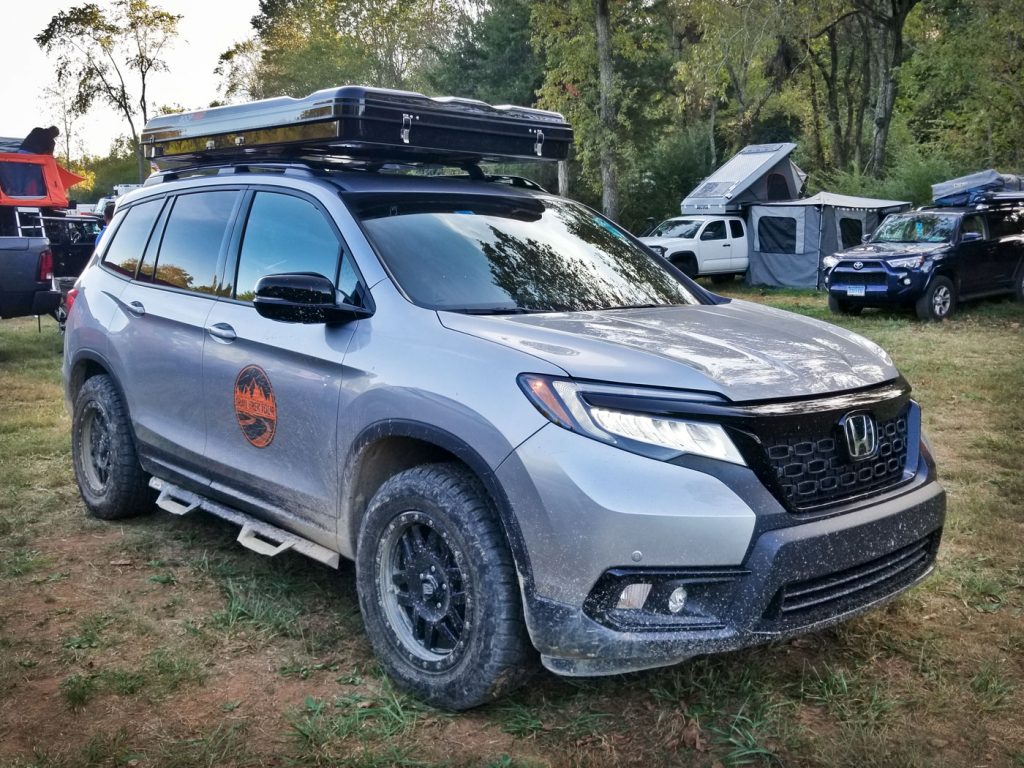 The new home of Overland Expo East, Infinity Downs in Arrington Virginia, is a beautifully situated remote estate. As we wound our way from the front entrance to claim our campsite and set up together, we immediately noticed pockets of deciduous trees alongside soft rolling hills. This sprawling property was well-maintained and ready for thousands of participants. Rooftop tents, campervans, and a myriad of other tent-type mobile homes were already built and neatly organized once we arrived. Gone were rows of campers in an open field but present were adventurers nestled among the trees. Although Trail Trek Tour and Honda was centered among a center row of attendees, it didn't seem like a land mass of tents where one could easily get lost. Instead, Expo attendees connected with each other like long-lost family: excited to see one another even though they've never met.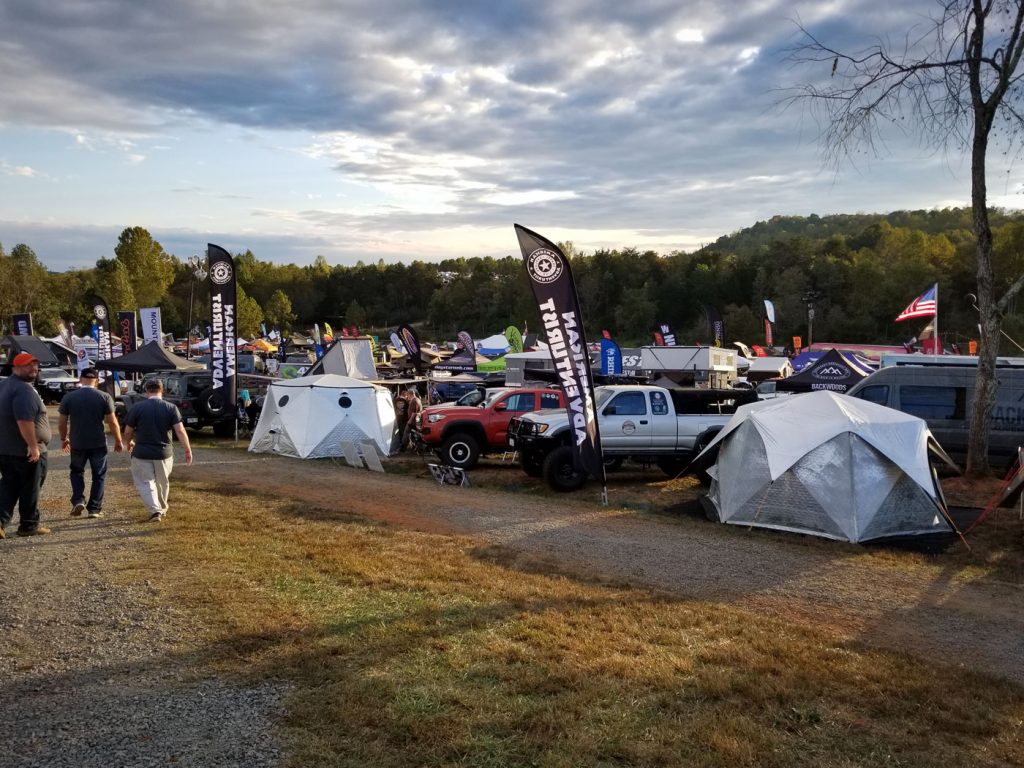 As we set up our Roofnest rooftop tents and Napier Outdoors ground tents (we had several people to accommodate at our site), the Passport's roomy rear cargo area made grabbing gear out of it a cinch. Out came pop up tents, tables and table cloths, plenty of food from Trail Trek Tour to snack on, as well as a Honda generator to quietly power our party lights. We had arrived in style.
Although we reached our Expo East destination Friday night, we were able to enjoy East's classes, vendors, and vehicles for the rest of the weekend. From huge Unimogs to fully customized two-door Jeeps, tricked out Tacomas to ready-to-rock Rovers—every type of adventure rig was on display with owners happy to talk about them. As we retreated back to the Trail Trek Tour basecamp, we were greeted with beers, water, a fabulous taco bar, and great conversation. Isn't this what camping and adventuring is all about?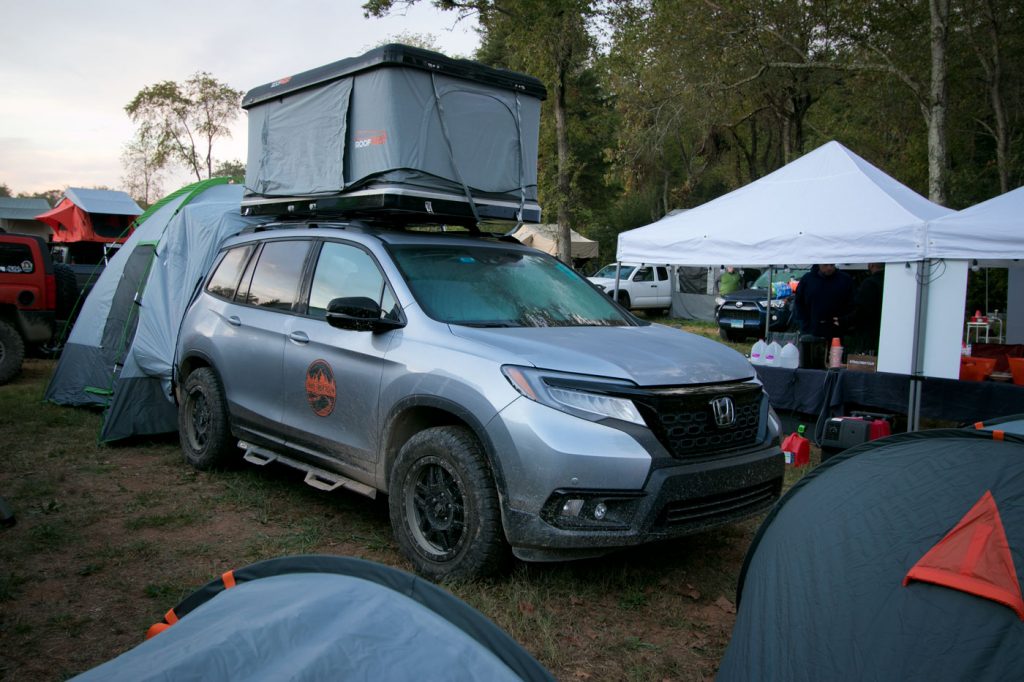 Having a vehicle to get you to wherever you want to go is important. Especially if you're looking into an AWD that has plenty of bells and whistles, and can help you get there in style. The new Honda Passport offers up a solid list of amenities. Whether you're looking for a reliable Honda that offers up interior goodies like heated and ventilated seats, as well as power front seats, premium audio system, or exterior accoutrements that boast items like a blind spot information system, hands-free power tailgate, auto-dimming and power-folding side mirrors, and walk away auto lock, then the Passport should be on your short list. A 4×4 it isn't. A rock crawler, no. But, if you're looking for an awesome road warrior that can tackle occasional dirt trails in confidence, then check out Honda's latest Passport.
MSRP: Elite model (bone stock): $43,680.
Fuel economy: 19 city, 24 highway, and 21 combined.