Yamaha XT-R: Pure Sport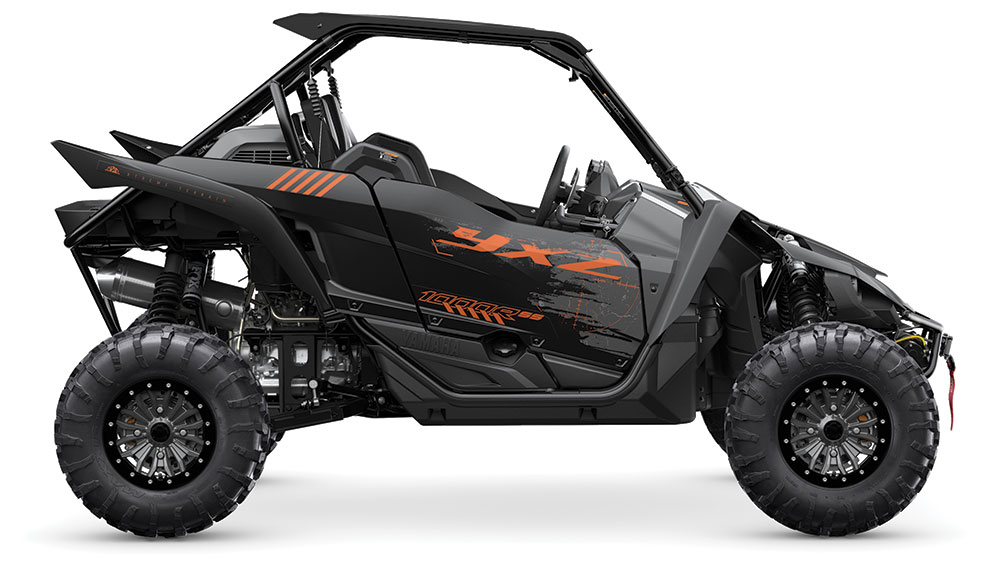 2022 Yamaha YXZ1000R SS XT-R
Yamaha introduces their latest machine, the 2022 Yamaha YXZ1000R SS XT-R. Released as a part of Yamaha's Pure Sport line of side-by-sides, the Yamaha XT-R is packed full of features that allow you explore tight trails, even ones that would be ordinarily difficult to traverse. The XT-R comes with a range of stylish, high-spec components including advanced Fox dual spring suspension, beadlock rims wrapped in Yamaha exclusive Maxxis Carnage tires, and upgraded underbody protection, which come standard.
XT-R Off-road
If you ask us, there's nothing better than cruises over loose dirt roads or cralws over rocky terrain in our 4WD rigs. Driving an off-road capable truck, or getting behind the wheel of an SUV, always means good times. Sometimes, however, getting into a small and nimble vehicle can be a nice change of pace. For those times, a vehicle such as a UTV is there to properly fill the gap. Sliding into the front seat of a go-anywhere vehicle can take us where even our favorite 4x4s aren't able to take us.
The XT-R's also comes standard with a custom front grab bar that mounts a heavy-duty Warn winch package with integrated driver controls. A composite suntop, painted body, contrast-stitched seats, center-mount mirror and auxiliary lights are just a few more things that make this ride stand out from the crowd.
Designed to bring Yamaha's Pure Sport riding character to the driver, the XT-R's engine was built to deliver power with the flexibility and character that only an inline triple can provide. With a compact, counterbalanced, DOHC cylinder head, its engine offers exceptional power, a 10,500 rpm redline and high-strength internals that ensure reliability on the trail.
Upgrades
Ready for action day or night, the XT-R comes with four super bright LED headlights that provide brilliant forward illumination to light up the terrain ahead. A bright LED taillight also comes standard for extra visibility. If that isn't enough, the XT-R package provides even more light thanks to additional center-mounted auxiliary lights.
Yamaha's side-by-sides are always a thrill to drive and the Pure Sport YXZ1000R SS XT-R is no different. Replete with a Warn winch, impressive ride comfort and loads of performance, there's not much more we'd ask of a two-seat sport side-by-side.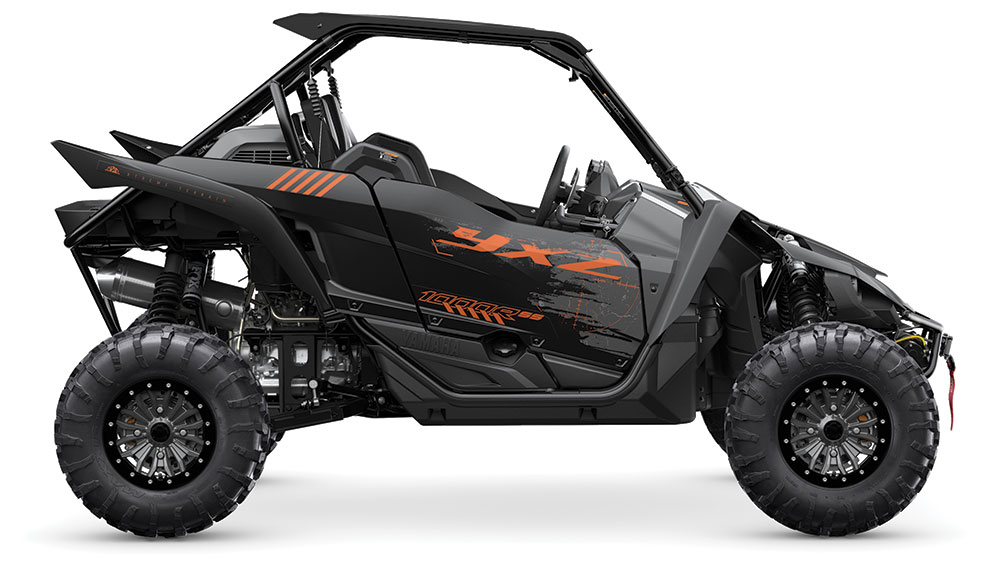 Performance
Engine. The YXZ1000R SS XT-R's high-revving inline triple engine offers exceptional power, a thrilling 10,500 rpm redline and high-strength internals that are ready to handle high-output demands.
Transmission. XT-R runs Yamaha's Sport Shift, a sequential five-speed manual transmission that features Yamaha Chip Controlled Shift (YCC-S) technology. This system is powerful, durable and efficient like a traditional manual transmission, with an advanced automatic clutch system controlled with sporty paddle shifters mounted to the steering column. Its optimized gearing is good for wide-open desert trails to first-gear crawling.
Suspension & Chassis
Fox Suspension. While the high-end Fox suspension on the YXZ1000R SS XT-R is primarily focused at maximizing adjustment range for various terrain, that same range of adjustment adds flexibility, too. With a couple of quick tweaks, the XT-R can be tuned to deliver a plush, smooth ride that defies the idea that sport and comfort can't coexist.
Chassis. The XT-R's handling attacks corners with agility, has a light steering feel and straight-line stability across all terrains. Spherical-joint double A-arms retain ideal castor angle and bump response throughout the entire travel range, and front and rear sway bars lessen body roll for flatter, more responsive cornering.
Tech
On-Command 4WD. The XT-R's drivetrain is based on Yamaha's proven On-Command 4WD system, giving the driver ultimate ability to tackle the most difficult terrain with 2WD, 4WD limited- slip, and 4WD full diff lock modes. This system also uses an over-torque protection system that gets rid of spike loads to the front drive case on hard impacts, protecting it from damage without changing performance.
Cool Running. The UTV's vented, rear-mounted radiator reduces heat in the cabin and remains clear of mud and debris. And, it's designed to funnel cool air through the radiator at low or high speeds equally well.
Instrument Panel. The YXZ1000R SS XT-R's instruments are inspired by Yamaha's high-performance supersport motorcycles. Functions include a digital speedometer, analog tachometer, and programmable shift light. It'll give readouts for 4WD mode, gear position, fuel level, trip meters, hour meter, and coolant temperature.
Features
Bumper & Winch. To ensure you can get out of any tight spots, the XT-R rocks a WARN VRX 4500 winch. It's mounted via a new custom front grab bar. The winch package, built with the XT-R in mind, works controls into the electrical system. (Right where the driver needs them!)
Cargo & Storage. Got cargo? No problem. Bring what you need thanks to a cargo rack with a 300-pound capacity. A glove box in the cab provides extra storage. Plus, side cup holders and a central storage tray in the dash add even more.
---
Wheelbase
90.5 in.
Ground Clearance
12.4 in.
Cargo Capacity
300 lbs.
Fuel Capacity
9.0 gal.
Tires:
29 in. Maxxis Carnage
---
How much will it run ya? 
$23,299*
*Taxes, destination charge and other fees not included.
For more information, visit www.yamahamotorsports.com.