Load & Go: Cargo Rack Buying 101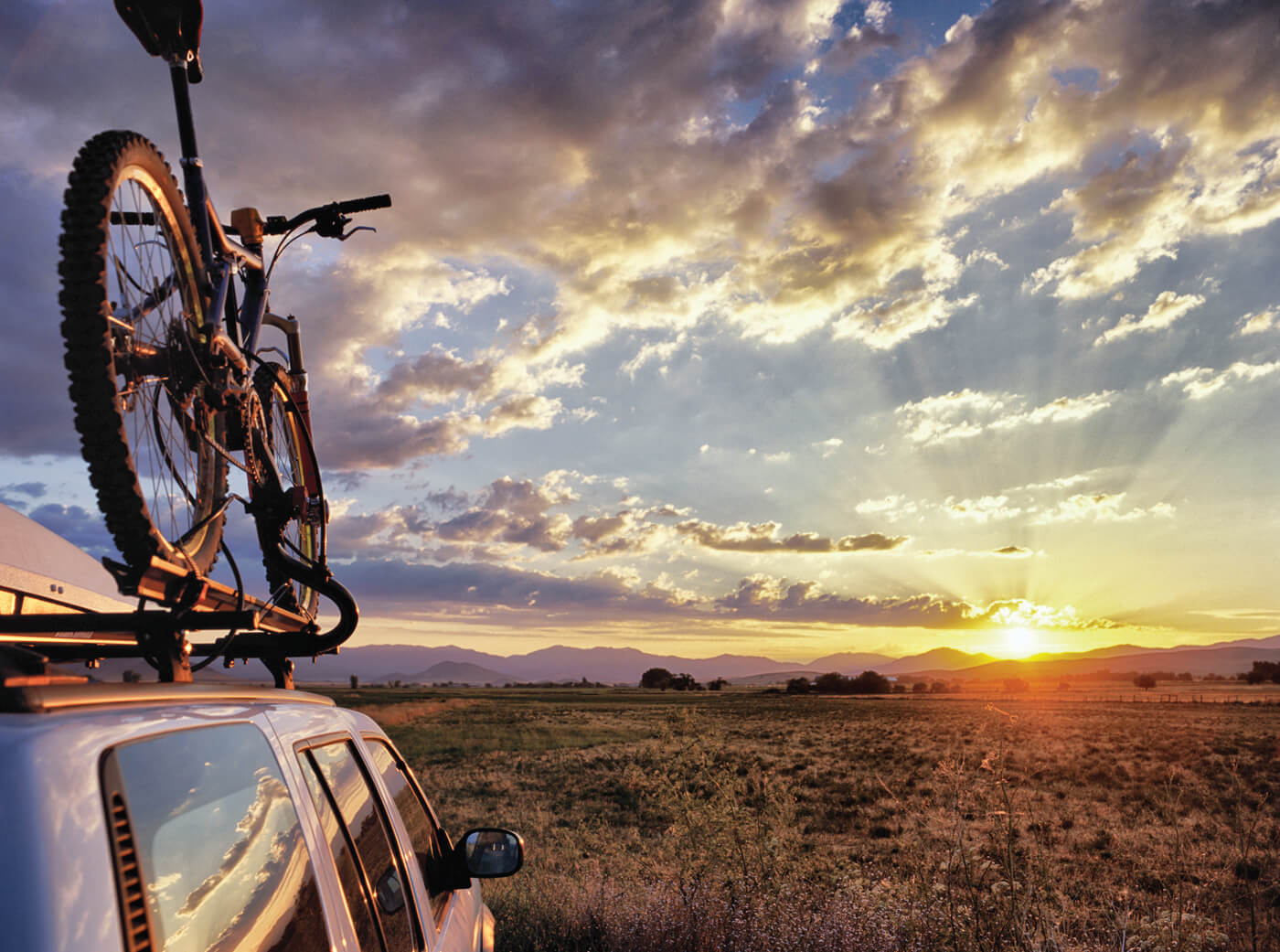 Underpacking. It's a problem that only worsens with kids, dogs and neighbor's kids. If you're going backcountry, you need to know how to pack. Stuffing your rig with extra jacks, spare tires, and gas cans is high on the priority list, but what about coolers and camping gear? When you run out of room, you're forced to reduce your load, and you usually end up leaving or forgetting crucial items that sacrifice your convenience once out in the bush. It's a common problem.
The easy solution is to get yourself a cargo carrier. Today's kits have three mounting options: hitch, roof, and spare tire (depending on your application). Most require only simple installation and offer a variety of accessories. So, take your time checking out the racks in the pages ahead. Each one is unique, but they all make finding extra space a no-brainer.
Dimensions: 60" x 24" X 6"
Capacity: 500 lbs.
Mounting Options: Class 3 trailer hitch
Material: Reinforced steel tubing with expanded steel floor
Cargo carriers are nice, but sometimes they can get in your way when they're not in use. The DeeZee Hinged Cargo Carrier solves that problem by lifting up and sitting at a 90-degree angle to the ground, keeping it parallel with your tailgate or hatch and making it easier to park and maneuver around. And since it's designed for any vehicle with a class-3 trailer hitch, it's versatile and mobile, should one of your other rides need some extra help.
Dimensions: 50.25" x 41" x 6"
Capacity: 11 cu. ft.; 150 lbs.
Mounting Options: Roof mount to factory or Thule crossbars
Material: Steel and plastic
If you want to put your stuff up top, then a cargo basket like the Thule Canyon 859 is the way to go. It includes a wind fairing up front to keep the air flowing smoothly over the roof, plus its low-profile design keeps it out of the way when it's not in use. Better yet, it's expandable; pick up a Basket Extension to add an extra 20-inches of space. So all in all, not only is it good looking, but it's also functional and can grow to suit your needs.
Dimensions: 23" X 60"
Capacity: 9.6 cu. ft; 500 lbs.
Mounting Options: 2-inch hitch receiver
Material: Expanded metal; steel
If you've got a 2-inch receiver hitch, then you've got the ability to carry a Cargo Caddy on the back of your truck or SUV. It's a 23" X 60" platform designed to carry up to 500 lbs. of your stuff, and you can even buy a set of wheel brackets to hold two bicycles if that's your jam. The kit also has numerous holes designed for tie downs, which means you won't have to either drill your own or figure things out while you're on the road. Plus, it stores easily since it just pops right off when it's not in use.
Dimensions: Varies
Capacity: Varies
Mounting Options: Roof with factory roof rack and adapter
Material: ¾" aluminum square tubing powder coated black
The Surco Safari Rack has taken things to the next level with a cargo basket like no other. Tailored for your specific application by using adapters, these racks come in a variety of sizes, all the way up to 80" X 100" for mammoth amounts of cargo. In addition, they have optional add-ons for Safari Lights, Hi-Lifts, spare tires and more, so virtually anything you want to put on your roof can be solidly mounted.
Dimensions: Varies
Capacity: Varies
Mounting Options: Roof
Material: 16-gauge, 1" round steel tubing
Smittybilt's Defender Rack is one of the standards in the roof-mounted cargo rack world, and there's a reason why. Not only is it a bolt-together design that's easy to install, but there are a myriad of accessories that can go onto the rack, allowing you to carry whatever you need, wherever you'll need it. Want a basket just for your JK? They've got it. Special rain gutter mounts? You've covered. Gas can carriers? Yup. Combine that with a durable black powder coated finish, and you've got a bulletproof rack.
Dimensions: 56" x 23" x 5.25"
Capacity: 600 lbs.
Mounting Options: Hitch
Material: Steel
What makes the ROLA Dark Folding Cargo Carrier so unique is fairly self evident, since the description is in the name. When not in use, you can fold the Dart up against the back of your ride, keeping it securely in place and out of the way. But if you need to get to it again, simply fold it back down and you're ready to haul 600 lbs. of gear off of your hitch, plus look stylish with their signature skid plates and license plate relocation holes. It's the best of both worlds.
Dimensions: 41.75" x 15.25" x 4"
Capacity: 250 lbs. on highway, 125 lbs. on the trail
Mounting Options: Jeep spare tire lug bolts
Material: Steel
Sometimes you need a lot of spots to put cargo, and you need to get creative. Fortunately, Olympic 4X4 Products has got your back — tire, that is. This kit mounts onto the same lugs that hold your spare tire in place, and creates a spot for a basket to slid in place. Even though the stock tailgate can only hold 50 lbs., with this kit in place, you can expand that to 250 lbs. on the road, and 125 lbs. on the trail, giving you lots of room for gas cans, coolers, or whatever else you need both on and off road.
Dimensions: 39" x 44"
Capacity: Varies
Mounting Options: Roof; bolt-on design
Material: Powder coated steel
Lund is known for their quality products, and their roof rack holds that reputation steady. It mounts on any vehicle's roof crossbars using a bolt-on design that gives you additional cargo room for your luggage or whatever else you'll need. So basically, it's easy to install, looks clean, and gives you more room than you'll know what to do with. Seems like a win-win-win to us.
Dimensions: 41" x 52" x 7"
Capacity: 160 lbs.
Mounting Options: Roof
Material: Steel
The Kuat Vagabond X is great because it looks good and bolts in place, making it easy to look at and install. Designed to carry anything you like, particularly if they're bikes (thanks to the integrated cable lock and locking mounts) the basket has fancy real copper accents to stand out from the rest and locking mounts to keep it solidly in place. If you find that you need more room, the options Xtender kit will bring it out to 73" long, giving you more than enough room to hold whatever you want.
Editor's note: A version of this article first appeared in the Winter 2015 print issue of Tread Magazine.