Catch of the Day: From Hook to Pan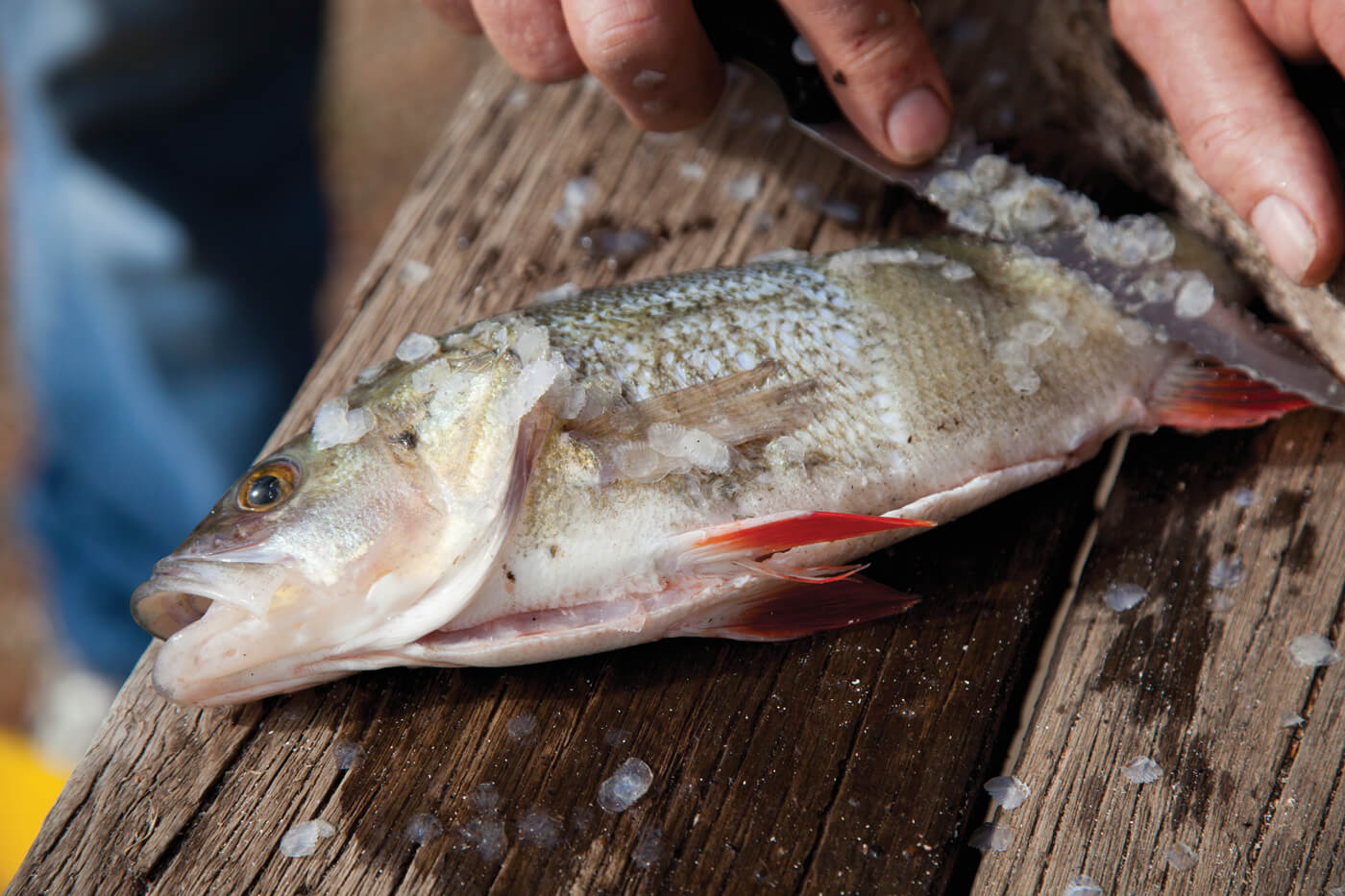 A great thing about traveling to far-flung destinations that are out of reach to most of those not traveling via four by four is accessing that secret fishing hole that few others know about. It's seldom crowded and always stocked full of fish. After setting up camp, you head out to catch yourself some dinner. Sitting by the campfire, star gazing and enjoying a freshly-caught fish dinner is a plan we wholeheartedly approve of.
Now that you've caught dinner, what's the next step? Spear it, and hold it over a fire? That might have been well enough for our caveman ancestors, but we can do better. Some say that fishing in and of itself is the most enjoyable part of the endeavor, never mind the rest. We say that catching a fish is only part of the fun. The other part is eating it, prepared with your special recipe. Now, the part sandwiched in-between those two is something else.
Cleaning and preparing a fish for cooking is definitely less fun, but it is almost as important as catching and eating it. First, it's important to know that time is of the essence when preparing and eating a freshly-caught fish. It's best to keep it in cold water just after catching it, and move it to even colder, ice water if you're not going to immediately prepare it.
There are plenty of methods on how to clean and prepare a fish; this is one that we've had good results with. Be very careful, as you'll be using a knife for most of this process; fish are slippery and can make knives slippery, too.
Cleaning and Filleting a Fish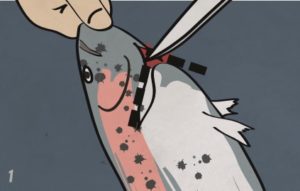 1. Bleed It Out
Kill the fish; then, quickly cut the fish, just under its gills, at its 'throat,' and let it bleed out. Its heart will beat for a few minutes after its been killed, so it's best to do this moments after you kill it.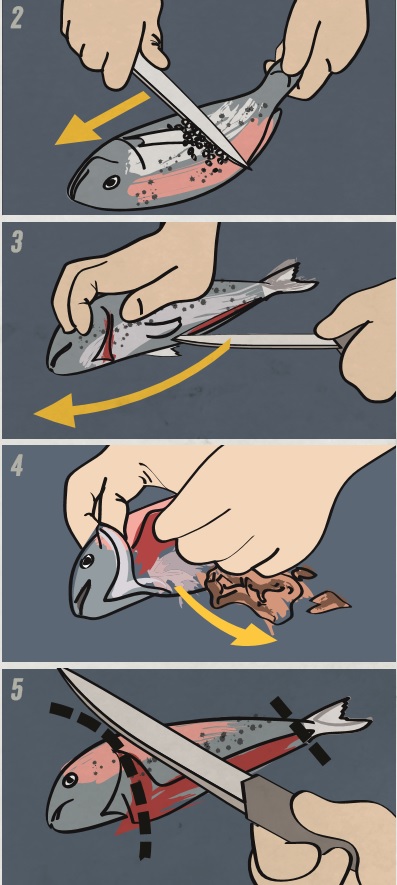 2. Descale
If the fish has scales, you'll want to descale it. Hold the fish by its tail, and with a knife or a scaler tool, use short strokes to rake it across the surface of the fish, all of the way to the head. Repeat on the other side and rinse the entire fish.
3. Open Up
Facing the head, insert the sharpened side of the knife's blade into the fish's anus, and slit the fish through its belly, all the way to its gills.
4. Guts
From the cavity you just cut, open the fish and dig in. Grab its guts and pull them out. If it's a female, you might score some roe (fish eggs), which some people consider a delicacy. If the fish has an inner dark membrane, remove that, too. Rinse the entire fish, and its inner cavity, with water.
 5. Head & Tail
To remove the fish's head, cut behind its gills and lop it off. The tail is removed by simply cutting it off.
6. Filleting
With a knife, start by cutting into the open belly of the fish, closest to where the head used to be. Carefully cut down to the backbone, then, turn the blade towards its tail and use a sawing motion to delicately separate the meat from the ribs. Repeat on both sides and rinse thoroughly. You may choose to skin the other side of the fillet by carefully running the knife between the meat and skin. Voila, now your fish is ready for cooking.
[divider]Sautéed Lemon Garlic Fish Fillet[/divider]
Prep time: 6 minutes
Cook time: 6 minutes
Total time: 12 minutes
Makes: 2 fish fillets
Ingredients:
Two fish fillets
Salt
Black pepper, coarse, ground
¼ cup of flour
2 tablespoons olive oil
1 tablespoon white wine
3 tablespoons salted butter
3 garlic cloves, minced
1 lemon
Herbs of your choice
Instructions:
1. Season the fillets with salt and pepper, then, dip them in flour so that they are lightly, but entirely, coated. Shake off excess flour.
2. Heat a pan to medium-high heat. When the pan is hot, add olive oil. Work the oil around the pan so that it is completely coated.
3. Gently add the fillets to the pan and fry for about two minutes on each side, until they are golden brown in color. Remove the fish from the pan.
4. Reduce heat to medium-low, then, de-glaze the pan with white wine. Add butter and allow to it melt. Introduce the minced garlic to the melted butter and white-wine mixture.
5. Continue to heat the mixture for one minute, or until the garlic begins to turn a light golden brown. Now, you can add herbs of your choice—we opted for a little bit of minced oregano and parsley. Allow the mixture to sit for a few seconds more; then, remove from heat.
6. Cut lemon in half. Squeeze lemon juice onto the fish fillets. Serve with a couple of spoons full of lemon garlic butter mixture on the fillets. Use remaining lemon, and season with salt and coarse, ground black pepper to taste.
Editor's note: A version of this article first appeared in the Winter 2016 print issue of Tread Magazine.