WHAT IS A BEADLOCK WHEEL? RACELINE HELPS EXPLAIN.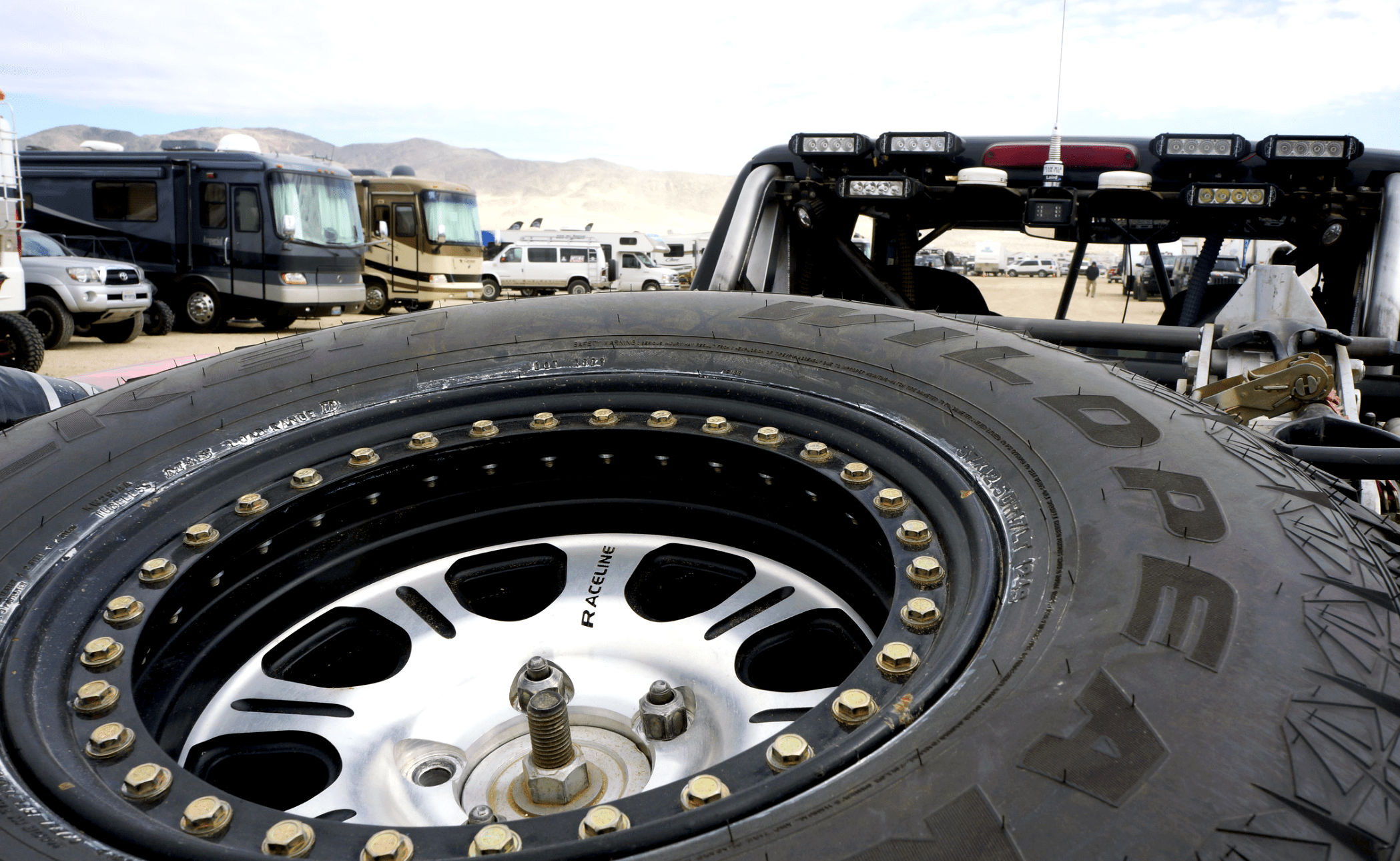 With years of experience building true beadlocks, we take a look at the company, and the wheels, which helped kick start the entire "beadlock" movement, Raceline Wheels.
Regardless if you're into trail blazing or desert cruising, the technology used in most off-road applications was derived from off-road motorsports. Regardless if it was monster trucks, desert runners or rock crawling, most of what we use today has been inspired by these motorsport festivities.
WHAT IS A BEADLOCK WHEEL?
Take for example, beadlock wheels – or rather, the beadlock "style" of wheels. As of late, many of our off-road wheels feature rivets around the outer perimeter of the wheels and this was inspired by rock crawling.
What started off a few years back as specialty market, has now made way into a movement which is taking the global truck market by storm. Lifted trucks have been in the process of making a serious comeback and now they've introduced a whole new segment which sports bigger wheels often times fitted with lower profile off-road tires. Of course, we've come a long way from the traditional off road wheels with bubble tires and here today is a look that's rough, menacing, refined and industrial – a look which takes it's main styling cues from true beadlock style wheels used in off roading.
For those of you wondering, beadlock wheels were designed to help keep tires from dismounting from the wheel when tire pressure is insufficient to hold the bead into place. In short, the "beadlock" is the round ring which is bolted against the outer circumference of the rim thus creating ample pressure to keep the "bead", locked into place. Of course, this technology typically applies to 4-wheel drive, dirt track and off road racing vehicles who often lower tire pressure for rock climbing.
In other instances, they are used on vehicles in cases where high speed cornering exerts extra pressure. Depending on the size of your wheel, beadlocks come with anywhere between 16 to 32 bolts which are tightened down at around 16-18 ft-lb which in turn helps keep the clamp tight and the wheel mounted.
RACELINE'S TRUE BEADLOCK
That said, we take a look at the oldest manufacturer that creates "beadlock style" wheels as well as true beadlock wheels. That company? Raceline Wheels. With decades of experience, Raceline wheels are the purveyors of the most durable and winning off road wheels, and we recently paid a visit to them the King of the Hammers race out in Landers, CA. With roughly 70 percent of the entries at the event running with Raceline Wheels, it's safe to say that they dominate that market and it's with good reason. Their beadlocks are crafted using state of the art technology, proprietary bolt and washer systems and we get the low down on the inspiration for the wheels which have influenced a large market.

With over 40 years of experience, including a hefty background in dirt track – which is where the first beadlocks were made – Greg Mulkey, the brand manager for Raceline's "true" off-road racing wheels has a lot to say about their wheels.
What sets Raceline Wheels true beadlock competition wheels apart from the competition?
There's a lot of things different, but one of the main differences is that we run a longer shank because the bolt is only as strong as inside that thread which is why we run the flange all the way down, whereas our competitors run the threads all the way up. We build our own bolts, to our own specifications, and bring them in at about 500,000 pieces at a time.
Do you think your experience and active participation in off-road racing has helped?
Definitely. A lot of our competitors don't even come out to the races. The trick our competitors don't, is that they don't have the same heat-treating and aging processes as we do. Our wheels are harder to bend, and Raceline Wheels builds all their competition wheels to a "racing specification" – A standard that is higher than traditional D.O.T. standards.
To make light fo the performance of our wheels, last year alone we won around a dozen championships and a few of them being world championships and all the technology we have learned is brought into everything we manufacture including our consumer line wheels.
Are there any other distinct advantages with the wheels you developed at Raceline? 
Yes. There's plenty but another one worthy of mentioning is that our wheels use a hardened steel insert for the beadlocks. If you break a bolt with our system you can pop out the hardened insert, replace it, bolt it all back up and you're ready to roll. On the flipside, our competition has their centers tapped, thus creating a whole lot of work if you break a bolt. On their systems you'll have to remove the broken bolt and then you'll have to retap the original hole and then move forward. The way we do it is much more labor intensive to build, but we always think about function, performance and the repair time, because in racing every second counts.
Another thing to mention is that our washers do not come off. They remain seated so if you take off the bolt you won't have to deal with losing a washer. A simple yet effective design which helps racer when it comes time to change out a ring or bolt.
What future products releases are you currently working on?
We have a new wheel coming out which will allow users to change center styles, or they canflip the wheel around and change the backspacing. This system is helpful depending on what style of racing or climbing you plan on getting into. At Raceline we stay on the cutting edge and keep our competitors wondering what we've got going on.
Be sure to visit them at racelinewheels.com