Chewy, We're Home!
There is a small white cut out sticker of the Millennium Falcon in the rear window of Paul May's '13 Toyota Land Cruiser 200 Series, which perfectly represents his thoughts on this overland adventuremobile build. "A large white cargo ship with black highlights, lots of modifications and very cool buttons, that goes like a bat out of hell!" May even has a furry auburn colored sidekick, his fox-red Labrador, Stella. He introduced his new build to the online world with a photo captioned: "Chewy, we're home."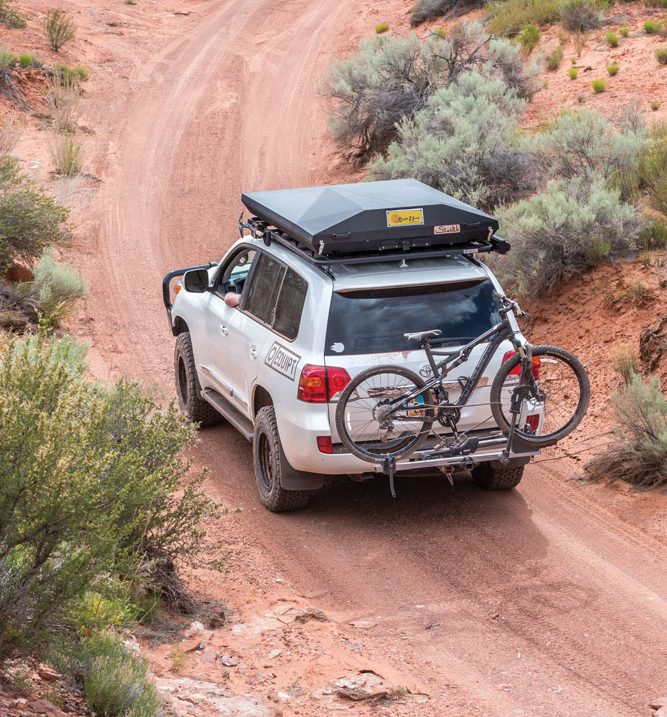 A seasoned veteran of the off-road and outdoor adventure lifestyle world, May has built quite a few vehicles and this may be his favorite yet. Built to take on multiple day trips into the unknown, the truck is also comfortable enough for him to drive daily – which he does.
A Toyota Guy
May has been a lifelong Toyota guy, and especially a Land Cruiser enthusiast. His current vehicle fleet includes a '76 FJ40, that is built for serious off-road adventures, a well-appointed 'O4 Gen 1 Ext Cab Supercharged Tundra and a new '17 Gen 3 Crew Cab Tundra, which is getting some serious upgrades.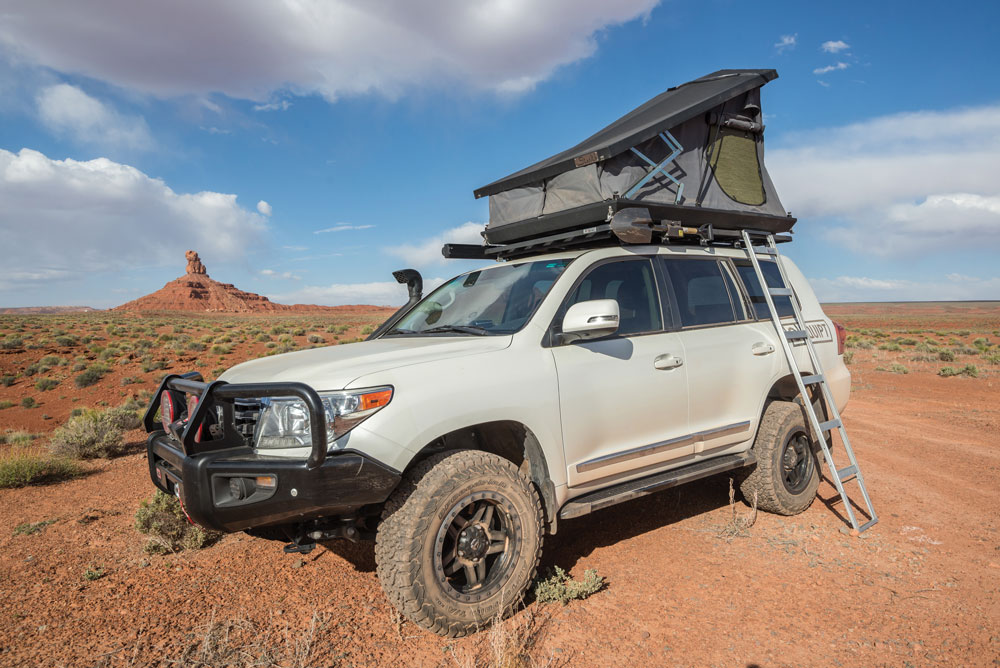 May's business, Equipt Expedition Outfitters, offers all kinds of overland vehicle upgrades, mostly from South African manufacturers. The first show vehicle for the company was a '99 100 Series Land Cruiser, which he owned for a dozen years, seven of which where it was fully built and a showpiece for the company. He then bought a 5th Gen 4Runner to replace the 100 Series. The 4Runner was a great vehicle, but May missed his Land Cruiser. The 200 Series was the only logical next step in the evolution of his off-road Toyota enthusiasm.
Land Cruiser 200
May was told by the lead Toyota Motor Corp engineer that the LC200 is the strongest Land Cruiser they have ever built. He believed the engineer, and the vehicle has proven to be as advertised, being the most solid vehicle May has ever driven. May says that you just can't find the power, elegance, ride quality and toughness in any other SUV on the market.
The Toyota Land Cruiser 200 Series has recently gotten the attention of many overland enthusiasts, as used prices have finally come down to reasonable levels, for a truck that is going to be upgraded and used off road heavily. A new LC200 will run you about $85K, where a 2008 to 2011 quality used example will cost you between $28K and $45K. While still not inexpensive, you do get what you pay for.
May knew going in that he would probably be keeping this truck for a long time, so he bought as new and nice a truck as he could justify. He purchased this '13 model at the end of 2015, with just over 30K miles on the odometer. The Blizzard Pearl color is a bit rare on this truck, and really makes it stand out in most off-road environments. The black interior contrasts the white exterior nicely, and tends to hold up to rough use better than other interior colors, in Paul's experience. This LC200 is Paul's daily driver, and has quickly become his favorite traveling/wheeling/camping truck.
The Toyota Land Cruiser 200  Series comes from the factory ready for adventure. It has a center diff lock, A-Trac and Crawl Control. It is also loaded to the gills with luxury and technology, which combine to create a really nice atmosphere for extended travels off the beaten path. The cabin is extremely quiet and isolated from the outside world, which keeps driver fatigue to a minimum on long journeys.
Outfitted
No Millenium Falcon would be complete without all the accessories and gear to get it to far off places and back again, ready for the trouble it is sure to encounter along the way. An ARB front bumper protects from frontal impacts, is airbag compliant and provides quality recovery points. It also houses a Warn VR10-S Winch and ARB 9-inch Intensity LED lights.
A Safari Snorkel keeps feeding fresh air to the engine through those dusty trail runs and deep-water crossings, while an ARB twin compressor makes for easy tire inflation after aired down off-road excursions. May has been impressed with the durability, capability and value of Old Man Emu suspension systems on most of his vehicles over the years, and went with their 2.5-inch lift kit for this LC200 built. Thirty-three by eleven-inch BF Goodrich AT KO2 tires wrapped on Fuel Anza 18-inch rims complete the looks and capabilities package on this cargo ship from outer space.
Well Organized
An overland adventuremobile should be a comfortable place for all passengers to travel, place to sleep, place to cook and a place to relax. The full custom Goose Gear cabinet system in this LC200 handles most of these needs. The system stretches from the back of the front seats all the way to the tailgate, providing lots of organized and secure gear storage, a comfortable bed for Stella the dog, an interior sleeping platform and a full kitchen.
Organization within the cabinets is improved further through the use of a Trek Pak divider system and an AT Overland Equipment Fridge/Stove Combo Slide. The slide houses a 50L stainless steel National Luna fridge and an aluminum double burner propane-powered Partner Stove.
For a really good night's sleep the new Eezi-Awn aluminum hard shell Stealth roof-top-tent has been mounted atop a huge (1400mm x 2200mm) K9 roof rack. For shade and protection from the weather, an Eezi-Awn Series 2000 2.5m self-retracting awning has been fitted to the roof rack as well.
Power Upgrades
It's important to upgrade the electrical system on a modern vehicle like this LC200 in order to handle the added demands of new accessories, like off-road lighting, winches and fridges. May has relocated the main vehicle battery to the passenger side of the engine bay and installed a second auxiliary battery on the driver side, a group 31 AGM unit from Centennial.
He needed to move the main battery over, as the larger group 31 auxiliary battery just wouldn't fit anywhere under the hood besides the original main battery location. Both batteries are on solid Slee Offroad battery trays, because it is extremely important to keep the batteries secured during bumpy off-road excursions. A Blue Sea auxiliary fuse block neatly and reliably handles the power distribution needs for all the added accessories on this build.
Future Plans
While this LC200 is already more than well appointed, there are some more upgrades and refinements on the way. Slee Offroad slider steps, skid plate set and a rear bumper with dual swingouts will complete the exterior armor. And Mainline Overland LED fog light pods, designed to fit perfectly in the ARB front bumper, will complete the vehicle lighting.
Also, a bunch of electronic upgrades are in the works that include a remote auto start, 2M radio, hardwired solar charge plug, a voice/data amplifier and a variety of other small electrical refinements. Paul expects to have the Millennium Falcon dialed-in to his liking by the end of the year.
Set A Course For…
This Toyota Land Cruiser 200 Series is the best of the best SUVs available for off-road and overland travel. This Millennium Falcon is used by May as a daily driver, overland adventuremobile and to showcase the overland expedition equipment available at Equipt Expedition Outfitters. May expects to keep his trusty LC200 for at least a decade, as he says; "Where would I go from here?"
2013 Toyota Land  Cruiser 200 Series
Suspension: OME 2.5" Lift
Wheels & Tires: Fuel Anza Matte Black w/ Anthracite Ring 18" Rims with BFG AT KO2 285/65/18
Lighting: 2 ARB 9" Intensity Lights
Electronics: National Luna Dual Battery System w/ Surface Mount Controller, Blue Sea Auxiliary Fuse Block, Centennial Group 31 AGM Auxiliary Battery, Slee Offroad Battery Trays
Off Road Accessories: ARB Commercial Front Bar, Warn VR10-S Winch, ARB 200 Series Safari Snorkel, ARB Twin Compressor
Interior: Goose Gear Custom Cabinet System, Trek Pak Cabinet Divider System, National Luna 50L Twin Stainless Steel Fridge, AT Overland Fridge Stove Combo Slide w/ Partner Stove
Roof: Eezi-Awn K9 Rack (1250mm x 1600mm), Eezi-Awn Stealth RTT, Eezi-Awn Series 2000 2.5m Self-Retracting Awning, Eezi-Awn K9 Shovel Mount
Bike Transport: Thule Hitch  Mount Bike Rack