Rarely anymore are products so hyped up that you have to see them first hand to believe it, and when you see it first hand it exceeds your already lofty expectations.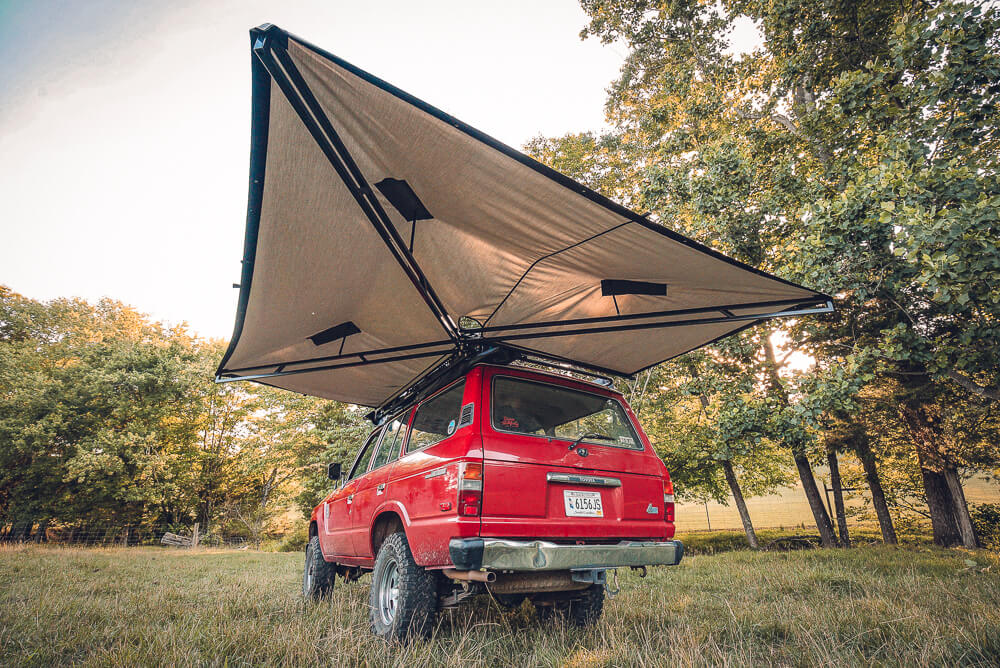 We had the chance to meet Matthew Simmons, the brain behind Kinsman at Overland Expo East and all we can say are good things. An extremely bright, and pleasant person its clear when he looks at something mechanical that he is breaking down the mechanics and how to put it back together again.
Unsatisfied with the Awnings available on the overland market, Matthew set out to make his own, and make it better than the ones available. The goals were simple: quick to deploy, insanely robust, and made right here in the USA. Using a unique and custom triple hinge setup, the awning can be opened with one hand its entire 270º span, and locked into place. That same hinge also serves as the load point for the backbone, which distributes its entire weight across the rack it is attached to. Tubular trellis arms give the awning super-human strength, being able to stay open in 35mph winds without any ground posts. This strength was demonstrated to us by Matthew trading the end of one of the open trellis arms and proceeding to do pull-ups on it, while the suspension of his 60 series land cruiser wobbled. Sun-brella fabric for the awning is lovingly hand stitched by the boys and girls down at Blue Ridge Overland Gear and will provide years of reliable use.
While the Kinsman awning is not yet available for purchase, it is right around the corner and should be soon. Check out this video on it and see for yourself: