Four Camp Cocktails Recipes to Pack a Punch
Most people who drink alcoholic beverages while camping think, "bring beer!" The only problem with beer is it takes up a lot of room, the carbonation explodes when jostled while hiking, and it must stay refrigerated. You also need to pack a lot of it, especially if you're camping for a long period of time. Those who like to bring hard liquor camping can easily become dehydrated if they drink too much, so premade mixed camp cocktails are the way to go to relax after a long day of hiking.
Here are four delicious camp cocktails recipes for easy preparation and packing that are sure to be a crowd pleaser.
Apple Pie Moonshine
This is a yummy camp cocktails recipe that can be made up well before you go on your camping trip. It makes a lot and you can store it for up to a year in mason jars. It probably stays fresh for longer than a year, but I've never had it around that long to test the theory!
I'd recommend using 12-ounce or pint-sized jars if you will be carrying the apple pie moonshine in your backpack. If you are keeping it in a fridge, cooler, or not carrying it while hiking, you may want to store it in quart-sized mason jars.
Although the recipe says "moonshine," there is nothing illegal about it. It is made from store-bought ingredients. It's called moonshine because it is made with 90-proof grain alcohol, which is found at most local liquor stores.
Warning: Do NOT drink 90-proof grain alcohol straight, it will kill you. It is for mixing and diluting into small proportions.
Recipe:
1 gallon apple cider
1 gallon apple juice
1½ cups white sugar
1½ cups brown sugar
8 cinnamon sticks
1 liter Everclear 90 proof (grain alcohol)
Combine and heat all ingredients except the Everclear into a giant pot, like almost a cauldron-sized pot. Keep stirring it until the sugars dissolve. Bring the mixture to a boil and turn the heat off.
Let the mixture cool to lukewarm or room temperature and add the Everclear. Pour the mixture into clean mason jars using a ladle. You may want to throw out the used cinnamon sticks and strain out the sediment before ladling it into mason jars. I prefer to keep the cinnamon sticks and put one into each of the mason jars along with the mixture. Put the lids on the jars and seal them. Store at room temperature or chilled.
You can drink it warm or cold, just like eating apple pie.
Margarita Mountain Madness
Tequila drinkers rejoice. The "Mountain Margarita" and "Summit Slammer Margarita" are just for you. They both involve easy preparation and take up minimal space when transporting.
If you are camping, hiking, or mountain climbing and there is fresh snow available, the Mountain Margarita doesn't get any easier to make than this. All you need is a heavy-duty zip-lock bag, Lemon-Lime Gatorade, tequila, and fresh snow. Mix the Gatorade and tequila according to your taste preference and seal it in the baggie. Put it in your backpack and it's all set when you want to add mountainside snow for a refreshing slushy.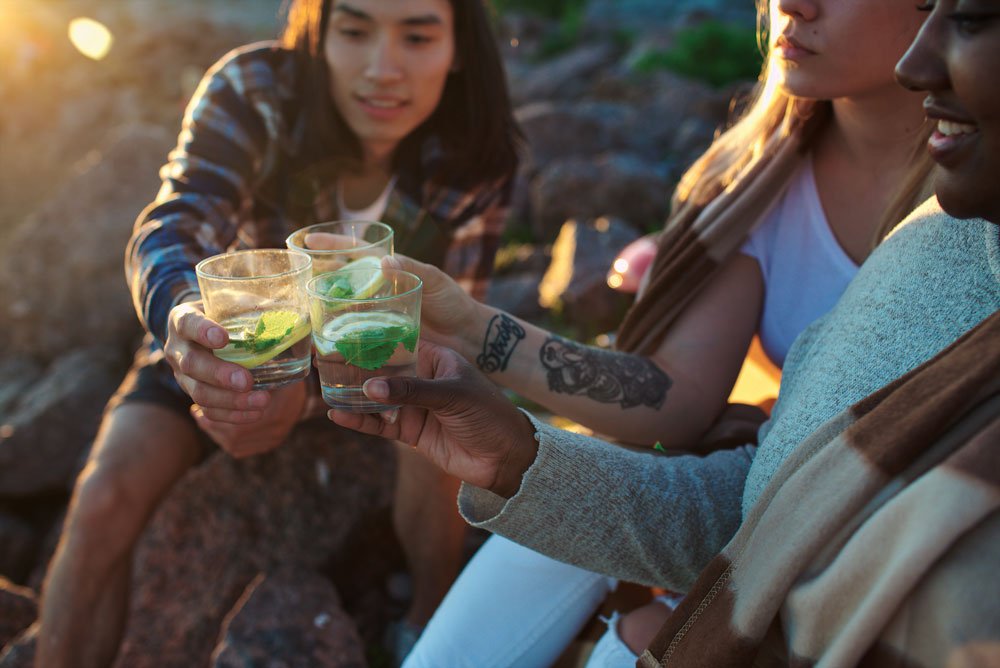 Here's a twist: If you don't have fresh snow available and want to premix ingredients, this is all you need to enjoy a lemon-lime margarita.
Recipe:
1 Country Time Lemonade On-The Go packet
Tequila
8 ounces of water (optional ice or snow)
1 precut lime wedge
Bring a flask of tequila that won't take up too much space in your backpack or cooler. Also pack some Country Time Lemonade On-The-Go packets and a bottle of water. If you are feeling ambitious, cut up some lime wedges ahead of time, put them in a sealed baggie, and bring them along. When you are ready to rest and enjoy a margarita, drink your water down until there is about 8 ounces (or 16 ounces for a double batch) of water left in your water bottle. Add the lemonade on-the-go packet to the water bottle and add a shot or two of tequila to taste. If you packed the limes, squeeze one into the bottle, screw the lid back on the water bottle and shake it up. Enjoy!
White Russian Wilderness Coffee
As most coffee drinkers would agree, having instant coffee packets handy is a must while camping. Why not add booze to it? Here is a camp cocktails version of the traditional white Russian recipe, plus coffee. It's easy when packing and prepping on the go.
Recipe:
1 packet instant coffee
Kahlua
Vodka
Dry whole milk powder
You can mix equal proportions of Kahlua and vodka ahead of time in a flask or bring fifths of each to save space in your backpack or at your campsite. Heat up 8 ounces of water and put it in a thermos. Add the instant coffee packet and dry whole milk powder (to taste) to the hot water. Stir or cover and shake until dissolved. Add equal proportions of vodka and Kahlua to taste. Take it with you in the thermos if you are hitting the trail or enjoy it at the campsite.
Optional: Add toasted campfire marshmallows.
Wine Without the Bottle Hassle
Leather Bota bags can be annoying to fill with wine. They are hard to clean, they don't hold much, and the wine doesn't stay fresh long. Here is an easy transport hack for wine enthusiasts that eliminates bottles, corks, and cups, and it allows for you to bring a lot of wine in your backpack. Simply get a box of Franzia, Carlo Rossi, or the like, and take the bladder out and store it in your pack. You can drink it right out of the spigot. If you feel classless drinking wine right out of the wine bladder spigot, stuff a bunch of frozen fruit into a thermos. When you are ready to break out the wine, pour it into the thermos and you have chilled fruity wine.
The true perks of bringing just the bag of wine, rather than the whole box, is that it's lighter than transporting a bunch of beer, it's easy to carry and store, you can serve a lot of people, and it lasts much longer than bottled wines. Some can last without spoiling for up to six weeks after opening.
"… premade mixed drinks are the way to go to relax after a long day of hiking."
The best part is that after you've finished the wine, you can inflate it to make a camping pillow—which you'll need after finishing off a bag of wine.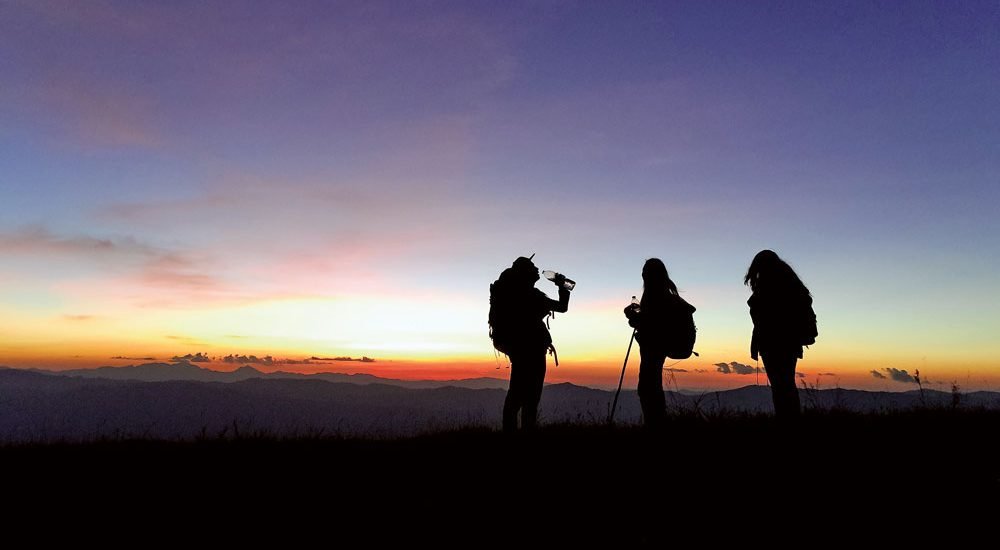 Editor's Note: A version of this article first appeared in the May/June 2020 print issue of Tread Magazine.