No Ordinary Family Van: 2006 Ford E350 Super Duty 4×4 Conversion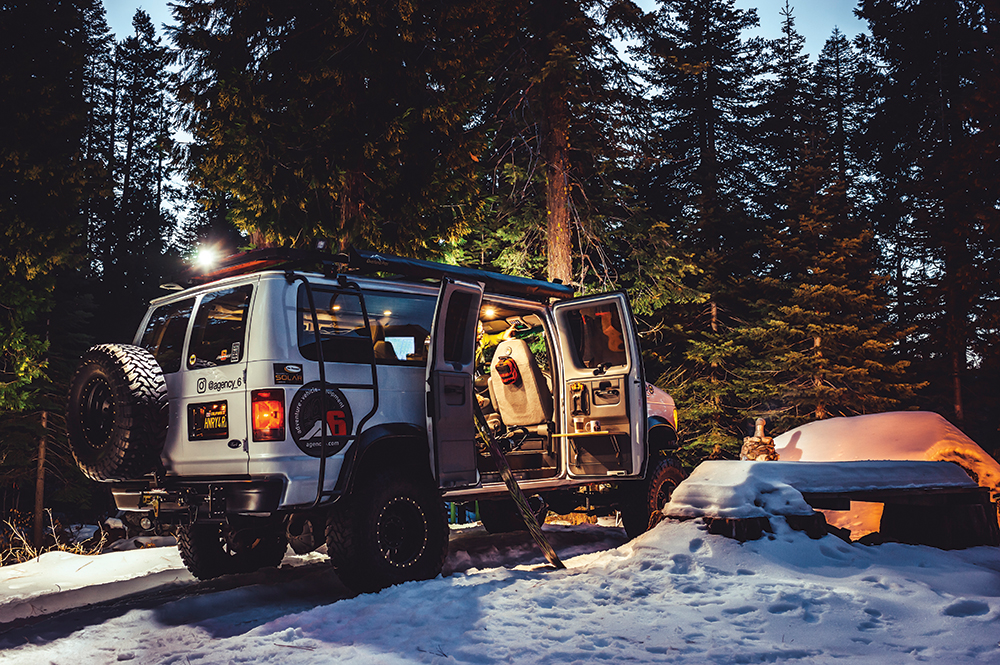 2006 Ford E350 Super Duty van 4×4 conversion
Since 1996, Ken Montes designed, developed and mass-produced automotive components. His desire to create and invent products started at a young age. It eventually led him to launch his own company, Agency 6. A passion for the outdoors and activities such as camping, snowboarding and hunting motivated him to start the company. He realized there was a lack of functional products in the marketplace for his lifestyle. His vision and goal are to create products with the user in mind. He decided upon a Ford E350 Super Duty van 4×4 conversion.
… after using his 2006 Ford E350 Super Duty van for work-related projects, Ken decided to convert it to a family-hauler built for adventure.
Agency 6 created and manufactured American-made camping products. This includes items such as shovels and tools, as well as off-road vehicle components. This includes recovery hitch blocks, fairleads and winch pull straps.
Many companies own vans for their cargo capacity and utility aspects. After using his 2006 Ford E350 Super Duty van for work-related projects, Ken converted it to a family-hauler built for adventure. This father of two young girls wanted a capable vehicle to handle various terrain and snow to get his family safely to their mountain cabin. He needed something that would be reliable and fun for their family trips. He decided to properly outfit his van.
Beefing it Up
Ken worked with Chris at U-Joint Offroad to convert the van into a 4×4 with an NV271 transfer case and a substantial 8-inch lift. This allows him the capability to travel just about anywhere with enough off-road performance, along with ample clearance.
It required a bit of work and multiple upgrades to achieve this suspension lift. New shock towers were installed, along with a dual shock upgrade. Fox 2.0 Reservoir shocks were installed in the front and rear. This enhances the ride quality off the pavement. Atlas leaf springs, as well as spring hangers, shackles, sleeves and bushings, were also installed. This is key with the new suspension setup. The van received a new frame support to ensure everything was straight and proper. New sway bar links and hardware were added to beef up the suspension.
This father of two young girls wanted a capable vehicle that could handle various terrains and snow to get his family safely to their mountain cabin. He needed something that would be reliable and fun for their family trips and decided to properly outfit his van.
WFO Concepts prepped Dana 60 front and rear axles. They paired them with ARB lockers and a Drive Line Service custom CV driveline to increase the van's off-road capabilities.
The extra clearance, paired with Bushwacker fender flares, allows for a set of 18×9 Method Double Standard wheels wrapped in 37×13.5 Toyo Tires Open Country M/Ts. The tires provide maximum traction on all four corners through all four seasons. They add confidence while driving in the snow. A full-sized spare wheel and tire are mounted on the rear, with an Aluminess rear tire carrier. An ARB Twin Air Compressor was installed for quick airing-up and airing-down ability.
Power Updates
The vehicle's brakes were updated to accommodate larger wheels and tires and extra weight from the aftermarket parts. Power Stop Rotors and steel-braided and -coated DOT brake lines aid the van's stopping power. And, for convenience, while on the road, a U-Joint Offroad expanded capacity aluminum gas tank was installed. This cuts down on the number of fuel stops by increasing the driving range. This addition helps Ken stay prepared on long journeys off the grid.
Ken installed an Agency 6 in-house-fabricated dual steering damper kit to improve steering. This ensures unrestricted gradual movement without the sudden shock and avoid tire shimmy from the large, heavy wheels and tires.
Powering the van is a Ford 6.0L Turbo-Diesel engine with other upgrades from Sinister Diesel. An upgraded turbo, stainless EGR coolers, diesel air intake, fuel filter kit, blue spring kit and coolant filter kit round it out. A downpipe and 4-inch exhaust from Agency 6 in-house-fabricated parts accompany the modifications.
The Ford E350 Super Duty Van 4×4 Conversion's Exterior Improvements
The exterior of the van is well-equipped. It has a host of upgrades. Not only do they provide more protection, but they also offer additional storage, lighting and functionality. A U-Joint Offroad front bumper was installed. It's accompanied by a Warn VR10 winch and an Agency 6 1.5-inch fairlead and billet winch shackle. Lightforce HTX2 hybrid driving lights are integrated into the bumper. An Agency 6 Modular Grille sits behind the bumper while grab handles rest on the hood. A Switch-Pro 9100 control panel is mounted into the custom overhead console of the cabin. It provides full control of the lights and accessories. An Agency 6 shovel with mega mount device and Hi-Lift mount rounds out the bumper attachments.
The headlights are protected by Agency 6 rock-proof polycarbonate covers. Five Lightforce Genesis driving lights help to illuminate the path ahead. They are mounted on the U-Joint Offroad roof rack. Additional Lightforce ROK40 scene lights are also mounted on the rack. A sturdy, side-mounted Agency 6 ladder provides access to the vehicle's roof.
The exterior of the van is well-equipped with a host of upgrades. They provide more protection, additional storage, lighting and functionality.
The U-Joint Offroad roof rack houses two Action Trax recovery boards and dual Go Power rigid 170-watt solar panels. The 340-watt Go Power solar system is controlled by a PWM 30 solar controller and a 3,000-watt inverter Pure S wave. Ken built the custom-fabricated drop-down box for the solar and power systems. Two additional RV batteries help supply the van with electricity. Additional internal power outlets, USB outlets and an external 12V outlet plug were installed.
An Agency 6 GRIDS MOLLE panel is mounted on the exterior window. It holds a secondary Agency 6 shovel. It's conveniently located and accessed.
Might as Well Be Home
The interior of the cabin was built to feel like home. It includes many of the creature comforts you'd find there. Two Toyota Sienna reclining captain's chairs were installed for this family of four. A rear bench seat converts into a bed and is upholstered to match.
The cargo van received a full sound-deadening treatment. In-house fabrication built and installed wood ceiling panels complete with LED lighting. Interior Agency 6 A-pillar van grab handles and billet grab handles add both cosmetics and utility to the cabin. Interior side panels were upholstered with 3D-molded topographic detail.
A 10-gallon onboard water tank and Agency 6 fabricated stainless steel sink were installed. A beverage-sized refrigerator, television and a Keurig coffee maker provide familiar amenities while on the road.
"The TV/DVD player was the best modification," Ken says. "The moment I installed the first 17-inch monitor, [the family has] used it every, single time. DVDs are important because some places are out of range."
The van has become a second home for Ken and his family. No matter where their travels take them, their van is comfortable and well-equipped for any adventure.
FORD E350 SUPER DUTY VAN 4×4 CONVERSION UPGRADES
Platform: 2006 Ford E350 Super Duty
Engine: Ford 6.0L Turbo Diesel; Sinister Diesel Upgraded Turbo, stainless EGR coolers, air intake, fuel filter kit, blue spring kit, coolant filter; Agency 6 in-house-fabricated downpipe, 4-inch exhaust
Suspension: (front) U-Joint 8-inch kit; dual shock upgrade; new shock towers; new frame support; Atlas leaf springs; steel-braided and -coated DOT brake lines; sway bar links w/hardware spring hangers with hardware, shackles, sleeves and bushings; Agency 6 Chubby Links w/hardware; Power Stop rotors (rear) U-Joint 8-inch kit; Fox 2.0 Reservoir shocks
Wheels & Tires: Method Double Standard 18×9 w/ 4.5-inch backspacing; Toyo Tires Open Country M/T 37×13.5
Additional Modifications: NV271 transfer case; WFO prepped Dana 60s, front and rear; Drive Line Service custom CV drive lines; ARB lockers in front and rear; Agency 6 in-house-fabricated dual steering damper kit
INTERIOR AND EXTERIOR UPGRADES
Interior Accessories: Rear bench seat (convertible to a bed), upholstered to match; two Toyota Sienna reclining captain's chairs; Agency 6 Full Sound Deadening, in-house-fabricated wood ceiling panels with LED lighting; in-house side panel upholstery with 3D-molded topographic detail; A-pillar van grab handles; billet grab handles on interior doors; GRIDS Rigid MOLLE panel; onboard water with Agency 6 stainless sink; beverage-sized refrigerator; Keurig coffee maker; Switch Pros 9100; 3,000-watt inverter Pure S Wave; PWM 30 solar controller; 2 x RV batteries; custom-fabricated drop-down box for solar and power systems (built by Ken Montes); internal power outlets and powered USB outlets; external 12V outlets; CB radio
Exterior Accessories: Agency 6 modular grille; hood grab handles; rock-proof polycarbonate covers; Lightforce Genesis 2 x HTX2, 5 x ROK40; Warn VR10 winch; Agency 6 1.5" fairlead, billet winch shackle; license plate bracket; U-Joint Offroad expanded-capacity gas tank; roof rack; Action Trax recovery boards; Agency 6 shovel with mega mount device; ARB twin air compressor; U-Joint Offroad front bumper; Agency 6 GRIDS MOLLE panel; Agency 6 ladder; Aluminess rear tire carrier; Agency 6 Hi Lift mount on bumper; Agency 6 Bigfoot for Hi Lift jack; Bushwacker fender flares; Go Power solar control panels; Dual Rigid 170-watt solar panels
(Editor's Note: A version of this story appeared in Tread May/June 2021.)