Best in Class: KTM 350 EXC-F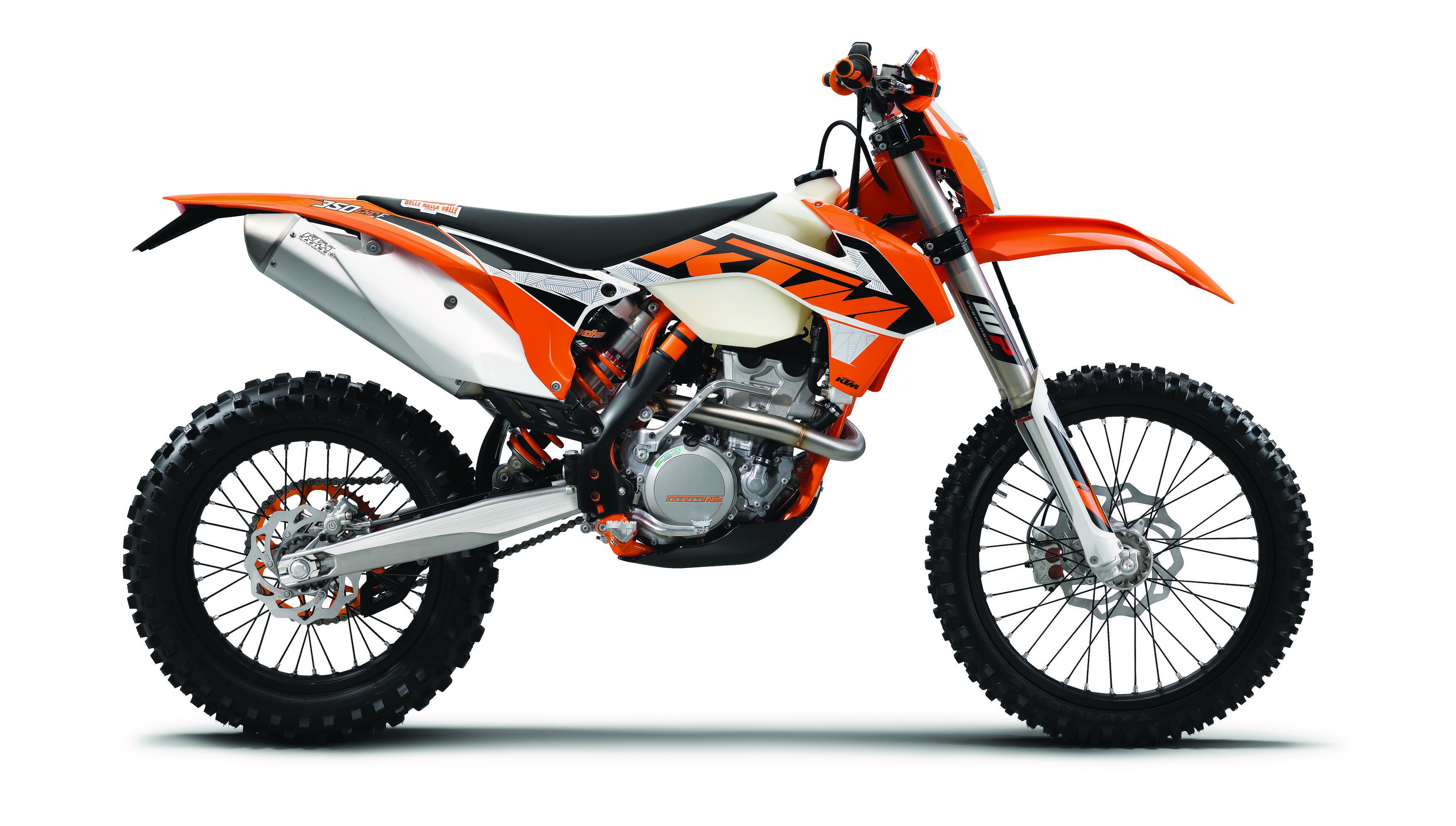 If you had to pick just one off-road motorcycle to do it all, there's only one bike that fills the bill– the KTM 350 EXC-F. Fast, light, agile, and street legal, this is the benchmark that other dual-sport bikes are measured by. Having a license plate on a competition-ready motorcycle is what KTM is all about. You can ride it from your house to the dirt.  And when you're out on a trail ride you can jump on road and cruise into town for fuel and hot steaming plate of enchiladas. Sounds like the perfect day.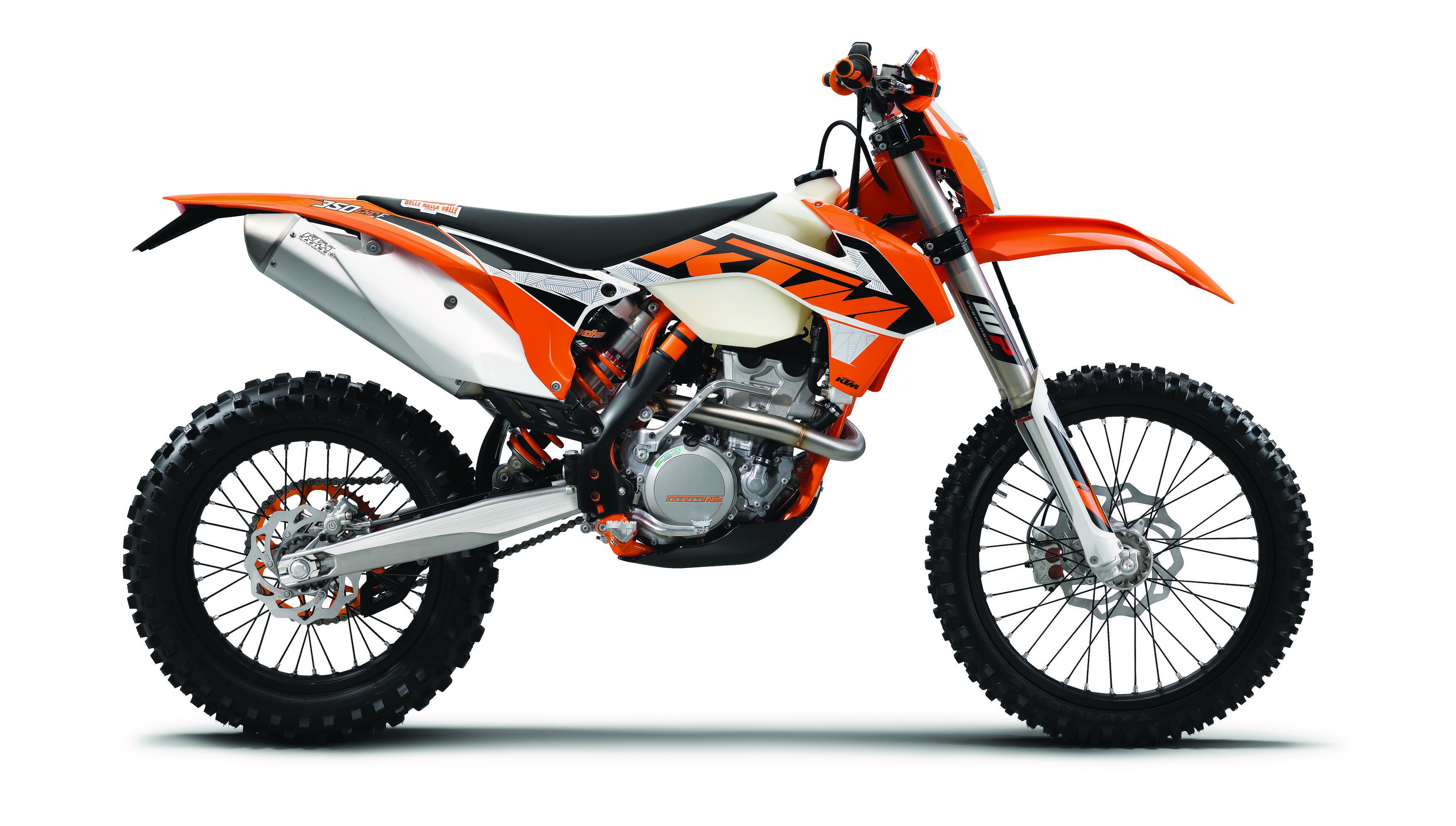 POWER
ENGINE
The 350cc 4-stroke engine with a state-of-the-art electronic fuel injection offers a very wide power band and is distinguished by a dynamic but easy to control power delivery.
Comes equipped with a kick starter as well as electric starter. And the hydraulic clutch by Brembo paired with a six-speed gearbox.
BODYWORK
AIRBOX
The ingenious airbox design guarantees protection of the air filter plus maximum air throughput for high performance. Replacing the air filter is an easy, no-tool operation.
HANDLEBAR
All EXC models are fitted with super strong tapered handlebars made of high tensile strength aluminum alloy. KTM bars can be fixed in four different positions to fine-tune rider ergonomics, and standard open hand guards provide protection to the rider's hands.
SPEEDO
The speedometer integrates speed, distance, trip warning lights into a single unit with clear readily available information.
FUEL TANK
The fuel tank is made of lightweight polyethene, and fitted with a fuel pump and pressure regulator. This 2.25 US gallon capacity tank is good for 70-75 miles of off-road riding.
CHASSIS
FRAME
The frame design of the 350 EXC-F combines maximum longitudinal stiffness with optimum torsional stiffness for easy handling and precise steering behavior, as well as excellent ride stability.
Frame: Central double-cradle 25CrMo4 steel
Subframe: Aluminum
SWINGARM
The cast aluminum swingers is computer-designed for minimum weight, optimum stiffness and precisely-defined flexibility.
FRONT SUSPENSION
The front fork features CNC machined triple clamps specifically designed to minimize fork flex  to provide the rider prices feedback from the front wheel, even in the toughest terrain.
Suspension travel front: 11.8 inch
REAR SUSPENSION
A PDS shock absorber from WP Suspension works with a direct linkage to the swingarm. A wide range of setting options for rebound damping and high and low-speed compression damping are standard.
Suspension travel rear: 13.1 inch
EXHAUST SYSTEM
Light and robust. The aluminum silencer combine awesome power output, while keeping noise levels to a minimum.
COOLING SYSTEM
An integrated cooling system routes the coolant from the cylinder head through the frame, directly to the aluminum radiators.
CHAIN
It comes standard with a beefy 5/8 x 1/4" O-ring chain
WHEELS AND BRAKES
WHEELS
Black aluminum rims with black spokes are mated to CNC machined hubs with aluminum nipples to achieve maximum strength and minimum weight.
BRAKES
High-tech Brembo brakes are standard on KTM off-road bikes, and are combined with lightweight Wave disc rotors.
Editor's Note: A version of this article first appeared in the Spring 2016 print issue of Tread Magazine.