What if Survival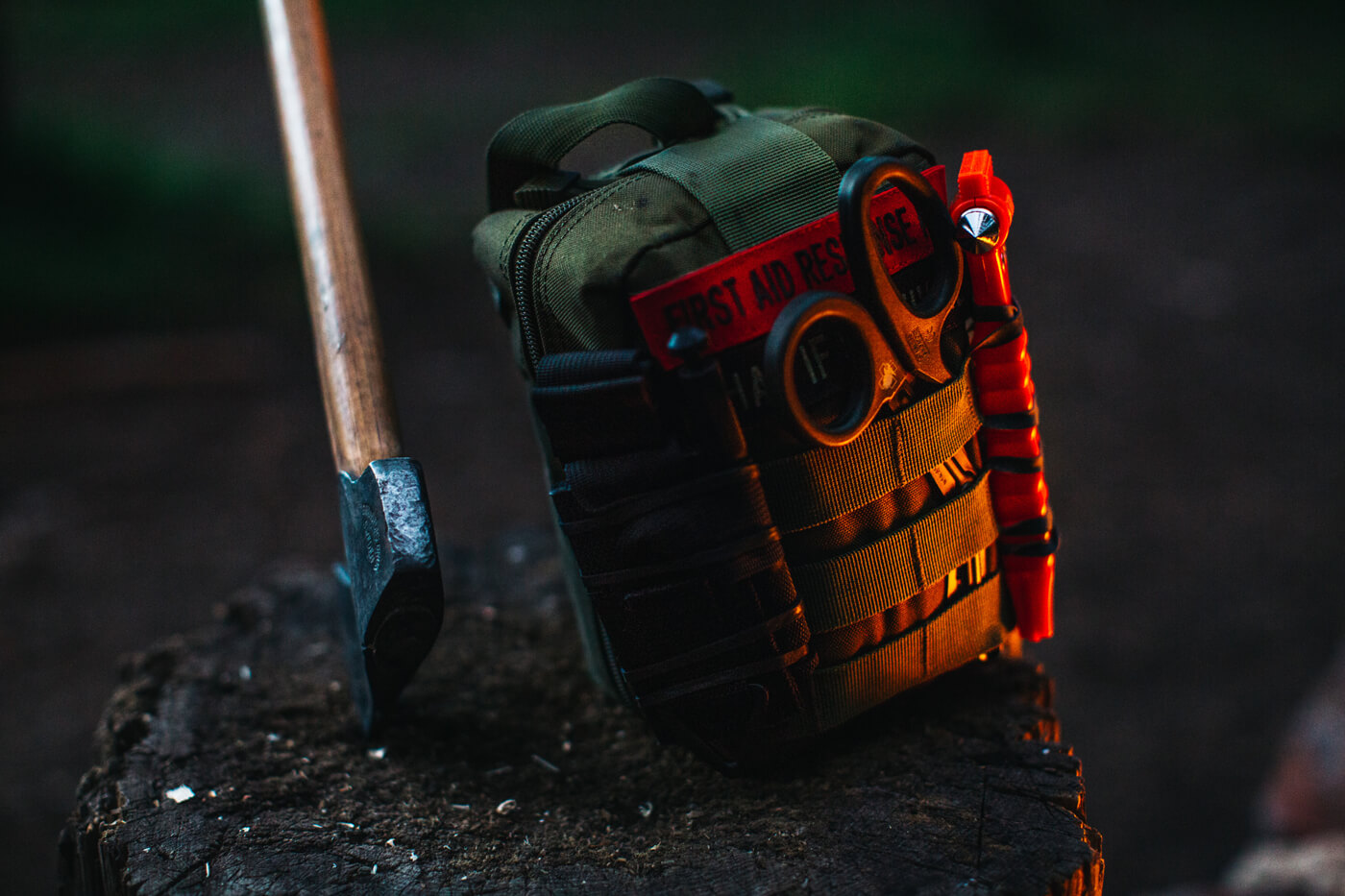 If you are out in the middle of nowhere and you need medical help, It would be comforting to know that the emergency kit you are reaching into was designed and assembled by someone who saves peoples lives daily, a real EMT.
What if Survival come to be out of a realization that there are a ton of first aid kits on the market, but most of them are only made to look appealing and would let you down if pressed into the service of trauma. WIS has taken lessons learned from the everyday life of an EMT, and the tools tested from treating things from minor cuts to excessive bleeding, burns to eye injuries and bone fractures, and made sure that there is nothing you do not need in this kit, and everything you do.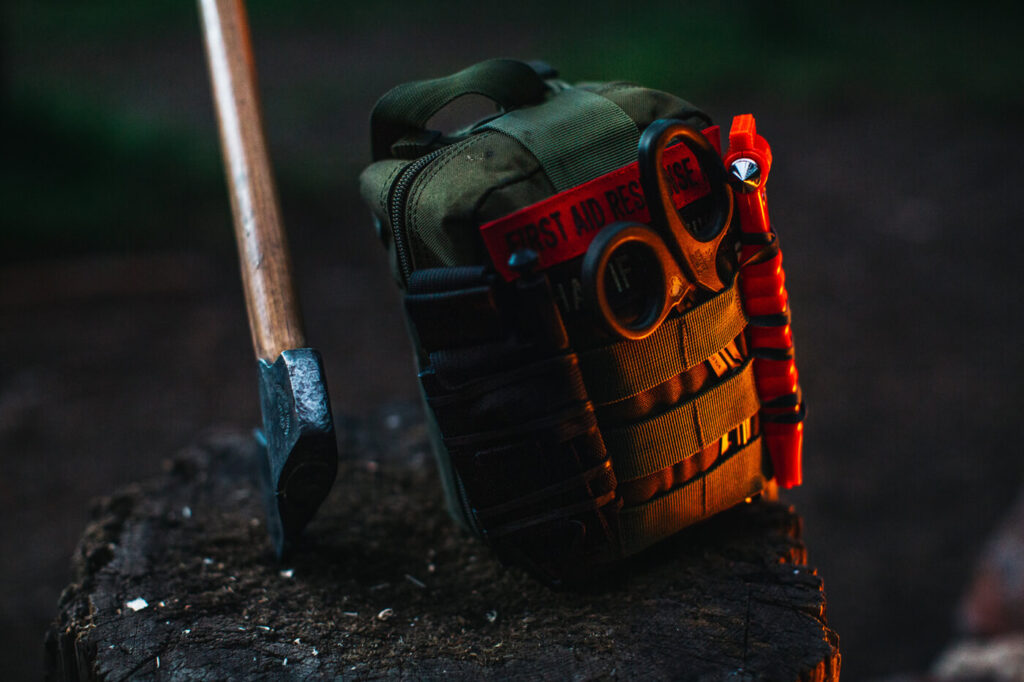 First off, the kit has been shoved into a water resistant 600 denier Nylon pouch that is about the size of a football. The pouch has been attached to a velcro rip-away panel, so if you are in a hurry, just reach in and grab it and leave without a second thought. The mounting panel has a adjustable strap on it so it can be mounted to a variety of surfaces, our personal favorite for access was to the back of the driver seat headrest.
Jam packed with 50 different items (total of 105 pieces), and quick access to a tourniquet and window punch  – there enough gear in here that it would behoove you to sit down and take the whole thing apart and really understand how much and what is in your new emergency kit. Here is a list of what is inside:
Contents List:
1x 600 DENIER NYLON WATER RESISTANT FIRST AID RESPONSE KIT POUCH
2x VELCRO NAME TAPE  (WHAT IF SURVIVAL) AND (FIRST AID RESPONSE KIT)
BLEEDING CONTROL 
1x SOF-T TOURNIQUET WIDE
1x QUIKCLOT EMS ROLLED GAUZE, 3″ X 48″ (EMS SIZE)
1x TRAUMA BANDAGE
AIRWAY
1x CHEST SEAL
1x 28fr NASOPHARYNGEAL AIRWAY
1x CPR MASK
MINOR WOUNDS
2x SHEETS BUTTERFLY CLOSURES
5x 4X4 STERILE GAUZE PADS
5x NON-STICK PADS
1x CONFORMING STRETCH GAUZE ROLLS 3″X4.1yds.
1x LATEX FREE MEDICAL TAPE (CLEAR)
2x ANTIBACTERIAL ADHESIVE KNUCKLE BANDAGE
2x ANTIBACTERIAL ADHESIVE STRIPS 2X4
10x ANTIBACTERIAL ADHESIVE STRIPS 1×3
2x LIQUID SKIN .5 GRAMS
5x BZK ANTISEPTIC WIPES
2x BETADINE SWAB-STICKS,
1x MOLESKIN
FRACTURES AND MUSCULOSKELETAL INJURIES
1x TRIANGULAR BANDAGES
1x COMPRESSION BANDAGE 4″
PERSONAL PROTECTIVE EQUIPMENT
5x PAWS HAND SANITIZER WIPES
2x PAIRS LATEX FREE GLOVES
BURNS
3x BURN CREAM .9 GRAMS
1x 4X4 BURN DRESSINGS
EYE FLUSH AND INJURIES
1x EYE PADS
2x 30 ml SALJET STERILE SALINE
TOOLS
1x SEATBELT CUTTER/WINDOW BREAKER
1x TWEEZERS
1x PENLIGHT
1x DIGITAL THERMOMETER
1x NORTH AMERICAN RESCUE TRAUMA SHEARS
1x ALL IN ONE PARACORD SURVIVAL BRACELET COMPASS, WHISTLE, FIRESTARTER  (RANDOM COLOR)
1x EMERGENCY BLANKET
1x SHARPIE
OTC MEDS/ENVIRONMENTAL/OINTMENTS
2x HYDROCORTIZONE CREAM
2x SUNSCREEN PACKETS
2x ORAL RE-HYDRATION SALTS
2x ASPIRIN
2x SEVERE COLD RELIEF
2x ORASOL ORAL PAIN RELIEF GEL
2x DIPHENHYDRAMINE (ANTIHISTAMINE)
4x ACETAMINOPHEN 500MG EXTRA STRENGTH
4x IBUPROFEN
2x TRIPLE ANTIBIOTIC OINTMENT
2x INSECT BITE WIPES
2x BUG REPELLENT WIPES
2x ANTACID
2x MECLIZINE (FOR MOTION SICKNESS)
2x BISMUTH TABLETS  (ANTI-DIARRHEAL)
Yeah, thats a lot of stuff packed into a football, and its proudly hand assembled in the US. Available in three different colors, Coyote, OD green and Black, it's a steal at $159.99.
We love ours and the fit finish and quality is without a doubt the best in the business for a trauma kit. We go out to have fun and to enjoy the world, and knowing that an Emergency Medical Tech has perfected the First Aid kit, brings a lot of peace of mind.
If you would like to know more or would like to order your own kit from What if Survial, go to their website.