The Oru Kayak The Inlet is Instantly Deployable and can be Easily Stored With the Rest of Your Adventure Gear
As vehicle-borne adventurists we often think about heading out into our next adventure on unpaved trails and unimproved paths. Exploring the land and driving over stretches of earth and rock, we routinely look for ways around and over bodies of water whenever we come across them. Why is that so? Other than lounging next to a lake or a stream, why don't we travel across them like we do in our vehicles?
What would you do that in? For many, space is a concern. With your roof tent, camping gear, and other provisions packed, some would argue that there just isn't space for a watercraft. That's where Oru Kayak steps in. Oru Kayak's origami-like folding kayaks were once curiosities when they were introduced coming on a decade ago, but have since found tremendous support by kayakers of all skill levels.
Their kayaks allow those who love to cruise over water a compact and convenient way to do so. Their kayaks are made of extremely durable material and are ingeniously made so that they fold into easy-to-store packages. They are a cinch to set up and can be deployed within minutes. Quickly take it out to reconnoiter what's downstream or use it to catch tonight's dinner. The choice is conveniently yours.
New for mid 2020 is an all-new kayak design, Oru Kayak's The Inlet. The Inlet is their most compact kayak in terms of packed size as well as overall size. Fit for a single paddler, The Inlet is designed for flat-water use. Weighing in at a featherweight 20 pounds, with an overall length of 10 feet, it can be packed into a box that measures only 40 inches long, 19 inches wide, and only 10 inches tall. That means this puppy will easily fit in the rear storage area of your rig, in your trailer or camper, and even under the sofa at home.
Instantly deployable, easily stored, there's no reason not to have one packed in with the rest of your adventure gear. The next time you come across a body of water, try going over it instead of around it.
Compact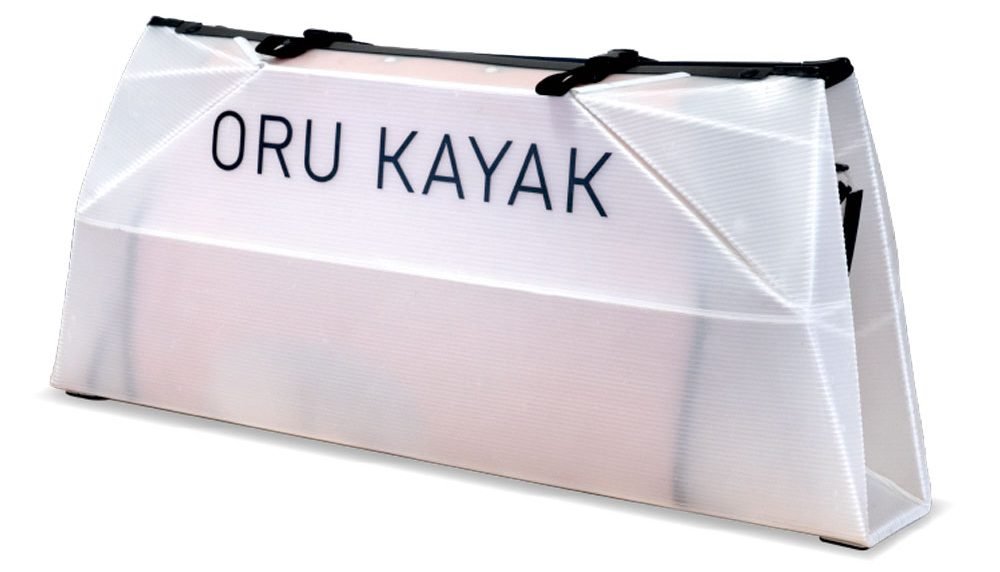 The Inlet features an overall length of 10 feet when unfolded but folds down to become only 40 inches in length when stored in its box. This allows it to be easily stored in your truck, van, or even under your bed at home.
Built To Last
The Inlet is manufacturer-rated for 20,000 fold cycles and features a 10-year UV treatment to keep it on the water for a long time.
Foldable

It uses Oru Kayak's entirely new "SHINY. NEW. fold pattern." Their engineers went back to the beginning and developed a new folding system that allows The Inlet to fold compactly and efficiently.
Materials

The kayak is made of durable, lightweight, 5mm-thick, double-layered, custom-extruded polypropylene.
Deployable
The craft is designed so that it can be unfolded and operational in only three to five minutes. Putting it back into its storage box is designed to be just as simple.
Weight: 20 lbs.
Length: 10 ft.
Width: 30 in.
Kayak Box: 40x19x10 in.
MSRP: $899*
*Available beginning June 2020
Editor's Note: A version of this article first appeared in the May/June 2020 print issue of Tread Magazine.