A friend messaged me with an exciting announcement. He had just won a noncommercial river-trip permit down the Grand Canyon in the annual National Park Service weighted lottery, and—he wanted me to join him on his trip. I didn't have to think long about the offer. When opportunity knocks, it's important to seize the moment, especially when you have good friends by your side.
I've lived for nearly five years as an overland nomad. My custom vehicle, the EEXP, is my home, my garage, my transportation and many times, my ticket to adventure. New experiences, in new places, many times with new people, are what fuel my passion for life. I usually try to see the world through an adventure sports lens, as outdoor adventure sports, such as, skiing, mountain biking and kayaking allow me to go places—and make memories—that few get the opportunity to enjoy. My vehicle allows me to seize opportunities as they arise, and get my adventure sports gear and I to those sought-after destinations, many of which tend not to be easily accessed. It is, however, important to sometimes park, lock the door and venture off on journeys without your 4-wheeled friend.
The Canyon
The Grand Canyon trip was a 12-day self-support whitewater kayak voyage down 225 miles of the Grand Canyon of the Colorado River, from Lees Ferry to Diamond Creek. Our permit was for early February, and our group consisted of nine people, all of which would be fully self-sufficient in their own kayaks. I was friends with about half the group and had never met the others. Half the group had also been on the river before, on raft-supported trips of about 24 days, and the rest of us had never experienced the Grand, or done any self-supported trips for such a long duration. What makes a trip like this special, though, is the people you're with. If they're amazing and everyone carries their own weight, both literally and figuratively, lifelong friendships can be forged.
Self-Supported
By far, my biggest concern for the trip was being fully self-supported for such a long period of time. I have done canoe and backpacking trips in the past, for up to seven days, but never for a 12-day period, in the winter, while fitting all the gear into a whitewater kayak.
To make things that much more complicated, the Grand Canyon is a "leave no trace environment," which means you are required to carry everything out with you, including campfire ashes and your poo. I needed to figure out how to carry full provisions for 12 days of remote travel, on a cold-water river, in the middle of the winter.
While space is definitely a concern, also of concern is weight, as a kayak's performance decreases and paddler fatigue increases as the boat gets heavier. Carrying clean drinking water, which we filtered each day from the river, enough food to keep up with all the calories used while paddling and trying to stay warm, as well as enough emergency and cold weather gear to stay safe and comfortable, was quite an undertaking.  I did quite a bit of research, reached out to friends who had done the trip in the past, and in the end, managed to pack a relatively light, compact gear load with a provisions program that worked flawlessly the entire trip.
Side Adventures
An important part of the journey through the Grand Canyon is to take the time to explore its many off-water gems, most of which can only be accessed from the river.  There are many truly unique side hikes throughout the Canyon that are worthy of your time. Places with names like, "The Tabernacle," "Elves Chasm," and "Mat Kat Amiba" are truly as unique and special as they sound. Our group also put in some extremely long paddling days to have two "lay over," or rest days. These days allowed us to tackle some of the longer side hikes and just relax around camp, soaking in the natural beauty that surrounded us. A great reason to make this journey in the winter months is to enjoy these longer hikes, as most are extremely exposed and get unbearably hot in the summer.
Lava Falls
The whitewater gave me little pause for consideration, when I jumped at the chance to kayak down the Grand Canyon. I'm a confident class 5 (whitewater is graded on a 1-5 scale, with 5 being the hardest) paddler, and while the rapids on the Grand Canyon are formidable, they are not all that technical. They are, however big, pushy and powerful, which requires solid water reading, rolling and bracing skills. Our group consisted of a wide range of skill levels, but all were competent whitewater paddlers. Paddling a fully loaded, relatively large kayak (most whitewater kayaks are 6 to 9 feet long, where the boats we took on the Grand were 11 to 16 feet long) down big, pushy whitewater was a new challenge for us all. Everyone in the group flipped at least once, and two in our group had to swim out of their kayaks a few times. I was the second person on the trip to flip over in a rapid, a completely unassuming easy rapid at that, but I rolled right up and had great lines the rest of the trip. The Grand is a large volume wide river, and most of the time allows you to choose how much of a challenge you want to undertake in each rapid. Our group and I took a huge variety of different lines down the rapids, depending on our skill level and how we felt as we arrived at each one.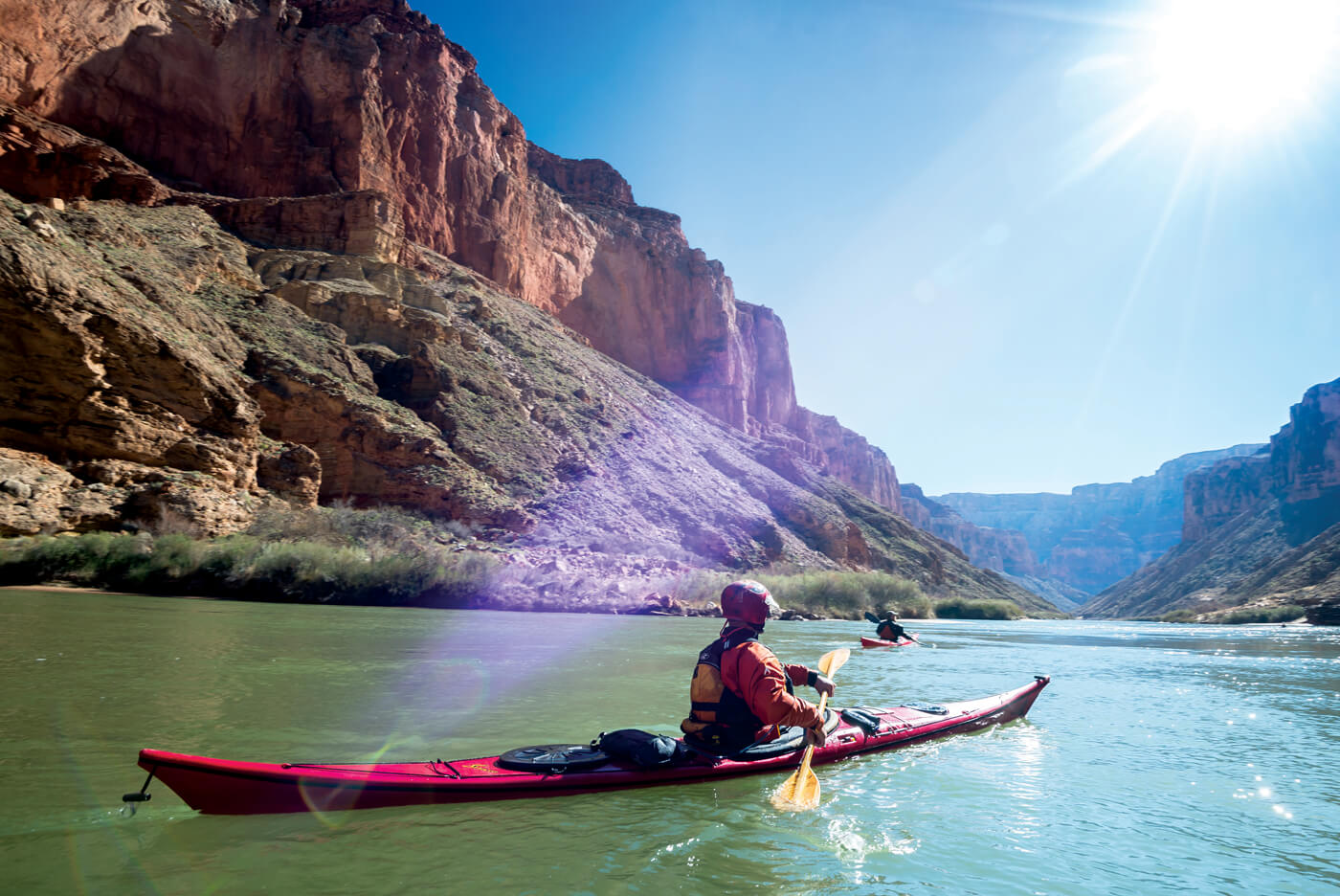 The on-river highlight of this truly spectacular trip had to be our hot date with the super model of the Grand Canyon, Lava Falls, on Valentines Day. Our group paddled through the last major rapid in the Grand Canyon, and arguably the largest, on Day 10 of our 12-day journey. Our group had mixed results: one portage, one swim, one flip, a few questionable lines and only two of us that truly styled it. Much of the group charged into this behemoth of a rapid with only verbal information, following those that had been here before. I was properly scared after watching such varying lines, but in the end benefited from scouting/photographing the rapid, which allowed me to use the information gained from the other's lines to have a completely head, dry, smooth route down this behemoth. Lava Falls lives up to the hype, and is truly the crown jewel of the Grand Canyon's whitewater.
Exploring Elements
 Since I work as a digital content producer and journalist, I'm on my computer and phone, and connected to the Internet, nearly all the time. Being away from the digital media world was a bit of a concern for me, as I had never been disconnected for such a long period of time. The only connection I had with the outside world was my DeLorme inReach, a satellite communication device, and a required sat phone, which was only for emergencies. Since I have an online presence to maintain, for my personal company, Exploring Elements, I posted daily updates to social media through the inReach. The tough part was that I had no way of seeing or responding to any reactions to what I was posting, which was a very odd feeling. The inReach can also send and receive texts, which the group used to communicate with loved ones back home. By the end of the trip, I was honestly wishing I didn't even have that much connection with the outside world, as it was truly amazing to experience a large majority of the day completely connected to the grand landscape around us, the flowing water beneath our boats and each other. It was tough to reintegrate into the digital world once off the river, which just proved to me how valuable time disconnected really is to our wellbeing.
Many of us chose to take "sneak" lines around some of the larger, more consequential rapids, staying far away from large hydraulics like this one.
Park, and Go
A Grand Canyon river trip should be a bucket-list item for anyone who appreciates adventure, especially people that are deeply connected to flowing rivers. While most people will experience this grand adventure by way of a fully loaded whitewater raft, I highly encourage those that have the skills to take the more challenging path of paddling a fully loaded kayak down the majestic Grand Canyon of the Colorado River. However you decide to tackle this adventure—just know—it's okay to park up your adventuremobile, disconnect from the digital world and truly connect with the landscape and people around you.
6 Tips for a Spectacular Grand Canyon Self Support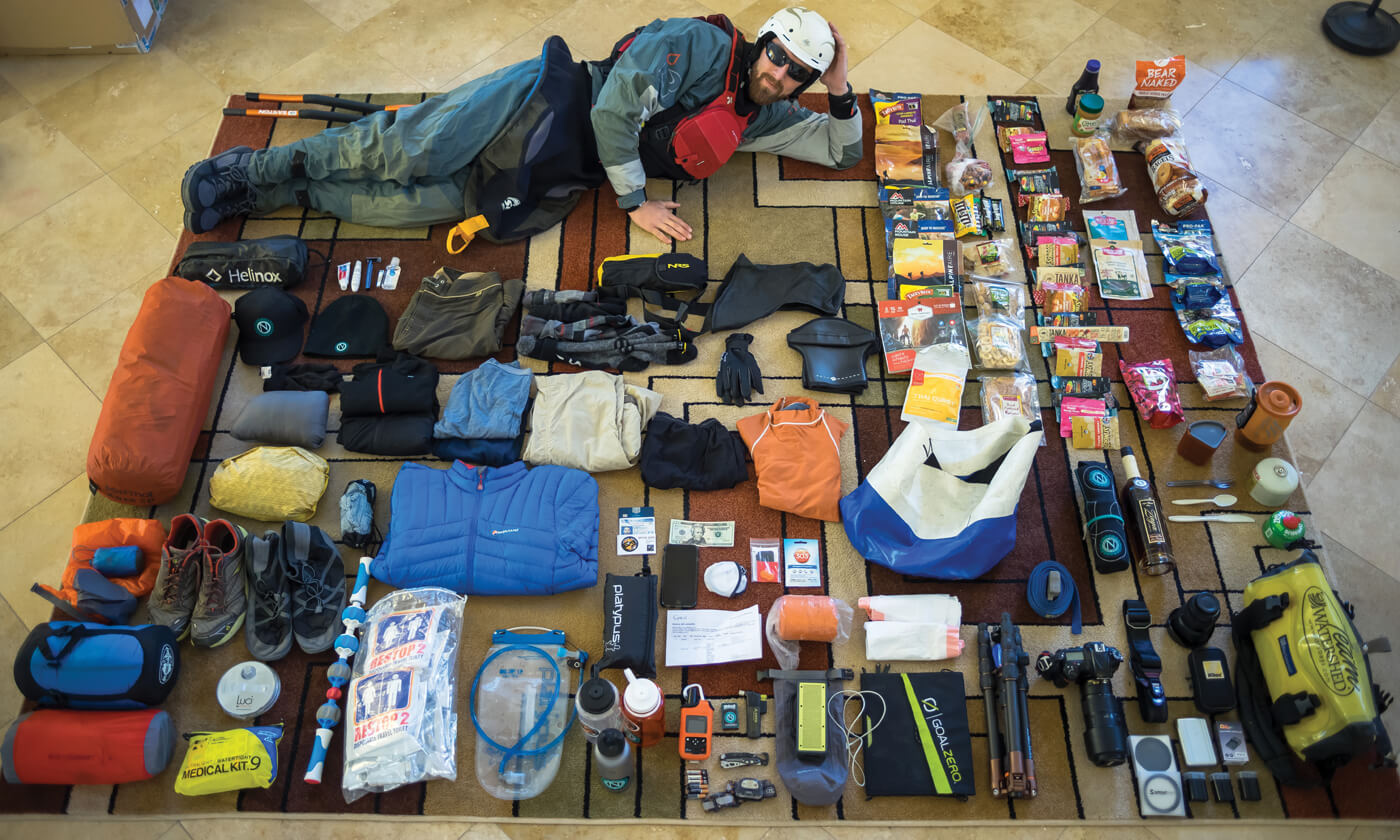 1. Bring a pillow. Tiny inflatable backpacking pillows, like the Sea to Summit Aeros Pillow, are perfect. A good nights sleep is essential to performing on the river, and keeping a smile on your face all day long.
2. A comfortable camp chair, which also packs light and small, is essential. There is no better way to relax around the campfire each night than in a comfortable chair. Check out the Helinox Chair One.
3. Use strong dry bags. It is really key to have warm dry gear at camp; soggy food is also not fun. The Sea To Summit Big River dry bags worked great for me.
4. Use hand lotion! The silt in the river, dry desert air and cold water suck the moisture out of your skin. Paddling with raw blistered hands is very unpleasant.
5. Secure your poo! You are required to use a groover, essentially a PVC pipe with screw cap at one end. I highly recommend also using bags to put in the groover that are not air permeable and seal well, like the Restop 2 bags.
6. Bring a sponge. You will be camping, scouting and hiking in sand. It blows around and gets into everything. Use the sponge to make a valiant effort to keep the sand out of your kayak. Your gear will last much longer without constantly rubbing on sand within your boat.