Fuel Freedom: The Purpose-Built JK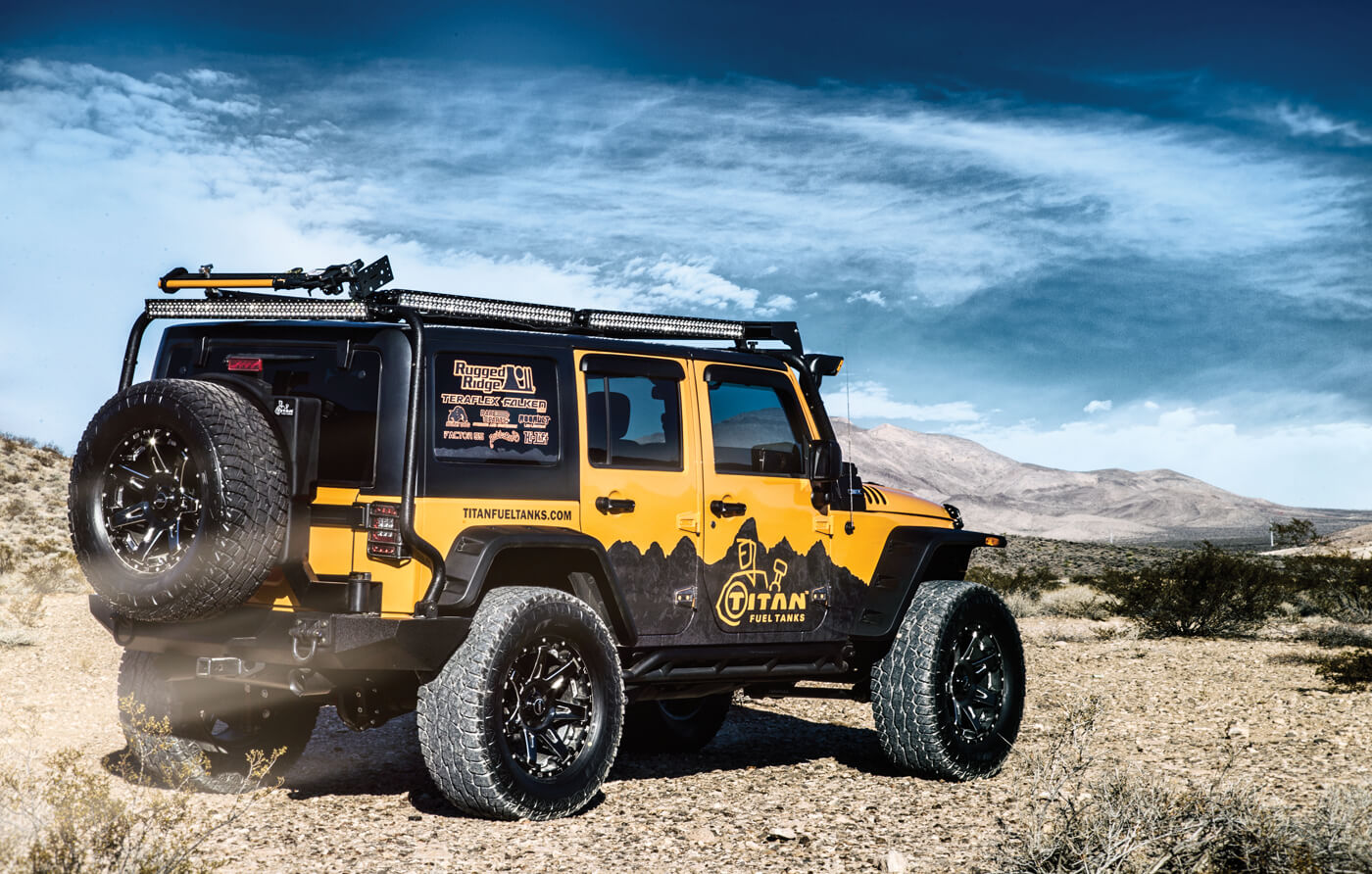 "Love came back wanting something that could help him explore the breadth of America's backcountry."
Driving in Afghanistan is pure 4WD. The northeastern countryside has landscapes that change swiftly, from rocky to soggy, hilly to flat, with wide rivers sweeping across plains in jagged crisscrosses. It's where Joe Love learned how to drive. As a weapons specialist working for Navy SEAL Team 6 and the Army's Green Beret, Love mastered 4WD techniques to circumvent difficult terrain, and well, to avoid bullets raining down on his rig: "If you're a sitting duck, you will get shot," Love said. So, he improved his driving skill in his Humvee, each time he and his unit changed locations.
In that scenario, mastering rock crawling techniques and gaining experience of crossing rivers was just another tool he used while in combat. The other was his expertise of weapons: anything that shoots anything, he could fix. It was a skill that directly contributed to the success of his team's mission: equip, train and fight alongside the indigenous Pashtun tribes to overthrow the Taliban. Assigned to Green Beret Major Jim Gant, the highly controversial Afghan conflict strategist, Love helped advance the mission until he served his full term and returned to the States, with quite the résumé tucked under his belt. Love had participated in every conflict from Vietnam to Iraq throughout his military career.
Back Home
Love, who originally hails from Liverpool, England, purchased his first 4WD vehicle after he enlisted in the U.S. Army and was stationed in southern Florida, early in his military career. "It was a 2.4L-equipped Wrangler we jacked up to go swamp bugging. It couldn't tow or go fast on the freeway with the little engine, but with its tall tires, it was perfect for the swamps." Love enjoyed splashing around and getting the Wrangler as dirty as possible, but it was basically a swamp toy, and after he was deployed and sent to Iraq, and then Kuwait, followed by Afghanistan, with various trips to Iraq in between serving in Afghanistan, Love came back wanting something that could help him explore the breadth of America's backcountry.
3.6L Trail-Ready Rig
Thinking at first that the larger 4.0L engine would pack a meaner punch than the 3.6L in the 2012 Jeep JK, Love was happily surprised to find that the 3.6L tucked inside the JK delivered 285 horsepower and 270 ft.-lbs. of torque straight from the factory, around a 60-hp increase from the larger engine. Also, the 2012 model Love stumbled on was equipped with a Dana 40 on the front and back: it was rock-crawling capable in its OEM state. So when his wife gloated about the dozer orange color in the lot, Love knew he had a simple purchase on his hands. He had found his rig.
It's convenient then that Love had moved to Island Park in Idaho Falls after returning from Afghanistan, which in the fall, is a perfect place to ride near the reservoir; as the river gets low, the mud makes for some good runs before leading into the open country, land perfect for exploring, camping and fishing.
Titan Fuel Tanks
Although retired from the Armed Forces, Love began hunting for work and eventually landed a gig with Titan Fuel Tanks as a supervisor of warehouse production. Everything from receiving and shipping to overseeing the building of tanks was his responsibility, and he managed a small group of guys that worked well together. It was a cohesive unit, and needless to say, Love felt comfortable with the company's mission and work ethic; in fact, he felt comfortable enough to express his idea at a company meeting to expand Titan's line of tanks from diesel-only storage tanks to something for Jeep owners and others who drove petrol-fueled rigs. The idea was received well, but at the time, Titan exclusively created products for diesel-powered vehicles. Responding to the need of diesel truck owners wanting to travel further distances without worrying about running empty in the middle of Timbuktu, Titan designed the first fuel tank that didn't invade cargo space for the diesel aftermarket. Using High-Density Cross Linked Polyethylene (XLHDPE), the tanks that Titan produced were lightweight, easy to install and could add up to 30 gallons of extra fuel. Made with the same quality and methods the military used for extra fuel storage, it's needless to say that the tanks were also durable. Titan's business exploded.
Yet, eleven years later, the opportunity to cross into the petrol gas aftermarket began to look more and more appealing. Up until a few years ago, any offroader, overlander or trail-ready explorer preparing for an extended journey had to bog down his buggy with Jerrycans or multiple Rotopax fuel containers. Diesel pickup owners had already enjoyed how Titan's extra-fuel storage didn't invade their bed space, but now, Titan felt it was time for further innovation. They were going to build a tank for gassers. All they needed was a test vehicle.
The long arm kit manufaturered by Tera Flex was welded on by James Patience and helps support the JK's big lift.
From Humble to Rumble
When Love caught wind of the company's decision to enter the petrol–powered market, Love could hardly conceal his excitement. "You don't need to buy a Jeep," he yelled, "use mine!" It was the craziest thing he could have offered, and Titan jumped all over it. The company asked if Love would mind if the rig was not only fitted with the soon-to-come tank but also was built-up to represent the company's innovation and decision to leap into another market. Love shrugged his shoulders: Titan could build the Jeep anyway they saw fit. After all, Love used his Jeep for weeklong trips to Yellowstone and other places besides driving it to and fro work everyday. Who had have thought that Titan had plans to turn it into their SEMA show truck?
Love and Patience (and Rugged Ridge)
First thing on the list was adding a long arm kit by Tera Flex for a more intimidating stance. James Patience, head fabricator at Titan, didn't just slap on the kit: Patience removed the factory tabs and made other modifications to the frame, such as adding beefy ball joints and steering components provided by Rare Parts before welding in the new long arm brackets himself, all the work being performed in-house at Titan. Patience then turned his attention to the wheels, opting for 20×9 BMF rollers (now known as SOTA) to replace the factory wheels; and to help get the 3.6L's power get to the ground, Patience decided to wrap the BMF wheels in 355/60/20 Falcon tires in the front and rear. With the new suspension, and wheels and tires, Love's machine was starting to look more like the skeleton of a tank than a daily driven Jeep.
Adding to the more aggressive look was Rugged Ridge's Spartan hood and grille (made of steel with poly vents) that reinvented the entire face of the vehicle. Developing an interest in the first-ever Titan tank-equipped gasser, however, Rugged Ridge decided to supply more than just a facelift. Rugged Ridge also provided bumpers for the front and rear, Rugged Ridge steps for running boards and their Hurricane fender flares. With the new bumpers and fenders, Love's Jeep now had better protection from the mud and stones and other debris that could possibly compromise his JK's driving performance when on the trails.
The lighting accessories were also an improvement to the vehicle; though the assault LED lighting wrapped around the vehicle was more than Love would ever need, it would serve a practical function when driving or setting up camp in the dark. So was the Rugged Ridge roof rack and winch (nylon rope) that increased the rig's off-road capabilities. Now if Love ever needed to carry extra gear or found himself in a tight spot, he had the means to recover.
What about the rest of the modifications?  All of the custom fab work, paintwork and body graphics were performed by Patience at Titan's headquarters in Idaho Falls, Idaho. Inspired by Love's appreciation of the outdoors and especially, the backcountry of Wyoming, Patience created blacked-out graphics of the Grand Tetons and wrapped them on the sides of Love's JK.
"As a weapons specialist working for Navy SEAL Team 6 and the Army's Green Beret, Love mastered 4WD techniques to circumvent difficult terrain, and well, to avoid bullets raining down on his rig."
The Trail Trekker
The purpose of the build, however, was to display the new Trail Trekker, the extra fuel tank Titan created for Jeeps and other petrol-fueled machines. Once Patience installed the tank on Love's JK, the build was finally completed: countless hours had gone into making the rig double for a show truck, and now it was as visually stunning as it was functional, quite a rare achievement in the automotive world. The new Trail Trekker sat just behind the spare tire and although it was meant to provide an extra 12 gallons of fuel, Love states that he gets 13.1 gallons whenever he has to refuel; even more impressive is that Titan built the Trekker to pour all of those gallons of fuel into his rig within five minutes. In Love's JK, that means he can go from empty to ¾ full, in five minutes, from an extra storage fuel tank built to do all the work for him. One could argue that there are worse things in life than having your company build your rig for you.
Titan knew what they were doing, and Love's machine drew plenty gaping eyes in Vegas. It was a win-win situation for them: Titan's latest product, the Trail Trekker, made quite the impression, and the build itself reinforced Titan's durable image in the industry. From other companies to pedestrians on the street, anyone who saw the, "Trail Trekker Jeep" was impressed, many asking, "What is it?" Love would shake his head and laugh; "It's a JK with a big lift."
"From other companies to pedestrians on the street, anyone who saw the, 'Trail Trekker Jeep' was impressed, many asking, 'What is it?' Love would shake his head and laugh; 'It's a JK with a big lift'."
Outside, It's America
When Titan polished off the last touches to the rig, they handed the Trail Trekker Jeep back to Joe Love with the only instructions being to put the Trail Trekker to good use—a mission he was more than glad to accept. Now that his JK had been transformed into an off-road beast, Love revealed plans for a Ripp Stage 2 Supercharger and either a long drive to Montana or Wyoming, just to test the Trail Trekker and the estimated 130 hp the supercharger would provide. When asked what specific area he wanted to hit first, or what his favorite trails in America are, Love was hesitant to answer: the only indication he provided is that they lay somewhere in Colorado. And that makes sense. Perhaps after all the years of military service, the effort to survive and the beautiful sceneries he saw ruined by war, Love would want a hidden, safe place to retreat—with just he, his wife and his Trail Trekker—far from all the noise.
UPGRADES
Platform:
2012 Jeep JK
Engine:
3.6l Pentastar
Rugged Ridge exhaust
Rip tage 2 supercharger
Suspension:
Tera Flex long arm kit
20×9 front and rear SOTA wheels
355/60/20 Falcon tires
Accessories:
Trail Trekker
Rugged Ridge snorkel
Spartan grille
10k winch with nylon
Hurricane flares
Rugged Ridge full top rack
Assault LED lighting
Editor's Note: A version of this article first appeared in the Fall 2016 print issue of Tread Magazine.